Quick Summary: We have had a fantastic time living with and reviewing the UPPAbaby Vista. It is so well designed and has so many great features that other pushchairs don't have. The fact that the pushchair comes with the carrycot and that the seat unit is huge means you could use this pushchair from newborn right up until your child no longer needs a pushchair.
Whats good?
Easy to push
Massive basket
Can be used from newborn to toddler
Converts from single to double
Can add an UPPAbaby Piggyback board designed to work well with the pram
Whats not so good?
Really, really big, difficult to move when folded up
Smaller babies slump a bit in the bucket seat
---
First Impressions
My UPPAbaby Vista arrived this morning whilst I was having a cup of tea with my friend. Not that I have been obsessively looking out for it or anything, but as soon as I heard the sound of a van pulling up outside I was peering out the window, trying to see the size of the package to see if it could be for me! This package was a HUGE box! An UPPAbaby Vista box!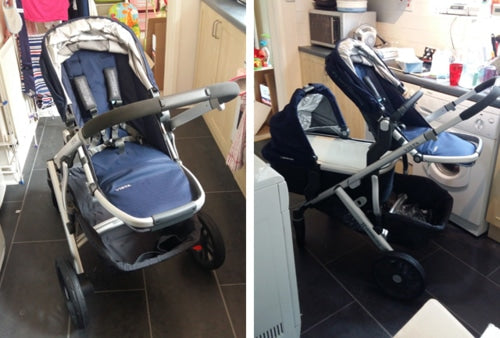 I was also delivered a smaller box at the same time. My friend (also a pushchair lover) helped me to unpack the UPPABaby Vista and put it all together. It probably took us longer to take the packaging and wrapping off than to actually put the pushchair together! In the box was a bag containing the seat unit and carrycot, the chassis and 3 smaller boxes. 2 of the smaller boxes contained the wheels and 1 contained the car seat adaptors, raincovers and nets. In the second box that had been delivered (to my delight!) were the additional upper and lower adaptors to turn the Vista into a double (these are an additional extra).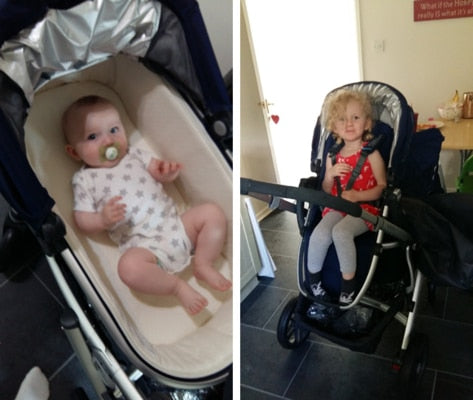 We did embarrassingly have to consult the instructions at step one, unfolding the pushchair. However it was very easy! Just one simple push of a lever. The wheels clicked smoothly into place, the seat clipped easily to the frame and the bumper bar slotted quickly in. We then decided to pop the adaptors on (had to read the instructions again for the lower adaptors) to see what it was like as a double.
So what are my first thoughts on the UPPABaby Vista? Wow! It is massive, a monster truck of a pushchair – but it looks absolutely stunning – sleek and shiny and the seat and carrycot both look so comfy. The wheels are huge – I'm a bit nervous about whether I'll fit in certain shops when I'm out! But I'm excited to find that my baby boy (5.5 months) fits very comfortably in the carrycot so I should be able to take it for a spin with both kids in. My daughter Hattie (3) is really excited to sit in "her" seat and go for a ride!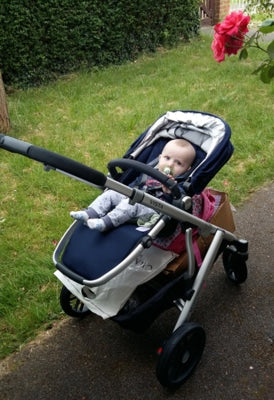 July the 12th 2016
Took the Vista out for the first time! It was just a short 10 minute walk to drop my daughter at pre school so I set it up as a single with the seat for baby Charlie. He looked so comfy! One thing I had heard about the Vista was that it has a huge basket! Was really pleased to find that it was as big as described. I managed to fit a large box of toys in it that I was sneakily donating to Hattie's pre school without her knowing. Plus there was plenty of room for her back pack and hoodie (& more!)
July the 13th 2016
So today after a few days of baby Charlie being sick, I decided to do my motherly duty and get him checked over by a Doctor. Only problem was my husband had my car (his car's exhaust fell off) and I am inexplicably registered at the Doctors surgery in another town (don't ask!) So, after many phone calls, I managed to get an appointment at a local surgery just over a mile away.
Hattie is 3 in a couple of days and can walk quite far now, but as this was looking to be a 3 mile round trip I decided to set the Vista up as a double. I was excited to find that the car seat adaptors that came with the Vista fitted my Maxi Cosi car seat! (I would have liked to take the carrycot but I thought the baby might vomit all over it.) It was so simple to set up – the maxi cosi went on the bottom and the Vista seat on the top – both little ones had a comfy seat for the journey.
I'm not going to lie, I felt a bit nervous about taking the Vista out. I was worried it wouldn't fit through any of the doors in the Doctor's surgery and I'd be stuck outside wavering between having to leave the shiny, new pushchair on it's own unattended or abandoning my son's appointment and just hoping he'd kind of be alright. (We all know I would have chosen option A ... probably). As it happened it didn't come to that (phew!) The Vista fit with plenty of room through all the doorways, and later into all the shops we needed to go in without any issues!
And a certain big girl obviously found it very comfy as she demanded the hood and footrest up, the seat reclined and she snuggled up and went to sleep on the way home.
This is unheard of!
Definitely pleased with the UPPAbaby Vista so far!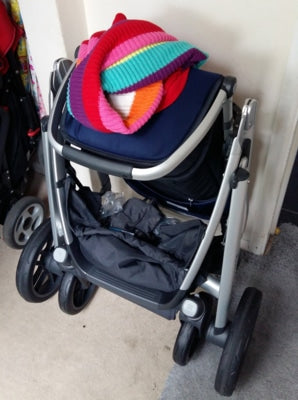 July the 14th 2016
My husband commented how small the Vista is folded up having seen it set up in the kitchen. This is in single mode, the seat unit has to be forward facing (which is very easy to switch to if you're using it in parent facing mode) and if you fold down the foot rest it is actually quite compact compared to it's unfolded size! And freestanding which is great.
July the 17th 2016
So I've been using the Vista pretty much every day now and I'm delighted with it so far.
Before the Vista I had been using a single pushchair that felt quite rickety and was SO annoying to fold and unfold, and a side by side umbrella fold double for longer journeys which could be quite heavy. The Vista feels so smooth and solid to push even with two children (one a quite sizeable 3 year old!) on board.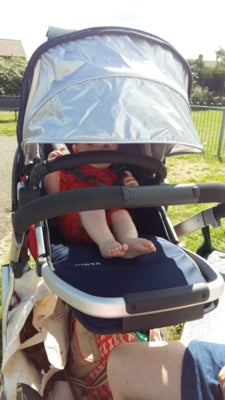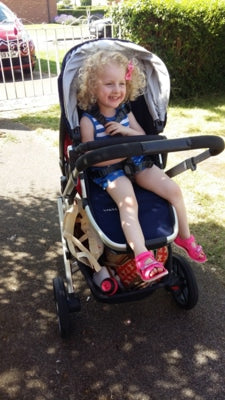 Instead of having to stop and work quite hard to lift over kerbs the Vista glides over the lower kerbs like a 4 wheel drive! No lifting required! You still do have to stop and pull down quite hard on the handle bar for those higher kerbs (in doubles mode at least) but this is the same for every double I've tried so far (which I think is now 5. Oh dear.)
Yesterday we took the Vista for a walk along the Greenway (alongside some fields) and then to the park for an ice cream. It was such a hot day and I was really pleased with the hood and the extra UV sunshade you can pull out. It kept baby well shaded from the sun! I hadn't taken the car seat off the Vista so it meant we could switch seats and my daughter could hop on board when she got tired.
The basket is like a tardis and not only does it store everything, but it has lovely little pockets at the front to store your phone, purse, keys or whatever else you want. So if you shove your changing bag into the basket you can still access these things easily rather than having to get it all out again. Genius!
July the 19th 2016
Not only has the Vista got a huge basket but plenty of space to store bits and bobs on the seat unit with baby – haha!
July the 20th 2016
Had my first experience folding the Vista and putting it into the car boot today.
I have to say it was pretty heavy to lift into the car once folded (with the seat unit on). Much harder than other buggies, but definitely do-able! We have a Citreon C4 Grand Picasso (a 7 seater so has a huge boot when the seats are folded away) and it fit very well lengthways so half of the boot was free.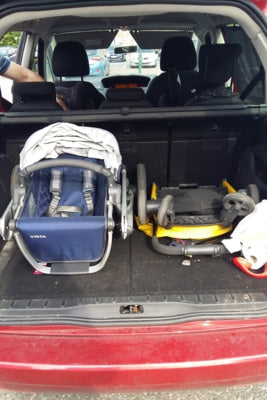 Previous pushchairs I've had have been too long folded to fit length ways in the boot and have taken up the whole width of the boot leaving room for little else.
I've taken a pic of the Vista folded in the boot next to my Armadillo City (a small, compact pushchair) for comparison.
I'm really pleased with how well the UppaBaby Vista fits in the car!
July the 21st 2016
My sisters (visiting from Brazil!) love pushing Charlie in the Vista. One sister is 10 and the other is 22 and they can both push it with ease (the extendible handlebar keeps going up and down, and up and down!) The Vista has been on two rather extravagant shopping trips round town with us and the basket was absolutely crammed full of our charity shop bargains!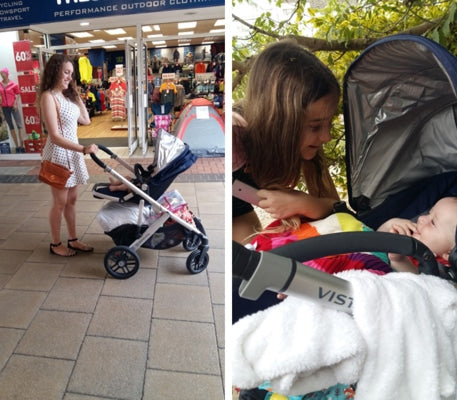 July the 22nd 2016
I've found that Charlie slumps in the Vista seat a lot but he is not actually 6 months for 2 more days, so I suppose he should technically still be in the carry cot. Also I need to lower the straps to the lowest setting for him, so I will try that out as soon as I'm feeling adventurous enough and see if he looks more comfy. Watch this space!
July the 26th 2016
James took the UppaBaby Vista on a man/baby picnic date with his friend and it got his definite seal of approval!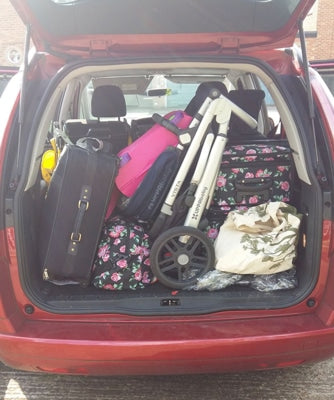 August the 5th 2016
After much umming and ahhhing - Will it get broken on the plane? Will it be too big? Will it be too much of a faff?!? -  we decided to take the Vista on our family holiday to Lanzarote last week.  The deciding factor for me was that Charlie's car seat (which we were taking anyway) could just be easily clipped on to make it a double, plus the massive basket would come in handy! 
The Vista fitted nicely in the boot amongst all the suitcases and was absolutely amazing in the airport when we got there at 4.30am (bleurgh!). We loaded two tired kiddies on board as well as some luggage!  
We switched between double and single mode several times and it really is so easy to do and takes two minutes at the most, including getting the kids in and out.
Look how fast it is to fold the Vista though!
In Lanzarote the Vista steered easily along the pavements and even through the thick volcanic soil, plus my hunch about having the big basket was right – there were 6 adults and we all packed our bags and water bottles into the basket, which was fantastic! We could never have done that with an umbrella stroller.
It was a bit tricky to drive on the beach and I spent ages trying to work out how to lock the front swivel wheels, but I couldn't work it out without the instructions.  Luckily Uncle Chuckles (my brother in law) was able to pull the pushchair up through the harsh, boiling hot volcanic sand, even when we accidentally had the brakes on. When he realised and took the brakes off it was somewhat easier!
The Vista fit in the boot of our hire car (an Opel Astra) but it did take up the entire boot and we had to take a wheel off each time (which is incredibly simple to do, so not too much of a problem!) But I would definitely advise checking whether the Vista fits in your boot before buying.
There were three kids on the trip including my two, and even my (very tall) four and a half year old niece had a ride in the Vista and seemed very comfy! After my initial concerns, it turned out to be very useful and much better than the stroller we would have taken. The only downside was that a few parts of the chassis got scratched by baggage handlers on the way back, so maybe wise to invest in the UPPAbaby travel bag if you're travelling with the UPPAbaby Vista.
August the 8th 2016
Discovered (completely by chance) that you can push the hood up on the Vista to give more space for a taller toddler/child - result!
August the 13th 2016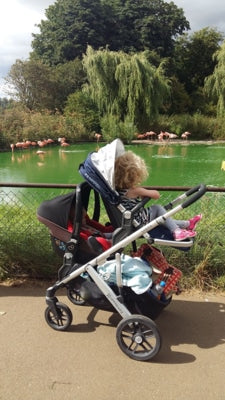 Today the Vista came on an outing with us to Whipsnade Zoo. The zoo was like some kind of pushchair paradise, seriously – so many different, beautiful buggies to be seen (more exciting than the animals I thought.) I must have seen about 10 different Vistas of varying colours (loved the red one and the black one!)  One woman had the yellow one with the rumble seat and the piggyback board attached. Had a little chat to her and she highly recommended the board which she uses for her nearly 3 year old son. 
At one point someone drove their Baby Jogger City Select past our Vista, and I can tell you this – it seemed a lot lower and smaller than the Vista. However personally I think (and I MAY have owned a BJCS briefly at one point) that it looks a bit strange as a single pushchair whereas the Vista doesn't.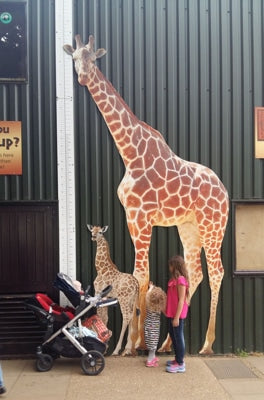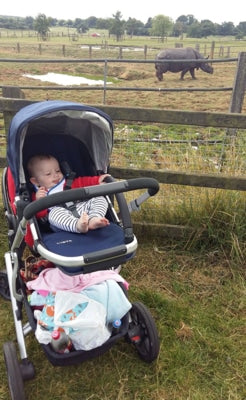 The Vista handled the different terrains of the zoo well and even my 6 year old nephew had a push! I did notice that both the brake and the extendible handle bar seemed to jam a little bit today, although both sorted themselves eventually. But I will be keeping an eye on that. Oh yes, and as well as all the wonderful pushchairs at the zoo we saw elephants, rhinos, flamingos, penguins – you know, all that kind of boring stuff.
And if any of you were wondering how big the UPPAbaby Vista is in comparison to a giraffe, fear not! (I'm sure many of you were). Here is the answer. Pretty small.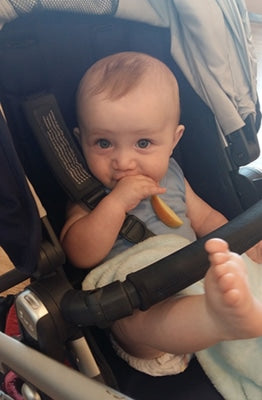 August the 22nd 2016
So we moved house this week, from leafy Hertfordshire to the ghetto of Peterborough and as usual the UPPAbaby Vista has been on all our travels with us. I have barely touched my other pushchair since the Vista arrived (other than the trip to London I don't think I've used it at all) – I just love the fact the Vista can carry both children and all my stuff so easily.
We have been to the park, the shops and various cafes – the Vista seat is the perfect height for Charlie to eat a (non messy) snack in at the table. The material on the Vista seat is really easy to clean too, should you get anything on it (sun cream, biscuit, milk!)
As we no longer live in the middle of nowhere and there are actual shops (SHOPS!!!!) within walking distance of our new house, I have taken the Vista to do a few days worth of food shopping in the supermarket. And if you forget bags it doesn't even matter as you can just cram it all into the basket!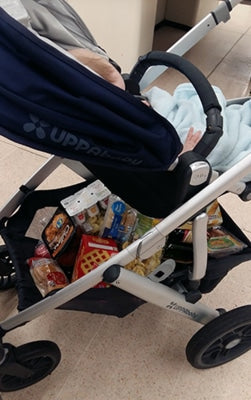 And now for my first real negative about the Vista. Our new house is much smaller than the old one and the pushchair doesn't really fit in through the front door (not because the doorway isn't wide enough, but the hallway is too small to get it in). I have to carry it out and unfold it each time. This would be so much easier if there was a carry handle of some sort on it, as it's such a heavy pushchair when folded it's really hard to move! I don't want to lift it by the bumper bar or footrest in case I break them.
Apart from that we are getting on brilliantly with the Vista in our new town!
August the 27th 2016
James popped to the supermarket with Hattie and took the Vista for its basket to carry things home in– so Hattie had a ride in the seat in single mode!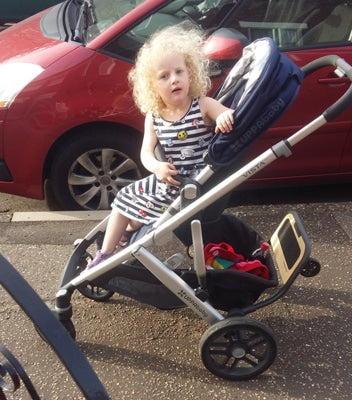 August the 29th 2016
After speaking to the team at Pushchair Expert, I have bought the PiggyBack board for the UPPAbaby Vista to try out. Well what can I say?....... I love it! Having used a generic buggy board on a previous pushchair before which I really didn't get on with (In fact I used it once and then sold it the next day!) I was quite wary of trying a new one. Well this is a whole different kettle of fish! The Piggyback board clips on to the Vista easily and it is designed that when you fold the pushchair it folds perfectly with it on. It also folds up when not in use. No clip to hold it up, nothing. Just push it up and then it's out of the way and you're pushing a single buggy again. Pull a lever to release it back down – very handy when your 3 year old wants to get on and off 15 times per second. The best bit is that the child stands inside the handle bar, which means you're not leaning back awkwardly whilst trying to push the pram.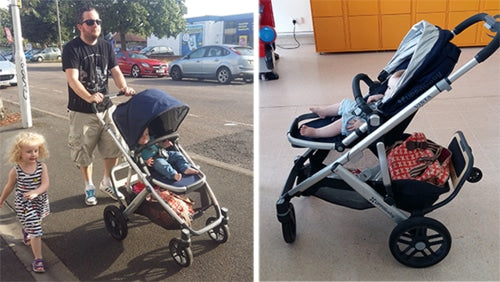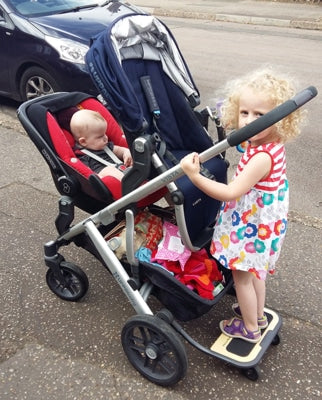 We took the Vista complete with the main seat, maxi cosi seat AND the buggy board for a long day trip to Central Park and then to explore Peterborough city centre. Hattie loved it and the freedom it gave her. She was able to hop off and walk and then hop back on when tired. She had a little sit in the seat but other than that I think she's a buggy board convert. If you had twins, or 3 young children this would be perfect! I really can't say enough good things about this pushchair.
September the 5th 2016
The Vista came on the bus with us – something I was terrified of, as I've read stories of people having to fold their pushchair up to make room for more people. In fact, I have avoided buses since having children!! But it was actually fine. It was big, but it did fit, even with the Maxi-Cosi and the Piggyback board on too!
September the 14th 2016
I'm loving the Vista with the Piggyback board on and having somewhere for Hattie to stand, especially when we're in a hurry on the nursery run, and especially when it's inexplicably decided to torrentially rain in the afternoon after the hottest morning ever! I plonk Hattie on the board, give her favourite Frozen umbrella to her to hold and zoom off. Obviously I get drenched, but the kids are okay! (In fact if UPPAbaby or any pushchair manufacturers could invent an umbrella to clip onto the handle bar to keep us parents dry that'd be great. I'd really appreciate it. Unless of course, they already exist. I should probably look into it).
In related news, we misplaced our rain cover on holiday. I don't know why we took a raincover to Lanzarote (?!)- but we did! So I did have to use the carrycot raincover on the main pram seat, which you'll be unsurprised to hear doesn't fit!! I contacted UPPAbaby customer service to ask how to get a new one and they have said they will send one – hooray! Really pleased with that.
September the 23rd 2016
I received my new raincover very quickly, so a big thumbs up to UPPAbaby customer service for sending it – and for free even though it was our own fault we lost ours.
We took the Vista with us for a pub lunch and when Charlie was not in his highchair he was able to sit and babble away to us all from the Vista seat. I still think he slumps a bit in the seat and I've only just realised that I can tighten the straps more if I unclip the end from the harness strap! Charlie seems happy though.
Our living with review has nearly come to an end now and I hope I have shown the Vista being used in a few different situations and modes so that if anyone is out there reading they get an idea what the pushchair is like.
Final Summary
We have had a fantastic time living with and reviewing the UPPAbaby Vista. It is so well designed and has so many great features that other pushchairs don't have. The fact that the pushchair comes with the carrycot and that the seat unit is huge means you could use this pushchair from newborn right up until your child no longer needs a pushchair. It's also so easy to turn into a double, that if you are planning on a second baby soon after the first it would be a good investment for you.
I have mentioned the basket a lot in the review but I think it's one of the things I like most about the pushchair. I feel pretty invincible leaving the house knowing I have everything I could possibly need with me, that I have space for anything else I buy and that with a second seat or Piggyback board attached I also have a place for my tired 3 year old to sit or stand should she need to. It means I can go on long walks or even short trips without worrying.
A word of caution though (and I have gone on about this in the review too, I know!) – it is a very big pushchair. That might not be your thing. You might like something light and simple you can literally fold with one hand and fling in the car boot. The UPPAbaby Vista is not this.
If you want a pushchair that will last a long time, that will fit more than one child in it, that is really versatile, all terrain, easy to push, has lots of storage and is a comfortable ride - AND you have a large hallway/car boot or somewhere to store it when not in use – then the UPPABaby Vista is for you!
I would definitely recommend it to anyone considering buying one. Our family loves it!
Pros: Easy to push, massive basket, can be used from newborn to toddler, converts from single to double, can add an UPPAbaby Piggyback board designed to work well with the pram
Cons: Really, really big, difficult to move when folded up, smaller babies slump a bit in the bucket seat.
Star rating: 4.5
(I feel bad giving it 4.5 - it's only because it's a struggle to fit in my new house!)