Quick Summary: All in all the Obaby Atlas does what it is designed to do and if you are looking for a well priced stroller for everyday use this one could be for you.
Whats good?
Good Price
Easy to push
Good access to basket when seat upright
Whats not so good?
Flimsy feel over rougher ground and Rattling wheels
Small hood
Basket access when seat reclined
Recline mechanism
---
Obaby are a brand that prides themselves on having something for everyone, both in terms of lifestyle and budget. It is often the case that when you are looking at the lower end of this price spectrum that you find you are left disappointed in the quality or the design of a pushchair. Obaby have been working hard to buck this trend by cramming every single pushchair full of high quality features whilst maintaining a realistic price tag. Here we take a look at their updated 2013 version of the popular Obaby Atlas Stroller to see if they have hit the nail on the head in terms of value for money, design and quality.
Colours
Lime, Red, Pink, Purple, Turquoise, Sand
Note: There are actually 18 colour options.  These include 6 black and 6 navy seat unit options with coloured hoods.  The coloured hoods are all available in the same 6 colour options.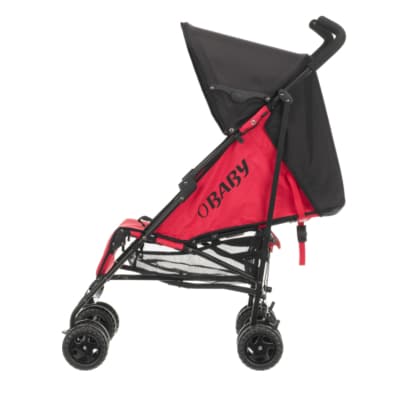 Straight from the box the Obaby Atlas just needs its hood clipping into place and the front wheels popping on and it's ready for action. First impressions - it's an easy to push stroller, with good manoeuvrability and its weight is evenly distributed. Although on closer inspection it seems very well made, it does feel a little on the flimsy side compared to similar makes and models.
The frame on our review subject has a smooth black finish with a contrasting bright red seat colour and a sophisticated black hood. The Obaby Atlas comes in some great colour options this season and you should be able to find something that suits from the six available. Plus a matching footmuff can be bought in each colour option.
The angled foam covered handles are at a comfortable height and angle; although they are non-adjustable they feel like they would be comfortable enough for most heights, except perhaps the tallest and the shortest of people.
The basket is perhaps a touch larger than your standard stroller size, and although not earth shatteringly big, access to it is good when the seat is fully upright – there is a large rectangle of open clearance to get shopping in and out. With the seat fully reclined (as you would have it constantly when in newborn mode) you can't really get into the basket at all – apart from poking some things through the side.
The small hard foam wheels have a slightly unfortunate cheap feel to them, making that loose rattling sound so familiar from strollers of the 1980's as you push it along, although there is a bit of suspension built in apparently. The swivel wheels are lockable to aid you when going over bumpy ground, although I'd suggest you stick to smooth paths and shopping centres to save your little one from a rough ride if you can.
The rear foot brake is linked to both rear wheels, but is stiff to operate requiring a firm poke from a pointy toe. To release it you may find it requires a bit of jiggling on both sides to free the mechanism completely and get you rolling again.
Although the stroller feels light to push along, lifting it when folded reveals it does have quite some weight to it and carrying up several flights of stairs might require a few more muscles than you would like, although it does have a handy carry strap on the side of the frame, and a lock to keep it folded making the task much easier – especially with a toddler in tow.
Fold

If you've folded an umbrella fold stroller before this will be a really easy task for you as Obaby have made it even easier than most. With the hood fully retracted, use your hand to lift the red latch at the rear of the pushchair in the centre of the cross struts, this releases the tension from the frame, then drop the red lever at the side down using your foot to fold the chassis, taking the handles forward and over as you do so. There is a rigid locking strap that you can use to keep the pushchair folded shut, although the pushchair will fold much smaller if you leave it undone, but if you were using a foot muff on the pushchair it leaves enough space to still be able to lock it without having to take it off.
Seat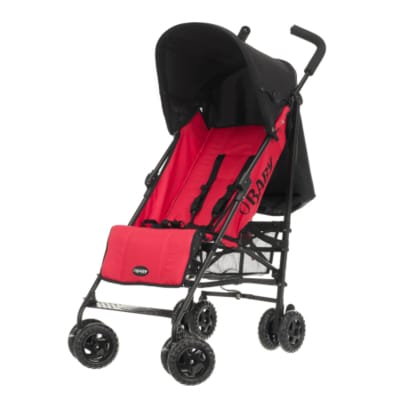 The seat is suitable from birth to around 15kg, it is fairly spacious for a narrow nippy little stroller like this, and it should provide sufficient room for most toddlers until they are ready to walk rather than ride. Not the most luxurious of seats it has to be said, with a rough feel to the wipe clean fabrics and limited seat padding. That said there are a few extras that make it feel like it would be more comfortable.
There is a padded calf rest – which follows directly on from the seat base giving a comfortable feel to the backs of little legs. This calf rest is adjustable – using a lever on either side so you can raise it right up for little ones to rest their feet on, or drop it down to allow bigger ones to pop their feet on to the plastic foot rest near the ground. If you are worried about the seat being a little exposed for a very tiny tot, you can raise the calf rest right up to block off the bottom part – perhaps giving you greater peace of mind.
The five point fully adjustable harness is sturdily made, and a nice touch is that not only can you alter the height of the shoulder straps between two options (although it's a little fiddly to do), you can also move the crotch strap forward and the waist outwards as your little one grows. D-rings are provided for you to use your own harness too. No padded chest or crotch straps are included so little ones necks might need protecting from the webbing edge of the straps.
The hood is a little on the pointless side, but should give some shade to the occupant if you are desperate, especially when they are fully reclined for a snooze. It has two stays on either side to keep it open but is just stiff enough for you to use it at a variety of settings, it moves forwards and backwards quietly and smoothly.
The recline is the sliding toggle type, you need to have strong thumbs to release a little button whilst sliding it back downwards to recline the seat. This means that recline positions are infinite and you can also get a very flat recline for your newborn, the full recline on this stroller is much flatter than some others I have seen – especially with the calf rest raised. To sit the seat back up it is a bit of a three handed manoeuvre – one to push the seat forward, and two to operate the toggle and strap, but once done you can really get a nice upright position perfect for older, nosier toddlers, the fabric also folds away neatly at either side giving a trim finish.  The only let down with this is that the back flap of the hood that covers the exposed top of the seat when it is reclined easily bunches up or dangles down flapping about - totally getting in the way when you are trying to access the basket.
Conclusion
The Obaby Atlas is a good stroller for round and about town, with a variety of features designed to make pushing your little one about easier. Is a bit on the exposed side for a newborn, although the flatness of the recline is very good, and there should be enough room to last through for most toddlers. Quality is good which you don't always see in this price range, although the rattling wheels and flimsy feel over any bumps leave a little to be desired – especially when the stroller isn't exceptionally light either.
As with so many strollers the Atlas has a toggle and strap recline, something we are not keen on here at PT. Once again this lets the product down. It will always be something of an annoyance to any owner.
All in all the Obaby Atlas does what it is designed to do and if you are looking for a well priced stroller for everyday use this one could be for you.