Quick Summary: Overall, I am impressed by how easy and almost fool proof assembly was, I managed to assemble the entire pram in 15-20 minutes! Seeing the pram up close and in my tiny house I can't get over how huge it seems, especially compared to my current pushchair which looks like a flimsy stroller in comparison. I am excited to learn how it works, and I plan to put it to the test to really see what it is capable of, after all it is a Stokke®, product so I am expecting great things.
Whats good?
Aesthetically pleasing
Height and seat adjustments extremely versatile
Large hood and extending sunshade
Whats not so good?
Shopping basket does not allow larger items
Large to fold
Hard to push one handed
---
First Impressions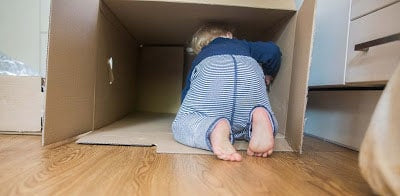 I received the Stokke® Xplory® for my Living With review this past Friday! The box was much bigger than I had anticipated, it had a lovely image of the pram, and the colour, Deep Blue on the information sticker. Now, this was my second choice in colour, and to be honest I love it more than my first choice of the Black Melange, which is the classic grey colour that seems to be very popular at the moment.

Lucky for me, the pram arrived during Oak's afternoon nap so I jumped straight in to un-boxing and assembling our new toy! Everything was packaged so well, each item in it's own bag, the chassis enclosed in it's own cardboard protection. Included in the box was the main chassis, seat unit, newborn wedge, footrest, shopping bag, rain cover and mosquito net (tucked into the shopping bag), bumper bar and hood.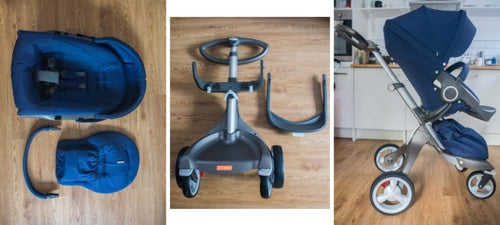 I had prepared myself to be in for a proper session of pram assembly, but to my surprise the main chassis was already assembled, meaning no fiddling with wheels! The seat unit 'clicks' into place effortlessly with a handy green/red indicator. The handle bar and hood also seemed to just 'click' into place without much fuss. I did struggle with the shopping basket, for some reason it felt too small, like the clasps were on backwards. I suppose it allows for a tighter, safer fit when full. I do think it will take some practice getting use to the foot rest and the different modes. When parent facing it has to be on the outside of the main pole of the chassis, when world facing on the inside.
Overall, I am impressed by how easy and almost fool proof assembly was, I managed to assemble the entire pram in 15-20 minutes! Seeing the pram up close and in my tiny house I can't get over how huge it seems, especially compared to my current pushchair which looks like a flimsy stroller in comparison. I am excited to learn how it works, and I plan to put it to the test to really see what it is capable of, after all it is a Stokke®, product so I am expecting great things. 
3rd October 2015
I mentioned in my first impressions post how big I thought the Xplory® was when fully assembled, specifically in my house. Our downstairs is an open plan living room and kitchen, and lack's storage space, especially for that of a pram.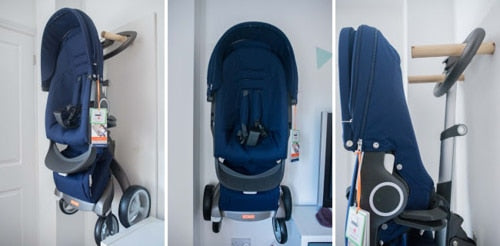 My partner, Sam is an Engineer and had the genius idea to build what we call our 'hipster pram mount' similar to the minimalist wall mounts for bikes. I was worried that due to the shape of the Xplory® handle it would not fit on the existing mount that my current, and previous pram have both used. To my surprise the unique shape is similar to most pram handles, and it fits on the wall mount perfectly! I am being proved wrong and surprised daily by this pram! It looks so unpractical and unfussy, so far I have yet to encounter a major issue! 
11th October 2015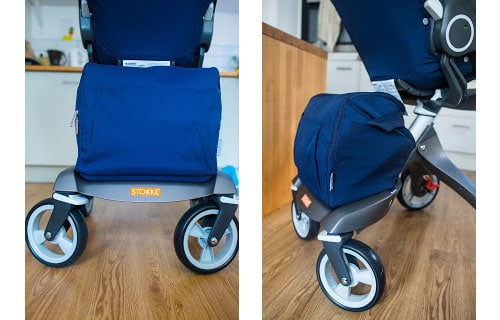 My first outing with the Stokke® Xplory® was to our weekly swimming lesson. I was a bit apprehensive about packing everything into the basket, as I just couldn't see how I would make all our gear fit. To my surprise I managed to get both of our swimming gear, towels, clothes, snacks and cloth nappies in the basket with room to spare. Because it is fabric it expands very well!
There is a mesh bag inside the basket to keep things safe, I didn't use this as it seemed to add a level of fuss I didn't need. I also had my regular tote bag with essentials to grab quickly to take into the change room, this made getting things out of the basket much easier. I think swimming was the ultimate test of storage size for the Xplory®, it's not every day I go out with two towels and various other items!
18th October 2015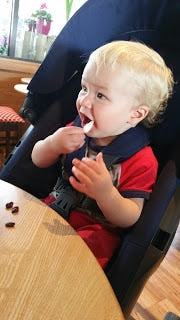 This past week hasn't been too exciting in our household, a sickness bug for Oak has kept us house bound. I have found myself missing using the Xplory®, the weather hasn't been great so we haven't even ventured out with the rain cover! I thought I would share some from healthier, happier times from the previous week, our first cafe visit with the Xplory®!
Oak is a notorious highchair escape artist, so I was excited by the various seat positions that the Xplory® is capable of. I did start him out in the highchair but this lasted all of 5 minutes. I quickly switched the seat position, while holding on to Oak might I add. It was fairly simple, turn the seat world facing, lift the height positioning and change the recline to fully sitting up. Oak happily sat in it, proudly looking at his best friend and enjoyed the rest of our visit.
This is a common theme I notice with Oak and the Xplory®, he is more than happy to sit in it, something he would never entertain with our current and previous prams.
30th October 2015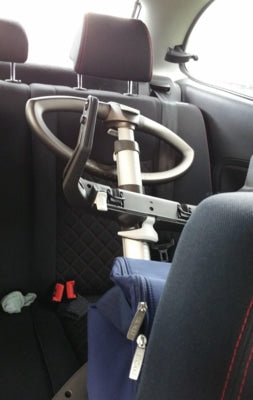 I went to meet a friend, and had my partner pick us up. This was our first test at operation 'fit Xplory in the SEAT Ibizia (07 plate)'. I wish I could tell you it fit like a glove, and we went on our merry way.
Nope! We took the seat off, and couldn't fit the folded frame in the boot, not even on the smallest settings. I hadn't researched if the wheels come off, let alone how . PS - they do!
It started to rain, we were in fits of laughter, Oak was not as amused by this ordeal. So the seat and our shopping when in the boot, and well Oak got to ride next to his new pride and joy!
1st October 2015
I have yet to get over the handle design of the Xplory®. It is meant to be ergonomic, which I can see how it helps posture. I don't feel a strain in my wrist when pushing the pram, and quite often will rest my hands on the outer part of the handle. The whole thing is just so, over designed. I don't know if it is the handle design, or the pram itself, but the Xplory® is extremely difficult to push one handed. This significantly hinders my coffee consumption on outings when I can't sit in a cafe (a situation the Xplory® excels in). Recently, I let Oak walk around, and I struggled to not run into anyone or thing while pushing the pram and holding his hand. One handed pushing is something I have taken for granted in previous prams.
10th October 2015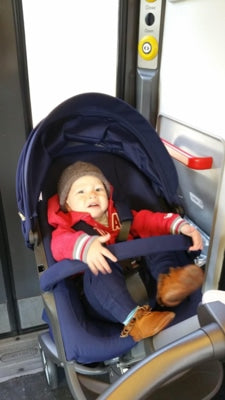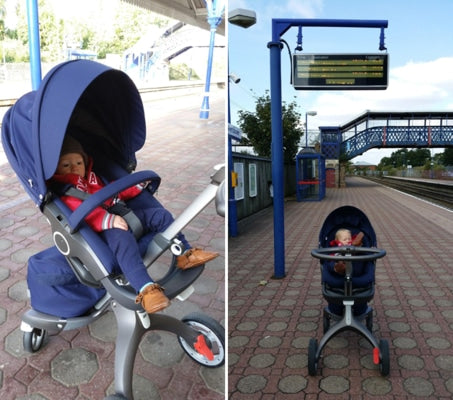 I don't drive, so having a pram that is able to get on and off public transport smoothly is important. I was initially a bit nervous about how the Xplory® would handle getting on and off the train. I often take the Chiltern Railway line to my nearest town center.
I don't have any 'gaps' to mind, but sometimes the step is rather high up and bumping prams up and down can be difficult, the wishbone shape near the wheels on the Xplory® isn't as wide as I am use to, so I wasn't sure it would make the step.
So far I haven't had a problem, getting on and off is easy enough. Because the Xplory® is rather large I try to stay out of the way, in either the larger wheelchair area or right at the doors since I only go one stop.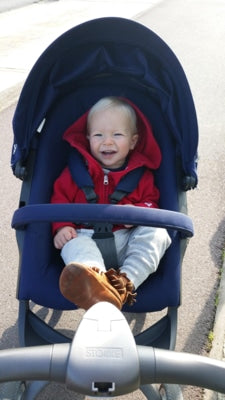 15th October 2015
The Xplory® seem to attract comments from people we pass, weather it's about the look of the pram or how happy and content Oak looks sat in it. I tend to agree with the comments, it is a gorgeous pram, and Oak is extremely happy and comfortable in the Xplory®. I think he likes how high up he is compared to our current pram, we chat loads about everything we see when out and about, something I know Stokke® took into account when designing the Xplory®, and it is something I appreciate as a mum.
22nd October 2015
Last week I talked about how easy and comfortable it was to take the Xplory® on the train. This week I am sharing another one of our frequent forms of transit, the bus!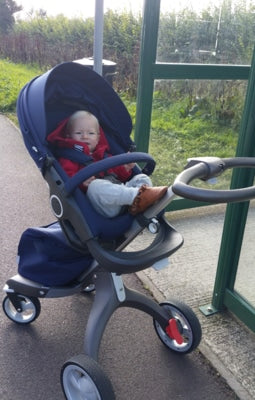 I would be lying if I said this is the form of transit that really had me worried, my regular bus is usually full of school children, or eldery people with the big rolling shopping bags. I have been told to either fold my pram, or wait for the next bus a handful of times. I usually take a baby carrier with me for sure emergencies. But the Xplory® is rather large and not as easy to fit in small spaces on a busy bus.
Thankfully, the few times we have taken the bus it has been smooth sailing! Oak has loved being up higher to wave to the other passengers, and see out the windows! I am still a bit worried about an over crowded bus, but am happy that the Xplory® is easy to load, and turn into the designated wheelchair/pram space on board.
I was too busy gripping the pram and holding on to take an action shot, so here is Oak waiting for our bus!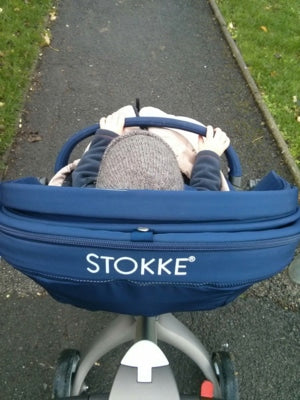 4th December 2015
One thing I love about pushing Oak around in the Xplory®,  is watching him watch the world around! I switch between parent and world facing a lot more regularly in the Xplory® than I did before, he had always been parent facing until the Xplory®. As his language and communication skills are growing day by day he is noticing more and telling me about it. We chat and are making these amazing memories together. His current favourite vehicle to see, the bus! He does tend to get upset if it doesn't stop, thankfully I have continued to be brave and have been taking the Xplory® on our bus journeys!
7th December 2015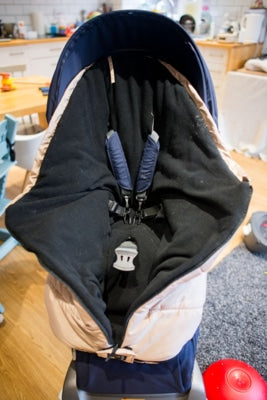 Winter is truly here, I have held off putting a footmuff on the Xplory® as I was trying to decide if I should buy the split leg Stokke® model which are £99. I feel a bit silly as I have a universal footmuff for my previous pram. I tried it on a few weeks ago and wasn't happy with the fit, it seemed too bulky and was all scrunched up in parent facing mode which didn't look comfortable. But it is just too cold for fleece suits so I thought I needed to give the footmuff another chance before I buy the split leg one.
I had to loosen the harness a lot to make room for the extra padding, no big deal, the harness is actually rather simple to loosen thankfully.
Getting Oak in was a bit tricky as the footmuff seemed to slide with him, and he seemed a lot more squished in the seat than I would normally like. You can tell this footmuff doesn't go with this pram, it totally takes away from the design and quality of Stokke®, it sounds shallow and silly when it is just a pram. But I can't get over it, it looks weird.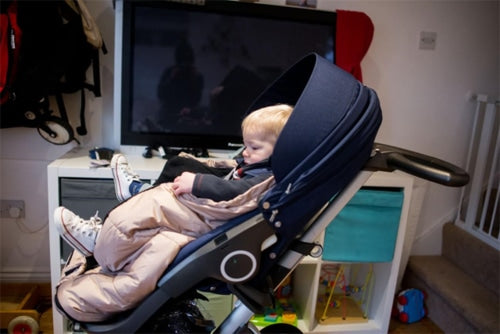 By the time we got home and I managed to get Oak out, the footmuff had slid down even more, the fit isn't right with the seat. A bit disappointing, but I think with any pram to get that clean line fit you need to go with the branded one for the pram. Here's hoping Father Christmas thinks we've been good this year! 
13th December 2015
Toddlers know how to do one thing really really well, make a mess of anything! I have been spot cleaning the Xplory® when and where needed, it has done surprisingly well considering the colour and child that sits within. Our most recent journey included a rice cake with peanut butter on top, which also mean't on top of every pram surface! I had no choice, the entire seat cover needed to be washed, I was a bit worried how to go about this. When it got to pulling the orange tabs, to help release the seat I was lost. I couldn't for the life of me pull the seat fabric up without feeling like I was going to rip the fabric. You really have to use some strength to get it off. There are  two poles on either side of the seat which are hidden with the fabric that sit within the seat unit to hold it tight and in place. Yes that confused me too upon discovery.
It was a lot easier than I thought going in, which was worrying. Everything came out lovely and clean, back on the pram ready to be covered in who knows what any day now!
28th December 2015
I have to admit that I am still adjusting to the 'feel and use' of the brake, it is on the right side back wheel, and is easy to flick up or down with your foot. It only requires a light tap, but for some reason I feel it needs to have more pressure and find myself pushing too hard. It's a weird quirk, not a negative at all just a quirk that I can't seem to wrap my head around.
2nd January 2016
I haven't had a pram with a foot rest like this one before. I really like this feature, it is so practical to be able to have it at different heights depending on the child.
It has to be removed in order to change the seat direction, and I find it needs to be at a lower level when parent facing to account for the frame pole to pass through the middle.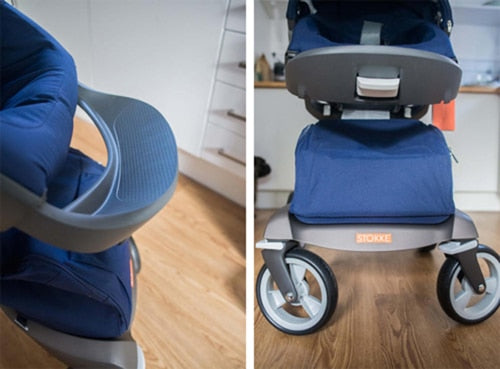 Oak loves to bang his feet against the foot rest, much to the annoyance of other any nearby people.This is easily solved by lowering it so his feet do not meet it, the adjustment button is on the bottom and is very smooth and easy to use.
6th January 2016
 I have been busy hitting the boxing week sales that I forgot to take a photo! The Xplory® has joined us on a few shopping trips and has been great, easily navigates tight areas and even doubles as a trolley for all those deals! Oak has loved being able to see all the shop decorations and chats with people as we walk around. The shopping basket also proved valuable to store all of our purchases safely.
20th January 2016
I need to admit that this cold weather has kept us indoors, so again no photos :(
However, I wanted to debunk something I have read a few times about the Xplory®, that it isn't great off road. How many people actually go 'off roading' with a pram, if you do you most likely have some crazy mountain pram. Our house has a private drive, which is gravel. I was so worried I would really struggle pushing, or pulling the Xplory®. Currently I have to pull my old pushchair backwards to get it off the main road and into our house. Not with the Xplory®! I was genuinely shocked that it pushes with ease. I have also taken it on some very narrow uneven paths, over grass edges, each time with ease.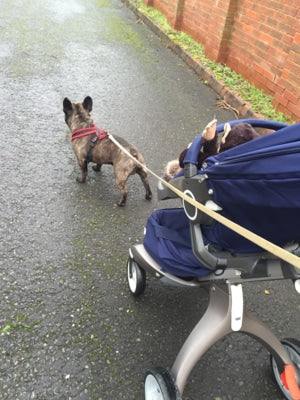 The Xplory® is fantastic for everyday life. I still think the ideal setting is city, but for us country folk it does the job just as well as an off road pram would.
25th January 2016
I haven't talked about our dog walks with the Xplory®! I find walking the dog while pushing any pram a challenge.
It wasn't too bad with the Xplory®, it was almost easier due to the height of the seat meaning Oak wasn't being rubbed by the lead but was actually able to hold it!
28th January 2016
We are in the middle of selling our house!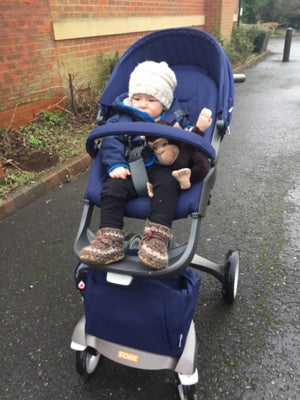 Speaking of which during the viewings I have to get Oak and the dog out, this week Oak decided his best monkey friend Monty wanted to see a bit of the country side - they both fit nice and snuggly in the seat together!
31st January 2016
A few weeks ago we had injury, a popper came off the hood! I was really sad, and also determined to fix it - I'm not sure why I thought I was so crafty. I saved the piece, and naturally forgot about it. Last week I finally contact Stokke®, sent relevant photos and info, 4 days later a brand new hood turned up!
I am so impressed with how smooth and efficient Stokke® customer service is! I am again one happy and proud Stokke® user!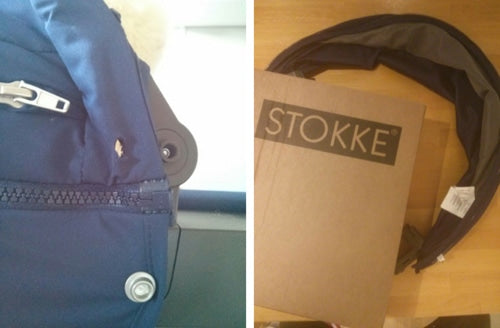 6th February 2016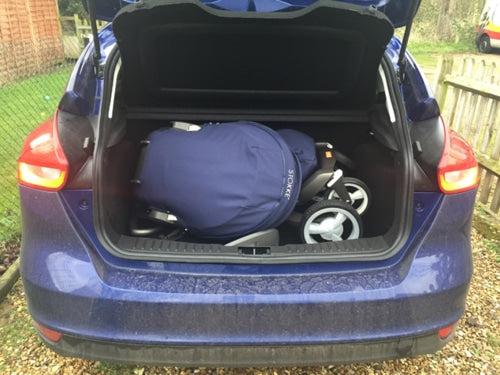 Little Mr Oak and I had to keep ourselves busy in town while some DIY was being done at the house. Since I don't drive, I have't had a chance to put the pram in the back of our new Ford Focus. As you may recall we did have a Seat Ibiza, and I wasn't able to get it in the boot.
Well with a bit more knowledge on how to fold the chassis as small as it goes, I managed to get it in the boot! With space for all the shopping I was hoping to do ...
14th February 2016
It seems toddlers are escape artists in adorable disguise. Oak has mastered escaping his car seat, it was only a matter of time before he figured out the pram. For some  magical lovely reason he hasn't figured out the harness on the Xplory®. For the most part he sits happily in the seat, either facing me or the world. On our most recent journey he had had enough, and just wanted out. Only he couldn't do it. I did take him out after this photo, but I was so happy the harness held up to a tantruming toddler!
21st February 2016
I was feeling adventurous on our most recent park trip! I went across the grass instead of on the path - how daring!!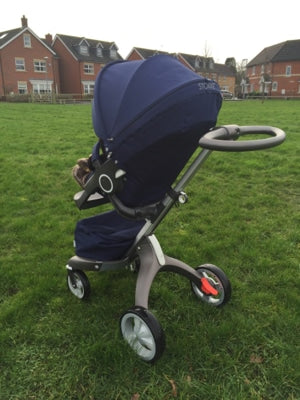 The Xplory® did really well, it wasn't hard to push even though the grass was damp. I think the size of the wheels help massively.
They are thicker than most city style prams, they actually can handle a bit of off road bumpiness. I don't think I will always opt for this route, but it is good to know it is do-able and not massively uncomfortable to push across a grass stretch of field.
28th February 2016
This isn't something I have ever considered when looking or even thinking about prams, but when you walk and are able kick the back end of the pram it becomes very frustrating.
Being the winter months I have been wearing big chunky boots, I live in the country side so muddy wet walks happen daily!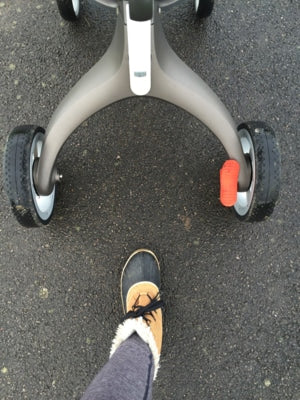 I looked down one day an realised the wishbone design is so clever, it doesn't get in the way, no tripping up or scuffing the chassis! Stokke® really do think of everything! 
7th March 2016
Woah, the weather has been crazy this week. I got caught in a  storm and quickly put the rain cover on. No photos because hail and toddler being scared wasn't the easiest situation.
The fact the rain cover does cover the entire seat and stays secure is a life saver! Here's hoping the sun starts to shine and we can enjoy warmer walks! 
21st March 2016
The unfortunate happened, I was pulling the hood up on a sunny day and a popper popped right off!! I saved the broken piece thinking I would fix it myself and then I remembered the amazing warranty Stokke® offer with their products. I had already registered the Xplory® for warranty so all I did was email a few photos to Stokke® customer service and within a few hours I had a response that a replace hood fabric set would be sent out right away! Later that week it arrived, I was so impressed with how smooth and easy it was to report my issue and have a replacement, this wasn't a massive issue and I could have made do, but I was a bit heart broken. The Xplory® is only a few months old and in  great condition - I can't be looking like a bad pram owner with a broken popper. I would always spend a bit of extra money knowing there is extended warranty, especially with how easy the issue was to resolve! Thanks Stokke®!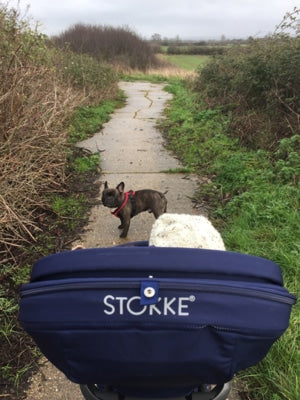 28th March 2016
More wet dog walks with the Xplory®, I am thankful the hood lays so flat and Oak is able to see what is going on and I can see the dog! No more running over the dog when turning corners!
Final Summary
The past 6 months have been really fun testing out the Stokke® Xplory®, at first I was sceptical. It looks like such a large awkward pushchair that is more designed to look good than be good. Over the course of the past 6 months I have been pleasantly surprised, things I thought would be challenging or not possible with the Xplory® have been fine. There has been a lot of thought into the design, and some features I really appreciate; the large hood, the seat reclines and height positioning have been so handy with Oak. He isn't usually a fan of pushchairs but he has loved being able to see up high and not miss out on things around us. One feature that really bothers me is the handle, it is very strange to find a comfortable position to hold and push, and the general shape and design of the chassis make it hard to push one handed, which I didn't realise I valued in a pushchair quite so much. The other down side is the price tag, at £849 for the pushchair before any extras it can be pricey if you want a footmuff or even just a cupholder! I struggled not having a footmuff that was designed for the seat as even my own 'universal' footmuff didn't fit snuggly and looked out of place. All in all I love this pushchair, it would be fab for city dwellers.