Quick Summary: The SnoozeShade Twin, like the original, is a very versatile shade and is so clever that it has won awards for the brilliant job it does in aiding your little ones sleep. An added bonus straight away is that every time someone purchases this shade, SnoozeShade donate £1 to TAMBA (Twins & Multiple Births Association).
Whats good?
Allows you to keep routine when out and about
Great for all weathers
Whats not so good?
Only available in one colour
No way of having one child covered and the other not
---
Table of contents
Material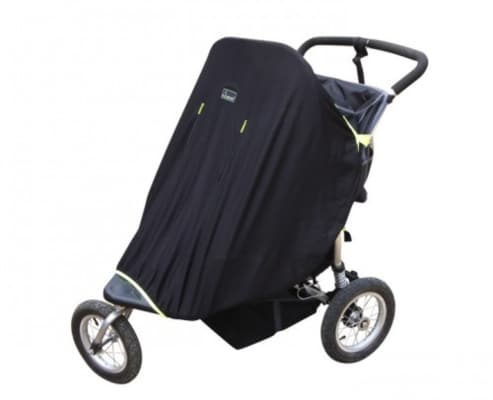 The black mesh fabric that the SnoozeShade Twin is made out of is both lightweight and breathable. This allows air to circulate nicely and because it doesn't retain heat, your little ones are kept in a well ventilated and cool setting. I was surprised at how small the shade looked; I was expecting it to be much bigger to fit around a double pushchair. The reason they were able to keep the SnoozeShade so small was because of how stretchy the material is and after being around the pushchair it springs right back to its original size, definitely made to last!
Fit
The SnoozeShade Twin is a universal shade that can be fitted on to all double width prams, pushchairs, travel systems and 3 wheelers. It comes with three pairs of Velcro straps attached to do up around the pushchair; these are easily found because they are coloured lime green. It is these velcro straps that allow the SnoozeShade Twin to be used in three different ways.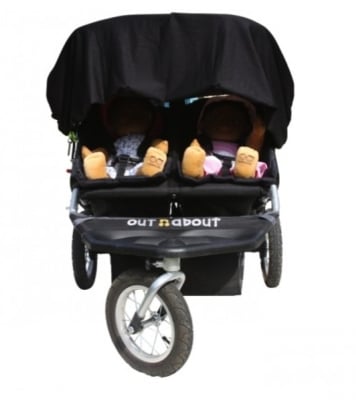 Sleep mode: This is used when trying to get your little ones to sleep when you are out and about. The SnoozeShade Twin covers the whole pushchair, doing up the Velcro straps around the hood, around the middle of the pushchair frame and around the bottom. It is essentially used as a black out blind, with the added bonuses that it is breathable and it blocks out more than 98.5% of UV rays (UPF50+). This makes it an ideal holiday accessory and I am sure a lot of you have holidays booked to go abroad, given the typical Birtish climate we so often seem to be enduring.
Half shade mode: This is achieved by doing the first set of velcro straps up around the hood, then pulling the SnoozeShade back on itself, whilst leaving a certain amount hanging down, giving an extension to the pushchairs hood and protecting your little ones eyes from the sun. No more need for pesky parasols that blow off in the wind. 
Buggy blanket mode: This mode is used to protect your children's bodies and legs. This was easily done by doing up the straps around the middle and bottom of the frame. This comes in handy if you don't have a footmuff or you forget to take a blanket out with you.
To take off the SnoozeShade, you simply undo the Velcro straps. It then folds up very compactly into it's net bag so that you can then store it either in the pushchair's basket, in your change bag or even your handbag.
Having had practice with the SnoozeShade Original, I found the twin version extremely easy to fit, however for anyone that might struggle, SnoozeShade's You Tube channel provides all the help you will need, with simple videos giving step by step instructions.
Zip
Just like on the SnoozeShade Original, this handy feature allows you to check on your children without having to disturb them, no need to cut their nap short! The best thing is that there are two zips, one on either side of the SnoozeShade, allowing you to check on one child at a time. The zips, like the Velcro straps, are lime green, so you won't struggle to find them.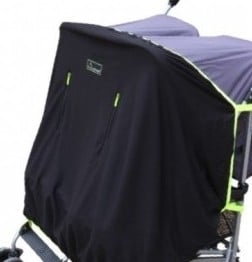 Conclusion
The SnoozeShade Twin is a great accessory for any mums out there who have twins or maybe a toddler and newborn using a double pushchair. It's versatility makes it great value for money. It helps your little ones keep their day to day routine, no matter where you are, something which I find invaluable. It also protects from sun, wind and light rain and with the British weather changing on a day to day basis, it is nice to know that the SnoozeShade will always be there to lend a helping hand. There were only two negatives that I could find. One is very minor and that is that it doesn't come in other colourways, although not a huge problem, I think it is always nice to have a choice. The other potential problem is that if your children nap at different times, there is no way of the SnoozeShade covering one child and not the other.
Overall I would highly recommend the SnoozeShade Twin, it is stylish and practical and is definitely value for money because of how many different ways you can use it.
Plus SnoozeShade support TAMBA with £1 donation for every one sold.. if people use the code TAMBA25 they'll get 25% off and the donation is still £1.