Quick Summary: I have found the Recaro Easylife stroller really has lived up to its name. I haven't given a second thought to popping it up "Just in case" which thankfully means less to think about as a busy Mum.
Whats good?
Small and compact when folded down
Easy and lightweight to pop up when you are in a rush
Funky and bright with lots of colour options to suit everyone
Whats not so good?
---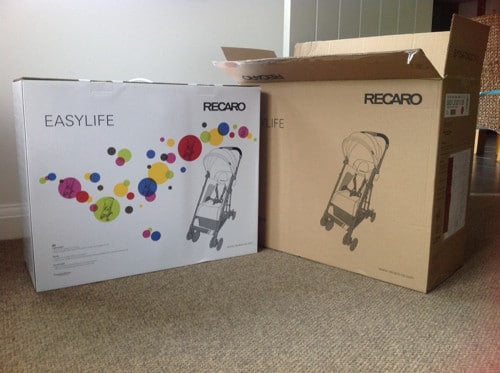 First Impressions
Hooray, Christmas has come early!! The pushchair arrives with a small bright and colourful box and the only extra packaging are two cellophane bags.
It is really easy to put up. The only assembly was to add two of the front wheels with just a simple click. (I admit I did have to refer to the instructions to find that the handle button needed a twist as well as the button to open the stroller from folding - stupid me!) The bold Pink colour doesn't disappoint and Neve is super keen to 'have a go' Shame my son might not be so keen to be seen!!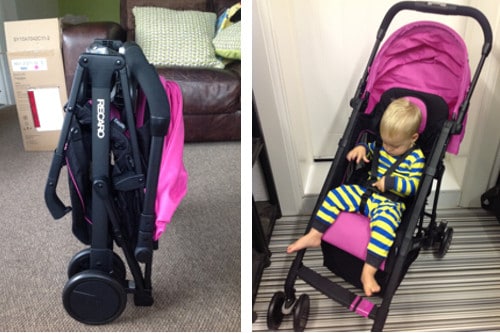 Something that really stands out when unfolding the Recaro is that it is exceptionally light but sadly the frame feels flimsy with it, the handle and frame seem to rock side to side. I wonder if I have a faulty frame or this is the effect of keeping it super light weight? Let's see what tomorrow brings.....
September the 15th 2014
Recaro have asked for me to return the wobbly stroller for them to look at and have supplied us with a replacement. They couldn't have been more helpful!
When it arrived, I quickly unpacked and assembled to check all in working order! It is a lovely bright yellow and looks a little like a bumble bee, Ellis is happy to climb in but it does still feel a little wobbly. I decide I need to get it out and about to really see what's what. It's a little late in the day now, so I pop it in the boot ready for tomorrow. I can't quite believe my eyes, there is so much room left. It really is compact folded down , even in my little VW Scirocco. (Normally get in my pushchair and the odd bag and that's that.) Can't wait to take it for a spin in the morning, fingers crossed it super sunny!
September the 25th 2014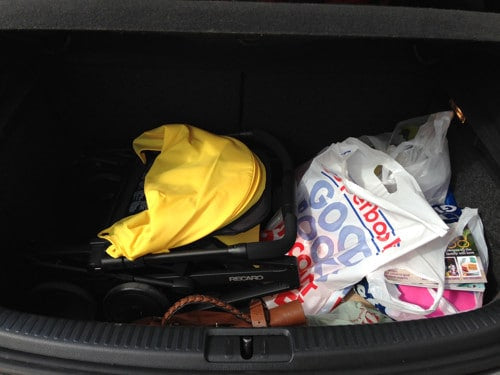 So we were excited to head off into Wells and show off our new bright new stroller to the world......a little embarrassing start though when I couldn't quite get the thing up after getting it out of my boot. My friend said I would 'get used to it soon enough' but I will still looking like a wally!
We soon got under way though and I must say that it manoeuvres pretty well through the shops and across the cobbled streets and it is truly super light. The sun was shining and the hood comes down nice and low to shelter sensitive faces.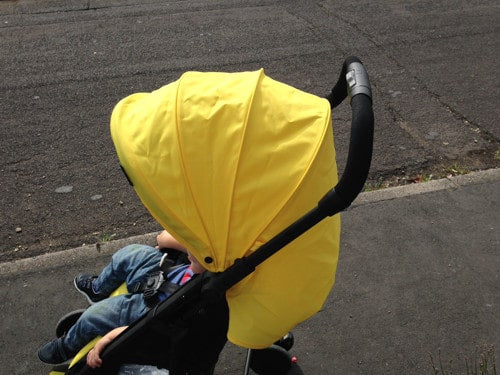 As the morning progressed and I needed to stop, I did notice that when I wanted to put the brakes on, the brake lever on one side was up and down on the other (on my other pushchairs it has been both up for off or both for on) so I was having to click one up and then push the stroller a little to see if it was on or off.
Just teething trouble I'm sure and we will be sailing along in no time!
October the 14th 2014
A quick dash nursery, a couple of tired little ones and a bit of traffic meant a quick run needed and the stroller didn't disappoint.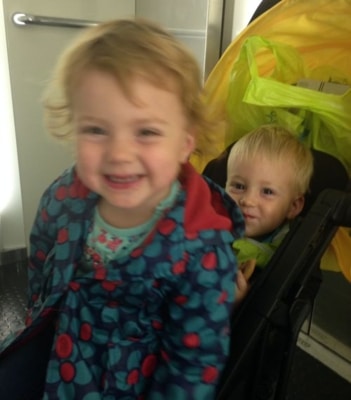 Neve soon realised that she really didn't like this running malarkey and wanted to sit in the pushchair (eeeek, the double pushchair is no more!) but never fear, super mummy is here.... I just popped Neve on Ellis's lap for the quick run to the nursery gates and we all had a little giggle.
Surprisingly I think the pushchair handled better with more weight, as didn't feel so flimsy.....happy days!
October the 23rd 2014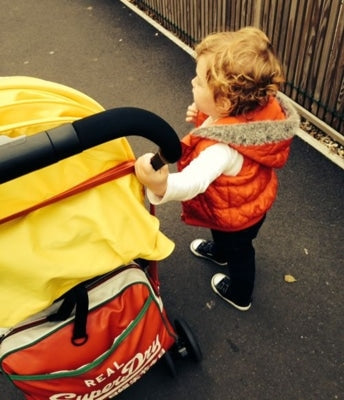 A trip to soft play today and couldn't park near by.... normally with a heavy sigh, I would attempt to get out my old double pushchair and put together. Or I would happily forget what would happen if I walked round (I would soon remember that it would take three times as long and I would end up carrying a changing bag and one or two little people too!)
No more trouble today, I flipped up the Recaro in seconds, it really is super easy to pop up. So no huffing or sighing, just happy to wander across breezily with our changing bag hanging on the handles and a proud big sister holding on.....bliss!!!!
October 28th 2014
So we have all had the lurgy (awwww!) and haven't been out and about as much as I would have liked but decided to get wrapped up and hit our local posh supermarket to treat ourselves to plenty of cold fighting vegetables and a big fat chicken, to have a yummy family Sunday roast.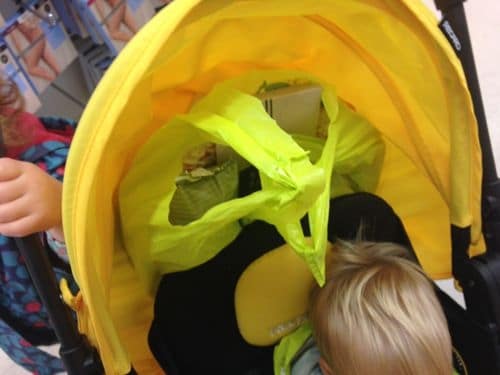 Always a bit tricky when you decide you only need a few items and won't need a trolley, especially when you have two little ones but soon realised a new handy trick!
The hood of the pushchair is attached by a popper to the back of the seat and acts like a little extra pocket, so if you need somewhere to pop a small shop once your basket is full then it saves a few panicky huffs and puffs from mum! Am warming to this bright little addition.....
November the 10th 2014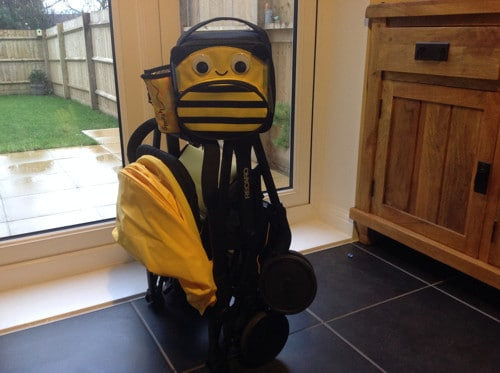 So am beginning to feel a little deflated that I don't seem to be experiencing any 'ooooh, ahhhh' effects from passers by with our brightly coloured stroller. This seems really blizzare to me as I feel that the bright colours and black chassis are particularly funky and modern. Just like the iCandy was........I started to think that it must be the black/yellow combination as we looked like a giant bumble bee! A bumble bee.....what a great thought, think of all the accessories that now fit perfectly with this perfectly. Lunch box at the ready and the possibilities for accessorising this could be endless. Happy Mummy!!!!!
December the 12th 2014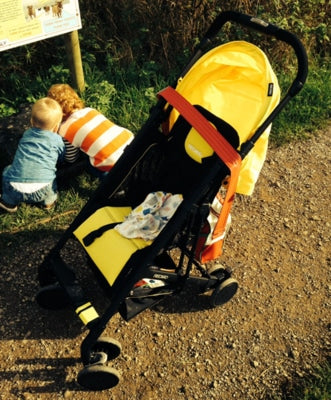 Went off to a city farm today and didn't have far to go from the car but didn't give taking the stroller a second thought, as it really is so light and always worth a fiddly awkward handle put up to take along 'just in case' The grave path was bumpy and uneven but the stroller was an ease to push, although ended up carrying more of our bags than any little people!
January the 30th 2015
Lovely to see some dry weather and get out (even if a little more than fresh!!)
I am still fiddling with the handle a little to get up but that is getting less now. I really do forget about the break though. I find I can flick on at ease but completely forget when trying to get it off that this isn't the standard, down for brake and up for off. I really don't get why this has changed.....so frustrating when I am darting my foot from one side to another like a woman possessed!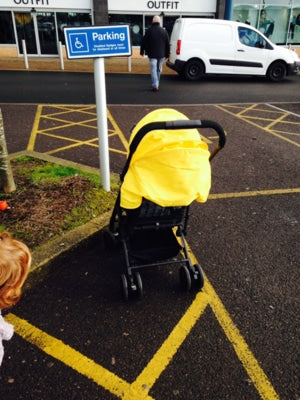 February the 14th 2015
So....note to self, remember light stroller means it may blow away in the wind!! Popped the stroller by the car, popped Ellis in his seat, go round to sort Neve and the stroller has blown all the way down to the end of the bay. Oops. Glad no one was parked next to me!!!!!
February the 28th 2015
What a day!!! Took out Ellis & Neve today to a retail park, needed to pop in and out to collect an order. Knowing that I can nip the Easylife out so easily is a real help in these situations, as means no added stresses for Mum! Ellis had different ideas today though, as I was pushing him around, he managed to loosen his straps and try and get out.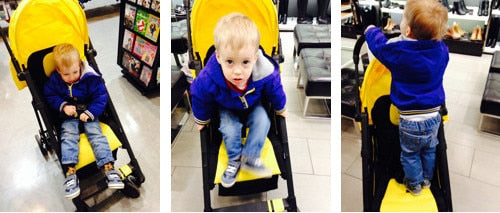 I put him back in and he managed to do it again (and purely for research I might say) I let him see how far he could progress and he got to squeeze out to standing!! Maybe just because he is a little skinny Minnie and a total monkey.......
March the 1st 2015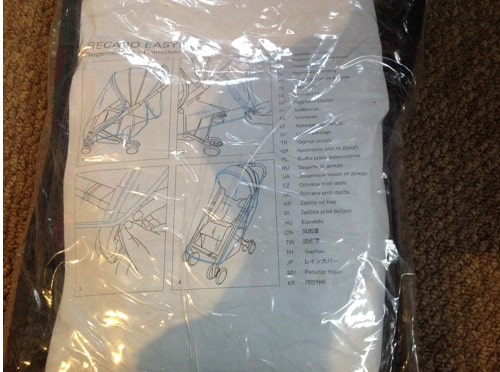 Rain cover at the ready. Team Simcox braving the weather to test. Must say that it comes in small packaging and instructions are clearly labelled and easy to follow. Watch this space!
March the 3rd 2015
No rain cover required but the welly walk was great and we hit some muddy puddles and bumpy grass along the way. Must say that the stroller handled a lot better than my previous icandy and my sister in laws pushchair struggled. I used to have to click the wiggly wheels on to straight to handle the oyster in bumpy terrain and I didn't need to do this with the Recaro at all. Although I could have if I had wanted to. So win win!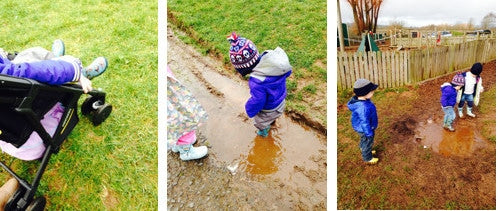 March the 14th 2015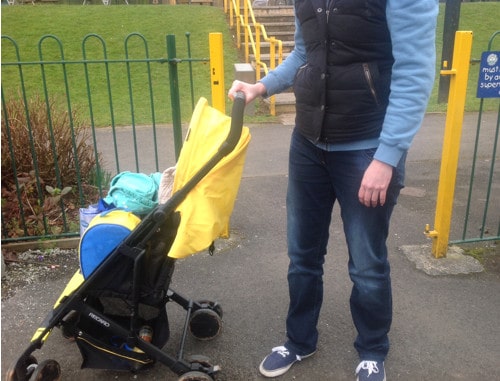 Went off to the park today to have a family photo taken for our Auntie's birthday. We could easily walk from the car as Ellis is firmly on his feet now but it's just so simple to put the stroller up, there's no reason not to. Even if it only gets used to put everyone's coats and bags in after all that running around. Whilst everyone was having a play, I asked my sister in law to have a push. Holly is 5'6" so quite a bit taller than me and I wondered how the handle height felt for her, as I find it quite comfortable myself. She said that it felt like quite a good height for her. Even after having the adjustable handle on other pushchairs, strollers can feel low for taller people, so another plus point Recaro! 
March the 16th 2015
Took my Nan into Bath for Mother's Day today with both Neve and Ellis. My Nan has not long had a hip operation, so I drove to marks and spencer and dropped her off, promising to go and find a parking space and meet her for coffee and cake, much to Neve's delight! By the time I found a space in the multi storey, they were both fast asleep. I managed to get Ellis from the car to the stroller and he snuggled quite happily but meant I had to carry Neve whilst she came to. I found that although the stroller so light, manoeuvring one handed is a lot tricker with this handle type than I have found with previous pushchairs. On the plus side though. On our way back to the car to get home, my Nan pushed Ellis (cue me perspiring as she tried to get in between cars to get to our space) only I needn't have panicked as the Recaro really is small all round and got through some quite tiny gaps. Without breaking any cars....just my nerves!
March the 19th 2015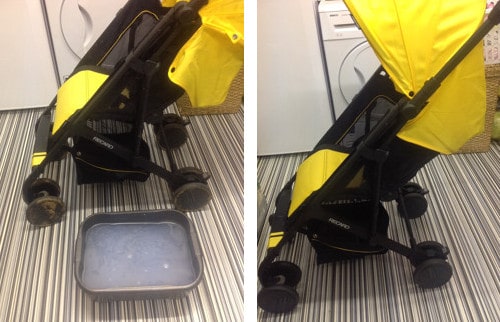 So, all that muddy park dashing and duck feeding has played havoc with the Recaro's lovely bright yellow material and the wheels are super dirty. No excuses, I am braving the removal covers and giving it a good wash!
I started to remove the hood and low and behold it starts to un popper really easily.....until I notice that we get stuck at a point where the only way to finally remove the covers is to unscrew. I repeat, unscrew. No thank you, what if I can't get it back together again!?? I quickly dropped a washing liquid pod into hot water and proceeded to wash over the stroller material, including the wheels.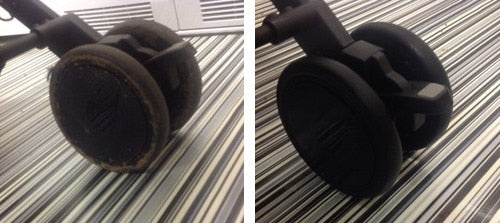 It all cleaned really easily and the chassis and wheels in all were much better than my previous pushchair as they don't have spike wheels and the mud doesn't have too many nooks and crannies to get stuck in. Really pleased to have revived the yellow and not a Phillips screwdriver in sight.
Final Summary
I have found the Recaro Easylife stroller really has lived up to its name. I haven't given a second thought to popping it up "just in case" which thankfully means less to think about as a busy Mum. There's no need to worry about busy coffee shops or grandparents boot space either, because the Recaro will fold down to such a compact and convenient size whenever or wherever you need it to.  The fiddly brake really took me a while to adjust to, but was well worth the perseverance in my opinion. So whether I was nipping to Nursery or on a muddy puddle adventure the Recaro has overall been easy, bright and hassle free!!