Quick Summary: There is so much choice when it comes to this pushchair, with unlimited colour twists and a huge range of accessories, that it feels really custom. Seeing the car seat and carry cot in person definitely makes me want to keep it for our baby number two.
Whats good?
Glides
Looks nice
Archer's happy in it
Whats not so good?
Fiddly brakes
Front wheels can seem unsteady going up and down curbs
Didn't like the parasol
---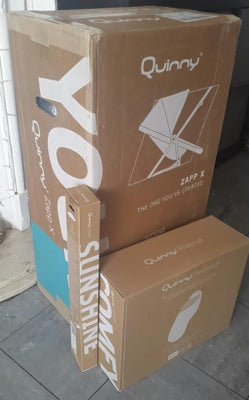 First impressions
My Quinny Zapp X finally arrived on Friday, it came in one fairly large box with two smaller boxes which are the accessories - I ordered the footmuff and parasol.
The box designs are really smart, the one with the pushchair in has 'Zapp X - the one you created' which is a nice touch. I also love that the parasol box says sunshine and the footmuff says comfy!
Boxes were all well packaged, nicely neat and tidy, footmuff looks so snuggly and parasol very smart, I went straight in with the pushchair to set it up.
The pushchair I chose was the black chassis with the light grey seat and basket, green hood, and rubber strap guards the colour is beautiful! I also chose four wheels and a closed handlebar.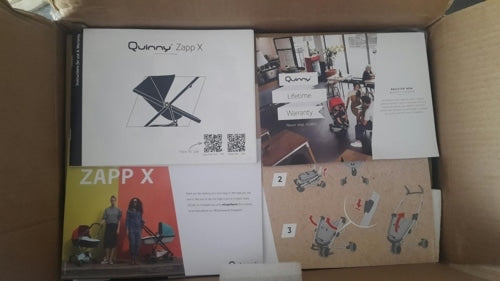 The pushchair seat is already installed on the chassis and comes out the packaging easily, all I had to do was pop on the four wheels.
Unfolding the buggy took me a good few attempts. There is an easy to follow loose leaflet that comes in the box rather than reading the instruction manual if you want to get the pushchair up quickly and I managed to get the actual pushchair up and ready to go in its forward facing position really easy.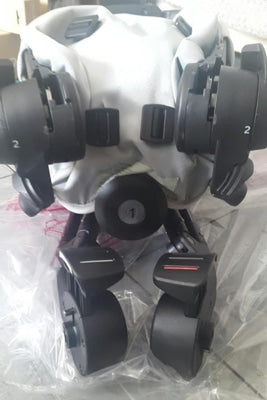 However I was planning on having the buggy parent facing and it wasn't easy to turn the seat around, the instructions were to click in one big button on the top of the seat as far as it goes and then hold it in place with the supporting button/clip but the button does not go in far enough to hold in place with the clip and you really really have to squeeze it to get it in far enough to remove the seat so I had one really dead hand after, however once it is off you can pop it back in the other way quite easily.
Next the harness straps, I needed to move the harness up to the next height setting. Now these straps are not like other pushchairs I have had where there is threading and unclipping of straps, you simply just push the rubber ends through the height setting slit and back into the desired setting, this is a fabulous idea but I really had to give it some welly! Which on a hot sweaty day was not the easiest of tasks.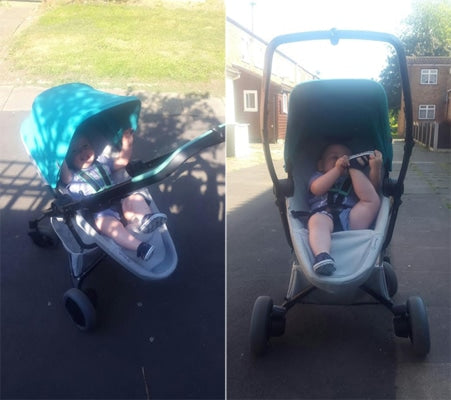 I was almost ready to go and decided I would need my parasol today as very hot out, very easy to take out of packaging then simply pop the bracket onto the handle and click in the parasol. Another great idea as you can keep the bracket on the frame and add and remove the parasol as required, only problem I found I just can not for the life of me work out how to bend the parasol so the only shade my little boy would receive would be on his ankle, either I am extremely weak or extremely stupid but the spring is made of steel. I was trying to get it to work for nearly an hour!
Now I am ready for our first stroll in our new pushchair! Archer seems really comfy in the seat and it's really easy to get him in and out of the seat and harness. The push is AMAZING it is so easy to manoeuvre and you can easily push one handed.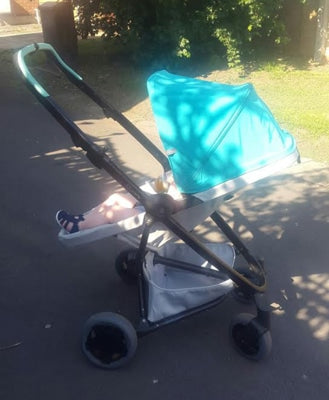 The extra stretch on the hood is really good for blocking out the sun in all angles, we would have just had a lot more protection if I had worked out the parasol. I do feel really proud pushing this pushchair and I know it had a few admirers from the looks we received!
I think the basket is a bit too small and a bit of a strange shape so it's awkward to put things underneath and no chance can you put a changing bag or any bag on the handle as it is a very vertical handle and bag would just sink so low!
After our brief stroll I decided to practice folding down the pushchair and was extremely disappointed to find out you can't fold the pushchair with the seat parent facing!
You either have to remove the seat or turn it back around which as you read earlier is not a easy task at all! I then decided to put the seat forward facing as I really can't be dealing with all that palava whenever I fold/unfold the pushchair which is a bit sad as I like to chat to my baby when out, I know I still can but it's not quite the same.
It took me a good couple of tries to fold it down it is not the easiest and I would keep the instructions on you for the first few times.
I decided to take the pushchair to the car firstly to check it fits in the boot and secondly because I didn't want to unfold and fold it again before I was next going out. Boy is it heavy, I thought my arm was going to fall off you definitely can't carry the pushchair and the baby at the same time.
On a good note it folds so compact and fit leaving plenty of room in the boot of my tiny Fiat Panda!
I can't wait to get to know this pushchair better and test it out on some different terrain, we will let you know how we get on!
5th June 2017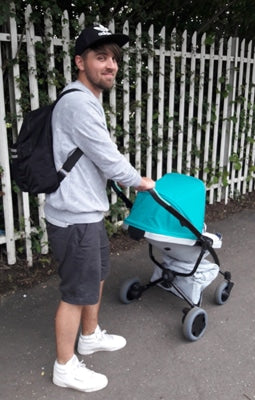 This week I have really put the Zapp X to the test, we have been on all different terrains, grass, sand, gravel and more!
The wheels can tackle all with ease and it's quite nifty on stairs too!
I've got to know the buggy a little better and worked out what I love and what I don't like so much!
I've finally cracked the folding I can get it done pretty quickly but definitely need two hands. I am still in love with the push it is so smooth and easily glides with two hands and I've even worked out the parasol!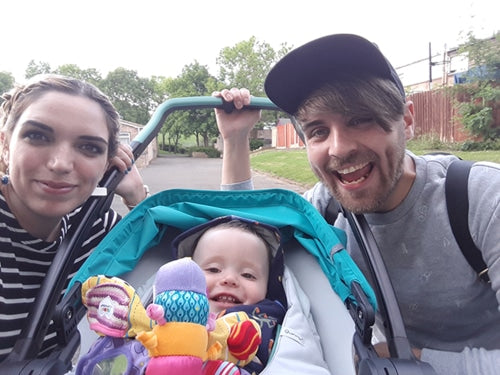 The footmuff is sooo snug and really wraps baby up like he is in a little cocoon. Only problem is you have to take the straps out of the seat unit and thread them through the footmuff so it's not a quick job and if you keep your pushchair in your boot like me it's not the most of efficient way to put the footmuff on.
The basket is really oddly shaped so although you can fit things underneath you really have to squeeze and twist them in to fit securely.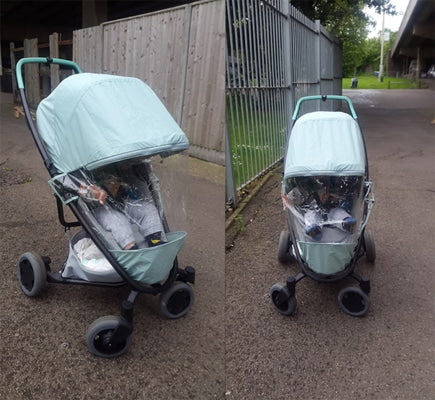 The raincover is very good looking but I don't think there is enough see through material, so restricts baby's vision quite a bit. It's also made of a very lightweight material and just stays in place with some Velcro and elastic, so Archer is able to move and push it all about with his feet quite easily.
I have had so many compliments when out about the pushchair and Archer really seems comfy in it - so far so good!
20th June 2017
On the 8th of June we went on holiday to Gran Canaria. I was debating whether to take the Zapp X or my stroller and was going to be my stroller, but once I had packed the car for the airport I could only fit the Zapp X in as it folds up so small, so the decision was made.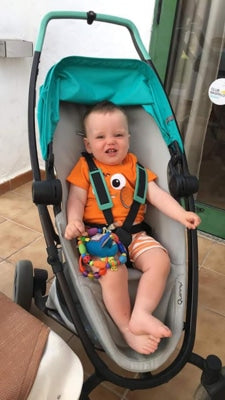 The Zapp X was lovely on holiday, kept baby really cool which is always a bonus as he is a very sweaty boy and it was 32° so the lightweight breathable fabric was a life saver!
The hood and parasol worked a treat at keeping the sun out while maintaining good airflow, however somehow the parasol got really dirty. I'm not sure if it's from the sandy/dusty areas or the colour I chose.
I have to take back what I said about the pushchair being brilliant on sand and gravel, although it can get over hard sand and small gravel, we had to carry when we had to come off a path as it couldn't tackle it.
When I chose the light grey colour I was a bit concerned about staining... well we had the biggest poonami explosion and I'm happy to say I got it all out with a bit of washing up liquid. I had to compromise as on hols but it looks as good as new.
All in all I would choose to take the Zapp X away again on holiday even if the stroller could fit in the car!
5th July 2017
We are still loving the Quinny Zapp and the pros vastly out weight the cons - I wouldn't be without it now. It's so smooth especially when shopping you can actually push with just one finger.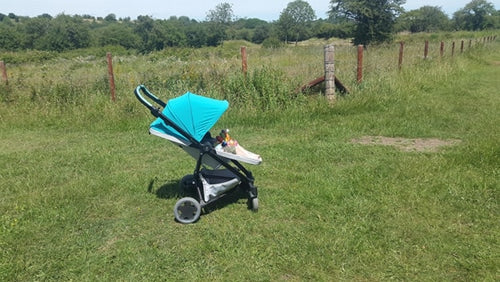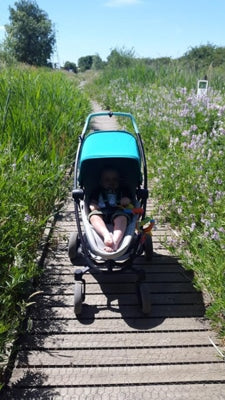 I tend to spend most days walking round country parks and trails in the lovely sunshine and it does the job amazingly. I'm loving it so much I would more than likely buy the carry cot and car seat if I was to get pregnant again, I wish they did a lilac because it would go fabulous with the grey.
The Maxi-Cosi car seat looks so stylish and snuggly, but Archer would be far too big for it now. My grey pushchair seat is looking a little dingy after all this time, so I am going to attempt to clean it as the clear rubber foot grips are more yellow at the moment, but I will let you know how I get on!
21st July 2017
Still haven't got around to cleaning our Zapp X yet, but will definitely do it in the week.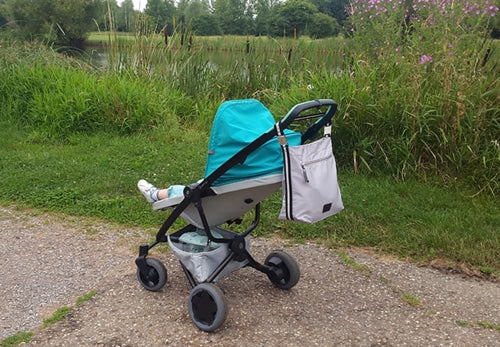 Despite my previous grumbles about not finding a bag to stay on the handle I found one that matches with a tight strap and think it goes really well.
Still loving the recline on this buggy, Archer has his full length naps as it's so comfy for him.
17th August 2017
Today I finally decided to clean the Zapp Flex Plus properly, so I took some before and after photos so that you can see how dirty and how much damage has been done since I have been using it.
The frame has a few scratches here and there but nothing too noticeable. The wheels have lots of indents but the grey colour hides it well, the seat and basket are quite dirty but also not too noticeable. The most discolouration is on the rubber feet grippers which are very yellow in colour.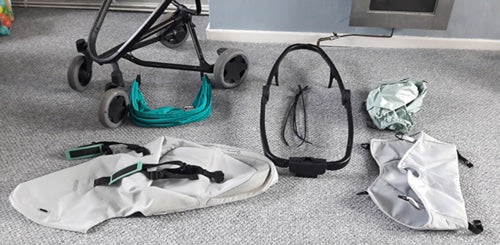 Taking the Zapp Flex Plus apart was really easy, I just did what was in the instruction manual backwards and it didn't take very long at all.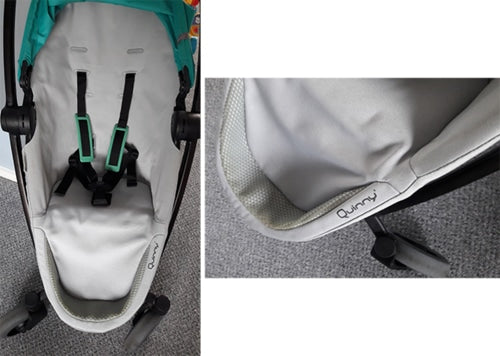 I washed the hood and rain cover in the sink by hand and the seat and basket on the handwash setting at 15° with detergent and fabric conditioner. But I had to wash by hand afterwards as it didn't remove all the dirt and sun cream marks, and then I left it to dry on the washing line.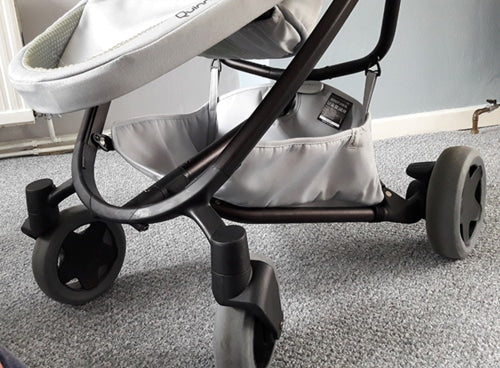 I scrubbed the frame and wheels with dish soap and rinsed with the hose.
As you can see it all came up lovely - only the wheels and grippers that remain yellow are the only clues that the pushchair is not brand new!
21st August 2017
Rain cover issues!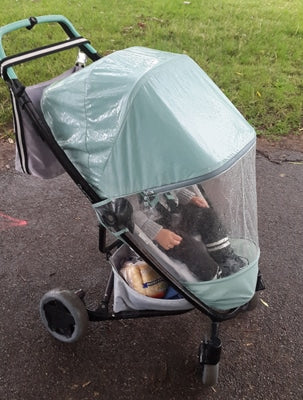 Out for a walk with the Zapp Flex Plus in torrential rain twice lately and I'm afraid it is not fully waterproof.
The first trip when I took baby out in the buggy he was wet on patches of his leg where the water had leaked through. I thought perhaps I didn't have the cover on properly so dismissed it.
The second was a strong 5-10 minute downpour and again the wet patches on his legs and also when I removed the cover slowly and carefully you can see just how the water has got through all the rain cover joinings. Not so much of a problem for my one year old in the summer but definitely not ideal, especially when it's winter.
So sort it out Quinny!
29th August 2017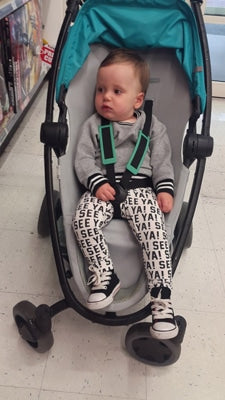 Although the seat of the buggy is adjustable, the foot space is very narrow and Archer often rests his feet over the sides. He is 16 months now and he does seem to be becoming quite snug in the pushchair. I am guilty of putting things in the hood when folded for easy access but I am not able to do this any more as it does actually hit him on the head. Only time will tell, but I don't think the pushchair has much time left for my little hulk baby!
6th September 2017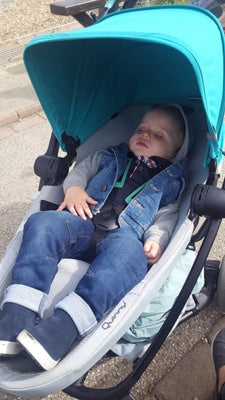 Now that the weather is getting colder - and sometimes warmer, thanks to the mysterious British autumn! - we seem to go from wearing a long-sleeve top and leggings to jumper, coat and hat in just one day, which means I am having to adjust the straps very frequently. This is quite frustrating as the straps are a bit fiddly to change. I do love that they are an all-in-one system, though, as my other pushchair always seems to disconnect the waist and shoulder straps from one another when I'm putting Archer in and out.
12th September 2017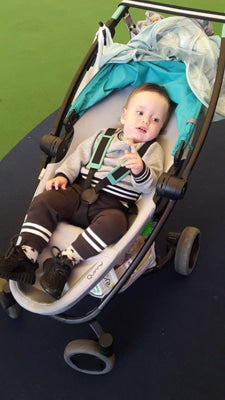 Brakes.... well, the brake system is something I love and hate about this pushchair.
I love it because it looks great and I think it's simple but hate it because neither grandparents can work it out! You have to put the bottom of your foot flat to the brake and release pads - they will not budge if you have even a slight angle and for some reason neither my mum nor Rich's mum can do it, which means I have to give them another pushchair when they are watching my son. On the plus side, no one would be able to steal your Zapp X unless they wanted to carry it away!
21st September 2017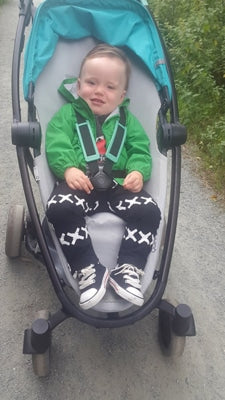 We have been using our buggy for quite a while and although it wipes well it has that used, dull look to it now. I've looked on the internet and I can't find replacement fabrics. I would love a dark grey set now for the winter but it seems these are hard to come by.
It's a shame as, although we still get lots of compliments on the buggy, I am rather ashamed of the yellowish rubber grips on the footrest area, so I'd certainly consider this when choosing a lighter colour.
28th September 2017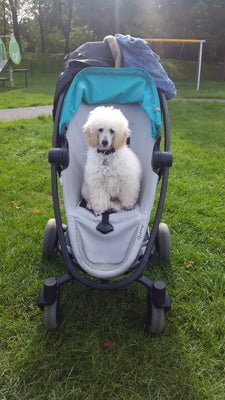 We still absolutely love the Zapp X and when I am at work Rich will ask me to get it out of my car so he doesn't have to use another pushchair - he always says the push is the smoothest and it looks the coolest!
It's funny how he wasn't keen on the colour I went for in the beginning but I think he rather likes standing out now.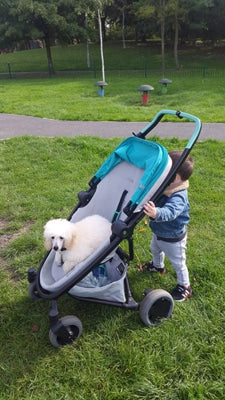 5th October 2017
It really is fabulous how small the pushchair folds, but the actual fold is still awkward to me after all this time. Even though I can do it very quickly now, it definitely isn't a smooth manoeuvre, nor the easiest. I still need two hands and somewhere to perch the baby.
I'm not sure how ideal it would be with a newborn in tow on your own, but you could certainly fit all your other shopping and supplies in the boot with it!
Final Summary
Vibrant colour and quirky design is what I see still when I look at my Quinny Zapp X. It moves so effortlessly and smoothly over most terrain, folds compactly and is a sturdy and trustworthy pushchair.
There is so much choice when it comes to this pushchair, with unlimited colour twists and a huge range of accessories, that it feels really custom. Seeing the car seat and carry cot in person definitely makes me want to keep it for our baby number two.
I love the large hood, big wheels, handlebar, footmuff, and overall feel of it.
Of course nothing is perfect and the absolute worst thing about the pushchair has to be the raincover, which is unreliable, followed closely by the parasol, which becomes unsturdy quickly. The fold could be simpler and the foot space wider.
I will continue to use this pushchair as long as I can so it is definitely a thumbs up from me. Rich would also give it 4 out of 5 stars.