Quick Summary: It has so many features and configurations that any parents-to-be who know they plan to have more than one child could easily buy this as their first system and never need to buy anything else as it will cater for all ages, from newborn in the fantastic Snug carrycot, right through to 2 children who just need an occasional break from walking.
Whats good?
Manoeuvrability, easy to handle in crowded places
Versatile, so many options for all ages & needs
Well made & excellent quality
Whats not so good?
Quite hard to fit some of the brackets / adaptors
Takes up a lot of boot space when folded
Very heavy, quite bulky to lift
---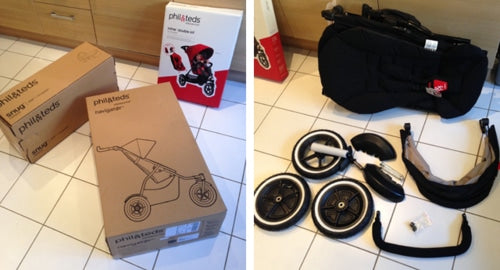 First Impressions
Almost as exciting as the arrival of my second son in December, the Phil & Ted's Navigator arrived in three separate boxes and within the hour had been put together successfully and with little fuss.
The outer packaging was simple, eye catching and it was clear what each box contained. There were plenty of accessories to look at and it soon became apparent that this was a very smart piece of kit! After consulting the manual and using what common sense having two children has left us with, my husband & I worked out between us where everything went.
The first thing that struck me once it was put together was the manoeuvrability. Unlike other pushchairs we've owned, the Navigator has inflated wheels which create a nice smooth roll and a bit of bounce. Plus, of course, it's a three-wheeler which means greater control.
The Navigator is black, sleek and smart. It has an air of sophistication about it, like you know that every detail has been cleverly thought out and each feature designed to make your life (with children) easier. All materials used feel premium and I would imagine that it will still look great after years of heavy use.
The Snug Baby Carrycot that arrived alongside the Navigator is sturdy, beautifully manufactured and provides an all important lay-flat option for my newborn as I try to convince him that sleep is good!
The Inline Double Kit feels solid yet has a great amount of padding to ensure a comfortable ride and all accessories feature eye-catching red accents which stand out against the jet black.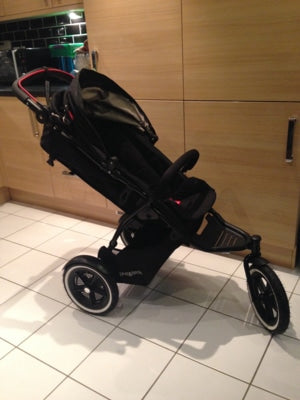 Getting to grips with the amount of seating options almost left me dizzy, it really is the most versatile travel system I have come across. Any new parent planning to have more than 1 child could easily buy the Navigator and be confident that they would never need anything else.
I'm obsessed with demonstrating the Auto Stop Safety Brake to all my friends and family and I'm loving the ease at which I can adapt it to suit my needs. I know it's early days but so far I am blown away by the Navigator and it's many options & features. 
January the 26th 2015
We have discovered that the Phil & Ted's Navigator is a secret weapon against babies who won't sleep!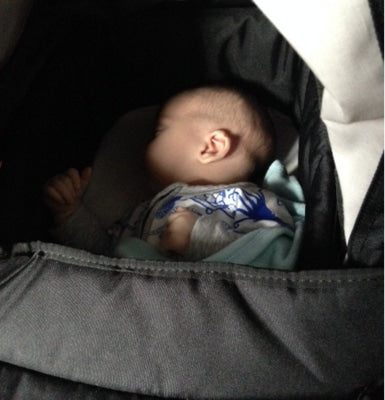 Drew absolutely loves the Snug Carrycot which came with our Navigator, it requires separate adapters to fit to the chassis but these were provided. I find it a bit hard to snap them into place but this is probably because they are new and they need to be tight for safety & stability.
The Snug Carrycot has a lovely thick mattress inside and I've started using it in the house at nap times too as it allows me to rock Drew to sleep and I know he's safe in there.
February the 2nd 2015
We've only had a sprinkling of snow down here in Kent and today was a beautiful sunny day so we all decided to go for a walk. I needed to make sure Drew was kept nice and cosy so popped him in his snowsuit and into the Snug Carrycot on the Phil & Ted's Navigator.
He loves the width of the carrycot, it's quite narrow and makes him feel 'snug', obviously where the name came from!
I love the adjustable handle height, it has an incredible amount of range and would be ideal for people well over 6ft, I'm quite tall but even I don't need the highest setting. It's quick & easy to adjust too, which is great for when I have to swap with my 'not-so-tall' mum and chase after an overzealous Kipp.
We put the hood up and attached the apron to it to keep the chilly wind out and had a lovely walk in the crisp sunshine. The extra bounce provided by the air filled tyres means it's never long before he's asleep and the handles on the carrycot allow me to easily move him around without waking him up.
February the 9th 2015
It was another lovely sunny day so I decided to try out more combinations for the Phil & Ted's Navigator and take the boys out for a walk.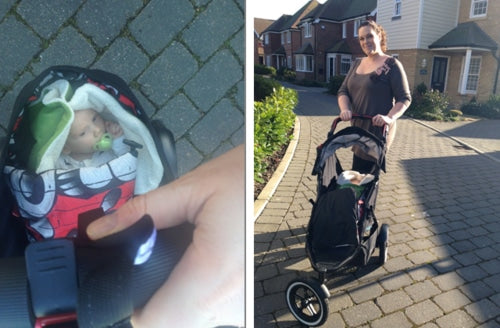 We're planning a trip up to London at the weekend so thought it would be a good idea to see what the best configuration would be prior to our journey.
I purchased a Phil & Ted's Cocoon, a soft carrycot which can be used with the main seat unzipped in lay-flat mode, it allows you to have the baby in a carrycot whilst still using the second seat on the front.... something you can't do with the Snug carrycot.
Drew loved the Cocoon and quickly drifted off and Kipp liked the novelty of riding in front, although it's not ideal for long journeys.
Despite the weight of 2 children I still found the Navigator easy to manoeuvre and the curb-pop made it nice & easy to go from road to pavement.
Kipp wanted to walk on the way home so I removed the second seat and it still provided a great lay-flat option for a baby.
February the 14th 2015
Today we took a trip to the London Aquarium as a special early birthday treat for Kipp who turns 3 this week.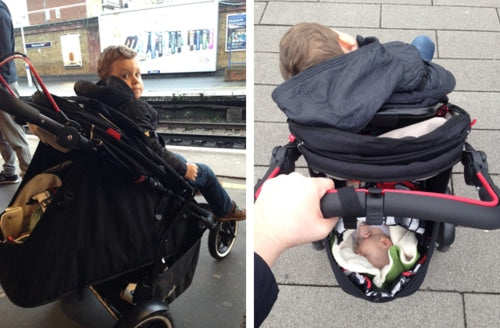 We had considered lots of options for how best to transport both children throughout the day and decided to use the Cocoon and doubles kit with the Phil & Ted's Navigator.
I liked the fact that if Kipp wanted a nap we could just zip the main seat back up and he could sit in there whilst we carried Drew in a sling for a while.
We boarded the train with ease at Ashford station and Drew slept the entire journey, cosy in the cocoon.
Unfortunately we found that the London Aquarium is far from pushchair friendly, with lots of steps, broken lifts and far too many people but I couldn't have asked for a better pushchair to help us cope with these obstacles.
We made full use of the auto-stop brake whilst in the busy city, it was reassuring to know that if I let go, the Navigator would not roll, especially on the station platforms.
After a busy day Kipp did fall asleep in the front second seat but it wasn't ideal as he's too big to rest his head back, although he didn't seem too bothered.
February the 24th 2015
Adjusting to life with 2 children can be challenging, there just never seems to be enough time. Most days I try to use the Snug carrycot with Drew as I think it is the most comfortable option and he loves being in there, but some days I just need the quickest and most hassle free option.... today was one of those days!
We just needed to pop to the local shops so I strapped Drew into our Maxi Cosi Cabriofix car seat which is compatible with the Phil & Ted's Navigator via the adaptors which I purchased separately. It's so simple and the adaptors are very easy to fit, I was delighted to find that I could attach the car seat without having the take the main pushchair seat off, which you have to do if you want to fit the Snug carrycot.
It's a great option for when you're out & about as you don't have to wake a sleeping child to move them, you can just unclip it out of the car and clip it straight on to the Navigator.
Drew was most happy and was asleep in minutes and I was able to whizz around the shops in record time.
March the 1st 2015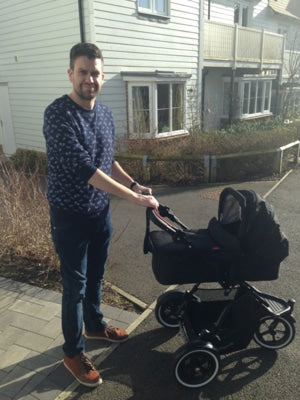 Wanting to make the most of the great weather today, Michael decided to take Drew out for a stroll in the Snug carrycot on the Phil & Ted's Navigator whilst I enjoyed some time at home with Kipp.
Although the sun was shining it was quite windy but the sturdy hood and padded apron of the Snug kept Drew nice and warm.
On the way home Michael was enjoying the extra security of the auto-stop brake feature as we live at the bottom of a very steep hill.
The only downside to using the Snug carrycot is that we have to remove the main seat from the Navigator, it is actually very easy to remove but I find putting it back on again quite tricky as fitting the bottom of it over the frame is difficult whilst trying to support the weight at the top. I'm convinced there's a knack to it but I just haven't figured it out yet.
March the 8th 2015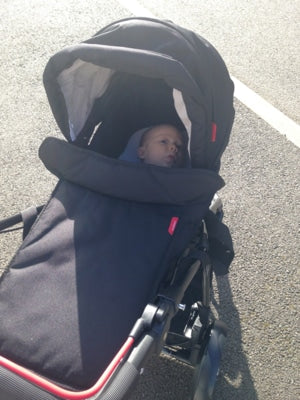 Drew is now 3 months old and growing rapidly, we are making the most of using the Snug carrycot while he still fits inside!
He is much more content these days and still sleeps really well if we lay him down in the Snug whilst pushing the Phil & Ted's Navigator.
I love taking him out for walks around the village when big brother Kipp is with his childminder.
March the 16th 2015
Now that the weather is improving I like to walk to pick Kipp up from his childminder, it's also a good opportunity to put the Phil & Ted's Navigator to the test as a double with Drew in the cocoon beneath and Kipp in the seat above.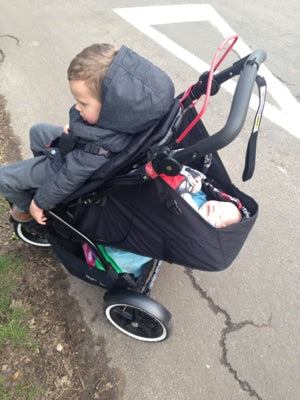 Both seemed happy to be using the pushchair this way - Drew in particular found his environment cosy enough to have a snooze in.  My one criticism would be that the actual seat for Kipp isn't particularly deep so Kipp looks more like he's 'perching'. But that might have more to do with the fact that although Kipp is 3, he's the same height and build of a 4 year-old!
Nevertheless it's the perfect solution for a short journey home.
March the 24th 2015
Today we're getting ready for a short break to Chessington. This is the perfect opportunity for some serious pushchair testing as we need several options to keep our boys safe and happy, in particular, an option whereby we can have both sons comfortably asleep. We've been practicing a little, trying out different methods and Drew - despite his size! -still seems a little too small to be placed in the second seat below so we'll probably need to use the cocoon for Drew again and maybe strap him into a sling when Kipp needs to sleep using the main seat.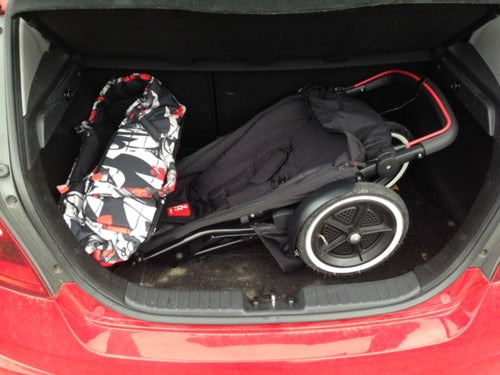 The advantage is that it's really simple to convert from using the cocoon which sits in the unzipped main seat, we just have to remove the cocoon, zip the seat back up and it's ready to go for Kipp.
It also means we don't have to load the car up with lots of pushchair bits & pieces, I don't have a particularly large car and the Phil & Ted's Navigator in the boot still allows for a little spare room for our essentials.
I will be reporting back soon with an update on how we got on at Chessington.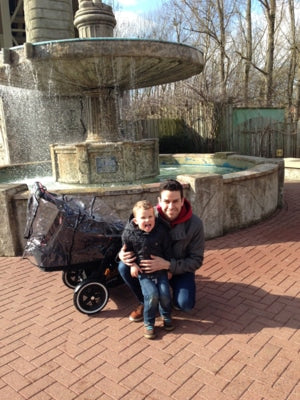 March the 26th 2015
So we arrived on Thursday morning at Chessington World of Adventures for our 2 day mini break. We were so glad we had the Phil & Ted's Navigator with us as it really does provide us with the right options considering Drew will probably spend most of the 2 days in it whilst we walk around the parks, and Kipp will inevitably get tired and need a rest from all the excitement at some point.
The park is perfectly designed for families with pushchairs, we found it really easy to get around and the Navigator provided good manoeuvrability amongst the other visitors and school parties.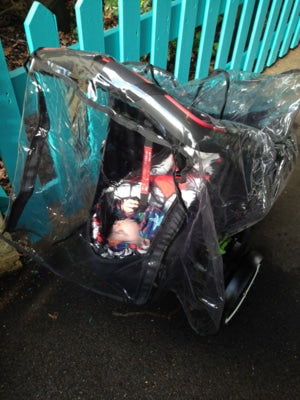 The weather started off a bit drizzly but we had come prepared with both rain covers (Phil & Ted's provided a cover for the pushchair as a double and another for use as a single), we found the cover really easy to unpack and fit to the Navigator and it was ideal for keeping Drew dry and out of the cold wind as we pushed him around the park.
After lunch it brightened up so we removed the cover, folded it back up and popped it into the basket along with the few essential items we had taken with us. The basket on the Navigator is one of the smaller ones I have come across but we managed fine, you just have to be a bit more sensible about how much to take with you.
March the 27th 2015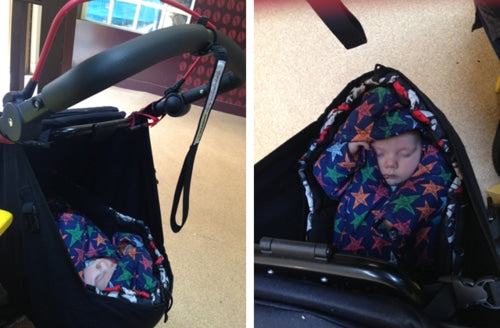 After a fantastic night in the Azteca Hotel we set out on Friday for another fun-filled day at Chessington. The Navigator was again put to excellent use as we walked round & round the park and zoo. We opted to use the Phil & Ted's Cocoon with the Navigator as it provided us with an option that allowed both children to rest at the same time if necessary.
Drew enjoyed being in the Cocoon very much and actually slept much more during the day than he usually does, which in turn allowed us to find a small spot to park the Navigator in the coffee shop whilst we enjoyed a rest and a latte!
All in all, we had a great mini break and found it virtually stress free and enjoyed by everyone due to the adaptability & ease of use of the Navigator.
April the 4th 2015
Following our trip to Chessington we decided it was time to give the Phil & Ted's Navigator a little TLC and cleaning. The canvas seats are very easy to clean with a damp cloth and look brand new with very little effort. We also topped up the tyres with the pump as they were feeling a bit squashy after the many miles covered, this is the first air we have added since we first got the Navigator so they don't need much maintenance and actually hold their pressure really well.
April the 6th 2015
Today we decided to have a family outing to our village Point to Point Horse Racing which takes place every year on Bank Holiday Monday. We packed up the car with the Phil & Ted's Navigator and set off in time for the first race at 2pm. It was incredibly busy and we had to park in a field quite a distance from the action, thank goodness for the Navigator as I'm not sure many other pushchairs would have managed the rough rural terrain as well!
The weather was grim so once again we popped on the rain cover and Drew was kept warm and dry, I also found myself using the Auto Stop brakes quite a lot as it's very hilly and I had visions of Drew joining a race if I accidentally let go!
April the 14th 2015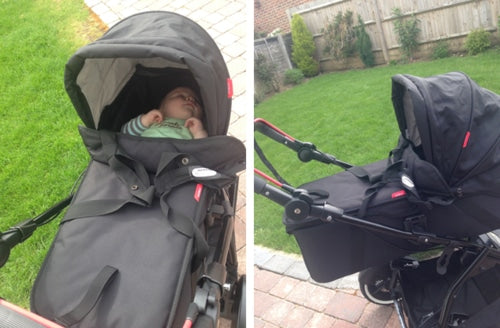 Drew is now 4 months old, although he's more the size of a 7 month old! He still loves to spend time in the Snug Carrycot on the Phil & Ted's Navigator but he is starting to look a little more 'Snug' than usual and I'm determined to make the most of it before he is too big to fit inside comfortably.
Now the weather is getting warmer, we often put Drew in the Navigator in the garden for his naps, the fresh air and comfort of the Snug carrycot seem to keep him asleep longer than if he's indoors...perhaps his noisy older brother also has something to do with that!
April the 24th 2015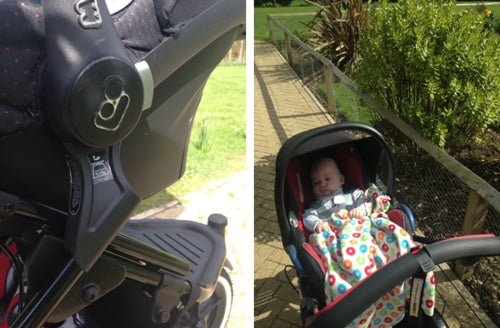 I usually try to avoid taking the children into town with me but sometimes it's inevitable. Today we needed to pick something up quickly so I went for the easiest option and just popped the car seat onto the Phil & Ted's Navigator using the adaptors, it's great if Drew is already asleep as I can move him from the car onto the Navigator without waking him (most of the time!).
I do try not to keep him in the car seat for long periods of time as there are lots of reports out there against this but for short trips into town I think it's fine. Kipp is also growing up so fast these days and most of the time he chooses to walk beside the pushchair, he likes to hold on to the side which is good because then I know where he is.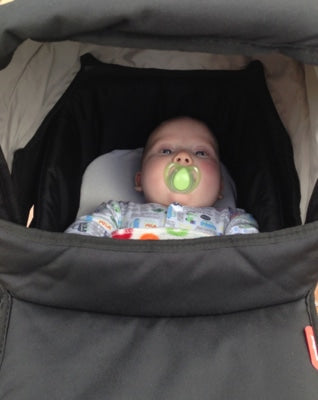 May the 4th 2015
Today is Bank Holiday Monday so we decided to take the children out for some fresh air and to enjoy the sunshine. We went to some local gardens and enjoyed walking around with Drew in the Snug carrycot while Kipp let off some steam. I don't have many complaints about the Navigator but I do find it really heavy, I'm quite strong but it is one of the heaviest pushchairs I have come across, lifting it in & out of the car is particularly difficult but this negative is far out weighed by how lovely it is to push around and by its fantastic quality.
May the 9th 2015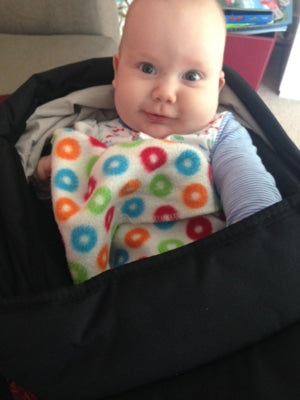 Drew loves to sit up now and is starting to take a real interest in toys and everything around him. When he wakes up from a nap in the Snug carrycot on the Phil & Ted's Navigator he likes to sit in there for a while just watching his big brother play.
He has started to become a little reluctant to take naps but fortunately once he's in the carrycot he just can't resist and quickly falls asleep.
May the 16th 2015
I think we need to accept that Drew is really too big for the Snug carrycot and would rather be sitting up in the pushchair so he can keep an eye on everything around him.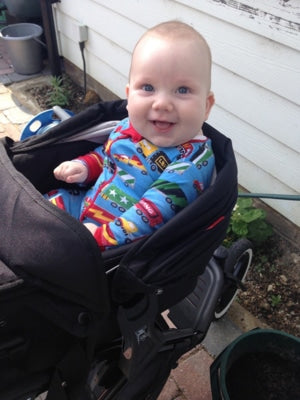 After a final sleep in the carrycot today he wanted to sit up and enjoy the garden.
May the 22nd 2015
Today we took the car for a service in Herne Bay, with a few hours to kill we decided to clip the car seat onto the Phil & Ted's Navigator and head down to the seafront for a quick game of crazy golf. Kipp is showing much more interest in his baby brother and even wanted a turn at pushing the Navigator ... although Drew looked a little concerned with Kipp in control!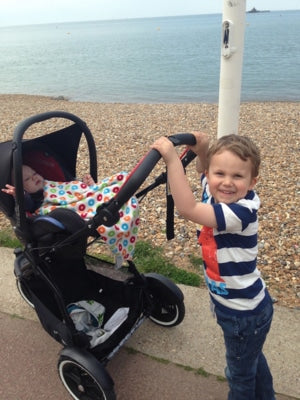 June the 6th 2015
Now that the Snug carrycot is a bit too 'snug' we have found that Drew is just as happy to sleep in the seat of the Navigator when it is unzipped and put into the lay flat position. It gives him a fair bit more room and has a nice swinging motion to it as you move around.
June the 15th 2015
When the weather is good I like to walk Kipp to pre-school and the Phil & Ted's Navigator is perfect for pushing both children up the steep hill from our house to nursery. Now that Drew is 6 months old he can go in the 2nd seat at the back while Kipp sits in the main seat. The only downside is the weight of the pushchair with 2 children in as I struggle up the hill, but coming down I was very grateful for the added security of the auto-stop brake and wrist strap.
June the 23rd 2015
Well no pushchair review for the Phil & Ted's Navigator would be complete without a puncture and luckily, or unluckily, we got one!
I found it incredibly easy to remove the tyre and inner tube, found that the puncture was too big to be repaired, and quickly ordered a couple of new inner tubes from Amazon.
Fitting an new inner tube to the tyre and inflating it took me less than 10 minutes and we were soon ready to be used for a snooze in the garden.
June the 28th 2015
Drew loves being able to take in the views when we go out so we have started to put him in the main seat of the Phil & Ted's Navigator when Kipp is happy to walk alongside. One feature we're finding very useful is that the hood can been positioned wherever you need it to keep the sun off.
Conclusion
Looking after a 3 year old and a newborn baby is never going to be easy but I can honestly say that having the Phil & Ted's Navigator on hand to provide a versatile and comfortable transport option for both children has helped enormously.
It has so many features and configurations that any parents-to-be who know they plan to have more than one child could easily buy this as their first system and never need to buy anything else as it will cater for all ages, from newborn in the fantastic Snug carrycot, right through to 2 children who just need an occasional break from walking.
Using the Navigator for my children meant that I knew they were comfortable in a good quality travel system and the great manoeuvrability alongside the excellent features such as the auto-stop brake made it a pleasure to use.