Quick Summary: So is go really the ultimate effortless stroller? It lives up to this in the fact that it's compact, practical and, thanks to its light weight, very portable too, making it great for families who like to travel from place to place by car or public transport.
Whats good?
Light
Small when folded
Quality padded seat liner
Good-sized basket
Great price
Whats not so good?
Frame doesn't always feel steady
Fiddly recline
Toddlers are able to pull the seat back upright
Small hood gives little coverage
---
Table of contents
When we previewed the phil&teds go back at the Kind und Jugend nursery exhibition we were taken aback by its feather-esque weight. Now we've had chance to put it through its paces with real children and busy family life...
Available in Apple, Lemon or Cherry (note that the pushchair is black; the colour refers to the included liner).
Chassis
So it seems that smaller is better in the pushchair world at the moment with a plethora of compact buggies hitting the streets. Now phil&teds have joined the city stroller club with the introduction of go™.
As soon as the box arrived at HQ we were amazed at its size - surely there couldn't actually be a pushchair in it? The box gave an insight into just how small and light the pushchair inside would be. We pulled the stroller straight out of the box ready assembled, and with a quick flick of the instruction manual we unfolded it and we were ready to go. So far, so fuss-free!
The most striking feature of the chassis is its weight. The whole pushchair weighs just 5kg (no, that is not a typing error!) so you really don't notice when lifting it in and out of the car or when carrying it around. With this in mind, it would be a fabulous option for parents of toddlers who like to walk but need a buggy on the occasions when their little legs get tired.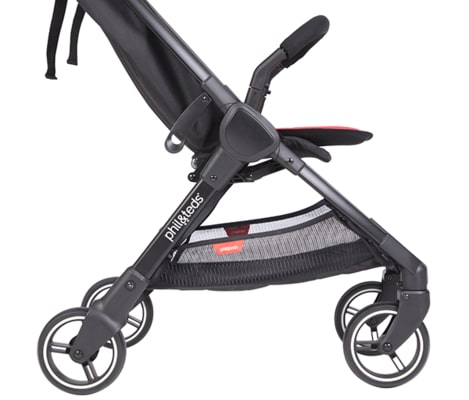 The finish on the black frame is simple but sleek and the continuous bar handle, although not adjustable, stands at a comfortable 103cm.
go rolls on four small wheels, which are made from an EVA puncture-proof material. The front swivel wheels were smooth and easy to wind in and out of tight spaces and the suspension gave enough spring to absorb the slight bumps you find on city streets. Due to the design of the rear wheels, they probably wouldn't suit hardcore everyday use but would be ideal for trips to the city. We did find that the chassis had a bit of flex in it, especially side to side, but it seemed to hold strong all the same. We just had to be careful to keep all four wheels on the pavement, especially when cornering in a hurry!
The basket is a great size and can hold 5kg. There is enough room to reach right underneath the pushchair seat to easily fit a few bags of shopping in it. Many compact city strollers don't boast this essential feature so the go is scoring well in the storage department!
The brake pedal is in the centre of the back wheel axle and simple to flick up and down with either foot.
Seat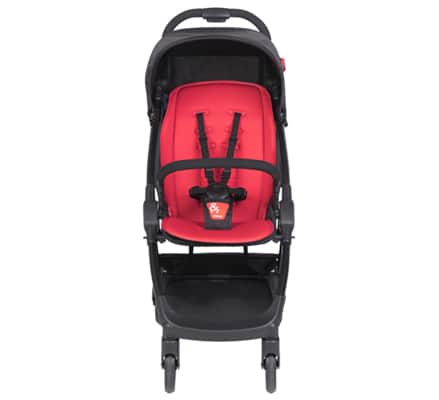 The fabric seat is tall and wide but shallow. A toddler has plenty of headroom and lots of wriggle room both sides but even the smallest passenger seemed to be perching on the edge. The liner that comes with the go buggy is really well padded. It's thick and spongy, which makes for a comfortable ride for baby. The harness straps are thin and, whilst easily adjustable with a sliding grip, they did seem to rest quite high on baby's shoulders, even when threaded through the lowest slots on the seat liner.
go shares the signature recline of the phil&teds range, operated with straps that can be inched through sliders, one on each side of the seat. This isn't a quick recline mechanism and it is much easier to use without a passenger in the seat so it might be easier to find your desired seating position before your put your baby in. The plus-point of a strap recline system is that there are infinite position possibilities, from upright all the way to flat for newborns. However, when our little tester was in the seat she found it very easy to pull herself into an upright position, bringing the seat up with her from whatever recline position it had been placed in.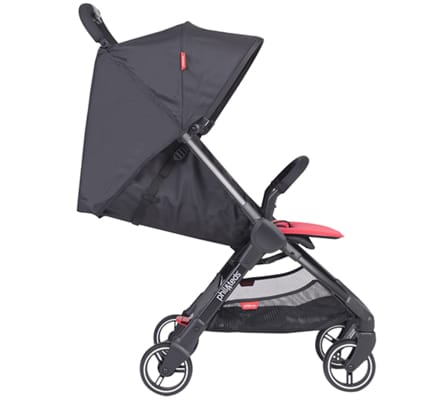 The small hood gives limited protection. For full coverage from the sun you would probably want to purchase an additional sunshade accessory such as the phil&teds go buggy all weather cover set, which includes both storm and sun covers.
Fold
Without a doubt, go is great where space is a challenge. If you have a small car boot or need to fold your buggy and carry it on a regular basis, the small size and ultra-light weight of the go makes it really easily transportable. It also stands alone when folded, making it easy to keep by you on the bus or tube.
The fold is operated by a hidden handle in the seat base and is easy enough after a few practices. This handle also makes for easy carrying and lifting of the stroller. One thing we noticed was that the fold handle was tricky to reach with the seat liner in place, meaning you have to feel underneath the liner to find the strap.
Unfolding the pushchair is really quick and simple. All you do is squeeze the handlebar button and flick your wrist (remembering to release the auto-lock clip on the side of the frame first).
Conclusion
So is go really the ultimate effortless stroller? It lives up to this in the fact that it's compact, practical and, thanks to its light weight, very portable too, making it great for families who like to travel from place to place by car or public transport.
There are a few points that aren't so stress-free, such as the fiddly recline straps and the seat design, which allows older babies and toddlers to pull themselves up from a reclined position.
The frame showed quite a lot of flex and sway but this didn't seem to cause such a problem when pushing with baby on board. The basket is a great size, which makes a change for a compact city stroller, so if storage is a must then the go is one to bear in mind. The hood is also small so if you're wanting to use the go in sunnier climates then extra protection is a must.
If occasional city strolling is your game then go could be for you.