Quick Summary: Having received my Out'n'About Little Nipper Double, my first thought was; wow! That box can't possibly be holding a double pushchair! The box was really light and compact. Assembling the pushchair was really quick and easy, it was literally a case of pushing on the wheels, adding the seat liners and attaching the bumper bar – all in all this took me around 10-15 minutes. This pushchair is incredibly lightweight and easy to manoeuvre. The seat liners make each seat super padded and comfortable for the children and the 5 point harness is really easy to adjust to fit each child. Both seats have individual hoods which is great for me as Frankie doesn't tend to like his hood extended whereas Charlie does as he still sleeps a lot whilst out in a pushchair. The seats are also really easy to recline by simply adjusting the strap on the back of each seat. I'm looking forward to testing this with my boys; I hope that it is still as easy to manoeuvre once they are in it!
Whats good?
Very lightweight even when fully loaded
Very lightweight even when fully loaded
Fits through standard size doors
One raincover that covers both seats
Folds as one unit
Whats not so good?
Basket is on the small side - Storing the raincover fills it
Harness can be fiddly to do up if child is wriggling about
---
Introductiom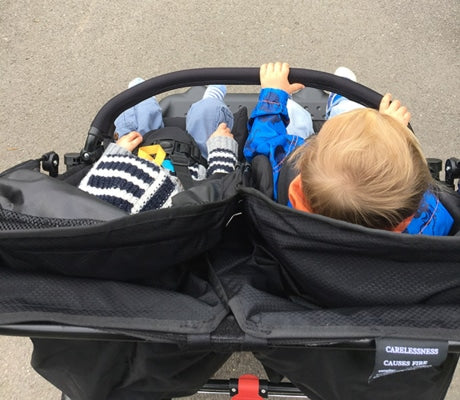 My name is Amanda and I live in Northamptonshire with my husband Brin and our 2 sons Frankie 21 months and Charlie 10 months.
I work part time in a school as an administrator but spend the rest of my time with the children.
Where possible we like to spend as much time as we can outdoors as the boys love trips to the park and being outside.
When I'm not at work we walk everywhere so it's important to me to have a practical double pushchair. I've had a few so far that haven't been, so I'm looking forward to trying the Out'n'About Little Nipper Double!
14th September 2017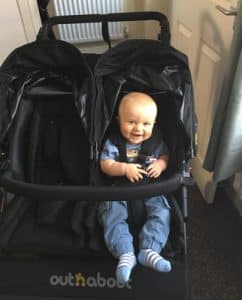 I've so far used it 3 times and I must say it's incredibly light even with both children in it - I can even push and steer it one handed!
The seats are also deceptively spacious both Frankie and Charlie look really comfortable.
I do however find the basket quite small as the raincover fills it and so there's not really much more space for any shopping so think I would have to use a buggy clip as well.
Other than that I am enjoying testing it and look forward to some more outings in the next week now we are all better.
21st September 2017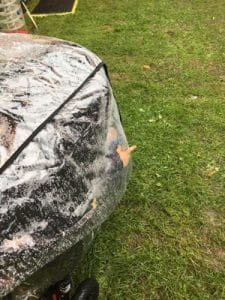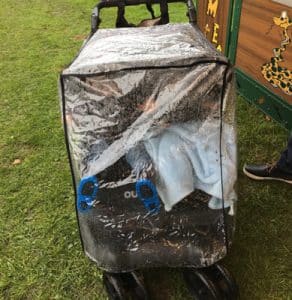 So this week the the fun fair is in town. We went twice as unfortunately the first time it poured with rain so the boys stayed in the pushchair , but it did mean I got to put the rain cover to the test!
What I like about it is it covers the whole pushchair.
Other doubles I have used have had 2 raincovers which means it's inevitable that one child gets wet.  It fits really nicely and keeps the boys dry.
Frankie has also found the air holes in the side - I've attached a photo of him with his finger sticking out of the side!
My husband has had a push this week too I like the height adjustable handle - it's really quick and easy.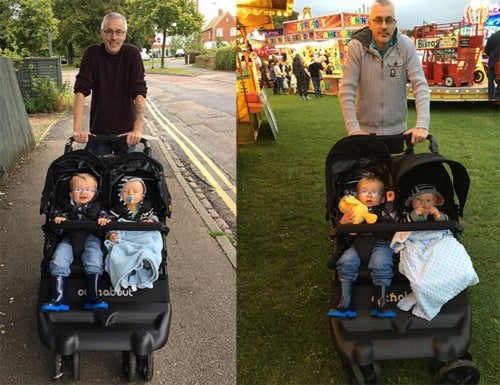 Our second trip to the fair was dry but very muddy - the wheels handled this brilliantly and didn't get stuck at all and despite being caked in mud still steered fine.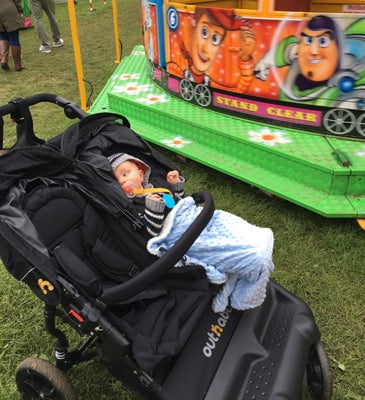 28th September 2017
This week we have visited Rushden Lakes - a newly opened shopping and leisure.
One of the things I love about this pushchair is that it's so easy to get round shops (with the exception of Next which is rubbish for pushchair access!)
It literally feels like it's the width of a single and yet the seats are so roomy. 
Both boys have plenty of growing space and don't look squished at all, I have found that usually side by side doubles have really narrow seats meaning that Frankie can look too big for the seat even though he shouldn't.
This isn't the case with the Little Nipper Double at all despite looking small they aren't - even with a cosytoes on each seat.
Both boys also seem to find it extremely comfortable to fall asleep in as pictured! 
5th October 2017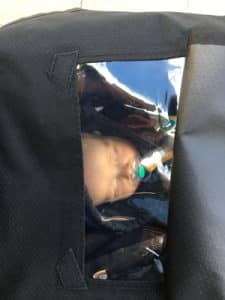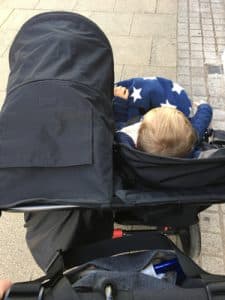 I find the individual hoods on the Little Nipper Double a great plus point. Frankie doesn't like to have the hood up as he's far too nosy and loves to look about! Charlie however likes to have the hood up especially when he's snoozing.
Each hood has a little window so you can still keep an eye on your little ones which I really like.
I do find sitting the seats up from the reclined position a little fiddly.  I'm hoping that this is something that will just take a bit of practice as the boys regularly fall asleep in the pushchair - they obviously find it super comfy! 
12th October 2017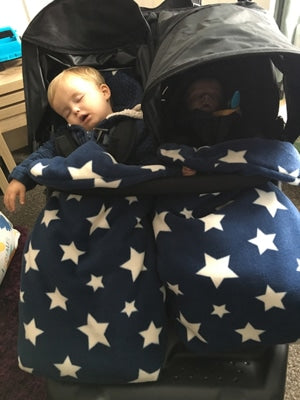 So this week we had a trip to the Doctors.
This is usually the type of place that I hate going to with a double pushchair, as it's always busy and there are lots of chairs crammed into one place in the waiting room which can make them difficult to get into and around with a double pushchair.
I have to say with the Out'n'About Little Nipper double it wasn't that bad. I didn't get stuck anywhere in the waiting room or knock into chairs and because it's pretty compact I wasn't in anyone's way which was great!
The fact that it's so light makes it really easy to manoeuvre which makes it great in tight spaces. I think this is a huge plus point for this double.
26th October 2017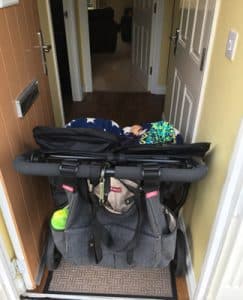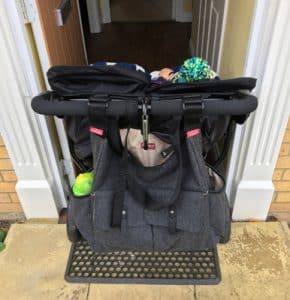 One huge advantage I've found with the Out'n'About Little Nipper Double is that it's fits through standard doorways.
My house is only 4 years old so I'm lucky that my front door and internal doors are all really wide. We visited my parents this week and this fitted easily through their front door which is a lot narrower than mine.
Although it wasn't easy to picture (it looks very tight in my photos) I had room either side.
I can't get my other double pushchair through their door, I have to take the children out and fold the pushchair which is a huge inconvenience so the fact the Out'n'About fits is a huge plus point!
We've also been to the park this week and the pushchair handles really well on uneven ground. 
It pushes over grass and bumpy surfaces with ease and the fact that it has good suspension gives Frankie and Charlie a nice smooth and comfortable ride.
3rd November 2017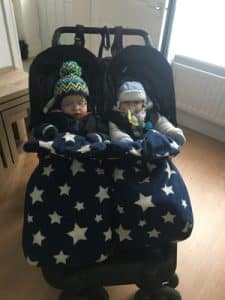 This week we have wrapped up warm and braved the cold for lots of fresh air.
Frankie is now at the stage where he likes to walk sometimes and what I really like about the Out'n'About Little Nipper Double is that it's so light and easy to steer, which makes it easy to manoeuvre even with Frankie on his reins.
I can actually push and steer it one-handed if I need to which is obviously great for when Frankie wants to walk.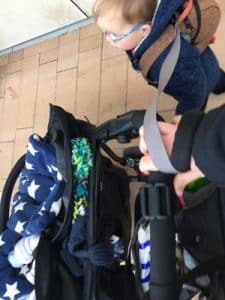 One downside I am now beginning to notice is that if Frankie doesn't want to go in the pushchair (on days when it isn't practical for him to walk), I do struggle to do up the harness on him when he's wriggling to escape!
The shoulder and waist straps can be quite difficult to hold together when the child doesn't sit still, which then makes it quite fiddly to do up.
Having said that, the harness is very easy to adjust to size for each of the boys and the padding makes it super-comfortable for them both.
10th November 2017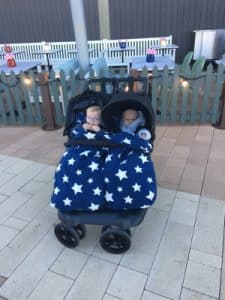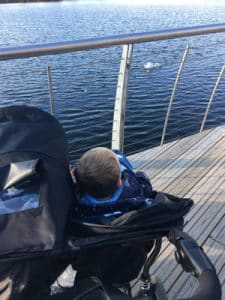 This week we went to our local fireworks display and as it rained for most of the day beforehand it was really muddy. The Out'n'About Little Nipper Double handled it really well - despite the mud it was still super-easy to push and steer, and the wheels being covered in mud didn't affect how it handled at all.
We've also been out for lunch this week during a trip to Rushden Lakes.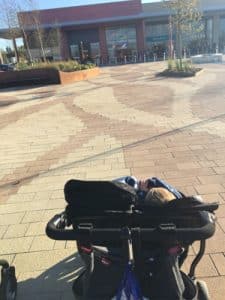 Another thing I really like about this double pushchair is that it's not huge widthways and therefore going out for lunch, into cafes and around tables, isn't an issue as I don't have to worry that we won't fit!
Today we have been Christmas shopping. Our local shopping complex is about a 30-minute walk, which includes a lot of walking uphill! The Out'n'About Little Nipper Double is so light to push, even fully loaded, that it really isn't hard work.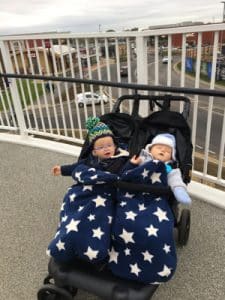 I do have to use a bag clip for shopping, as I've found the raincover fills the whole basket and I can't get much else in. Again, I don't find this an issue, because you can adjust the handle height so shopping bags don't get in the way and it's still lovely to push.
The shops were fine as this pushchair isn't huge so I don't find myself apologising for being in people's way! Most stores were easy to manoeuvre around with the exception of a couple, which really aren't pushchair friendly.
Charlie was so impressed about going shopping he spent most of the time asleep!
30th November 2017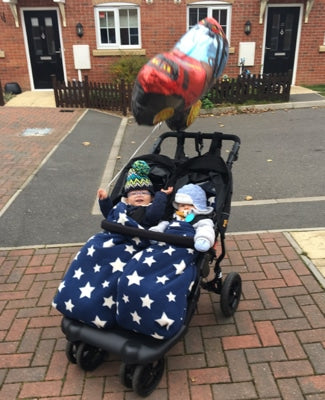 We went to our local Christmas lights switch-on this week and it was not only freezing but also very busy and crowded. To be honest, I found it difficult with a double pushchair - but, having said that, I think it would have been just as difficult with a single stroller due to the sheer volume of people. I think I possibly ran over a few toes! Despite this, the boys were both nice and snug in the Out'n'About Little Nipper Double. I just love how cosy the seats are for them and the deep hoods mean I can also protect them from the elements.
I'm also glad that it has foam wheels so there's no danger of getting a puncture - a huge bonus for me.
I didn't manage to get any pictures whilst we were there due to it being so busy but we did make it home with a huge tractor balloon!
Final Summary
I can honestly say I think the Out'n'About Little Nipper is one of the best double pushchairs that I have used – and there have been a few! I have found that it makes life with a double pushchair a little bit easier; we haven't got stuck anywhere, there aren't any places we cannot visit and it is so lightweight, even with both children in it.