Quick Summary: If you are looking for a workmanlike stroller that looks smart too, the Roll is certainly one to consider.
Whats good?
Easy to use
Great recline
Tall comfortable seat
Easy fold
Excellent price
Whats not so good?
Little suspension
Fixed handle height
Difficult to access basket
---
Table of contents
Things we love
There is a lot to like about this traditional stroller. It's easy to use. We would describe it as a fuss-free workmanlike stroller that suits children of all ages. It has four great seating options from lie-flat to upright, which are all smooth and easy to operate with a trigger lever on the back of the seat so as not to wake baby. The seat is also tall and comfortable with lovely harness pads, and a nicely padded seat for a stroller. The large calf rest is adjustable and adds extra length to the seat when reclined, which means that even taller toddlers can rest their legs when sleeping, and the zip-open extendable hood gives great coverage from the sun.
The classic umbrella-style fold is operated with your foot and is simple to do without bending down and the brake is also easy to see and use as it is colour-coded red. We liked the smart colours that the Roll is available in. We tested the Navy, which is perfectly unisex and looks really classy. At £120, the Roll is a great price for a good-quality stroller.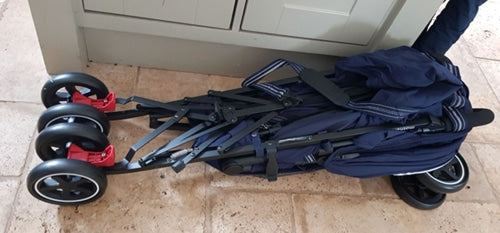 Things to look out for
As with most strollers there is little suspension so you'll need to avoid cobbles and keep your eyes peeled for bumps and cracks in the pavement. The strap is great for carrying the stroller over your shoulder when it is folded but we found we often got tangled in it when pushing and trying to access the basket. You might also find the basket access quite tricky in general, which is a common occurrence with strollers. We couldn't reach into the basket very easily, especially when the seat was reclined. We also thought it worth noting that the handles sit quite high, which is great for taller drivers but may not suit shorter people.
Our verdict
The Roll is a good old-fashioned stroller with classic looks. The timeless colours of Navy or Black look great and are easy to pair with a universal liner or footmuff if desired. You will need to watch out for getting tangled in the long carry handle when strolling but the Roll's shining glory is its overall ease of use. If you are looking for a workmanlike stroller that looks smart too, the Roll is certainly one to consider.