Quick Summary: Maxi-Cosi offers some of the best car seats on the market, and we're taking a look at their forward facing Group 1/2/3 car seat, the Titan Pro!
Whats good?
G-Cell technology side impact protection used
Easy to fit and use
Same car seat lasts from 9 months to 12 years old
Harness tucks away in the seat when outgrown
Whats not so good?
Forward facing from 9 months old
Quite a heavy seat
---
Table of contents
Things we love...
The Titan Pro is a Group 1/2/3 car seat, meaning that you use it with the harness for the first stage, and then with the vehicle's own seat belt for the last two stages. The harness is a stay open harness, which makes it much easier to place your child into their seat. Maxi-Cosi call it a Grow-Safe harness as it adjusts along with the headrest to the height you need. The parent is  alerted to when the child needs to come out of the harness by locking off the headrest at that height. It won't go any higher until the harness is tucked away, so that then the vehicle seat belt can be used.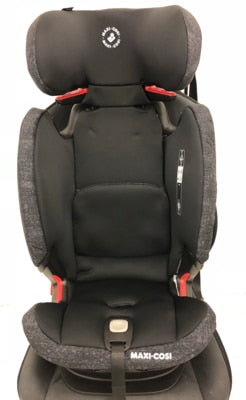 As well as the ISOFIX points to fit the seat in stage 1, you need to attach the top tether to the car's anchor point. This means that it takes less room up in the car as there is no support leg in the foot well. If you have other children climbing into the back seat, this can make life easier - you just need to make sure that your car offers this option and is compatible.
A deep recline in the seat is great for children that nap in the car and ensures they are comfortable at all times. It's easy to use and seems almost springy rather than a struggle to adjust!
When you come to the next stage and need to use the vehicle's seat belt to secure your child, it's great that the majority of the harness is stored within the actual seat. Everything but the harness pads are kept together, which makes it impossible to lose them if using with another child.
Maxi-Cosi has introduced a new side impact technology on this seat. Visible on the outside of the shell in the form of 'honeycomb' hexagonal shapes, the GCell uses the shapes to create a wall of strength when under great compression. This innovative technology is exclusive to Maxi-Cosi car seats and gives another level of safety.
Things to look out for…
Although we would always advise that it is better to rear-face for longer, and until at least 15 months, the Titan Pro can be used from 9 months old or 9kg in the forward facing position.
If you would like to purchase a Maxi-Cosi Titan Pro, then it is exclusive to Mothercare and can only be bought from there.
The Titan Pro is quite a heavy seat at over 12kg, but this should only bother you if you are moving regularly from car to car.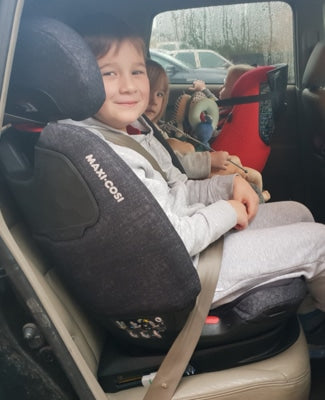 Our verdict
As a group 1/2/3 car seat, the Titan Pro has great longevity and lasts almost as long as your child will need a car seat. It is really easy to fit and use, using ISOFIX and Top Tether with the green indicators to assist with installation. We love the high quality Bamboo cooling fabrics and there's plenty of padding to keep your child comfortable. Once you get to stage 2 and 3, it's really easy for the child to fasten their own seat belt thanks to the shaping of the seat.
The new technology used is innovative and it's reassuring that the seat offers the next level of side impact protection should you be in a collision.
We wouldn't use this seat until at least 15 months, but it's great once you get to that stage!