Quick Summary: Sara Kirkaldy, her husband and their 9-month-old son have been enjoying family life in their Northamptonshire village with the Mamas & Papas Ocarro. Here Sara shares her verdict on this popular all-terrain pushchair...
---
Overview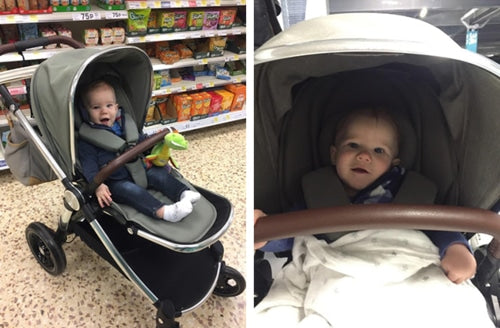 My little man and I have been test driving the Mamas & Papas Ocarro pushchair, and I have mixed feelings about it. I love it, but I also feel a slight tinge of regret that I didn't choose it in the first place!
The Ocarro was on my original shortlist of pushchairs, but I discounted it because it doesn't convert into a double. If I could compare my pushchair must-have criteria list from when I was pregnant to now that I have a 9 month old, they would be very different! If you're not sure what you're after, here's what's great about the Ocarro and why you should check it out.
Amazing fold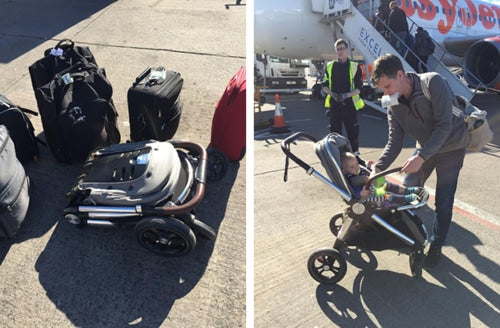 Excuse me for dedicating a couple of paragraphs to this but I feel Mamas & Papas undersell this particular feature. The fold is awesome. For a full size, luxury, all-terrain pushchair, it folds compactly in one piece, with one hand, with the seat unit attached facing in either direction. Most pushchairs do not do this. You usually have to have the seat in one position, or take it off, and you're left stacking a precarious, unwieldy pile of pushchair parts in the back of the car. If you've ever travelled on a plane or train alone with a pushchair (and a baby!) you will definitely appreciate being able to fold it up one handed. And because it folds in one piece, you can fly with it and take it right to the gate.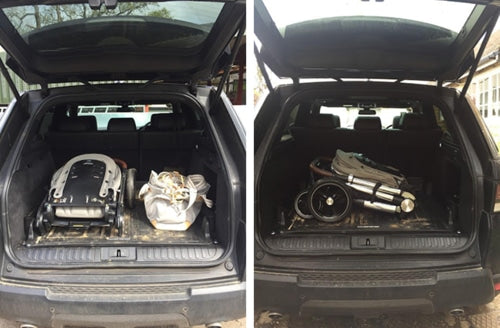 Once it's folded, there's a carry handle built into the frame and you can wheel it along like a suitcase on the front wheels. It is not the smallest fold you'll find, but for other pushchairs of comparable spec, I bet you won't beat it.
Impressively, it also fits front-to-back, taking up maybe a quarter of the space? This is in a Range Range Sport, though the Ocarro also goes into a friend's Mini no problem.
Easy to figure out
Okay, I'm still banging on about the fold, but it's not a complicated procedure you'll need to demonstrate to your mother-in-law 15 times. I doubt you'll need to consult the manual to figure out anything else either. The harness, undoing the bumper bar, switching the seat unit around, taking the wheels off – it's all pretty intuitive.
Gentle, easy push
It's really lovely to drive. Even laden down, it glides along nicely and those big chunky wheels won't mind if you venture off the path. I'm not sure it's up to serious off-roading, but the ride is good enough for the park, gravel paths, crossing playing fields and the like.
Huge shopping basket
Because the sides are elastic you can always find room to squeeze in one more thing. That's two jumbo packs of nappies in there in my photo, and we managed to squash plenty more stuff in around them before we were done!
Lie-flat seat
Lots of pushchairs have bucket seats that tilt backwards. This one actually lies all the way flat. That's great for naps, and also for new babies. It means that even though you can get a carrycot for the Ocarro, you wouldn't need to.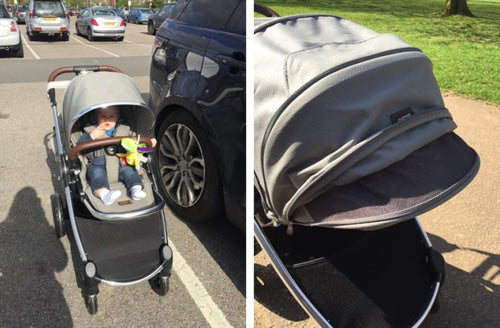 The hood
The hood sits at the right angle to actually keep the sun out of your baby's eyes. When the seat's reclined, you can unzip it to extend right over their body, making sure they're shaded no matter where the sun is. There's a vent panel for hot days and a peekaboo window at just the right angle to see baby's head while you're walking along.
Lots of clever touches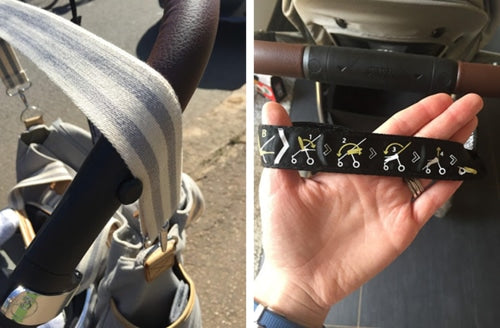 These will win you over. A lot of thought has gone into the Ocarro from someone who has definitely spent some time using a pushchair. There are catches on the handle to hang your change bag on, a loop inside the hood you can hang toys from, the bumper bar detaches and swivels from both sides, it's well balanced to pop kerbs, there's a strap on the handle you can put around your wrist if you're going down a steep hill. That strap also has a diagram on it to remind you of the steps to fold it up in case granny (or daddy!) gets stuck.
It's pretty!
I know we'd like to pretend this isn't so important, but you want to love it, and the Ocarro certainly is good looking and feels like a great quality piece of kit. The frame is sturdy and solid, the leatherette handle and bumper bar feel nice, the seat is full of memory foam padding, and the fabrics and finishes are designed to impress.
These were a few niggles that I thought let the Ocarro down:
Plasticky wheels
I didn't think the quality of the wheels matched the rest when I got it out of the box. The wheels feel like hard plastic rather than rubber. However, they performed just fine and I didn't notice them again once they were on.
Heavy
Even though it folds up well (did I mention this yet?), it still feels heavy to lift. If you found it a problem, you could take the seat unit off and lift the seat and the chassis separately.
Seat is a little low
I prefer to have my baby up a bit higher, and that would make the shopping basket easier to get to too.
A few design compromises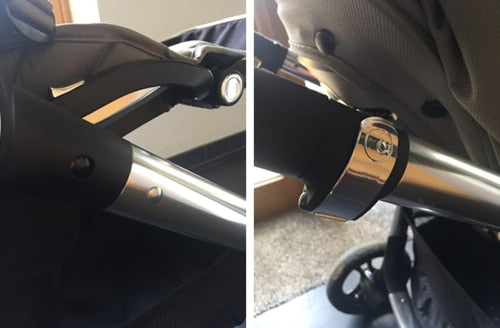 The Ocarro is an expensive, luxury pushchair, but starting from under £700, it has a lower price point than a lot of the front runners. There are a few telltale signs of how they've kept the price down though. They're not obvious, but my OH immediately said he didn't like the exposed rivets in the frame, or the chrome-finish moulded plastic components to extend the handle or recline the seat. I'm also not a fan of chrome as I know it scratches easily.
Despite these points, I'm totally won over. I think the Ocarro is a beautiful and practical pushchair and certainly one you should go and see in person.