Quick Summary: The Mamas & Papas Cruise stroller is a great budget-friendly stroller that has some elements that surprised us - such as the great cup holder. We would like to have seen a stronger basket but all in all, it is a great looking little stroller and offers good value for money.
Whats good?
Strong and sturdy cup holder included
Lovely hood fabrics
Good value for money
Whats not so good?
Brake not flip flop friendly
Tested to 15kg rather than 22kg
Thin basket material
---
Table of contents
Mamas & Papas are an established brand in the world of baby products and have producing pushchairs for the last 41 years. In theory they should be top of their game! We put the new Mamas & Papas Cruise through its paces to see whether it came out with a glowing report.
The Cruise is an umbrella fold stroller and for less than £100, it is one of their cheaper buggy options. Available in a range of designs, Pushchair Expert had the Bluebell design to test. Upon opening our first impressions were positive and we loved the colour - a dark teal hood teamed with a lighter, almost dusky blue seat.
The handles are foam covered and nicely finished with a blue button at the top to match the hood. It is this small attention to detail that makes the Cruise stand out from similar strollers and a detail that we really like. As with the majority of umbrella fold strollers the handles are not adjustable but we found them to be a comfortable height for pushing.
The chassis is black giving it a contemporary look - the rivets however are silver and we would have liked to see them in black to finish off the lines of the chassis.
The Mamas & Papas Cruise has a decent sized basket although we did find the material to be rather thin and barely accessible if the seat was reclined.
Down to the wheels - there are double wheels in each corner, giving a smoother ride than if there had been single wheels. The black spokes make it look classy and robust. We did find the wheels a little plasticky and a little rattly. You do have the ability to lock the front wheels and there is suspension at the front to help give little one a smooth ride.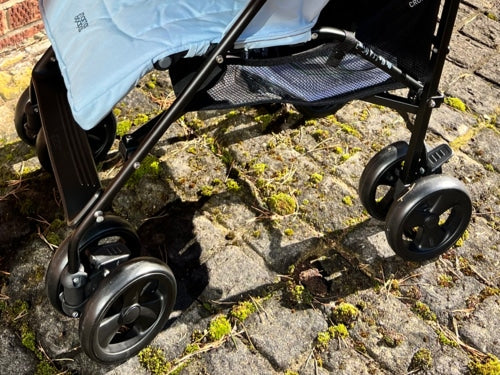 The brake is engaged using either your right or left foot and is positioned between the pairs of wheels across the back. It is easy to engage but is not particularly flip flop friendly as you need to use your toe to disengage the brake.
One of the additional benefits of the Mamas & Papas Cruise stroller is the inclusion of a cup holder - many strollers at this end of the market do not include them. Not only do Mamas & Papas include one but more importantly it is really strong and sturdy - in fact one of the best quality cup holders we have ever seen on a stroller.
The Mamas and Papas Cruise stroller is designed from birth until 15kg. It is a reasonably spacious seat and we would have loved to see the seat tested to 22kg to house our older toddlers. As we mentioned - we love the colour combinations as this is often a compromise with strollers at the lower end of the market. Inside the seat you will find a 5 point harness - again we love the fact that this isn't just black and matches the other fabrics. Although a basic harness, the shoulder comfort pads are thick and easily removable for washing. There is no crotch pad which is a shame. You can rethread the harness into three height positions as your little one grows.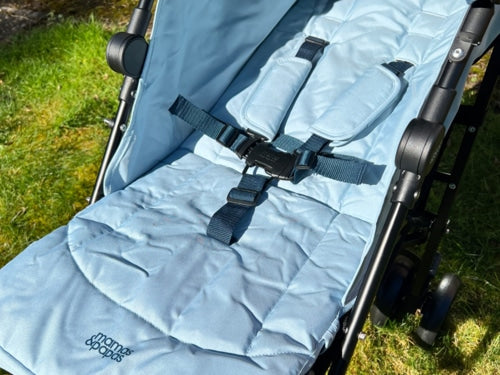 The recline is a strap recline with infinite adjustments. In the lie flat position this offers a lovely environment for younger babies as they are protected from the elements. There is an adjustable calf rest which is particularly useful for sleeping babies but can be popped down for older children. The sides of the seat are high and it has a decent hood. In the upright position there is plenty of head room for our older toddlers as the hood curves upwards. The strap recline is great for reclining but more tricky to sit a child up when they are in the stroller - although we would have liked to see a ratchet style recline, we appreciate that this would have bumped up the cost so feel this is something we can compromise on!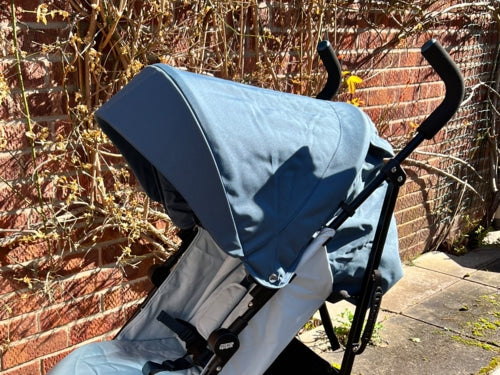 On to the hood and a real selling point for this stroller - the material is thick and excellent quality It is SPF 50+ and has a pop out visor to offer further protection although we think you will leave it out all the time. There is a small peekaboo window at the back allowing reasonable visibility of your little one particularly when they are in the lie flat position.
Included with the Mamas & Papas Cruise stroller is a raincover. It is made from quite thick material so doesn't fold particularly small. It covers the stroller well and velcros at the back. The front however does not attach to the stroller and we feel that an older toddler would just lift this up with their feet or hands which could be quite annoying! A couple of velcro straps at the front (or a toggle) would easily help to prevent this.
The Mamas & Papas Cruise stroller is an umbrella fold stroller - very easy to do and Grandparents love these as this is the same style many of them used with their own children - it is a style of fold that has been around for a very long time! One thing to note about it is that it may not fit in all car boots - and may have to go at a diagonal angle so may take up more boot space than you anticipate.
To fold, using your foot simply flick up the lever on the middle of the back panel which looks a little like a music stand. Then using your right foot, press down on the lever and push the handles forwards. Once folded there is a useful lock on the right handside. There is also a carry handle to help easily manouvre the stroller into your boot. To unfold, release the lock, lift the handles and flick it open and press the lever in the centre at the back.
Summary
The Mamas & Papas Cruise stroller is a great budget-friendly stroller that has some elements that surprised us - such as the great cup holder. We would like to have seen a stronger basket but all in all, it is a great looking little stroller and offers good value for money.