Quick Summary: The technology and functional features added to this seat make it an excellent choice when your child needs a car seat from around 15kg. It's easy for the parent to fit and use, as well as very comfortable and adaptable for the child.
Whats good?
Side wings open up to cater for older child
Easy to fit in the car
Using the impact shield makes it impossible for a child to escape
Whats not so good?
Forward facing from 9 months old
Only a small recline
Wide when used as a high back booster
---
Table of contents
Things we love…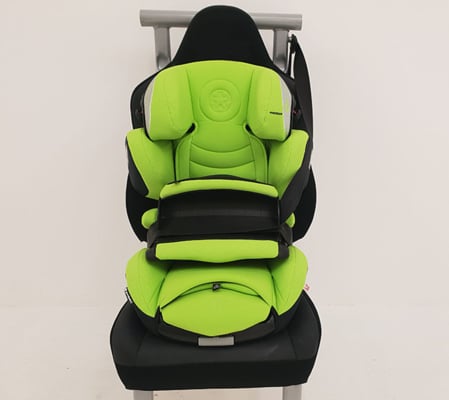 From 9-18kg, the child is secured into the car seat with the impact shield.
An impact shield acts almost like a roll bar for the child - rather than potentially putting a lot of force on a child's head and neck on impact if they were wearing a harness, the child flexes over the shield with their whole body.
The Kiddy Guardianfix 3 achieved a 'Good' rating with Stiftung Warentest and ADAC, so is obviously a very safe way to travel!
When using with a smaller child, under the weight of 11kg, there is a small cushion that fits into the seat base to give them a bit more support and height.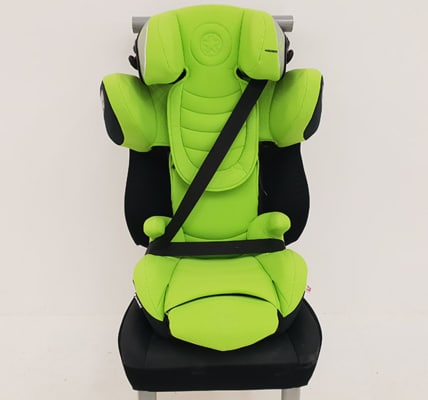 As a Group 2/3 car seat, so from 15kg, we love it! It has everything you could need for a older child, right up to them no longer needing a car seat.
Along with the headrest height adjustment, the side wings open up wide simultaneously to keep any age comfortable. Both of our young testers have said how comfy they found the seat.
These side wings are filled with Honey Comb V2 technology, which gives great protection to the head and shoulders of a child on impact.
There's also the ability to pull the seat base out, making it deeper and more comfortable for longer legs. Your passenger is secured into the seat with the vehicle's seat belt, and there are red guides so that you know exactly where to route the belt. A red clip near the headrest means that the seat belt will never slip out while in use.
A great feature that we've not seen before is the Eye Level Indicator. This small marker on the fabric of the headrest is a visual reminder of how to fit the seat correctly for your child. As long as the headrest is adjusted so that this indicator is level with the child's eyes, it's correct! Much easier than judging how close it is to their shoulders.
Fitting the seat to the car is easy with the ISOFIX connectors. These k-fix+ connectors are very clever as they move from side to side on springs to absorb the lateral impact energy if you were in an accident. They also give a bit of flexibility and more room at each side to reach the car's belt buckle. If you don't have ISOFIX in your car, it is possible to use just the vehicle's own seat belt as a Group 2/3.
Another addition to the Guardianfix 3 is the reflective strips on each side of the headrest. Should you have an accident at night, anyone attending will be able to see straight away that you have a car seat and child in the back of your car.
Things to look out for…
As a Group 1 car seat, that is suitable from 9 months old, a small baby is positioned in the seat forward-facing. The recommendations and new regulations all advise that it is safer for a child to travel rear-facing until at least 15 months old. Unfortunately even for the Group 1 fitting, there's only a slight recline possible. This is achieved by moving the ISOFIX connectors further out, using the button at the front of the seat and leaning the seat back against the vehicle's seat. You're almost certainly going to have a napping child at this age, so to not have a proper recline feature means that you could have some head roll, even with the impact shield in place.
Rather than the usual harness, you are using the impact shield to secure your child from 9-18kg, so each time they get in and out requires unfastening the seat belt and removing the shield to place or remove your child, which could be a lengthier process.
It probably wouldn't be a problem if you don't need to have three car seats along your back seat, but this is a wide car seat and takes up quite a lot of room when used at the highest position as a high back booster.
Our verdict…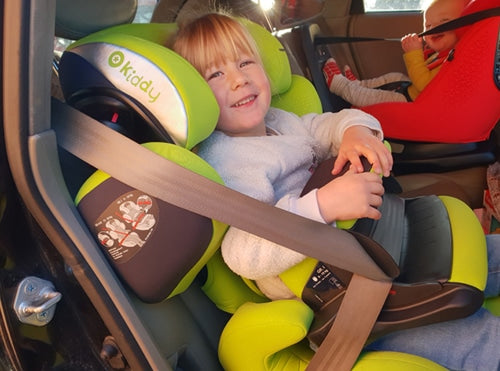 Although this is a brilliant car seat for children from around three years old, or 15kg, we're not as keen on it for use from 9 months, as we don't think that it offers everything you need for a baby. Firstly, we believe a baby is much safer travelling in an extended rear-facing car seat. The fact that the Guardianfix 3 misses a decent recline, as it only goes from 90 to 115°, means that a sleeping baby won't be kept in such a comfortable position. Older children though are more than comfortable in this seat, and our 3 1/2 year old tester loved having the impact shield to secure her, rather than a harness.
The technology and functional features added to this seat make it an excellent choice when your child needs a car seat from around 15kg. It's easy for the parent to fit and use, as well as very comfortable and adaptable for the child.