Quick Summary: If you are looking for an urban design led pushchair and want parent and world facing, but need a compact fold, you simply must look at the Raspberry. 3 years and thousands of pounds of investment really show. The Raspberry is one to watch – future owners will not be disappointed.
Whats good?
Looks
Quality
Basket size
Ease of use
Whats not so good?
---
Table of contents
Chassis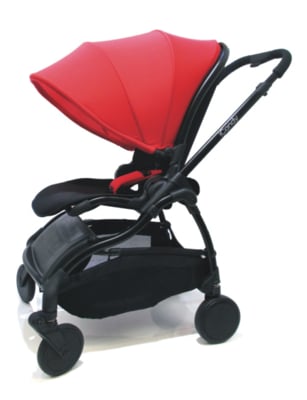 Lets get this out of the way early on in this review. An initial look at the iCandy Raspberry will have you thinking it looks like a Bugaboo Bee... Put them side by side and you will see that they are only really similar in format - and why not? The Bugaboo design is that way due to the nature of its requirements ie: parent and world facing, compact fold, urban wheel design. Sooner or later someone was bound to come up with something based on that Bee style. Every pushchair has influence from somewhere. iCandy have taken a sensible step and produced a new model that will compete in a sector where there is currently little choice
It should be noted that this review was done with pre-production samples although they were in virtual showroom spec. Any alterations expected to make it to production have been added by hand on this sample.
The iCandy Raspberry pre-production sample we are reviewing has a matt black frame and black plastics and it really looks the part. The chassis design has a very minimal feel with thin tubing and very little clutter. It looks great and appears almost flyaway light weight when you first see it! Initial impressions of the chassis and ultimately product quality are excellent. The chassis has a very sturdy 'well built' feel with no shake or wobble from any of the joints. The quality is already superb with iCandy claiming that they will be making further improvements to this before the final sign off.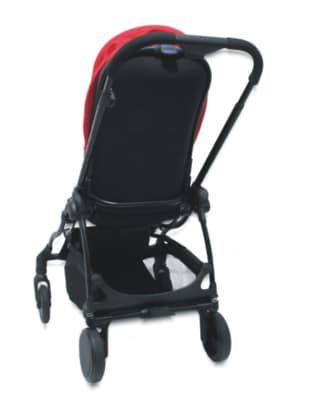 There are a few innovations on the iCandy Raspberry, first of which are the wheels or rather the tread. This is made from a solid rubber material that is bonded to the plastic wheel itself. If you press on the tread, you will see that there is some give. The rubber is actually soft but hard wearing at the same time. It gives the Raspberry a rather amazing ride, especially in shops. At somewhere like an airport with tiled floors it will feel amazing to push. Each wheel (14cm at the front 15cm at the rear) has independent suspension giving the raspberry that extra edge when it comes to ride comfort.
The most striking feature of the Raspberry and possibly most useful is the basket. It is HUGE measuring 53cm long x 34cm wide x19cm deep at its widest and deepest points. iCandy have thought carefully about basket accessibility. This is excellent with the seat in either world or parent facing mode. I really liked the nifty seat base feature. You can lift the seat base up without using a catch or lock allowing you to drop your stuff straight down into the basket and when you are finished, you just drop the seat back down – brilliant
iCandy have also included a clever 'compartment' into the basket area. It is perfect for storing a couple of nappies and some wipes and measures 27cm wide x 7cm deep x 15cm long. When you fold the Raspberry you can still access it to retrieve your items.
The iCandy Raspberry brake pedal is centrally mounted with no exposed cables or mechanisms. Push down for on and lift with your toe for off. It is very light to put on and take off. Perfect for those in flip-flops.
Lastly the handle is adjustable by squeezing a button at its centre, you can then move it between one of 4 positions ranging from 91-105cm.
Seat
The Seat on the Raspberry looks a little exposed, especially if you are used to the type of pushchair or stroller where the child sits 'into' the seat. For younger children, iCandy have specifically designed bespoke Raspberry foomuffs and baby pod to deal with this. Having seen them I can confirm, they are well designed and very plush. If your child is older, they are more likely to have more clothes on so the more spacious open style seat will be more comfortable.
The Raspberry seat can be parent and rear facing and has 3 recline positions. The lie flat position is very impressive. When fully reclined, the back rest is parallel with the ground and the seat front is angled up just slightly. This is a great position for baby to sleep in when they are in the newborn pod as they will  be lying totally flat.
The seat back measures an impressive 55cm and is usable at this height with the hood up or down. The seat base measures 28cm wide and has front to back length of 30cm before it starts to curve down.
The Raspberry has a 5 point harness which is fully adjustable and comes with crotch and shoulder pads.
The hood on the Rasberry is a great piece of design. Its SPF 50 and very light weight. It never looks crinkled and has a lovely action when you pull it down giving excellent coverage when its fully extended. It is certainly not your usual heavy fabric hood and iCandy are keen to keep this feature as it really adds to that products light weight appearance. They are currently looking in Nano rain coatings to make it very water resistant as well.
Overall I think the seat on the Raspberry is an intelligent design. The recline is excellent and the size means your Raspberry will be usable for many years. There are a good range of thermal accessories for younger children and then the extra space for older ones who are wearing a coat and warm trousers when it gets cold.
One last thing I should point out is that the seat is a clever one piece composite moulding. This means there are no uncomfortable ridges or bumps to get in the way!
Fold
The fold on the iCandy Raspberry is a sort of telescopic collapsing design. The frame folds down into itself and it folds shut. It took a couple of goes on these pre-production samples to get the knack perfectly, but having seen modified samples a the Cologne Trade Fair, I can tell you it will be very easy to do on production products.
So how do you fold an iCandy Raspberry? Well first push a little button in on the right hand side near the point where the handle goes into the frame. Next push the handle right into the frame as far as it goes. Now grasp the hand hold on the chassis and pull the handle down very slightly, the frame will break and you can now push the handle and pull the hand grip on the frame to collapse the pushchair. Once folded it will free stand immediately.
To unfold, grab the handle and lift pushing the back of the hand grip if necessary. The frame will open and the Raspberry will unfold.
Conclusion
I really love the Raspberry. It has everything a mum or dad needs from a Pushchair – big basket, easy controls and a compact freestanding fold. This is topped off with the added bonus that it looks great and pushes really well.
What's not to like? Not much really. The seat may be too exposed for some and you might argue that that super cool hood fabric is a little thin, but these are tiny and very personal points.
Some people will continue to say that this is Bugaboo inspired and if you look at the design format, it is. But hang on – why not? Bugaboo need someone to challenge them and produce a great product that competes on their terms. Why not iCandy? Almost every pushchair made these days has elements borrowed from another model, it is impossible to avoid. Me, I don't care, the Raspberry is sleeker and better looking than the Bee and performs its job better in almost every area.
If you are looking for an urban design led pushchair and want parent and world facing, but need a compact fold, you simply must look at the Raspberry. 3 years and thousands of pounds of investment really show. The Raspberry is one to watch – future owners will not be disappointed.