Quick Summary: Offering much more support than your standard backless booster, the hifold will still help to keep a sleeping child in the correct position in the car.
Whats good?
Lightweight and comes with carry strap and backpack
Folds down quickly to a very compact parcel
Can be used up to 150cm / 45kg
Can be used globally
Narrow fit
Whats not so good?
Does move forwards with the child
Not the deepest seat for longer legs
Expensive when used occasionally
Needs settings readjusting after every fold
---
Table of contents
Things we love…
It's not always convenient to carry a full-sized high back booster around with you for older children, with a loop hole in the law actually allowing for them not to travel in a car seat on public transport!
For us, car seat safety for children is always important, so we love the idea of the new hifold fit-and-fold high back booster seat. You've probably seen the mifold (backless booster) on the market for the past couple of years, and the same company has now gone one step further to bring out their own high back booster.
The hifold is suitable from 15-45kg / 90-150cm so from around 4 years old until they reach the legal limit of 12 years or 135cm to no longer be in a car seat. We would just recommend that the child stays in their harnessed seat for as long as possible. The weight limit is higher than other seats at 45kg.
Jon Sumroy, the Inventor and CEO of these car seats says: "We believe in a future where there is a child restraint for every child in every car, on every journey, every time". A sentiment we completely believe in!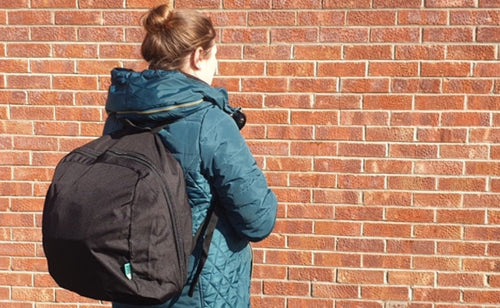 Able to completely concertina fold down into its own travel backpack, the hifold can be there when you are travelling abroad, if you're on a city break travelling in taxis or when they are visiting friends and need their own seat. It is suitable for use globally. It's easy to fold down and unfold again using the multiple green buttons on the headrest, sides and backrest. It just takes a little while to get used to the order that you need to do it in.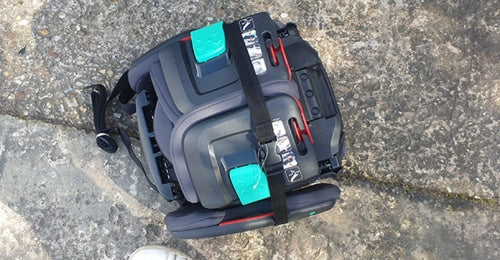 It's folded size is 34.4 x 34.4 x 25 cm so does fit with most recommended hand luggage sizes, but we would always recommend checking with your airline as it is down to their discretion.

step 1 - shoulder sides
Press the small buttons on the green tabs then push the green tabs down and rotate the shoulder sides inwards.
step 2 - backrest
Slightly tilt the car seat forward then lift the green lever.
step 3 - headrest
Pinch the tabs at the base of the headrest together and pull the headrest backwards
step 4 - headrest sides
Fold the headrest sides inwards. Press the sides fold locks and rotate inwards
We have been testing the hifold in the centre seat with a car seat either side. Thanks to the slim width, there is plenty of room either side so it's a good option for people who need to fit three-in-a-row on the back seat.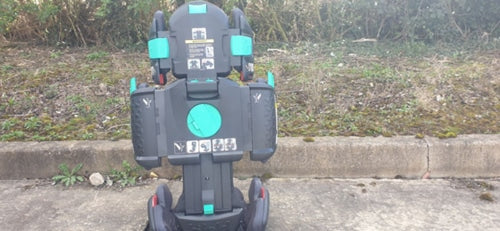 As well as capable of folding down, the hifold is also completely adjustable to suit the child, with 243 individual settings. The three areas that adjust are the seat width, body width and head width with three settings each, and the height which has nine settings! Again, these are adjusted by pushing or turning the green buttons.
Although the seat is slim, it is built with six impact-protection zones and a 4-layer design to give that needed protection. The seat makes use of advanced lightweight materials including a Polyproylene shell, EPE, a PU foam and fabric layer.
Making it even more portable there's a convenient carry strap for when you don't have it in the backpack.
Things to look out for…
As the hifold is so different to what our 7 year old tester is used to travelling in, a standard high back booster, it took a little while to get used to. Because of the lightness and flexibility of the seat, it does move with the child if they try and move forward. It doesn't offer the deepest seat for longer legs.
We also found that the red shoulder belt guide is quite narrow, so it takes a bit more effort to pull and lengthen the belt through it when fastening.
Because of the way that the hifold folds down on itself, it does need to be readjusted in the height and width settings each time you use it.
Our verdict...
Some people may find £155 a lot of money for a travel high back booster, or may decide to use it on a more day-to-day basis. But you can then use it for siblings too thanks to the wide range of adjustments.
Though not a seat that we would use on a daily basis as our main car seat, the hifold definitely has a place in the travel market. For holidays or taking on play dates, it's a brilliant idea that enables your child to always travel in a high back booster. It is a much better solution than people not using anything while away.
Offering much more support than your standard backless booster, the hifold will still help to keep a sleeping child in the correct position in the car.
It does take a little while for a child to get used to travelling in the hifold but it is quick and easy to fold down and transport with you in any situation.