Quick Summary: The Foppapedretti Tuo has a classic stroller feel to it, but has a whole host of additional functions and features which set it apart from its competitors. Not least the fact that it can take a car seat or a carrycot, and the seat can parent or forward face.
Whats good?
Good 3 in 1 longevity
Excellent seat
High Quality
Whats not so good?
Wheels need careful positioning when folding
Fold is bulky
A little expensive
Heavy carrycot
---
Table of contents
Foppapedretti, as you may have guessed by the name, are an Italian brand that began way back in 1946 with the manufacture of toys. They then branched out into an extensive range of nursery and children's products; including cots and highchairs before becoming the company they are today, with hundreds of product lines covering everything from garden furniture to that which we are interested in – pushchairs!
The Foppapedretti Tuo has a classic stroller feel to it, but has a whole host of additional functions and features which set it apart from its competitors. Not least the fact that it can take a car seat or a carrycot, and the seat can parent or forward face. No longer do you have to part with your big heavy travel system you bought initially for your newborn in favour of a lighter stroller as your child gets older, the Tuo can perform both of these roles – with ease! We take a closer look in our Foppapedretti Tuo Review.
Chassis
The Foppapadertti Tuo is a 3D folding pushchair in the same style as the Maxi-Cosi Loola, in fact on closer inspection, you will see that they are almost the same design.
My first impressions are it doesn't feel like a great big hefty travel systems in that you need arms of steel to manoeuvre it. It is very easy to push.
The Foppapedretti Tuo Chassis has a brushed steel effect and looks pleasing to the eye contrasting well with the black plastic mouldings and wheels.
However, it does feel a little flimsy and wobbly to me, mainly because the pushchair has a single bar handle which must 'squash down' when you fold it, so although it is securely locked into place, the handle (and the seat frame) have quite a lot of 'give' in them, which takes a bit of getting used to. I think this is due to the design of the fold as the chassis not only telescopes together when folding, it also narrows reducing the width - its very clever!
Once I accepted this fact as part of the design and took a closer look at the chassis everything seemed very well made and the individual components are sturdy.
The foam covered handle is height adjustable by way of rotation. Although the range isn't great, it does make a difference being able to move it slightly if you've got a lot of pushing to do. Height varies between 90cm up to 100cm and can be locked in one of 3 positions.
The Foppapedretti Tuo has classic stroller style front wheels measuring 18.5cm in diameter (a set of two on each front corner) and one on each side at the back. The wheels are the hard plastic variety with EVA tyres. They feel a decent quality, with no rattling to be heard as you push them along.
The Foppapedretti Tuo has obvious suspension on the front and back wheels, although I'm pretty sure this wouldn't stretch to any off-roading, it should make for a much smoother ride down a bumpy street.
The brake is an easy and effective push on, flip off style.
The shopping basket is fairly generous for a 3D umbrella fold stroller. Some of the frame work required for the fold sits just above the basket reducing the overall height available. However, it does have a really handy drop down zipped access at the front, so you will be able to get a bag of shopping straight in there without having to post it in one tin at a time through the sides like you do with most strollers. Only thing I'd say though is if you have a generally uncooperative child like mine, you better watch out for a kick in the chops as you bend down to put it in under the footrest if you have the seat forward facing! 
Seat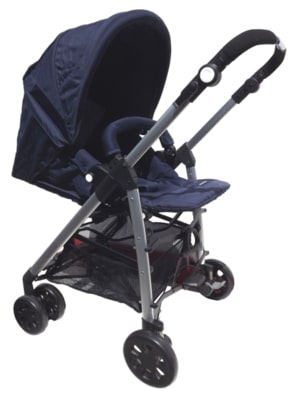 Firstly, the best part about the seat is that it can easily face either forwards or backwards, and it's very simple to swap round. Just depress two buttons on either side of the bumper bar and lift the seat away. When you replace it you have to 'stretch' it almost to secure it into place, and this gives the whole chassis rigidity, the seat unit itself is very light so this is a doddle to do, even granny found it easy to do!
Secondly, the seat (and in fact all the other components) sit high up on the chassis, so you feel nice and close to your child, this also leaves lots of space underneath for shopping.
The seat unit itself is very spacious and covered in a soft material. Seat back height is 55cm and the width 33cm so there is plenty of room for tucking blankets round or for a larger child to sit comfortably. The spacious headroom becomes even more obvious when you push the pushchair along as the top of the hood is very high up; oddly I felt a bit as if I had to stand up on tippittoes and peer over the top to make sure I could see where I was going and I'm quite tall.
The hood itself provides pretty good coverage and is quiet to operate. It has a padded lip, but no flip out sunshade that is so trendy at the moment.It does have a useful window in the top, perfect for providing a little extra ventilation or looking in on your little one if need be.
The Tuo's seat features a five point adjustable hardness, with a big central clip, you can clip in the straps one at a time or both together which is always handy.
There is an adjustable calf rest, and a footplate usable when the seat is forward facing.
Another thing I like about this pushchair is the recline. I like both the fact it lies really flat, and that the recline can be achieved both up and down with one hand – no zips, toggles or buckles to faff about with. All you do is squeeze a handle at the back of the seat and drop it down – it has three positions; a nice vertical upright, a reclined sitting position, and a lay flat position. To sit it back up, just use the flat of your hand to push it up, it clicks at the reclined position, keep pushing and it clicks into the upright position.
Lastly another handy feature is the gate opening height adjustable bumper bar.
Carrycot and Car Seat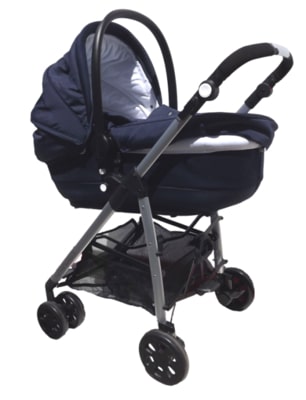 The Foppaoedretti Tuo Travel System comes as a package with a carrycot and a car seat so we'll have a quick look at these too.
Both can be attached to the frame using adapters that come with the package. You slot them in on both sides and then just pop the car seat or carrycot on and off.
First thing I noticed about the carrycot – it is very large and at 4kg a little heavy. I can really feel the weight of the carrycot when I try to lift it empty, when I put my hefty six month old in, although initially I was pleased to see that he fitted in length (just about!) it was a bit of a struggle to lift him and the carrycot and place them on the chassis.
Saying that, as far as a carrycot goes, it has some lovely features; as well as being exceptionally spacious, it has a great hood with an extra ventilation panel, the backrest can be sat up for older children, and it has feet that can be folded away so that you can rock it.
The car seat is a standard Group 0/0+ type, rearward facing seat with three point harness. It comes with a hood that is easy to put up and gives good shade as it wraps round the handle bar. It's fairly lightweight (especially compared to the carrycot), and sits nice and high up on the chassis. 
Fold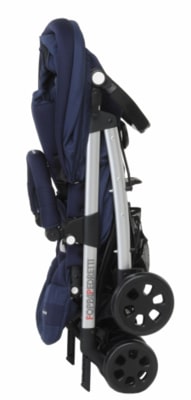 The fold isn't too much hassle once you get used to it. The chassis can be folded on its own, or with the seat on in a forward facing position.
All you do is drop the handle bar down (using the buttons you use to adjust the height) to its lowest position (this releases the lock). Then reach down, and whilst maintaining downwards pressure on the handlebar, pull the fold handle located at the rear of the chassis upwards. Keep going until you hear the autolock click.
The Foppapedretti Tuo will stand upright on its own, which is handy for storage as you can tuck it away in a corner or cupboard without it sliding down every time you open the door. One thing I would say is the wheels have to be a certain way round for it to stand alone, and if you fold with them the wrong way you have to unfold completely, swivel them 180 degrees and then re-fold.
Once folded you can use the bar handle to wheel the pushchair along like a trolley; handy for getting it out from the house to the car boot for example, or up and down a flight of stairs.
To unfold you release the catches on either side of the handle bar and using your foot push down the chassis whilst lifting the handle until you hear a click. You should be able to see some guidelines on the side of the chassis to indicate the pushchair is fully up.
When folded it's not the smallest of pushchairs. It's quite long for an umbrella type fold, and not the smallest in any dimension, but this is partly due to the fact that it is such a spacious pushchair when it's up. It is also quite bulky to handle when you are say, putting it in a car.
Conclusion
The Foppapedretti brand is a new one on me, but I have to say I am impressed with the quality and the design, although less so with the styling of the Tuo if I am honest. Although initially I felt the pushchair was a little flimsy, it is plain to see this is a function of its 3D fold design – having a bar handle on this type of pushchair is unusual, and it has to 'flex' to enable it to fold.
The Foppapedretti Tuo is parent friendly, with an adjustable handle, easy fold and clever access to the shopping basket, and it is also child friendly with a spacious forward and rear facing seat, a comfy carrycot and a lay flat recline.
There are a few little niggles. I personally wouldn't say that the Foppapedretti fits in with current UK aesthetic pushchair trends (I find it a bit awkward to look at). Having to make sure the wheels are the right way round before you fold if you want it to stand upright is annoying, but I'm sure it's something you would get used to and once folded, it is quite bulky. Lastly at £690, even if it is a travel system it does feel a little expensive. Of course you could opt for the non travel system version at £399 if you don't need the car seat or carrycot.
As a package you would buy from birth, the Foppapedretti Tuo fills a niche that many parents look for; a 3 in 1 travel system that can see you all the way through from birth to the end of your pushchair pushing days. It is not one of the great pushchairs, but it has lots of great features that make for a very easy life for parent and child. Dont overlook it, it is a good pushchair, and it could be your perfect match!