Quick Summary: Our test panel was selected from a stack of applications, all of whom were keen to be considered for our pushchair playday. So without further ado... here they are!
---
Table of contents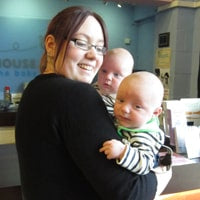 Erin Ardis
Erin Ardis from Rushden and she was accompanied by her 12 week old twins, Tiernan and Ruairidh (pronounces Rory).
Emma Butler
Emma Butler, from just a few minutes down the road, in Bedford was accompanied by her beautiful daughter Lilly Ella, who's 2, and her bump. She needed help with choosing a double pushchair as she is expecting her second little lady in 10 weeks time.
Elizabeth Bell
Elizabeth Ball from Leicester is an accomplished Mother of four children: Dylan – 7 months, Emily – 4 years, Thomas – 5 and Daisy – 9. Accompanied by her two pre-schoolers, Dylan and Emily, she was keen to try out our selected doubles as they are the finalists on her shortlist of pushchairs she wants to buy to get her out and about to improve her fitness and lose weight at the same time.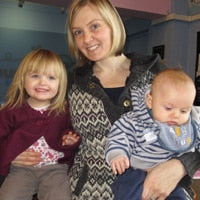 Kimberley Harrison
Kimberley Harrison joined us at short notice when we had a pre-selected candidate drop out. Hailing from Bury St Edmunds, she has two children; Amelie – 2 and Heath – 14 weeks.
Bugaboo Donkey
Recommended retail price: Mono: £899, Double £1,049
Combinations: 2 x carrycots, 2 x car seats, 2 x toddler seats. Numerous variations can be formed by assembling the Donkey with a combination of any of the above, i.e. 1 x carrycot + 1 x car seat.
Width as a single: 60cms   
Width as a double: 74cms
Staff at The House of Baby were more than helpful. Roxy, our expert assistant for the day demonstrated the Bugaboo first, so that our Mums could witness the array of possible combinations it can perform. Afterwards, she transformed the Donkey into whichever scenario best suited each tester.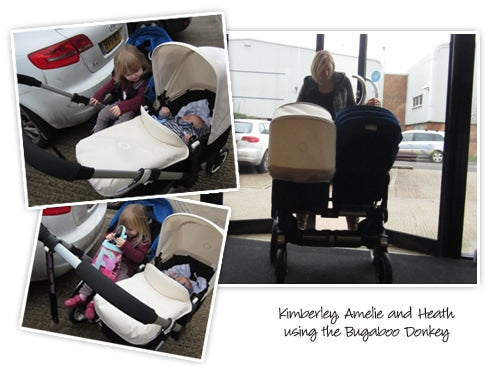 Firstly Kimberley tried it with 1 x toddler seat and 1 x carrycot. Heath looked more than comfortable in the well padded carrycot, but Amelie was having a typical toddler moment and didn't fancy playing the game at all. It did give Kimberley an insight into how easy it was to push one-handed whilst controlling an irritable child with the other. She also like the way the 5-point harness went together, allowing you to plug each side in independently – handy if your child is putting up a struggle.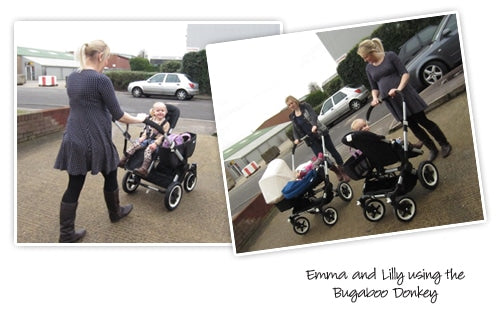 Next, Emma tried it in the single mode. Lilly was more than pleased with her built-in toy basket situated right next to her, and Emma thought there was ample room enough left in the lower basket for everything she needed to carry around. One of the most appealing points for her was the fact that you can buy different colour packs and change your pushchair to suit your mood. Emma also loved the way the seat frame supports the carrycot or the seat unit and that it is so easy to interchange between the two. Even though the Bugaboo seat is a standard size, (it tapers slightly at the bottom) Emma found that Lilly (2y, 5m) was close to outgrowing it as did Kimberley with Amelie (2y, 3m) and Liz with Emily (4).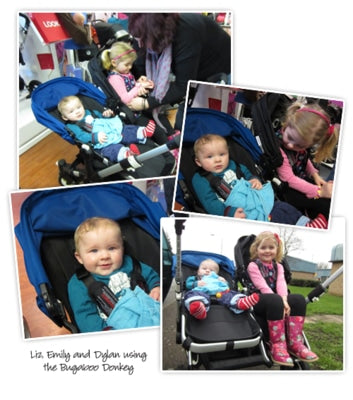 Liz was able to test the Donkey in the two seat mode. With Emily being 4 and Dylan, a sturdy 7months she could choose how to place her seating arrangement – both facing her, one facing forward, or both facing forward. She was surprised at just how easy it was to manoeuvre and at the reality of its size – it looks wider than it actually is. She found she could easily get out of the door without help and found kerbs no obstacle even though she had the heaviest load of all our testers.
Erin was the last to try out the double carrycots, taking with her twins for a spin around the shop and down the road. The boys looked cosy, stable and comfortable and Mum thought the whole pushchair had a smart appearance. However, she did find it a little on the wide side as she is used to transporting her children in and inline double. Erin also found the fold a little over-complicated for her taste.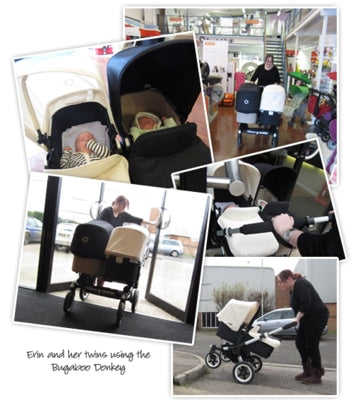 After a spot of lunch in the House of Coffee – The House of Baby Cafe, where everyone was fed and watered and took the opportunity to discuss their opinions in greater detail, we all got back to work.
Mountain Buggy Duet
Recommended retail price: £580 2 x carrycots £280 Total double: £860
Combinations: 2 x carrycots, 2 x car seats, 2 forward facing seat units. Numerous variations can be formed by assembling the Duet with a combination of any of the above, i.e. 1 x carrycot + 1 x car seat.
Width: 63cms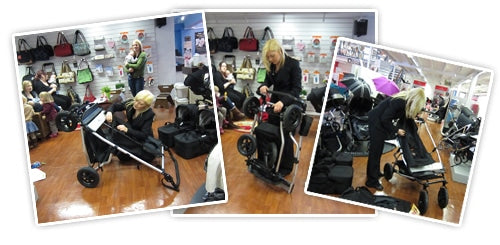 After another professional demonstration by Roxy, our team got to work on the Mountain Buggy Duet. To mix things up a little we put Lilly and Amelie into the seat units and both Mums took it in turns to take them for a spin. Whether it was anything to do with the Duet, I'm not sure, but Amelie was much more cheerful. Kimberley loved the adjustable seat straps which can be easily altered to suit the size of the child you are about to carry. She also liked the way the recline works – she is used to sliding a single bracket up the straps to incline the seat on her Phil&Teds Explorer. The Duet has independent straps, allowing you to hold the seat up with one hand, while securing it in place on each side with the other. She also liked the ribbed, rubber handle which won't get damaged over time as easily as a foam handle.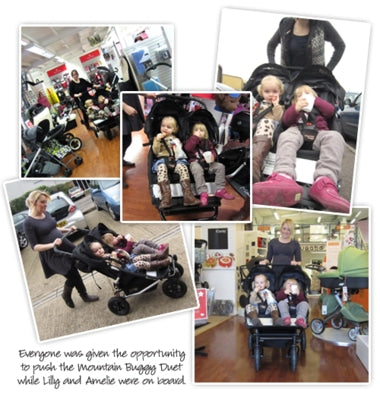 While the girls were still settled and quiet, Emma had her turn in wheeling them around. She was very impressed with the size of the seats and loved the fact that the seat is fully enclosed when reclined. The Duet can be used from birth but Emma didn't like the way that the seats would only face forwards "I would have to buy the carrycots as I like to be able to keep an eye on my baby".
She loved the sturdy feeling it had when she was pushing it and added "You would be safe in the knowledge that it would last a long time and withstand being used on a daily basis".
Liz loaded Emily and Dylan into the seats and was happy to see how comfortable Emily looked height-wise but was less convinced about the width. "Although they are long, the seats are quite narrow and Emily looks a little bit crammed-in". Another plus point was that Emily couldn't undo the harness whereas Mum had no problems.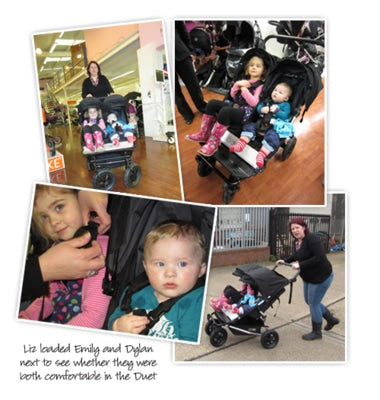 However she was more impressed by the manoeuvrability: "It was narrow enough to get through doors easily and it was a doddle to get up and down kerbs. It's really easy to turn and it's incredibly responsive when you want to change direction".
Dylan was the perfect size for the Duet and Liz was most impressed by the way that the canopy gave him plenty of coverage when the seat was reclined making the unit very enclosed and sheltered.
Erin's boys were next and amused us all by looking as though they were trying to communicate through the divide between the two chairs. She liked the way that they were so close to each other but didn't like the way that they were facing away from her.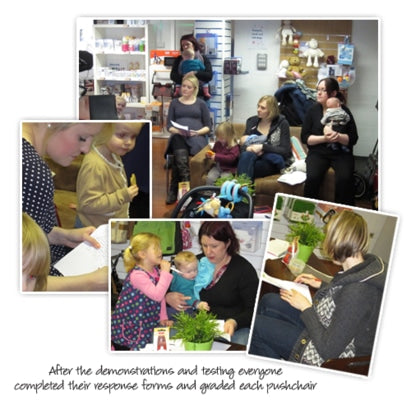 She found that she was impressed by the folding mechanism, but wasn't quite as happy with the resulting size. Unlike Kimberley, she didn't like the feel of the ridged, rubber handle even though it gave good grip.
After time to ponder over the pros and cons of each pushchair, we asked the panel to grade both pushchairs scoring them between 0 and 10 for Fold, Comfort, Looks, Manoeuvrability, Functionality and Value for Money. And the result was....
Conclusion
I can see how the Mountain Buggy won this test. It was definitely preferable in price and unless you've ever pushed a Mountain Buggy, you won't realise how manoeuvrable they are. This is not to discredit the Donkey in any way, in fact I have had an enlightened view into the world of Bugaboo and I really like what I see. Most women have to justify their spend on their pushchair and the simple fact is that at nearly twice the recommended retail price of the Duet, the Donkey is simply out of most parent's league.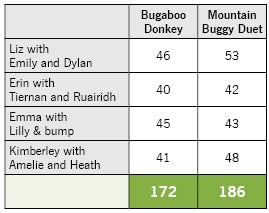 One of the Duet's most endearing features, apart from its size, is the fact that you can use it from birth if you choose to and even though the seats are not parent facing, this didn't seem to be too much of a problem to our panel. They loved the enclosed environment created when the seat is reclined, making a cosy cavity that can be protected from the elements. However, I think the quality of the Mountain Buggy carrycot is worth splashing out for, it is an impenetrable nest with an all-weather raincover that will protect your little one from whatever nature throws at you.
Besides it's ingenuity, the Donkey is extremely well made with common sense assembly and obvious functionality. You don't need to be Einstein to understand how it expands, reclines, folds etc. However a job in the city with a Banker's bonus attached would help!
Our technical reviews for both these pushchairs will be live this week, so keep your eyes on the site to find out more of the nitty gritty on the Duet and the Donkey.