Quick Summary: The Cybex Zeno is so different from anything we've tested out before. As it's so versatile, it will fit in with most active families that still want to run, bike and ski once little one arrives. It really streamlines the equipment that you need, getting rid of the need for a separate bike trailer and running pushchair.
Whats good?
Clever engineering
Comfortable to pull and push run
Smooth ride
Comfortable seat for the child
Easy to adjust from mode to mode
Whats not so good?
Harder to reach child in pull run mode
Can't be used on all-terrains
Takes a little while for initial set up
---
Table of contents
---
Introduction

Cybex really have gone a step further for active parents when creating this unique multisports trailer! Not only can you use it as a more traditional running pushchair with the handlebar, you can also purchase the Pull Running Kit for hands free running and the Cycling Kit to attach it to your bike to use it as a bike trailer. It can be hard to find the time to still exercise after you've had kids but the Zeno just lets you bring them along for the ride.
When buying the Zeno, you can buy the chassis and seat separately to completely customise your look, or as an all-in-one package which works out slightly cheaper.
Building the Zeno for the first time does take a bit of time and patience, as the wheels need putting on (easy) and the seat fabrics and hood attaching to the chassis. As the fabrics sit quite tightly around the frame, it did take two of us to hook, button and popper it onto the correct places. We were glad it was only a one time job! :)
Chassis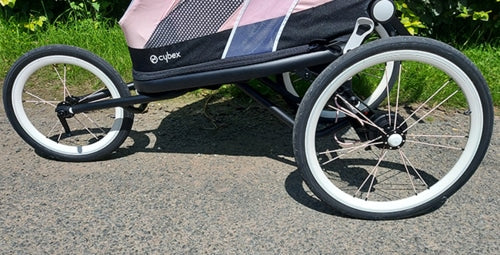 The ZENO has been designed for use on a flat terrain and is made with a lightweight aluminium frame. The whole thing weighs only 12.5kg, which is similar to lots of other pushchairs available, but you're getting a large multisports trailer for that.
Once everything is built, you can truly appreciate how different the Zeno is from anything else on the market. The styling is futuristic and looks like it can really handle some serious speed.
We have been sent Silver Pink fabrics on a Black & Pink chassis, which coordinates beautifully. From the pink material on the cabin down to the pink on the spokes on the wheels and springs of suspension. The overall look is very sleek on the black chassis.
To give the perfect push or pull and making sure little one can cover the miles with you, the ZENO has three large 20" air-filled tyres. There is a risk of puncture with any air tyre, but as  you'll be covering paths and roads, it should be minimal and is definitely worth it for the smooth ride. There's visible rear suspension with colour coded springs above the back wheels. The front wheel is kept in a fixed position which is ideal for running. If you were wanting to use it for more general use, it would be harder to manoeuvre and is quite wide for in the shops too.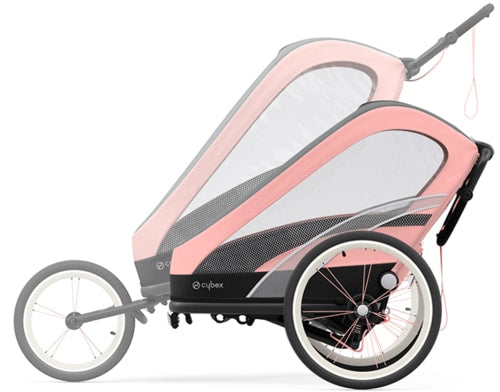 Depending on which mode you are using, the cabin height is adjustable. Easy to do by sliding the white lever on the back axle with your foot, you can use the higher position for push running and the lower position for pull running and as a bike trailer. This shifts the centre of gravity for optimum performance for your sport mode.
The handlebar again looks very unique, with its rounded, ergonomic shape. We found it great for one-handed steering when walking or push running. It's adjustable in height by lifting up the white flap and pulling up or down. There's also a wrist strap connected to the handle to make sure the trailer doesn't run away from you and you're always connected.
As well as a foot brake near the back right wheel, there is also a hand brake. The hand brake sits just off centre on the handlebar and is designed to squeeze with your right hand for speed control to match your pace. We found this really useful when running and would also be good if you were going down hill too.
With a product this versatile and featuring four different modes, you'd think it would be difficult to switch between them. But in actual fact, Cybex have designed it so that it's really easy to switch between the different modes! The clever multisport adaptor point at the front of the trailer means that you slide in and out to the part you need, so that you could easily have a day out and switch between running and biking or walking. Very practical.
Reflective detailing along the sides help to keep you safe and visible if you're out and about in low light.
Seat
Although the Zeno can be used from 6 months, it can't be used for running until 9 months, to ensure the child has sufficient head and neck control for moving at speed. The seat doesn't have a recline either, so is another reason it wouldn't be suitable for younger babies.
We love that any child in the Zeno is going to be kept warm, dry and protected inside their little cabin. Rather than just a traditional canopy or hood, it completely encases the child and keeps them covered above, at the front and to the sides. Don't worry if it's hot though, as there's mesh ventilation panels at all sides too to help airflow pass through. It comes with its own raincover so that you can go on your sporting adventures in any weather.
The mesh cover that goes over the front of the Zeno can be fully zipped up or you can leave it open and tuck it up in the little pocket at the top. When closed, it still lets plenty of air pass through, but will protect your child from bugs getting in! There's also a sun shield which is a solid piece of material that pulls down half the way and velcros into place. This did a great job of keeping the sun from shining in their eyes.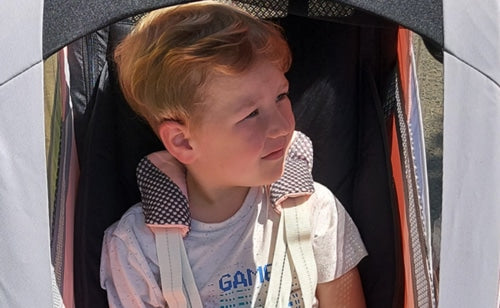 The sport seat is thickly padded and contoured to give the ultimate comfort for your child. Our tester is nearly four years old and 20kg and still has plenty of room in the seat, with its tall backrest height. It's supportive too, with the material extending around the sides. The material is soft but feels hard wearing and can easily be wiped down if you need to.
The 5-point harness and buckle has padded straps to keep them secure in the seat. The maximum child weight limit of the ZENO is 22kg, 111cm and around 4 years old. Total load weight, including your child and any baggage you need to take with you, is 34kg.
As there's no storage basket on the Zeno for your essentials, Cybex have added a handy pocket on the back of the seat. This pocket is big enough for your raincover, keys, phone or purse and has a drawstring fastener. It also has a smaller pocket on the inside for other items.
Inside the cabin, there are two netted pockets on each side. This is great for yet more storage, or space for your little adventurer to take their own things on their travels - drinks, snacks or toys!
Pull Running Kit
Usually, running with a pushchair can interfere with your gait, as your hands are holding on to the pushchair, but CYBEX have introduced something that allows you to run completely naturally without any restrictions.
Adding on the Pull Running Kit means that you can run with the pushchair connected to your waist, and run hands free. You just need to make sure that you set it up correctly, as it's just like a running shoe and running styles. You have to find the right fit as running styles vary so differently from person to person.
To set up the Pull Running Kit, you remove the front wheel, drop the cabin height down lower and then slide in the different attachment at the front into the second adaptor point and clip it into place. Note, it won't go through if you haven't dropped the seat down first! Next, thread the clip through the red fabric and clip it back on itself. Put the extension piece into the attachment and then clip your belt on.
Now that the trailer is all set up, you need to get the perfect fit for yourself as the runner. There is either a small fitting or large fitting depending on your size. Thread the clips through for your desired size and belt it on! You can adjust the waist belt to be higher or lower, as someone that runs more with the hips is likely to create more bounce in the seat. The bar always needs to be parallel to the floor though. The left and right side clips should be centred and on the side of the runner's body. We found there to be plenty of adjustment for smaller or larger people.
Our two running testers found the Zeno incredibly comfortable to pull, even with a child near the maximum weight. It takes a little bit of time to adjust your style, but after that it is plain sailing.
Thanks to the clever engineering, balance and how the centre of gravity is designed, there's no downwards pull on the hips like you might expect. Instead you can move smoothly in a forward motion without any discomfort. The waist band is wide and padded to aid this.
Our little tester absolutely loved coming along for a run! He was comfortable in the seat, had a great view from his cabin and didn't experience any jolting movement. Whilst out and about, he was a little bit of a celebrity! As the Zeno stands out, it does attract attention from other road users, with people stopping to ask for information about what it is and how it works. Cue the royal waves from the back!
The only downside to using the pull running kit is if you do need to sort little one out with a drink, snacks etc, you have to remove the waistband first to allow you to get close enough.
Cycling kit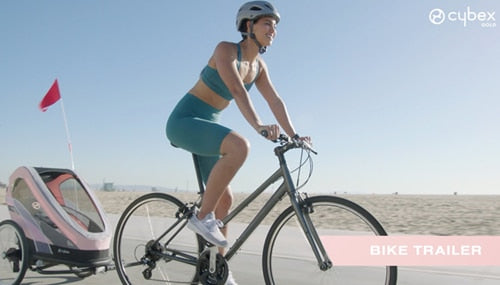 Another mode that will be popular for lots of families is the ability to attach it to your bike. In this country, bike rides are a favourite pastime and this allows you to safely take little one with you. There are quite a few options if you're looking for a bike trailer, but none quite like the Zeno! Baby must be at least 6 months old to travel with the Cycling Kit, and also old enough to wear a helmet for every ride too.
When purchasing the Cycling Kit, you receive the cycling bar, cycling hitch, 3 Spacers (2.5 - 6 mm), a safety flag and a safety rear light. You'll only need something different if you have a bike wheel that is attached with a thru axle, you'll then need to replace this with a special Cybex Thru Axle in order to connect the cycling hitch.​
Attaching the Cycling Kit into the adaptor point is done the same way as the Pull Running Kit - with the cabin dropped into the lower position, the bar into the second opening and the strap through the red toggle and clipping back on itself again to secure it. You then need to add the attachment to your bike, which is relatively simple to do, using the spacers and your wheel tightener. This can be left on your bike ready for each trip out with the Zeno, the bar just slots on each time and twists to lock into position. There's another security strap for this section too. When cycling, the handlebar should always be in the most upright position and the safety flag inserted.
While testing the Cycling Kit, we've covered several miles on the bike with a child in tow. Again, the cabin has kept them completely comfortable with a great view of the journey. Protected too from any element you might encounter. It's quite a thrill for the child to be speeding along with you.
Fully loaded, you can of course feel the extra weight being pulled as you cycle, so bear this in mind if choosing a hilly route. When shifted down to its lowered position, the Zeno hugs the path as you ride and still manoeuvres well.
The fourth mode for the Zeno is for cross-country skiing, but this is only available in other countries. It's not really something we would have great use for in this country, but you can consider purchasing it on a skiing holiday if you are travelling!
Fold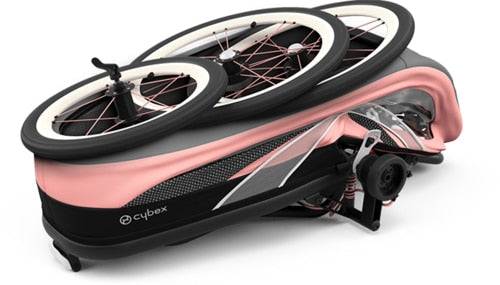 Though the Cybex Zeno is a large multi-use trailer that can handle everything you need, it can still fold down to a compact parcel and we were able to do it all really quickly too.
First, start by pushing both white buttons on the side of the frame until the indicator changes to red, and then push them forwards to drop the main seat section down. Next remove the wheels with the button in the centre, unclip and slide out your front wheel and pop it all on top to keep it smartly together.
We've been testing with a family SUV and managed to get it into the back of the boot sideways, taking up half the available space. Plenty of room then for all of the other things you need to take out with a family! If you're also taking the Pull Running Kit or Cycling Kit with you, these are quite long so will need fitting in too.
Our verdict
The Cybex Zeno is so different from anything we've tested out before. As it's so versatile, it will fit in with most active families that still want to run, bike and ski once little one arrives. It really streamlines the equipment that you need, getting rid of the need for a separate bike trailer and running pushchair.
We have loved using the pull running kit, as it makes such a big difference when you can run handsfree, in a natural way but still with your child. The cycle kit is great too if you're a family that often goes on a biking adventure. The comfort of both the child and adult has been thoroughly addressed with the design of the Zeno.
You might expect that the large 20" wheels can take you anywhere, but the Zeno isn't all-terrain and is more designed for travelling in an urban environment, over roads and pavements.
Adding on the different kits to the standard price of the Zeno does mean that they add to the expense. But if you're an active family, they do such a great job that we think it's worth it!