Quick Summary: The Croozer's ability to transform rapidly from one style to another marks it out as something different. It is well built, has excellent rugged fabrics and has some incredible storage capacity. I am however not entirely convinced by the weight distribution when used as a pushchair.
Whats good?
Great capacity
Reassuringly safe
Well built
Whats not so good?
Odd balance in pushchair mode if loaded
---
Table of contents
We have had our hands on a very different type of Pushchair Today – in fact we are not sure if you can even call it a Pushchair. The Croozer Kid for 1, 3 in 1, can be a pushchair, a jogger and most importantly a bike trailer. It's versatile, fun and opens a up a wealth of out and about opportunities.
The Croozer comes complete with everything required to run it as Pushchair, a Jogger or a bike trailer. The RRP of the Croozer Kid for 1 is £375.00.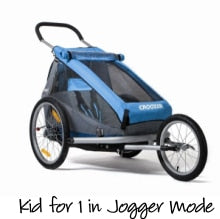 Croozer have carved a real niche in the bike trailer market with the ability to quickly and simply transform the unique 3 in 1 Kid for 1 from one mode to another.
To those of you unfamiliar with bike trailers, these are the small 'carts' you sometimes see parents pulling along behind their bikes usually on holiday and quite often on the way to the pub! I mean why drive when you can cycle to and from your local with the kids literally in tow?
The beauty of the Croozer is that when you have arrived at your chosen destination, you can quickly convert it into a pushchair and set off on foot.
Croozer have assumed that the Kid is likely to be bought by parents that have some interest in fitness so have designed it to be converted into a jogger pushchair, just in case you fancy a sprint round the park on Sunday morning.
The Kid is blessed with a simple and surprisingly effective folding mechanism. To open it, you pull it up at the back, reach into the luggage compartment behind the seats, pull the frame uprights together and snap two clips in place. That's it, job done…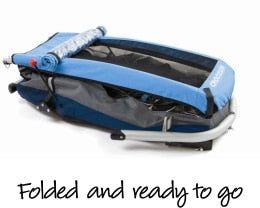 To fold, release the two clips and fold it down. It is really very simple.
The wheels and handles are all removable. With these off, you can pack the Kid for 1 into a surprisingly small space considering the job it has to do and its fully open size. It will slip into a medium sized hatch back with ease – perfect for taking out for the day or on a cycling holiday.
The wide seat is suspended securely from the frame in 9 places to ensure comfort on long journeys and because of Croozer unique frame design, has loads of shoulder room. The seat does not have a recline function but it is huge! The cabin is big and airy with loads of 'window' allowing the view outside and natural light to flood in. Both of my boys were extremely happy watching the word go by as I slaved away at the pedals.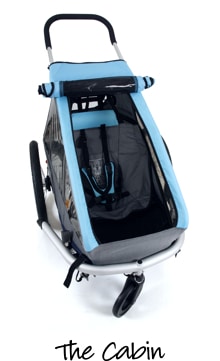 The harness for the seat is a 5 point affair, which is vital in a product like this. It all clips into a central point with simple snap in clips. As you are taking your children on the open roads, safety should be of paramount importance.
There is an astounding amount of storage in the Kid, both behind the seat and within the cabin itself. The temptation to use it to do you weekly shopping will certainly cross your mind.
A word of warning though, stacking too much behind the seat can upset the balance and the croozer can tip backwards. The child sits just in-front the main axel, however, they are not far enough forward to provide enough weight to stop a pile of heavy shopping tipping the Kid for 1 back. The solution is simple. Almost. Place some shopping into the cavernous cabin to compensate – problem solved? Not quite. Croozer do not recommend placing luggage in the cabin.
It should be noted that the design of the Croozer stops it tipping too far back to cause any discomfort or injury and it certainly cannot fall over backwards due to over loading. Tipping is not an issue when the Kid for 1 is hitched to a bike.
Functionality
The Kid converts quickly and simply between modes. If you carry the jogger adaptors or buggy wheel, you can unhitch it from your bike and carry on, on-foot in minutes. Its versatility that you don't know you need until you have access to it – then it's hard to go back.

Both the jogger wheel and buggy wheel attach without any tools required using clever split pins and frame lugs. It has to be said this is all very well thought out.
Other elements such as the combination roll out mosquito net and rain cover are clever touches meaning you are ready for any weather on every ride. There is also an optional full rain cover available for travelling in serious downpours.
Hitching the Kid up to your bike is quite a simple task and in true man style no instructions were required when I did it (we recommend you do read them though!).
It is worth equipping your bike with its own stand. The kid will not help your bike stand up so you end up having to prop it up every time you stop. You cannot simply lay your bike down on the ground as the trailer arm spring will not stretch that far.
The owner's manual is very comprehensive and explains all the elements of the product very well. There is a well documented section of safety which is extremely important when using a product like the Croozer.
In use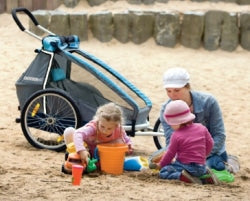 When used as a Pushchair and Jogger, the Kid looks a little out of place. This does not tell the whole story. In both modes we found it had excellent manoeuvrability gliding slickly across the pavement in Pushchair Mode and through the park in Jogger mode. It feels a quality product when being pushed.
The best bit comes when you finally hitch it up to your bike.
Once under way, the Kid is a joy. It glides along behind your bike and almost feels like it is not there – apart from when you climb or descend hills! You need to keep in mind that it is wider than your bike, but once you have this under your belt, riding with one of the kids in tow is a breeze!
Both my boys loved the Kid shouting faster faster as we glided down the road! It really is a great feeling to get out and about and to bring your children along. I cannot recommend it enough.
Conclusion
The Croozer Kid for 1 is not for everyone. It is certainly not a substitute for a regular pushchair. However, if you like cycling, jogging and an outdoor lifestyle, then this type of product should be a serious consideration.
The Croozer's ability to transform rapidly from one style to another marks it out as something different. It is well built, has excellent rugged fabrics and has some incredible storage capacity. I am however not entirely convinced by the weight distribution when used as a pushchair.
My kids loved the big cabin and good visibility, but most of all they loved being able to join me out on the road.
Safety is of paramount importance with this type of product and Croozer has been safety tested in the USA by the ASTM. It has a steel and Aluminium frame and big bumpers front and rear. These are excellent reassuring features.
The Kid is the first of several bike trailers we are planning to trial and a good one at that. I feel a group test coming on…..