Quick Summary: Overall the Cosatto Supa is a great pushchair with modern features, superb design and value for money due to the accessories being included. To cap it off it comes with a 4 year guarantee which is bound to bring peace of mind.
Whats good?
Easy to fold and unfold
Multi media pocket with speaker
Great designs to choose from
Whats not so good?
Brake release somewhat uncomfortable
Clunky hood position change
Seat recline mechanism feels flimsy
---
Table of contents
Colours

Bow How, Boom Bloom, Cuddle Monster, Catwalk, Foxtrot
Chassis
The Cosatto Supa is suitable from birth as it is able to recline to completely flat and also includes a headhugger for younger babies.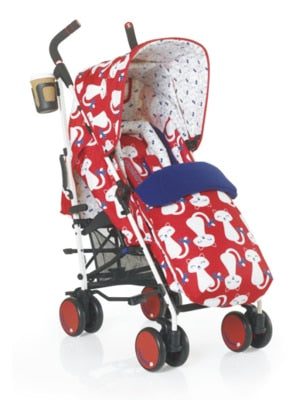 Cosatto boasts a lightweight design with its aluminium chassis weighing in at 8Kg, it feels sturdy and yet is light and easy to manoeuvre thanks to the front swivel wheels which are lockable. The wheels are constructed of hard plastic but there is minimal suspension, so harder or uneven ground could prove a little hard on its passenger.
The rear footbrake is easy enough to engage, but releasing the brake I found to be a bit tricky and uncomfortable unless my feet were in sturdy shoes – certainly not flip-flop friendly as we call it!
The handles on the Cosatto Supa are comfortable to hold with a foam grip and have a two height position choice – they have a rather abrupt trigger release, but stand back and you'll be fine!
The basket is adequate size although, as with many others, it is shallower at one end than the other so its overall capacity is limited. It will take a maximum weight of 2Kg and is easily accessible as long as the seat is not reclined.
An added extra is the addition of a removable plastic cup holder – this can be placed on either side of the chassis and proves handy when out and about.
Seat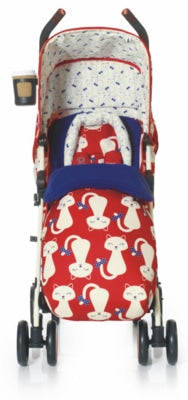 The Cosatto Supa seat is of good size, possibly a little too roomy for smaller babies but the addition of the head hugger and footmuff add extra support and cosiness. There does appear to be an excess of fabric that doesn't tuck away at the sides  – this is obviously needed to enable the seat to recline but proves rather 'flappy' when the seat is upright. There is a well padded back rest adding comfort for your little one and the adjustable calf rest improves comfort also. The seat cover is removable for easy cleaning and is made from a relatively soft yet hard-wearing canvas material.
The 5 point harness is easy to use with each side clip clicking into place independently, so no lining up awkward buckles. The shoulder straps are adjustable in height, threading through at different height positions on the backrest. Comfort pads with a fleece lining are in place to relieve pressure on the shoulders and chest. There is no bumper bar.
The one handed seat recline is easy to use and provides four height positions, including completely flat. I did however find the mechanism itself to feel a little flimsy and I'm not convinced how robust this would actually be.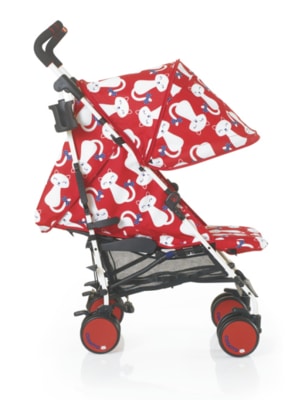 The Supa's hood holds the unique multimedia pocket with integral speaker and jack plug, allowing music on the move for your little one. It is a nice idea, but in practice has poor quality sound and is not that loud.
The flap covering the speaker pocket has a concealed magnetic closure making it a great place to stash your gadgets. There is also a pocket designed to hold a tablet computer in the hood - a nice novel idea!
Unfortunately I found the hood to be very clunky and noisy when extending and closing it and was also quite wobbly when doing so. It is however easy to fit and remove and an extendable sunshade section provides a UPF of 50+.
Fold
The Cosatto Supa pushchair is an umbrella fold style and is easy to both fold and unfold, once folded the clever addition of a foot stand enables the pushchair to be freestanding.
To fold, pull up the release pedal with your hand then push down with your foot on the secondary lock, folding the handles forward as you do so until it locks into the folded position.
To unfold simply release the autolock at the side of the chassis, then lift the handles whilst pushing down with your foot on the release pedal until it satisfyingly locks into place.
With a quick read of the instructions it was simple and quick to both fold and unfold the pushchair without the need to practice a 'knack' of managing it.
Conclusion
The Cosatto Supa certainly stands out from the crowd with the funky design options available. We had the catwalk design for review which is essentially a vibrant red with white cats in an all over pattern; my daughter loved it and I'm sure many others would do to. There are also monsters, foxes, flowers and bows to choose from, all in strong colours, so you're sure to find a design to suit and set you apart from others out there.
The multimedia gadget pocket with integral speaker is definitely a unique design feature and will appeal to many customers - although it has to be said the sound is disappointing (capped so you don't damage your babies ears apparently). It is perfectly usable as an ordinary pocket should you not wish to use gadgetry!
The included accessories (raincover and footmuff) are an added bonus, with so many products expecting you to purchase them separately, it's refreshing to have them as part of the package.
I found the Cosatto Supa to be easy to fold and unfold and comfortable to push although limited suspension would mean a bumpy ride on any uneven surface.
Unfortunately the clunky and slightly flimsy aspects do let it down; the hood is very noisy to position and a bit wobbly, the foot brake is uncomfortable to release if you're not wearing anything other than sturdy shoes.
Overall the Cosatto Supa is a great pushchair with modern features, superb design and value for money due to the accessories being included. To cap it off it comes with a 4 year guarantee which is bound to bring peace of mind.