Quick Summary: Honestly I've really struggled with bad points for the Supa! I love it! The Supa really is a supa stroller and I've enjoyed using it.
Whats good?
Lightweight
Adjustable handle
One hand fold
Whats not so good?
Footmuff is a bit thin
Small basket (as with most strollers)
Hard to push with one hand
---
First Impressions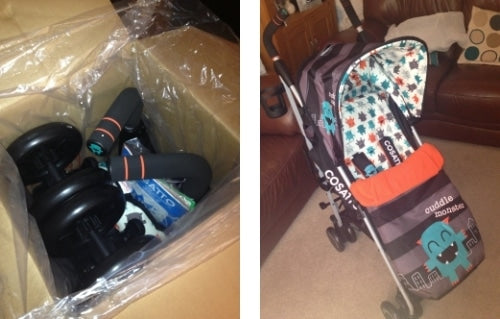 Soo... I was at work when I got a text telling my when the pushchair was being delivered. Spent the whole day desperate to get home! I got home pulled the box open in excitement! First impressions it was awesome!! I chose the cuddle monster colourway for my little boy and I wasn't disappointed.
The stroller is easy enough to set up... just click the hood on and you're done! I put the footmuff & liner in to see what it looked like, was really easy, the liner is fleece one side and printed the other, perfect for keeping the fabrics of the buggy clean. The footmuff is reversible too. It really is a stunning stroller.
Other extras included are the rain cover, head hugger (my 8month old is too big for this but would be great for a newborn as pushchair is suitable from birth.), chest pads and a cup holder!
The buggy was really easy to fold and unfold, I managed it without even reading the instructions! So excited to get using it, Logan loves it already!
14th September 2013
I've been working all week so hardly had time to get out and about other than quick walks but today we managed to get into town. I love how light the Supa is! Its clearly really comfy too! Logan started getting tired and ratty as soon as we laid him back he was fast asleep!! Daddy had a push and loves how easy the Supa is to steer!
21st September 2013
Its been such a long week for me, officially started my new job working evenings so been very tired, hardly had time to get out and about. My friend has just bought herself a Supa for her little girl with a tiny bit of persuasion from me! Hopefully the weather is nice tomorrow so I can take Logan for a nice walk, he gets so excited to get in the pushchair he's always trying to get in to it if I leave it up in the house!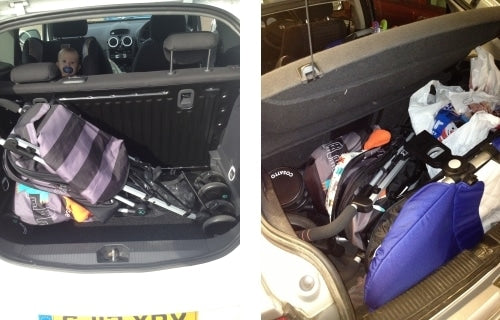 28th September 2013
We've be out and about lots this week been nice to take the Supa shopping properly. I must say it has been brilliant; so light to push and easy to steer around tight shops. It folded up brilliant and stored away to the side when we stopped for lunch and I put Logan in a highchair.I took a few comparison pictures of how small its folds and being able to get the buggy into my car, I have a new shape 3 door corsa and it does fit, but I have to put everything in around the buggy. the other picture is in my friends astra which fitted not only the Supa but her travel system with carrycot! and we managed to fit our shopping too!!
5th October 2013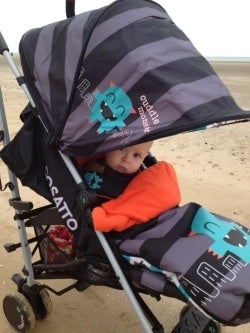 Wanted to test the supa on different ground this week - so we went to the beach! A sandy beach!!! Given the supa didn't do well on the dry sand (as expected), we carried it until the ground hardened; for it then to push like a dream!!! It was a bit bumpy but the ground was uneven, but to be honest Logan didn't even notice or complain! It was so windy so we took the opportunity to try out the sun shade as a wind protector... it worked amazingly - a brilliant feature of the stroller!! It's also great if you get caught out without the raincover and its showering lightly!
11th October 2013
Feels like its been such a long week, had so much to do but weathers been awful... stayed in most days. We popped out today amount of times, I had to get Logan in and out the car/into the buggy ... the pharmacy didn't have his prescription after I walked across the supermarket carpark in the pouring rain without the rain cover (silly me), luckily the footmuff and extendable hood kept him dry, thank goodness it's waterproof, need to start remembering the rain cover!!
22 October 2013
This weather is awful!!! Makes me not want to go anywhere... we've had a quick dash to the post office today and I got soaked. Steering the supa with 1 hand isn't the easiest, so I ditched the brolly and got wet!! Safe to say though, Logan stayed all warm and cosy in the footmuff, I also LOVE how the rain cover literally covers the whole buggy as some only cover the front and not the hood, it has Velcro down the sides by the handles & poppers to pop around the bars by the foot rest... no way was it going anywhere in the wind!!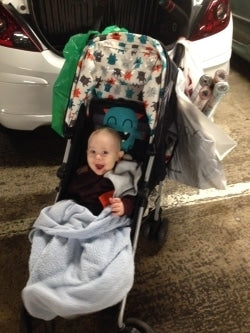 30th October 2013
We've been for a lovely trip into town today with Logan's auntie Morgan to do more Christmas shopping, (I like to be prepared) I cannot believe How much I managed to hang on the handles without the Supa feeling like it would tip! Logan fell straight asleep and it's so easy to recline the seat back, literally just lift the handle on the back of the seat, he slept right until it was time to go home, at least he thinks it's comfy!
5th November 2013
I wanted to mention some of the features of the Supa as I love some of the 'extra touches' to finish it off!! Firstly - the cupholder. so useful! Its one of them things you don't realise you need until you've got one, it slots on to either side of the buggy. Adjustable handles - they pop up with a button on the inside, were both short but great for the taller parent! Little monsters on the end of the handles - Logan loves them, if I take him out of the pushchair for cuddles he just wants to play with them, also there is the same little monster and 'cosatto' branding on the wheels.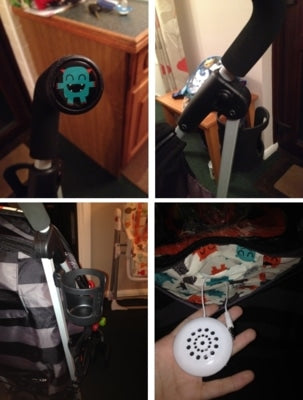 Something I haven't yet used properly is the mp3 speaker, it's not really something I would use but ive tried it and it does work and play songs, it sits and hides in a little pocket in the compartment on the back of the hood, which is a great size!
9th November 2013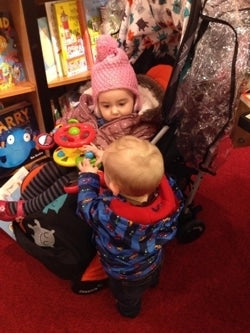 We went shopping with my friend this week in Maidstone. Logan's suddenly decided he HATES being in a pushchair - he'd rather be held so he can push. So I decided to carry him.. I think one of the only slight negatives about the Supa is that its not that easy to push one handed, although I don't think any stroller is & I pinched my friends sling so I had both hands free, we put her daughter in the Supa so she could play with Logan's toy and so commented on how much lovelier it is to push & how much sturdier it is than her own stroller. The footmuff is a pretty good length too and with the fleece side of the liner feels warm and snuggly for when Logan does go in it, he's always warm.. it even has a hand warmer although hes a bit young to understand that yet! Picture of Logan deciding he wants his toy back!
17th November 2013
So we have encountered a slight problem, mister Logan has decided he hates being in a pushchair, he wants to be held all the time. I've tried him in my other pushchair and we have the same problem - so luckily its nothing to do with the gorgeous Supa. I have to hold him (thank god for my sling) while he tries to turn himself round and push the handles himself! He loves the little monsters everywhere on the buggy, he's forever pointing to them! I've probably said this before but I've got such a thing for Cosatto prints! We have other products from them and they're so funky and bright!!
25th November 2013
So its official.. after the constant buggy issues we've had recently Logan will behave for his daddy!!! We took a trip into town today and he made no fuss at all! I've been using my sling a bit more recently in order to keep a happy calm baby but he LOVED being back in the pushchair! Now trying to find ways to make him like it all the time. It's soo cold out recently I'm hoping Logan may learn to put his hands in the handwarmer of the footmuff soon.. his silly mummy always forgets his mittens!! 
3rd December 2013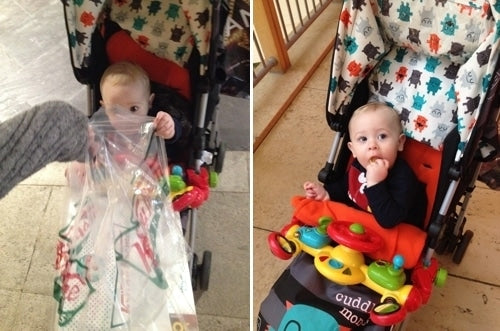 That's it!! We've finished our Christmas shopping! Mike had a week off work so we took the opportunity for a family day out... Logan stayed in the Supa all day!! He'd surprised us with how good he was, even went for a nap! One slight downside to the Supa (which I assume is the same with most strollers) I find the seat doesn't sit 100% upright. Logans 11 months now and has been sitting since 4.5months so he's sitting very well but he won't sit himself right up away from the seat even if I loosen the straps! I've started putting my hoodie behind him so he's further forward.. much happier baby! Heres some pictures from our day!
20th December 2013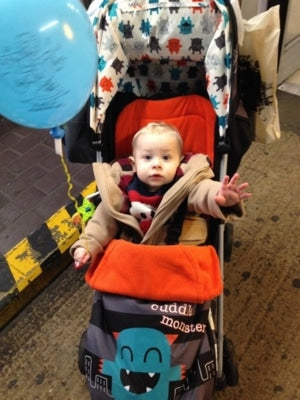 I've been so so busy getting the final preparations ready for Christmas weve hardly been out!! We went out today though with my sister to get some final bits done. Logans finally more than happy to go in the buggy - thank god it was a phase of screaming fits!!!
One thing I hadn't really noticed until now is the straps don't seem massively long.. I extended them fully when Logan had his coat on. (usually were in shopping centres so I don't bother with a coat as he doesn't wear a coat in the car) so we go straight from car into buggy with footmuff & extra blanket if he wants to be more snuggled. Logans really enjoying being back in the supa for the meantime. :D hes still got a bit of leg room length wise in the footmuff too although I'm unsure how much longer he'll have before his legs are too long!
10th January 2014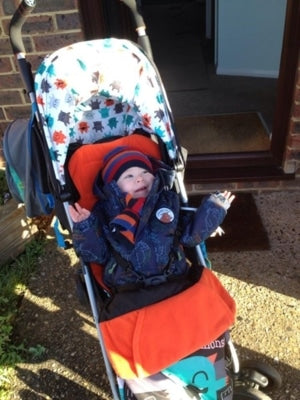 Its been so hectic here recently! Logan turned 1 last week! I cant believe it! Ive made a plan to try and get out the house more this year, and try and do more 'outdoors' activities as a family! So I started off today by walking to baby clinic instead of driving! Its a lovely day surprisingly, the buggy pushed a dream, the sun visor came in very handy, was bright this morning with a bit of a chill! tried teaching Logan to put his hands in the built in handmuff on the cosy toes but he didn't want to! Logan was very excited to be going out today!! 
20th January 2014
Logan has been out and about with his nanny! This weekend he went for a walk to the lake to feed the ducks in the Supa while mummy & daddy headed up to ikea! Logan had a lovely time, the weather was nice for the walk too. He even fell asleep in the supa for an hour and a half while they went to visit a friend of my mums, he was obviously comfy in there - all tucked up and snuggled in the fleecy footmuff. 
8th February 2014
As usual we haven't been out much! My poor munchkin has come down with chickpox - probablu from nursery! On the few chances we have been out recently im starting to struggle with the supa. it seems a lot harder to push than usual. & the brakes seem quite stiff now!!
Im wondering if I give it an oil and a clean if things will ease up! It could do with a clean really. its been to the beach a few times over the past few weeks, wet sand and a stroller probably wasn't my best idea!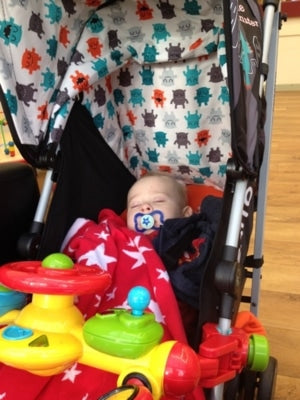 12th February 2014
My little monkey is still a poorly boy!
Today we've been to the doctors. Logan usually likes to run around but today we took the supa out the car so he could sleep! He didn't want to at first but the thing im loving bout te cuddle monster print is the monsters on the inside of the hood. I laid Logan back. He started pointing and smiling at the pictures. I looked away for a few minutes and he is fast asleep!! 
23rd February 2014
Since the weather has been nice the past few days I thought I would try putting the Supa through it's paces!
We have been through mud - didn't do badly at all, slightly hard to push with wheels locked off but can't complain as I doubt anything is easy to push on mud!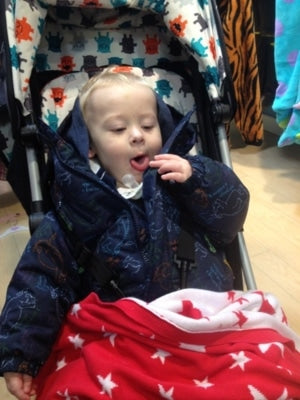 Grass - wheels locked and the supa glided as it normally would! Probably helped that the grass was dry.
Sand we've done a few times already, with the wind against us it wasn't a good combination, we ended up pulling the supa backwards - poor Logan was so confused!
And as usual out shopping trip into town, Logan was in a cheeky mood and was more than happy to sit in the buggy and play with his toys. Although we had a few times he tried to slip his arms out the harness! Probably should tighten it up!
Also we've swapped the liner round from the orange fleece to the monsters! Fancied a change!
Final Summary
Finally my review time with the Supa has come to an end! It's gone really quickly actually. The Supa really is a supa stroller and I've enjoyed using it. The raincover covers the whole stroller and fits lovey, cup holder can be used on either side of chassis.
It really is lovely but the hard steering with one hand isn't good when your trying to hold onto a toddler who keeps trying to run away! It's very well weighted though and can take a lot of shopping without it tipping over as soon as you take baby out :)
The Supa is comfy for baby, and although Logan went through a stage of refusing to go in it I believe this was down to him being a typical walking toddler, he loves it again now! Honestly I've really struggled with bad points for the Supa! I love it!