Quick Summary: The BundleBean Go! is a very clever concept. It takes away that hassle of making sure you have something for every eventuality.
Whats good?
Waterproof, universal fit
Easy to use, multi functional
Whats not so good?
---
Table of contents
Introduction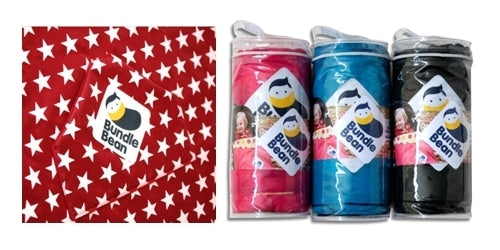 BundleBean was designed by a mum called Emily. After the birth of her first child, she was overwhelmed by the amount of kit needed for one small baby, and so set about perfecting a product that could combat this - one completely versatile blanket that can be used for all ages, in a million different ways, durable and ultimately practical.
Material
The BundleBean Go! has 2 materials. The outer layer is waterproof (but not the horrible, stiff, crackly waterproof you sometimes come across!) and the inner is made from a very soft, cosy fleece. This means it does 2 jobs – provides a soft blanket for covering little legs in the pushchair, or for using as a picnic blanket, and a waterproof cover for keeping babies dry in their car seats or slings. It is machine washable too, which is always a very important factor for parents.
The Fit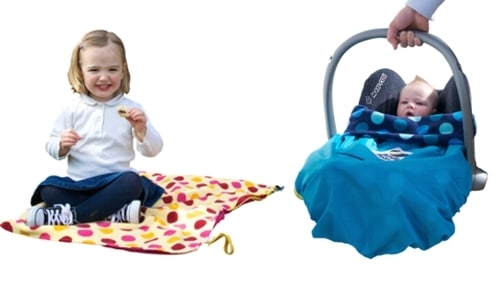 The BundleBean Go! is ideal as it is adaptable to all sorts of modes of transport! It can be fitted to pushchairs, car seats, slings and even bike seats, and as it attaches with the use of elastic and Velcro straps you can adjust it to get the perfect fit. Simply wrap the straps around the pushchair, sling, car seat or bike seat and away you go! There are zips at the base of the BundleBean – when pulled these create an elasticated pouch which can be fitted around the footrest of pushchairs etc or even fitted snugly around little feet to keep them warm and protected from the elements. Take care when using the Velcro – it is so super sticky it can attach itself to tights and socks! This can make the Velcro 'fluffy' so make sure you keep it away from clothing where possible, or stick it back on itself when using as a picnic rug to make sure it doesn't pick up any bits.
Special Features
The beauty of the BundleBean Go! is how it can be adapted for use in almost any situation. As well as being a multi purpose footmuff/blanket/cosy toes/weather cover, it can also be unrolled for use as a multitude of other things – picnic rug, changing mat, extra padding under towels at the swimming pool – you name it, the BundleBean Go! can probably do it!
Conclusion
The BundleBean Go! is a very clever concept. It takes away that hassle of making sure you have something for every eventuality. You no longer need to worry about making sure you have packed a snowsuit for the sling, a footmuff for the pram, a blanket and a changing mat – simply pop the BundleBean in your changing bag and you are covered! The fact it is so easy to fit, and so universally adaptable makes it a must-have item for everyone who has small children.