Quick Summary: It isn't the cheapest footmuff around, but, the design, quality and the furry snug appeal speaks for itself. It's universal fit means it will certainly last more than one winter and as it's adaptable, it is worth investing in.
Whats good?
Super snug
Universal and easy to fit
Whats not so good?
Not cheap so it is an investment
---
Table of contents
Introduction
Manufactured in the UK and Europe, Buggysnuggle's have been keeping babies warm and comfortable in their pushchairs since 1998. Available in a huge range of designs and thanks to a universal fit it is no surprise that they have already won many awards. Come and see what we thought of the lovely fur fabric Buggysnuggle.
The Fur range comes in lots of lovely designs: Cow, Red/White Stars, French Beige Stars, Charcoal Retro Spotty, Aqua Dinosaurs, Navy Dinosaurs, Sapphire/White Stars, Pink Hearts, Coffee Spotty, Olive Citroens, Ladybugs, Orchid Flower, Limited Edition Grey Elephants Fur, Ditsy Flower, Twit Twoo Owl, Black/White Stars, Rockets, Limited Edition Pink Elephants.
Materials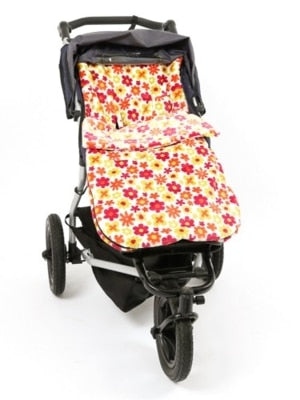 We road tested a beautiful bright Ditsy Flower Fur Buggysnuggle. It feels super soft, and adds a real touch of luxury to your pushchair. A favourite for Buggysnuggle, the short pile fur fabric has been used in over 30 designs. Made from 72% acrylic and 28% polyester it's robust, soft to the touch and lovely and snuggly warm.
The beautiful colour and pattern continues throughout the footmuff and isn't simply printed on the top layer, every thread is coloured. The material is doubled too so there is no 'ugly' side to it, it looks fab from every side.
No need to worry if it gets a bit grubby as after a wash at 30°, it dries like it's brand new again, full of furry goodness.
The zips feel strong and they glide smoothly around without snagging any material. They also have nice toggles attached to them to make them easier to find, and my little girl just loved playing with them.
Buggysnuggles are also available in polar fleece, cotton and other textured fabrics.
Footmuff fit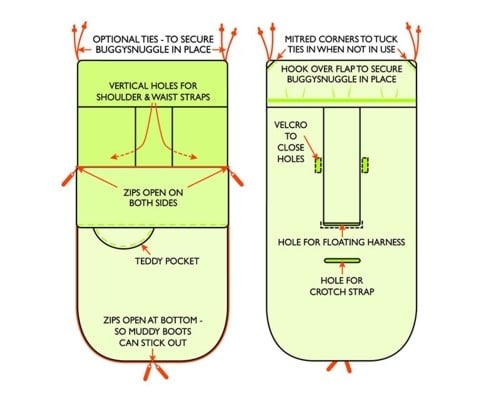 Thanks to the Buggysnuggle universal fitting it would be difficult to find a pushchair it didn't fit. In fact I tried it on a selection of pushchairs of varying sizes and it attached to them all without an issue - these included a Bugaboo Cameleon, Babyjogger City Mini, Britax B-Agile, Quinny Zapp, Jané Twone, Bumbleride Indie, Out'n'About Nipper and my Phil&Ted Vibe v2.
When it comes to fitting you simply pull the top of the Buggysnuggle up onto the top of the seat and put the flap over the top. There are ties on the top of the footmuff on either side to attach it to the pushchair securely and if you don't want to use the ties, thanks to mitred corners, they are easily hidden away.
Inside the footmuff are vertical holes for the shoulder and waist straps to be fed through and they Velcro back together again. There is also a hole in the bottom for the crotch strap or a floating harness.
There are zips on either side so you can completely open the footmuff making it easier to get your wiggly little one in and out. The bottom centre unzips too which means you can leave muddy wellies sticking out.
Thankfully they are all machine washable too so you don't need to worry about sticky fingers or spillages as you can just pop it in the machine at 40 °C.
Special features
Available in a vast array of colours, patterns and materials, choosing one won't be an easy task. There is even a range of Buggysnuggles with toggles attached, perfect if your child loves labels and toggles.
If the weather is milder you can simply unzip the front, leaving a soft fur liner. I found the top then became a handy blanket, useful for sitting on when the grass is a little damp or for snuggling your little one up in after a play in the park.
There is also a large pocket on the front, which is perfect for storing a small snack or your child's favourite toy.
Conclusion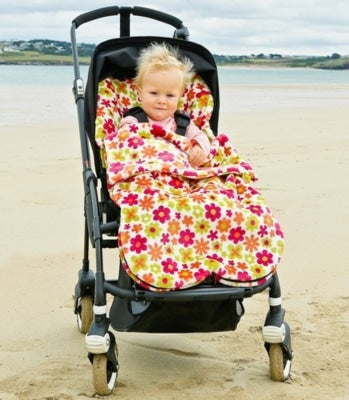 I love the Buggysnuggle, it's stylish and super snuggly. The name really does describe the product perfectly. You don't need to worry about your little one feeling the cold, as the fur fabric is thick and cosy. It's easy to fit, easy to unzip and at 100cm long it is suitable from birth until 3+ years. I just wish they made adult ones.
The Buggysnuggle options are astounding. With over 50 choices in a variety of materials and colours you certainly won't be stuck for choice.
It isn't the cheapest footmuff around, but, the design, quality and the furry snug appeal speaks for itself. It's universal fit means it will certainly last more than one winter and as it's adaptable, it is worth investing in.
So if you are in the market for a snuggly footmuff, and you have a pushchair addiction, it is definitely worth having a look at a Buggysnuggle.