Quick Summary: The Baby Jogger City Tour Lux is a real dark horse. It pleasantly surprised us in terms of useful features and really delivered in terms of quality too.
Whats good?
Really small fold
Great wheel material
Lovely fabrics
Folds with carrycot in place as well as seat unit
Whats not so good?
No bumper bar
No included raincover or accessories
---
Table of contents
Things we love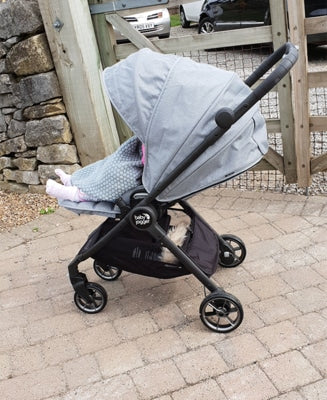 Where to start? We knew this stroller was going to be neat when we clocked the economically sized box it came in. The origami-style fold can happen in whatever configuration you have the pushchair in (forward-facing seat, parent-facing seat or even with the carrycot on!). It folds so neatly into such a small package and the folding carrycot was just mesmerising. When popped open, both seat and carrycot are full sized and very luxurious and well padded. The seat also has a great one-handed recline system.
The hood on the seat unit is a fabulous size and it really gives a good shaded and private space for baby.
Everyday strollers can really take some wear and tear and we believe this stroller is built to withstand anything you throw at it. The hardy but comfortable fabrics and the quality wheel materials will definitely stand the test of time.
Having a hand-operated brake was a great benefit for stop-start busy trips and saved us from looking down at our feet searching for pedals every two seconds.
On a few occasions we needed to fold the pushchair to get on the bus when it was in carrycot mode and we could do so in just a few seconds, all with one hand and whilst holding baby! If you are travelling with the stroller for any length of time, it comes complete with its own travel bag, which we found very useful.
In all honesty, there aren't many features at all which have been compromised to allow for a tiny fold and functional everyday use with this stroller.
Things to look out for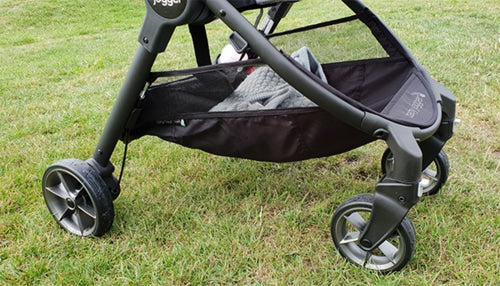 We are pretty struck by the ease of use and how practical this stroller has been. There are just a few niggles which we have noticed, but these are minor issues which some people might happily let pass.
When you first set the stroller up, you will see that there are adapter holes on each side of the seat. We expected a bumper bar to be in the box to slot in here but there wasn't, which left the whole pushchair looking a tad incomplete. If you want a bumper bar then the City Tour Lux bumper bar is sold as an additional accessory for £34.
The other niggle we have is a little pet hate here at Pushchair Expert - there is no raincover included with the stroller. If you want to stay dry (and the likelihood of being caught in a shower is pretty high in the UK) then you need to purchase this as an added extra of £16.99. If you choose to buy the carrycot, you'll also need an additional raincover for that. It would be brilliant if these accessories were included!
Our verdict
The Baby Jogger City Tour Lux is a real dark horse. It pleasantly surprised us in terms of useful features and really delivered in terms of quality too. The folding carrycot is very luxurious and comfortable for a newborn and the reversible seat unit is spacious for older babies and toddlers too. It is just a shame that the essential accessories such as raincovers and bumpers bars aren't included in the package.