Quick Summary: To this day, CYBEX have a D.S.F Innovation Principle, which they design all of their products under - Design, Safety and Functionality.
---
In 2014, CYBEX merged with Goodbaby International Holdings Limited, who have over 12,000 employees worldwide and 8 brands under its label!
 
Along with 40 other people from the nursery industry, we were invited to their Headquarters in Bayreuth, Germany to have a look at the new products from CYBEX, GB and CBX for next year. Although we were free to take pictures upstairs, as soon as we went downstairs to see the car seats and pushchairs, it was ultimate secrecy. 
There are several new seats coming from GB that will fill the gap in the market for intelligent 0,1,2 and 1,2,3 seats. The Everna-Fix is available now and can be used from 9 months to 12 years. Fitted with ISOFIX and Top Tether, there is an alarm on the Top Tether if it is not installed correctly. New Energy Reduction Technology has also been added to the headrest, which moves it slowly down in an accident to reduce the pressure on the child's head and neck. The harness also releases very slowly to reduce this force.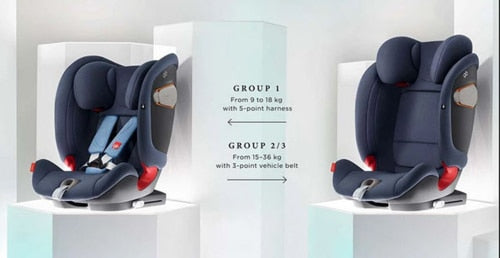 CYBEX are carrying on with their car seat success, with new colours for the Cloud Z and Sirona Z. There are also new versions of the Sirona Z coming, including the ADAC test winner - Sirona Z i-Size R, which is a rear-facing only car seat. Their Gold car seat line will also be extended with new versions of the Solution S-Fix and Aton M i-Size.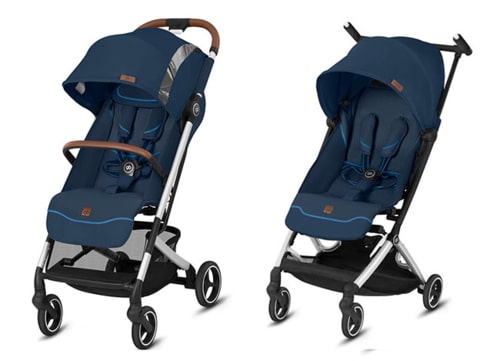 The most exciting product that we were looking forward to seeing was the new e-Priam. With brand-new smart technology, they have upgraded the popular PRIAM into an electronic pushchair. It features a motor that senses when you need that extra help pushing. There are sensors built into the handlebar that can detect if you are pushing uphill - this then activates the Smart Uphill Assist. Having actually used this feature, we can't believe the difference that it makes. Within the centre of the stylish
Cybex offices, we were directed to a steep slope to really test out what the e-PRIAM can do. On our first run, we used an e-PRIAM with the assistance turned off and then we tried again with the features raring to go. Rather than pushing with force up the hill on tiptoes, with calf muscles straining, you can stroll casually uphill, as the pushchair does most of the work for you. It also helps on the way back down the hill, as it adds resistance to stop the pushchair from running away with you. As well as hills, the e-PRIAM can help you over other difficult terrains, including sand, snow, cobbles, gravel and mud.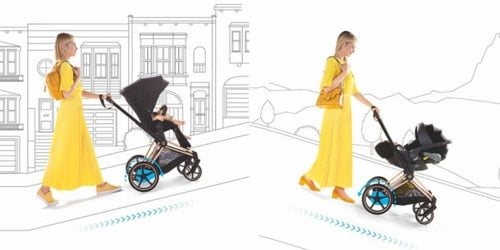 The standard Priam and smaller Mios also have changed with beautiful new fabrics. We can't wait to see these come through! There are also some exciting new accessories that we think you will love.
At the end of the day, we were treated to a viewing of the car seat testing area, created especially for CYBEX for over £10 million! This lets them put all of their car seats to the test as many times as they wish, often over 60 times in each configuration and costing £2000 per run! Creating the safest child car seats available is an expensive business, and obviously requires a new seat for each run too. It was fascinating to see what really goes into designing and creating these seats that we see the end result of.
There is a product in the pipeline that is a first for CYBEX, but I'm afraid we have been sworn to secrecy. We will let you know as soon as we can!
We had a great time visiting the CYBEX headquarters and meeting all of the wonderful staff that are at the heart of such an innovative brand. Make sure that you keep checking our website and Facebook page for more information!