Quick Summary: In a nutshell a double pushchair will transport your children side by side and a tandem one behind the other. There are however pros and cons to both options and it is a personal choice. Let's take a look at the differences between a double and a tandem pushchair.
---
Double pushchairs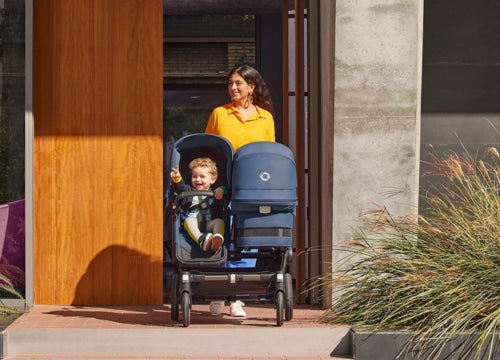 Double pushchairs and strollers will transport your little ones side by side, usually world-facing but there are a few options to allow you to have one or both children facing you (eg Bugaboo Donkey and Mountain Buggy Duet when using in conjunction with the convertible carrycot called the Carrycot Plus). 
Kerb Popping (getting up a curb) a double pushchair is usually easier rather than a tandem due to the weight distribution, however getting through doorways with a double and around narrow shopping aisles can be more of a challenge.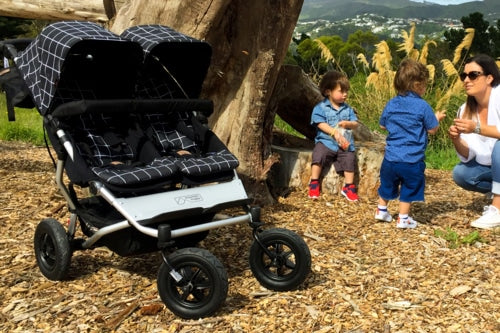 On the whole, double pushchairs will always carry two children whereas some tandem pushchairs can be converted to carry one child. However, as with most things, there are exceptions to the rules. The Bugaboo Donkey has a clever chassis that narrows to make a single pushchair with a side basket and the Mountain Buggy Duet, you can replace one of the seats with a basket should you only need to carry one child. Apart from the Bugaboo Donkey though, the overall width will remain the same whether you are carrying one or two children.
Double pushchairs often fold with the seats in situ and the majority are world-facing only (again there are exceptions to the rule such as the Bugaboo Donkey).
Tandem pushchairs
These pushchairs have the seating one behind the other, either at the same level or more often than not the seat nearest to the handlebar will be higher. Depending on the model you may be able to have both children facing you, both world facing or in some instances, the children will be able to face each other.
Kerb Popping (getting up a kerb) can be slightly harder with a tandem as opposed to a double, especially once pushing older children. However one of the benefits of the tandem is that it is easier to get through doorways and around narrow shopping aisles.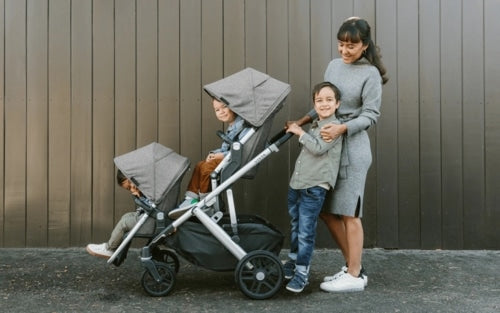 Tandem pushchairs can, in some instances offer you ultra flexibility as many can be converted back to a single pushchair. This is a great option if your oldest decides they want to walk everywhere or you are just taking one child out for the day. Many people consider a tandem pushchair for their first child as this gives them flexibility if another sibling arrives within the first 24 to 36 months.
Often on a tandem pushchair, you will need the seats in order to be able to fold it - (although there are some exceptions to this rule such as the UPPAbaby Vista and the Cybex Gazelle).
Conclusion
As you can see, there are differences between a double and a tandem pushchair and of course it is personal choice. We have all the dimensions of folded pushchairs on our website so you should also ensure that it fits in the boot of your car. Still undecided? We understand that the world of double and tandem pushchairs can be confusing but we are here to help you find the right pushchair for you and your growing family.