Quick Summary: The board is built in as part of the rear of the chassis and it's a first for iCandy, as well as probably an industry first too.
---
It's fabulous for many reasons, not least because there's no expense of buying an additional 'buggy board' accessory and faffing to get it fitted correctly. There's also nothing attached to the rear of the pushchair to get in your way or to trip over!
With a child on the ride on board, the Orange pushes just as smoothly as with its seat units or carrycots in place.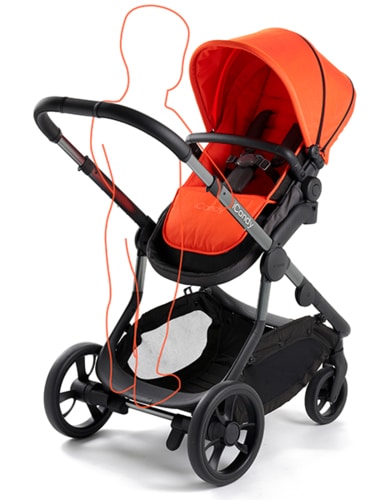 The board can hold an incredible 20kg - (one of our 6 year old testers weighed 19kg!) but it still feels feather light to push, you almost don't notice the weight of the child on the board as there is no rear drags like on an additionally attached board.
It also makes kerb popping SO much easier as you don't need to worry about wobbling the child that is riding on the board!
And there's not forgetting the fact that it looks superb too - as it's part of the design of the Orange chassis, it seamlessly blends in with the silhouette of the pushchair.
We're in love with the functionality of the Orange ride on board and the way older siblings are catered for like never seen before.