Quick Summary: While there's still a vast range of small, lightweight strollers designed for travel or less frequent use as your child's need for transport decreases, there is now a good choice of 'city' pushchairs with all the features of a full-sized from-birth travel system in a smaller package.
---
---
The Babyzen YoYo is generally recognised as the original ultra-compact pushchair, aimed at parents with a fast-paced lifestyle who wanted to be able to pop their baby's wheels in and out of taxis and cafes and on and off the Metro and even planes on a regular basis. Now though, there is a wealth of choice, with respected pushchair brands like Joolz, UPPAbaby, Cybex, Bugaboo and Joie all putting their own spin on the concept.
---
Benefits of a compact travel system
What sets the likes of the UPPAbaby Minu V2 and Joolz Aer+ apart from a similar-sized standard stroller is their versatility. Compatible carrycots and car seats mean they offer a protected, parent-facing ride for your newborn and the ease of being able to move your sleeping baby between the car and pushchair for those quick trips without disturbing them.
Unlike a typical holiday stroller, which by its nature is intended for more occasional use, these city travel systems are made to stand up to all the everyday wear that busy family life brings.
---
The best pushchair for your lifestyle
Many parents won't consider anything ultra-compact as their first pushchair, gravitating towards larger models as the norm, but the best option is entirely dependent on your individual circumstances and preferences, from lifestyle and budget to car boot size or public transport use, and taking into account if either of you are particularly petite or tall too.
If you intend to travel, space at home is tight or you have many stairs to negotiate, or you rely on buses, trains or the Underground, the right compact pushchair will give you all the functionality of a much larger travel system from day one, but without the bulk. 
---
Folding time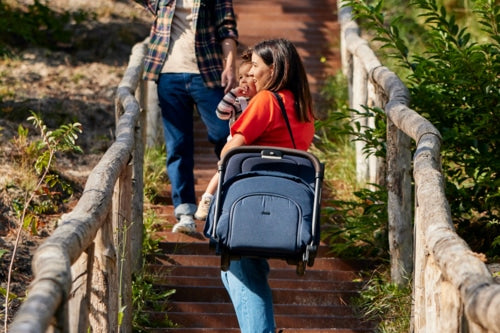 The latest models come with clever concertina or Z folds to give a neat, almost square folded package, are impressively light at around the 6-8kg mark (many have an integrated shoulder strap to make them even easier to pick up and carry) and have surprisingly spacious seats given the overall pushchair dimensions, with extra features for comfort at every stage.
These tiny folds are also often cabin approved with most airlines so that you can it onboard the plane with you for easier holidaying. No more waiting for your stroller at baggage collection, whilst carrying your tired toddler.
---
From birth options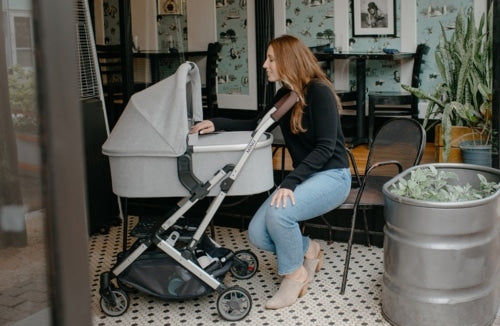 Different brands offer different from-birth solutions, with the most flexible producing a carrycot option while others will require your little one to be strapped into an approved car seat or the lie-flat pushchair seat.
Even the carrycots vary considerably: the Aer's nifty soft version actually folds on the chassis, saving time and space on public transport or when you need to pop it safely out of the way, whereas the Minu takes the same UPPAbaby carrycot as the much larger Vista.
This gives baby a generous, well protected space that can also be used off the pushchair for daytime naps or overnight sleeping - ideal instead of a travel cot on those early trips away. 
---
Ready for the future
It may sound contradictory to say a smaller pushchair could last your child longer, but many parents find that once their growing toddler does a lot of walking, always having a bulky, heavy, boot-filling system for every journey on the off chance you might use it is quite frustrating! At that point, they will often invest in a lightweight stroller that's much easier to keep in a corner of the car or take along just in case.
If you've had a more compact pushchair from the get-go, you're obviously a step ahead - plus it's likely to be a more comfortable, better-engineered ride and push than a budget second purchase. A city pushchair now generally has the same passenger weight limit (typically 22kg) as a larger version so there's no compromise on that longevity.
---
Downsides to a smaller pushchair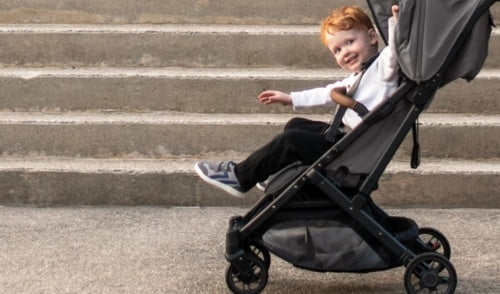 Of course, the small wheels on a compact pushchair are made for pavements and smooth paths, and aren't going to cope brilliantly with a forest track or a beach.
Your basket space will be limited too, but all the regular accessories such as raincovers, footmuffs and cupholders are included or available as extras, so you can kit out your new wheels as if you were building a full-size pushchair bundle.
---
Conclusion
After considering everything, there is also a saving to be made: ultra-compacts come in well below the cost of a full-sized pushchair and will last you until your child no longer needs one, so what's not to like?
If you travel a lot, live in a city or are just looking to save in the long run, you really could find that good things come in small packages.