Quick Summary: With everything in one deal, you can be sure you can buy with the confidence that you have everything you need to get out and about with your baby from day one. But what do you get and what should you be looking for?
---
Table of contents
---
Travel system bundles explained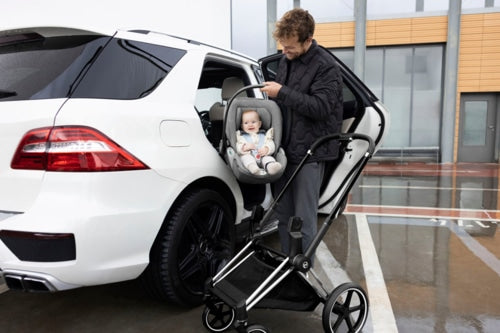 If you're expecting a baby, finding the right pushchair and car seat is likely to be near the top of your to-do list - but especially if this is your first child or you've not been nursery shopping before, you might be amazed at quite how much choice there is out there.
Different features, suitability, mechanics, sizes, prices, colours, compatibility… there are so many options (we know, we stock hundreds)! Luckily, many brands have created handy bundles based on the most popular combinations so once you've narrowed down what you want from your pushchair, it's easy to get the extras that will work with it - whether that's just a carrycot and infant car seat, or a full array of matching accessories from a changing bag and footmuff to a parasol and cupholder. 
The term travel system (sometimes also known as a 3-in-1) typically refers to a pushchair - usually with a carrycot for pram mode - and a compatible infant carrier, along with any adaptors required to attach it to the chassis.
Being able to move your sleeping baby without disturbing them between the car and pushchair to nip into shops, do the nursery run or even get to and from the house if you have to park a little distance away is hugely convenient. If it's a travel system bundle, you would expect it to include a collection of accessories too.
The point here is that you get everything you need, hand-picked so that all the parts work with one another. No researching endlessly to find a car seat that has been approved for use on the pushchair you want or trawling websites for a coordinating bag. Plus buying everything together almost always brings a cost saving over purchasing all the individual bits you'd like separately.
---
Single brand bundles
Sometimes convenience is a thing of beauty and travel system bundles are certainly that, especially when they have been created as a full package by the brand for the retailer.
Examples include BabyStyle with the popular Oyster 3 - available in three different travel system bundles with the Oyster car seat ranging from the minimalist Essential Bundle to the all-encompassing Ultimate Bundle, which contains everything from a fleece seat liner to a buggy lock as extras, the egg 2 Luxury Bundle, Venicci Tinum Upline 11-Piece i-Size Travel System Bundles and a choice of various bundles with the Silver Cross Dune or Reef.
All these options give you a full matching travel system with the same fabrics on the car seat as you have chosen for your pushchair, along with other useful accessories specifically designed to go together in style and fit.  
---
Mixed brand bundles
Brand bundles are perhaps the best option if you are looking for everything to match. If however, you are happy to have a car seat in go-with-anything black or maybe grey but would prefer particular features like, say, a lie-flat recline or spin function, then a bundle combining one brand's pushchair with another's specialist infant carrier should tick all the boxes.
These are frequently seen with leading pushchair brands that don't make their own car seats, such as iCandy, and also when pairing a wide range of pushchair models with especially desirable car seats such as the Cybex Cloud Z2, which is attractive for its ability to rotate on the ISOFIX base and to offer a flatter surface for baby to lie on both within the car and on a compatible pushchair chassis.
That compatibility is all-important - the car seat needs to fit securely on the adaptors of your pushchair at the correct angle and not adversely affect the weight distribution. For that reason, pushchair manufacturers test certain car seats from different brands on their frames and adaptors and approve them for use together. With a mixed-brand bundle that has been put together for you, you can have the peace of mind that those checks have been done.
---
DIY bundles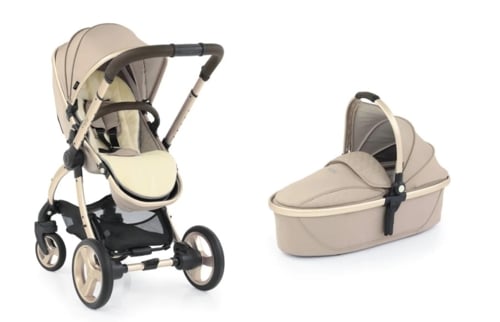 Of course, there is nothing to stop you from creating your own customised bundle and it may be the only way to ensure you can have the exact pushchair and car seat - or the additional extras - you want. You will need to check the compatibility of the elements you would like to include, either with the brands (some publish this information online) or retailer - get in touch and we will be glad to help. 
You may miss out on discounted bundle prices when constructing your own travel system this way, but again please just ask. We can often mix and match bundles to get the one that's right for you. It might be that you don't have ISOFIX or will only be using the infant carrier to get lifts in a grandparent's car, for example, and want to swap in a more no-frills seat that still has a strong safety testing record to bring the overall price down.
Similarly, there could be accessories included in a large bundle that you already have or don't think you will ever use. Sometimes choosing a smaller bundle and adding one or two extras is the most efficient way forward.
However your travel system bundle is put together, it can provide big bonuses in convenience, reassurance and savings - and the confidence that you have everything you need to get out and about with your baby from day one and looking ahead. 
---
Conclusion
Buying your baby essentials in a travel system bundle can make life easier, as they usually include everything you need and more. Although popular items are put together for you to choose from, remember that you don't have to buy in this way, so if there's a particular car seat that you love the features of, but you can't find it in a bundle, it still might work with your dream pushchair too.
Our favourite thing about travel systems is how customisable they are, so if you do the research, you'll find one that is perfect for your family.