---
BabyStyle Oyster 3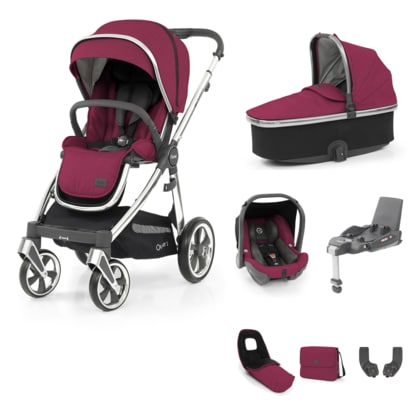 The BabyStyle Oyster 3 is currently one of the most sought-after pushchairs on the market and for good reason. This innovative model boasts an extensive range of stunning colour options, making it easy to choose a design that fits your individual style.
What's more, the BabyStyle Oyster 3 offers versatile travel system capabilities and a user-friendly design that caters to the needs of both parent and baby. This pushchair is suitable for use from birth, giving you the flexibility to opt for either the carrycot or the lay-flat seat unit, depending on your preferences and budget. The carrycot boasts a rounded base that offers a soothing, rocking motion to calm your baby, or you can opt for stability by popping out the feet. And, if you're a family on the go, the carrycot is even suitable for overnight sleep, making it an indispensable travel companion that will keep your little one comfortable, even during weekend getaways.
One feature that really stands out is the quick and compact fold, which can be easily done with the seat in place, facing either direction. This makes it a breeze to store or transport, ensuring you can get on with your day with minimal fuss.
---
egg2
Looking for a chic and stylish pushchair that offers that bit of luxury? The egg2 could be the one for you! This pushchair can be purchased with a carrycot, allowing you to use it from birth, or as part of a complete travel system that oozes opulence. The carrycot boasts the signature egg shape, with a curved design that ensures your baby is always comfortable. In fact, it's even suitable for overnight sleep, making it a practical choice for parents on the go.
But that's not all that sets the egg2 apart from the crowd. This innovative pushchair has been designed to grow with your family, allowing you to convert it into a tandem pushchair with ease. Simply purchase an adaptor for £50 and you can use your existing carrycot and seat unit on the frame together for two little ones.
While the egg2 doesn't fold down into a single piece, the chassis can be easily collapsed with one hand into a compact parcel, ensuring you can store it away. So if you're in the market for a premium pushchair that combines style and substance, you might want to consider the egg2.
---
iCandy Peach 7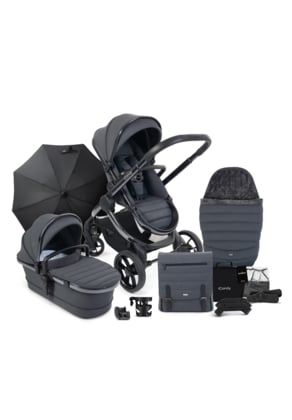 The iCandy Peach 7 is an iconic pushchair that has been updated with its seventh edition. Designed to adapt to the needs of most families, the Peach 7 comes equipped with chunky wheels and great suspension that allows you to take your little one on all sorts of adventures.
When you purchase the Peach 7, you'll receive one frame and two sets of fabrics - one for the carrycot and one for the seat unit. Once your baby outgrows the carrycot (usually around six months), you can simply swap out the fabrics to build the seat unit. This is an excellent feature for those with limited storage space, as you only need to store the folded fabrics in your loft or under the bed.
Another standout feature of the Peach 7 is that the carrycot can be used for overnight sleep, which means you won't need to bring along a separate travel cot when you're on holiday or visiting the grandparents. The pushchair is also able to grow with your family, and can be used as a single, double, or even twin tandem. If you have a larger age gap between your children, the integrated ride-on board provides a perfect place for your older child to stand between the handlebars. The Peach 7 also comes with several new additions, including a pop-up harness and a zip-pip bag on the back of the seat. We particularly love the elevators that can be used with both the carrycot and the seat unit, allowing you to raise your little one up and bring them closer to you. Car seat adaptors are also included, to use with the infant carrier of your choice.
When it comes to folding the Peach 7, it can be easily achieved with just one hand (though you will need to remove the seat first). A handy carry strap makes it easy to transport the chassis.
---
Silver Cross Reef
Silver Cross' latest offering, the Reef, promises to be the ultimate solution for parents of newborns. Boasting a multitude of functions, this modern pushchair offers various ways to ensure your precious little one is comfortable and safe. You can use the seat in a lie-flat position, or add the Newborn Pod for additional protection. Alternatively, you can attach your infant carrier with adaptors or use the First Bed Folding Carrycot - a popular choice among parents due to its one-handed removal and ability to fold down completely flat, making it perfect for homes with limited storage space.
Not only is the inside of the carrycot lined with beautifully soft, antibacterial bamboo fabric, but the materials used throughout the Reef pushchair are stylish and hard-wearing, made from sustainable fabrics woven exclusively with yarn from recycled plastic bottles - an environmentally-friendly choice for conscious parents. The Reef is available in three colours and can be personalised with tonal accessories to suit your taste.
Folding the Reef down can be done even with the seat in place, but for those who require something more compact, the Dune with smaller wheels is also available.
---
Bugaboo Fox 5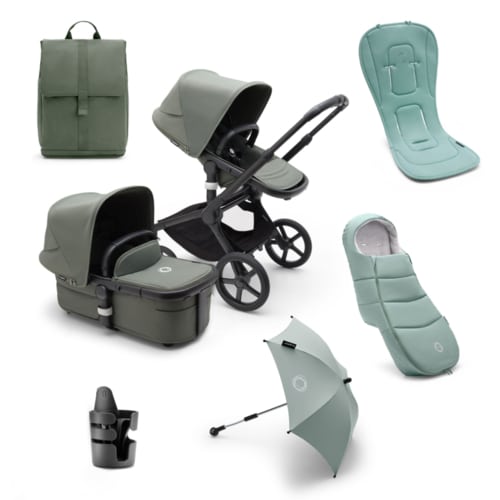 The Bugaboo Fox 5 is the latest offering from the luxury brand, promising to provide parents with the ultimate, all-terrain experience when it comes to strolling with their little ones. It's also the first pushchair from Bugaboo that has a carrycot suitable for occasional overnight sleep if you pair it with their carrycot stand! You can also add a car seat to use it from birth too, as the seat is only to be used from six months.
One of the best features of the Bugaboo Fox 5 is its smooth ride. The large wheels, advanced suspension, and lightweight frame work together to create a smooth ride, no matter what terrain you're traversing. It's also incredibly easy to manoeuvre, even with just one hand. For rougher terrain, try out the two-wheel mode which allows you pull it behind instead, easily covering sand or snow.
When it comes to style, the Bugaboo Fox 5 doesn't disappoint. The pushchair is available in 34 combinations from a variety of colours, so you can choose the perfect combination to suit your taste. The fabrics are high-quality and durable, so will look great for years to come.
The Bugaboo Fox 5 has been upgraded to now only need one hand for most adjustments! From the fold to the recline to the seat adjustment. So much easier to use than the previous version!
---
Cybex Priam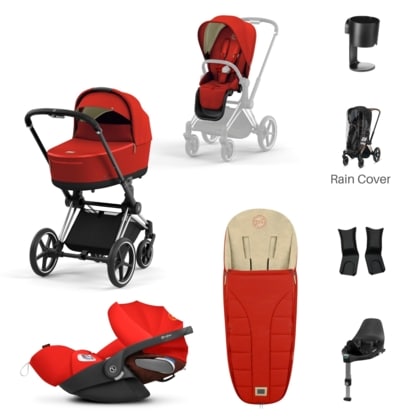 The Cybex Priam can be used from birth - choose to go straight into the lie-flat seat, or add the Lux carrycot, which can be used until your baby is around six months old. The same carrycot adaptors also take a compatible infant carrier, to create a travel system.
The carrycot is designed to provide a safe and comfortable sleeping environment for your newborn during the day or overnight, with a soft, padded interior and an adjustable canopy. To give little one a better view of the world and amazing ventilation, you can open up the panoramic panels on the bottom of the carrycot. As well as lots of fabric colours and designs to choose from, you also have three frame choices, Rose Gold, Chrome or Black.
Folding is simple, creating a flat but longer parcel, with the seat still attached too. The Priam features all-wheel suspension and large wheels, making it easy to navigate even the toughest of terrain. We love the two-wheel mode to get you easily over sand or snow with no issue.
---
UPPAbaby Vista V2
The UPPAbaby Vista V2 is a workhorse of the pushchair world that can be used from birth. The pushchair comes with a seat unit that is suitable for use from around six months old, however, to use it with your newborn, you will need to use the included carrycot. The Vista V2 carrycot is large and deep, designed to provide a safe and comfortable place for your newborn to rest and sleep. You only need one hand to remove it, using the button on the handle. It is approved for overnight sleep, and you can also get a carrycot stand available as an accessory for an elevated place to keep baby in the house. This can then be converted to a laundry hamper once you've finished with the carrycot, if you purchase the inserts.
In addition to the carrycot, you can also use the Vista V2 from birth with the use of car seat adapters, compatible with a range of car seats. One of the best features of this pushchair is the humongous basket that is large enough to keep everything you need for a day out! This larger chassis also enables you to convert to a double pushchair when using upper and lower adaptors.
Folding the pushchair couldn't be easier, using the two triggers on the handlebar. Though not the smallest fold, you can do it with one or two seats still in place. To make it a bit more suitable for smaller car boots, remove everything from the frame, including the wheels.
---
Conclusion
As long as you are using a pushchair that either has a seat unit suitable from birth, or has a carrycot as a bed on the go, there is SO much choice for your first pushchair. Lifestyle, budget and car boot size can be the most important factors in making that big decision, so make sure you do lots of research, speak to other parents and visit a retail store that can help you make the best decision for you and your family.