Quick Summary: Lots of us have spent a small fortune on our strollers and pushchairs and would like to protect them from those inevitable knocks and scrapes that they get in the plane hold. A pushchair travel bag is the perfect way to do this, but which one do you choose? Some pushchair brands produce travel bags specifically for the models that they manufacture, whilst other travel bags can be more universal.
---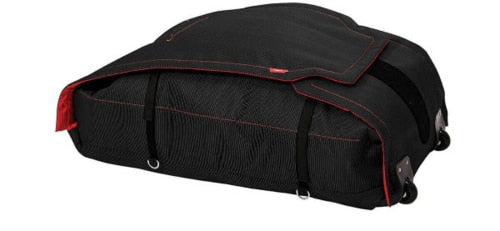 Baby Jogger are pros at creating easy-to-travel with pushchairs and the city tour even comes complete with its own carry bag so you don't need to worry about purchasing one separately. Baby Jogger also makes a range of transport bags for their pushchair range to ensure that your baby's ride is totally protected when travelling.
We also love the Bugaboo Comfort Transport bag which cushions your pushchair brilliantly whilst on the move and the Joolz Travel Bag.
If it's a universal travel bag that you're after, to use on more than one pushchair or stroller, then you could try the Universal stroller travel bag from Mothercare or for a bigger pushchair, phil & teds make a great universal travel bag that you can even transport your car seat in too.
If you're wondering if there is a travel bag to suit your pushchair, then the chances are your pushchair brand will make one that specifically fits your pushchair model. It's worth checking their website to find out.
Have you ever travelled with a pushchair? Did it get damaged in transit?