Quick Summary: Here, we explain the laws behind car seats in taxis.
---
We all spend hours researching the safest, most comfortable infant car seats for our babies to leave the hospital in. But it's not always possible to take your car seat with you wherever you go, especially when laden with pushchairs, changing bags and travel cots!
Grabbing a taxi can be a quick and simple way of nipping around on short journeys - but what about our children?
Well… it's plain and simple. Whenever travelling by car, little ones should always be kept safe in the appropriate safety seat for their age all the way up until they are 12 years old or 135cm tall - with the exception of the odd taxi ride here and there!
Taxis are one exception to the stringent child car seat laws in the UK.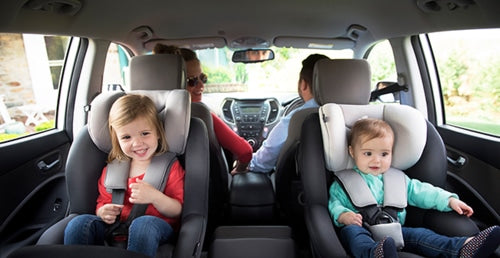 If the appropriate child car seat is available in the taxi, then it must be used. Some taxi companies know how important safety is to us parents and often have child car seats at hand and will fit them if given notice. On airport runs the private hire companies will often suggest you use your child's own seat on the journey and if you label it up they will keep it safe for you whilst you are on your travels and have it installed and ready to roll for your journey home.
But what about if you're caught short or it's an emergency? Government rules state that if the appropriate child seat isn't available in the taxi then children ARE allowed to travel in the taxi, just so long as they are in the rear seat. If you are caught short in this situation then children over three must wear an adult seatbelt, while children under three can travel without an adult seatbelt. This is recognising that the seat belt will restrict the child inappropriately and cause more harm than good in the event of an accident.
The safety powers that be are keen to stress that children should not travel in a car without the appropriate car seat unless absolutely necessary - it's only in the case of unplanned and occasional journeys in a taxi that these rules apply.
Now, here at PX HQ we are all in favour of keeping our little people as safe as possible and totally agree with recent campaigns encouraging parents to travel with their children in high-back booster seats. However, there are some nifty little products on the market that could be just the ticket if you're planning taxi rides for your over 3's and want them to be that touch safer.
The Mi-Fold portable booster seat is a foldable and grab-and-go booster seat. It might be tiny but according to the latest safety tests, it's just as safe as a full-sized booster seat. The seat works in a simple but genius manner by clamping the seat belt so that the belt restrains the child in the safest possible places on their body. Instead of raising the child to the position of an adult (as a normal booster seat does) the Mi-Fold lowers the seat belt position so it is off the child's pelvis and on their upper thigh and off their neck and onto their shoulder. This tiny parcel is a great solution for parents travelling with the over 3's in taxi rides, especially if you were planning a city break or going on a holiday where you expected to make quite a few taxi journeys.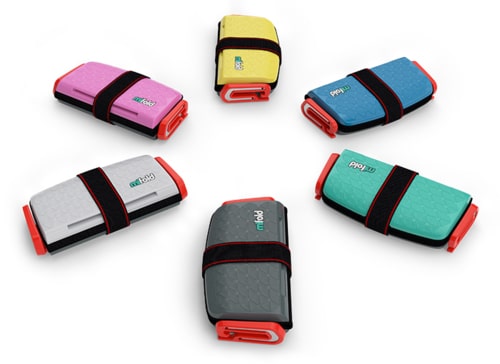 The BubbleBum inflatable booster seat could also be an option if you think you might need to catch a taxi here and there with your child who is usually in a group 2 or 3 car seat. It's a simple little inflatable pad that can be inflated and deflated as and when you need to use it. The lap belt and shoulder belt guides help to position the seat belt in the safest position on your child. Because of its floaty-light filling of air, the bubblebum is super light to carry around so you won't even notice it in your handbag or rucksack.
The Boostapak from the travel experts, Trunki, is also another option to consider for travelling with the over 3's on Taxi rides. The Boostapak acts in the same way as a traditional booster, by raising the child to the correct height in the car seat so that the seat belt is able to restrain them safely. The hard plastic shell of the Boostapak helps it to keep its shape and support the weight of your child, whilst it can also double up as a handy backpack for storing those precious toys and snacks to keep the kids fuelled up. The Boostapak has backpack straps too, so even though it doesn't fold flat, carrying it around is still easy enough.
If your head's still spinning or you aren't quite sure about how to travel your child in a taxi then you can check out this advice from the government.
Have you ever travelled in a taxi without your child's car seat? How did you find it?