Quick Summary: It's the perfect tie to ditch those January blues and shed those extra pounds we've nibbled our way through over the Christmas holidays! It's a new year, so why not start as you mean to go on and push your way to a healthier you by taking your little one out running with you. There are many fantastic pushchairs out there, specifically designed for the purpose of running. Although each model will differ slightly, they have the same useful features that make running with your baby on board safe and fun. Three large wheels, often with the front wheel fixed in position, give super stability and drivability when jogging and makes sure your pushchair can keep up with your big stride. It is also important to have good suspension, as it makes for a more comfortable and less of a bumpy ride your little one.
---
Out'n'About Nipper Sport £319.95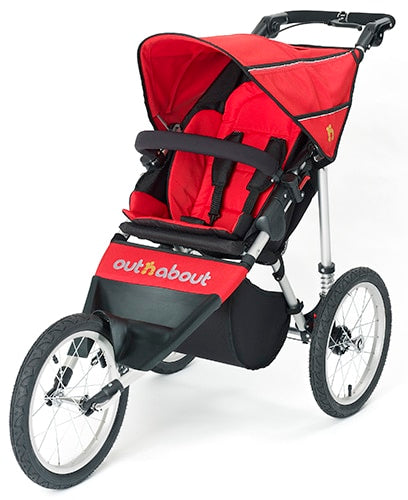 The fabulous, sturdy Nipper Sport has large 16" tyres and will certainly grip the paths and tracks when you run whilst still feeling featherlight. The handbrake and great suspension allows for a super smooth ride and means you won't need to compromise on your choice of running route. And just because it's made for running, doesn't mean Out'n'About have skimped on the features usually associated with a practical pushchair.
---
Thule Urban Glide £435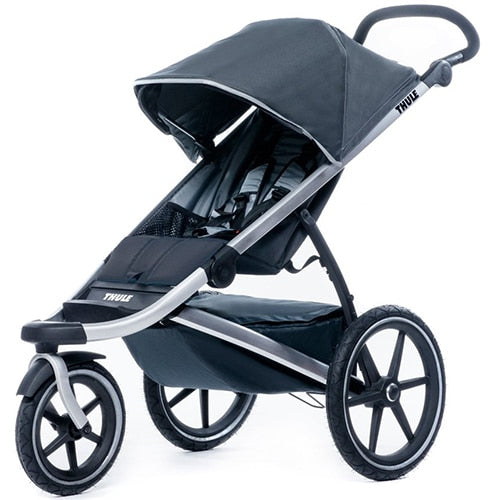 This is one for those parents who need a multi-purpose pushchair. With its lockable swivel wheel, not only does it excel as a running pushchair, it can also manage a spin around the shopping aisles too. A favourite of distance runner Jo Pavey, the Urban Glide is featherlight and smooth to push. The fabulous basket is totally enclosed by a zipped cover which is really handy for holding all the essentials you might need to carry out on a run. The one-handed fold means you can be up and off on your run in no time, not to mention the brilliant features such as the large hood with peek-a-boo window and the adjustable, ergonomically shaped handlebar.
---
Bugaboo Runner £583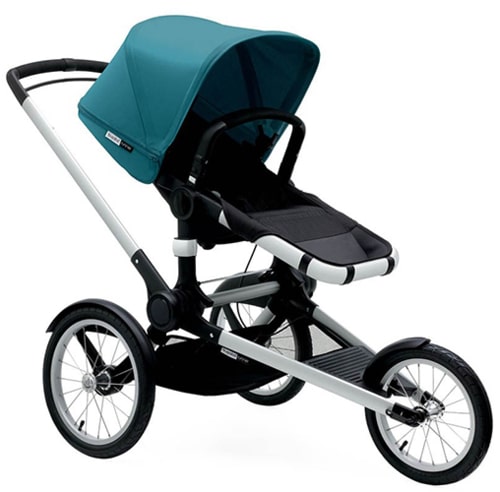 The Bugaboo Runner is relatively new on the running pushchair scene. The reversible and reclining seat of the Bugaboo Runner is a one-of-a-kind in the jogging pushchair market and any of the Bugaboo stroller seats can be clipped on to the chassis. So if you already own a Bugaboo and the running bug has got you bad, you can just purchase the frame (£334) and not the whole package. The easy access hand brake and the adjustable tracking make it a pro runners dream set of wheels and the added luxuries of adjustable handlebar, mudguards and a compact fold make it a great contender in the race to win your running pushchair heart.
---
Baby Solstice £440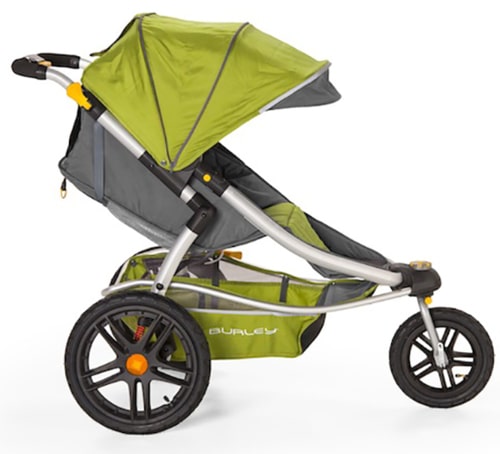 Burley may not be as well known as other brands, but they offer a host of great attributes to rival any of the bigger names in the Solstice. Burley have been making child trailers for years and their knowledge has been expertly transferred into these running wheels. With adjustable tracking, an innovative and extra comfortable SIT harness and padded seat, super easy one-handed fold and a basket to rival a shopping trolley - the Burley really is a fabulous running partner for both you and your little one.
---
Out'n'About Nipper Sport Double £534.95
For some of you, running with a single pushchair is just out of the question as you have two little passengers who need to tag along for the ride. Out'n'About have listened to the feedback from running parents and have introduced the new Nipper Sport Double. It has all of the perks of the single Nipper Sport but this perfectly balanced pushchair can now accommodate two little bodies in separate seats, side by side. 
---
Conclusion
Whatever set of wheels you choose, running with your pushchair can not only help you burn those extra calories and keep you feeling fresh and healthy but it's also a great opportunity to bond with your child and enjoy some quality time together as you run.
Do you own a jogging pushchair? Let us know how you've found it.