Quick Summary: Here at Pushchair Expert, we have used our years of experience to create a list of considerations for baby home and nursery essentials. However all families are different as are all lifestyles so it's a matter of working out what is essential for you.
---
Where will my baby sleep?
There are a number of options for where your baby could sleep during those early days, weeks and months. The current recommendation from The Lullaby Trust is that babies should be in your room for the first six months before you make the decision when to transition them into their own room/nursery.
Bedside Crib
This is a very popular choice for many parents. Bedside cribs are larger than the traditional Moses basket to allow for the longevity of keeping the baby in your bedroom for those initial 6 months. A true bedside crib will attach to your bed and most have a variety of settings to allow you to adjust the height to suit your bed. Often the side will come down whilst it is secured to your bed allowing you an easy visual on your baby during the night and importantly easy access to baby if they need a nighttime feed. Whether you are breastfeeding or formula feeding your baby, that smooth transition from bed to arms and back again makes life much easier for parents and 'hopefully' means that baby doesn't wake completely during that 'dream feed'. Most bedside cribs can also be used as a stand-alone crib - great for transitioning baby further from your bed especially when you are looking at moving them into their own bedroom.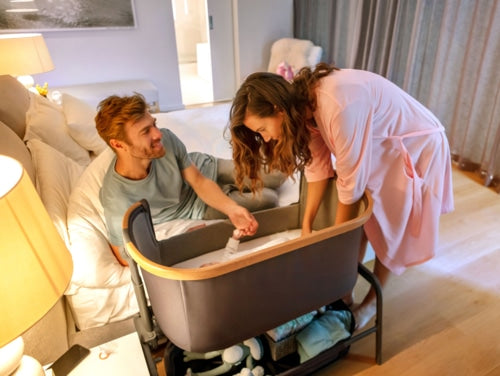 Moses Basket
A Moses basket was traditionally where many babies slept for the first few months - the majority have quite a traditional feel to them, but if you do want something a little more contemporary we are seeing a few options now available to parents. Moses baskets can be a cost-effective option but if you are planning on keeping your baby in your room for the first six months, you should be aware that they may grow out of a Moses basket - as a general indication a Moses basket tends to last baby 3-4 months on average.
Pram Carrycot
Some parents will choose for their little ones to sleep upstairs in their pram carrycot. If you take this decision, it is important to check that it has been tested for overnight sleep (get in touch with us if you are unsure). Using your carrycot is not only a cost-effective option but it also limits the number of places your little one needs to get used to sleeping in. You can also buy a carrycot stand for some carrycots which is useful in this instance.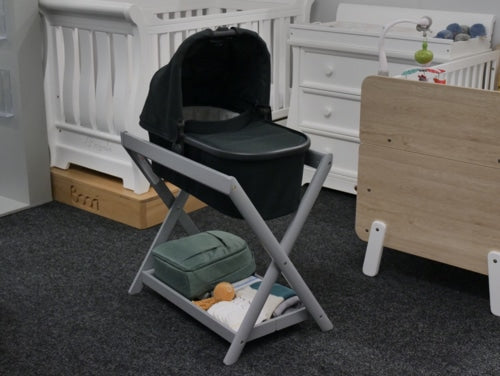 Cot or Cotbed
Not everyone will purchase a crib or Moses basket as some parents have the space in their bedrooms to pop their baby straight into a cot or cot bed - which they will often move into their little one's Nursery when they are a little older. The downside is that a cot / cotbed will take up more space than some of the alternatives but on the plus side, using your cot / cotbed from birth will save you money in the long run as you are most likely to buy one at some point.  A cot is slightly smaller (usually 120cm x 60cm) than a cotbed (usually 140cm x 70cm). Some brands also offer mini cots if you are short of space. A cot will always be a cot and a cotbed can be converted from a cot into a toddler bed as your little one grows.
What furniture do I need for the Nursery?
Cot or cot bed
We've already looked at the differences between cots and cot beds above - some people will use from birth and some will use when they transition their baby into their own bedroom. 
Dresser / Changer
Most dressers designed for a Nursery also double up as a changing unit which is a very useful addition. Depending on the design, you will either have baby horizontal to you or straight in front of you. Changer Dressers often have a lip around the outside to keep the changing mat in situ and there are some that have a completely removable top to allow your changer to convert into a traditional chest of drawers. The recommendation is that you can use a changing unit until your baby can roll over but then you should change them on the floor. Don't forget if you are buying a dresser changer you will need a changing mat!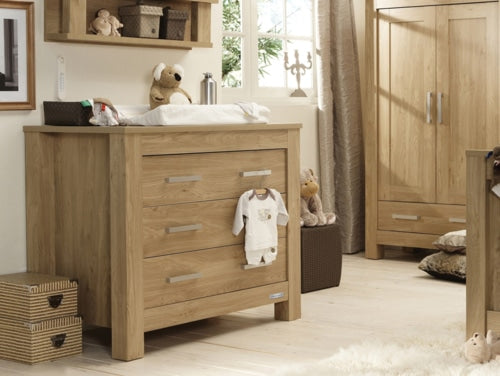 Wardrobe
If you have space in your Nursery, a wardrobe can be very useful. Initially of course your baby's clothes will not hang too far down but remember that babies grow incredibly quickly! It will not be long before you are wanting to hang longer dresses, coats and trousers up to avoid them getting creased in drawers. Although not essential for some, a wardrobe can be very useful!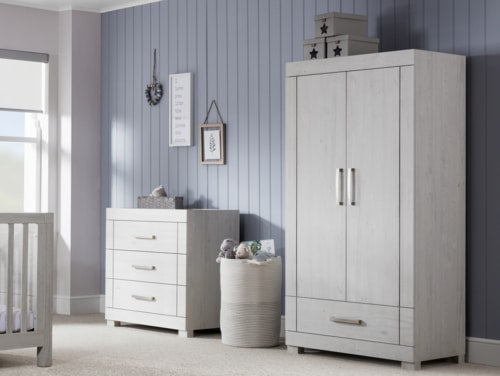 How much bedding do I need?
Don't forget that you are going to need some bedding for a multiple of places. Parents often remember that they will need bedding for their bedside crib or Moses basket but you may well also need bottom sheets for your pram carrycot and travel cot. Our recommendation is that you will need at least two for each place - one to wash and one to wear. It is also worth bearing in mind that if you have a sickly baby or a baby with explosive poos then you may need more.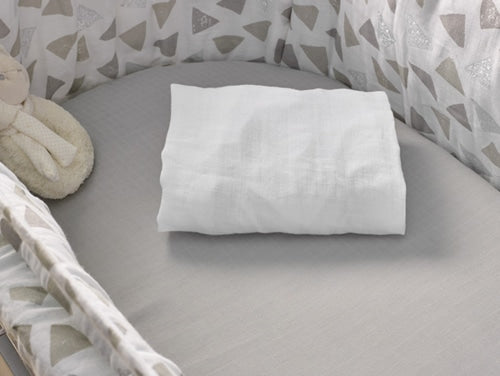 Do I need a Nursing Chair?
A Nursing Chair is a very useful piece of furniture whether you are breastfeeding or formula feeding - the principle is the same and you are going to be holding your baby in pretty much the same position! The benefits of a Nursing Chair over your usual lounge chairs are as follows...A Nursing Chair will move - whether it is designed like a traditional rocking chair or whether it has a glide system. This movement will really help to soothe and calm your baby. A Nursing Chair is designed for feeding so will make sure that you are in a comfortable and supported position (most Nursing Chairs have a high back) and that your baby is also in a good position for feeding (most Nursing Chairs will have armrests which allow you to comfortable support baby ready for their feed).
One thing to consider when you purchase a Nursing Chair is that you may use it for far longer than those early months and years of breastfeeding and / or formula feeding. A Nursing Chair can become a lovely place to snuggle up with your toddler for story time before bed.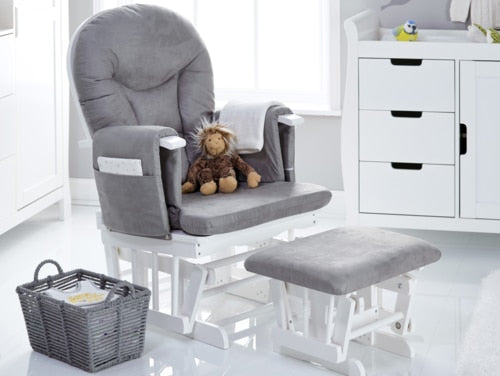 How will I keep my baby happy?
Do I need a bouncer, rocker or swing?
Bouncers and rockers are often bought by parents before their baby arrives and can provide baby with a secure place to rest during the day - they should never be used for overnight sleeping. Is it essential? For many parents yes! We see a bouncer or rocker as an extra pair of hands when you need it most - maybe somewhere to pop baby whilst you make yourself that much-needed cup of coffee for example!
Bouncer or Rocker
Bouncers and rockers are fundamentally very similar and therefore it can be quite confusing. A bouncer 'bounces' and a rocker 'rocks' which sounds straightforward until you start researching and looking at all the choices. You may opt for a rather simple version, or there are options which are more complex and full of technology (eg option to add vibration to the seat, toy bars plus lights and sounds and there are some where you can even record your own voice!) Does your baby need all of these we hear you ask? Some babies are quite happy with a little gentle movement that a basic bouncer can give but perhaps for the more unsettled baby, the additional extras will help to keep them interested for a little longer. If only we had a crystal ball before baby arrived!
Swing
A swing offers baby far more movement than a rocker or bouncer and many are equipped with a toy bar, music, lights sound and sometimes a vibrating seat. Swings can be very effective to settle your baby especially we have found, if they suffer from colic or reflux. The downside to a swing is the size - they are generally quite big and not particularly portable so if space is an issue, a swing may not be for you.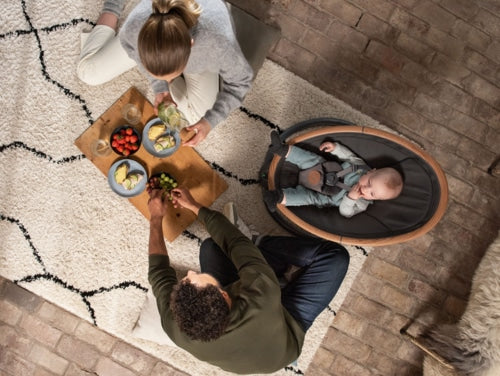 When should I buy a highchair?
Most people at some point will need to buy a highchair - some will buy before the baby is born or newly born whilst others will wait until they start weaning their little one. It is worth considering a from-birth highchair (some are from 6 months) as there are quite a few benefits for this. Firstly it gives you a great place to pop baby whilst you eat your meals (or prepare them) and gets your little one used to being at the table with you. There are a number of highchairs that offer you the option of adding a rocker as a lovely flatter and more comfortable option for your baby. Secondly, highchairs are a lovely safe place to pop baby if you have dogs and cats - to keep them safely high up and away from nosey pets. Although the recommendation is that you start weaning your little one at 6 months, some parents will at least want to get their baby used to their new highchair before embarking on the weaning journey.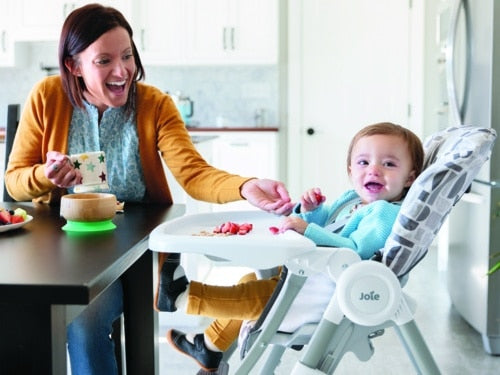 Is that everything?
Afraid not! The above are just a few of the home and nursery products you may well need for your little one over those first 6 months. The list is not complete as everyone is different. You may decide for example that you do not need a from-birth highchair and are going to wait until your little one is weaning and can sit up unaided - however once your little one is here, you might decide that you could have done with somewhere comfortable and safe to pop your baby whilst you prepare meals. Hopefully, this article has given you food for thought and some ideas that you might want to consider.