Quick Summary: Most parents will empathise with those moments when your pushchair basket is full, your changing bag is packed to the rafters and you STILL need more space to cram all your goodies in for that action packed trip to the adventure playground! Whether it's for the fact that you need more storage space or the fact you no longer need a changing bag and just need space to carry one or two key items with you
---
Skip Hop Grab and Go Stroller Organiser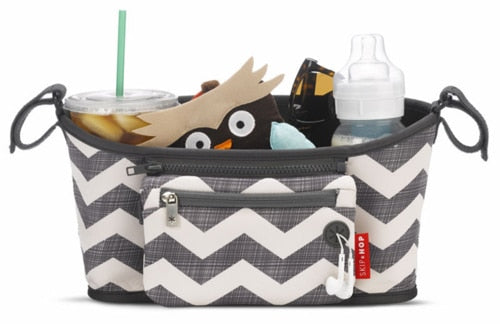 Made from sturdy but stretchy neoprene, the Grab and Go can be attached to strollers with two handles and with a single continuous handlebar. Keep all of your must-haves close at hand with room for two bottles or drinks in insulated bottle pouches and central storage compartments for your other worldly goods. The handy zip pouch is the perfect size for valuables of loose change and can be detached and carried around safely with the wristlet carry handle. When your journey is finished, there's no need to remove the Grab and Go as its soft neoprene folds with your pushchair.
---
Elephant and Apple Foldaway Stroller Bag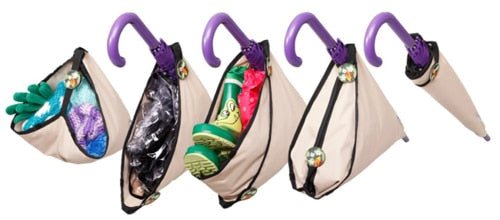 A unique and creative way to store your goodies whilst travelling around town. The Elephant and Apple Foldaway Bag has a huge capacity and can usefully carry larger items such as umbrellas or gift boxes! The bag attaches to one side of your stroller frame with extra strong velcro and is made from a super tough waterproof backpack canvas, perfect for storing muddy boots after a wet walk or even your weekly shopping. The size of the bag can be adjusted with two beautifully decorated buttons and when not in use, is easily twisted around the stroller frame so it isn't flapping and getting in your way. If you haven't seen an Elephant and Apple Foldaway bag in action, then pop down to your nearest stockist and give one a try!
---
Mountain Buggy Buggy Pouch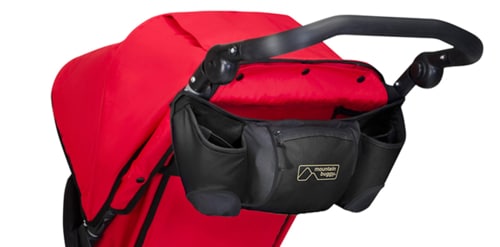 Compatible with the Mountain Buggy range of strollers and many more pushchairs with a similar handlebar width, the Buggy Pouch simply hangs snuggly over your handlebar and is secured with a sturdy clip grasp. A bum bag for a buggy - why keep breaking your back to bend down into your pushchair basket when you can pop your little essentials right at your fingertips? There are two storage pouches perfect for bottles or drinks as well as a central zip pouch for your other items. There is also an inner zip compartment to keep your valuables safe and secure too.
---
Pink Lining Stroller Organiser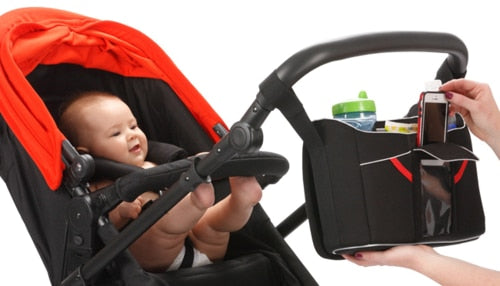 Pink Lining changing bags have been all the rage amongst Mummy's for some years and now you can add to your collection with the stroller organiser range too. Available in a selection of gorgeous Pink Lining patterns, the neoprene stroller organiser is attached to your stroller handles or handlebar with two strong canvas velcro loops. The zipped pouch on the front of the organiser will keep little important goodies safe but still close enough for you to grab in a hurry. There are two bottle compartments and a large central compartment that can easily store a few nappies, wipes and even a little toy or two!
---
Dino Buggy Tech Station
For the gadget-savvy families that live a modern on-the-go lifestyle, Diono has produced a gadget-friendly stroller organiser to make sure that your phones and tablets are kept safe whilst on the move. Your phone and tablets can be kept in protective, touch-sensitive, zip-off sleeves whilst still leaving enough space in the central bag for bottles, nappies, bibs, toys and snacks. With several removable dividers on the inside of the organiser, each compartment can be altered and tailored to your exact needs to keep your belongings snug and safe. The bag is attached using two strong canvas velcro straps and can easily be whipped off and used as a carry bag when needed.