Quick Summary: To parents navigating tube stations a light and easy to carry, easy folding, compact pushchair will be worth its weight in gold! With so many pushchairs on the market, we've narrowed it down to our top 5 tube friendly pushchairs on the market at the moment.
---
Micralite Fastfold Superlite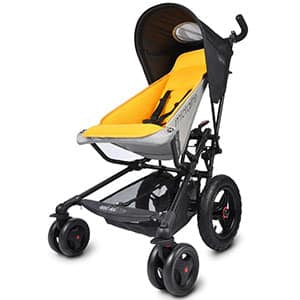 Superlite by name, super light by nature! Weighing only 6.2kg, it's easy to carry one-handed up and down stairs and escalators in busy tube stations. Suitable from 6 months onwards but can be used with a carrycot from birth, the Superlite can be steered effortlessly through the crowds and aisles using just one hand. The allure of the Superlite comes in the shape of a simple-to-operate, one-handed fold meaning running up and down stairs and squeezing into tight spaces isn't such a bind after all!
---
Quinny Yezz
At 5kg and just 56cm wide the Yezz was built to stealthily sneak down the narrow aisles of the carriages. Its unique appearance and smooth rolling skateboard-style wheels will carry baby comfortably over the platforms. It can easily be carried over your shoulder, up flights of stairs and through ticket gates, whilst still carrying baby in your other arm. The Yezz folds within an inch of its life using one hand and one foot in two simple movements. Forming a tiny package of just 69x27cm, it is freestanding and can easily be popped under seats, in luggage compartments or stored in the tightest of gaps. The Yezz is suitable from 6 months old and can be used until your child is 15kg.
---
BabyZen YOYO+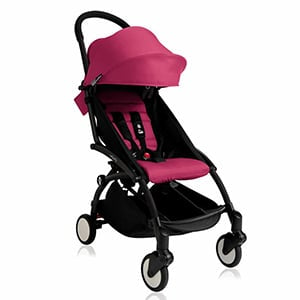 This instant one-handed folding pushchair is in its element on the platforms and stations of the tubes. At 6.2kg it's light and when folded it reduces to a tiny 52x44x18cm, small enough to fit into an overhead locker on an aeroplane - not to mention into luggage racks, under seats and in tight spaces on the tube. The YOYO+ can be used from birth with the newborn pack parent-facing so you can chat with your little bundle whilst travelling the big city. At just 44cm wide you can fit down aisles and into small holding spaces with ease. The YOYO+ is a surefire contender for parents needing a practical, transport-friendly pushchair.
---
Mamas & Papas Armadillo City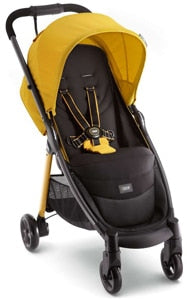 The city slicker of the popular Armadillo series from Mamas and Papas. The Armadillo City boasts the famous Armadillo super compact three-second fold – you can fold this one whilst running for your tube! At a nifty 50cm wide the Armadillo City has a seat which is suitable from birth all the way up to 15kg. Even when wriggling onto packed tubes and navigating through narrow gaps, your little one can still travel in comfort in this city pushchair.  
---
UPPAbaby Cruz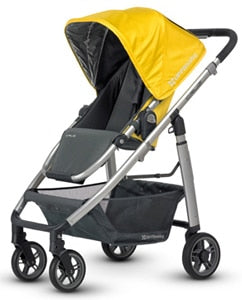 For those parents wanting a more substantial public transport-friendly travel system as opposed to a lightweight stroller, the Cruz is a great alternative. Standing a little taller than the other city pushchairs on the market, the Cruz can be parent or world-facing and is a compact 56.5cm wide, narrow enough to navigate through aisles and corridors of busy tubes and tube stations. The Cruz folds easily with its seat in place and is easy to pop up and down from platform to tube. With its host of appealing features such as a super large basket, cushioned AirGo tyres, multi-position recline and one-step fold, the Cruz could make strolling in the city a whole lot more comfortable for both parent and child.