---
1. There are 30 individual configurations -  that's 30 different ways to set the pushchair up whether it be single or double mode, providing ultimate flexibility.
2. The included Elevators mean that the seat or carrycot can be brought closer to the parent or even used to create space between the seats and the ride on board.
3. You get everything in one box! Both the carrycot and the seat unit are BOTH provided in the box which means that you can use the Orange for one child or two children (carrycot and seat) right from the box. You even get 2 rain covers too!
4. The full-sized carrycot is suitable for permanent overnight sleeping so you can clip it off the frame and use it as an indoor moses basket/sleep space for baby too.
5. The Orange has a fully rotating bumper bar with hinges on both sides to make getting baby in and out a breeze.
6. The integrated ride-on board is tested to hold a fantastic 20kg and there's no need to worry about fiddling with a buggy board.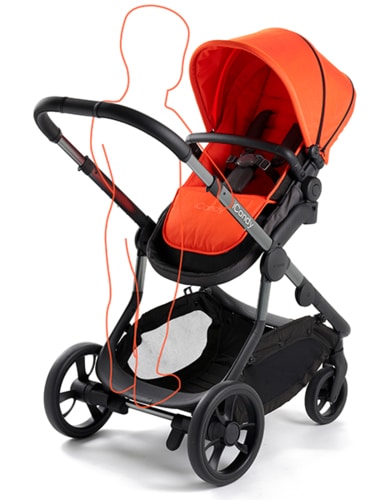 7. It functions as a single or double pushchair but even in double mode, it maintains a single footprint making it super easy to stroll around with.
8. The uniquely styled fabric is formed from two materials that have been woven together, creating a unique duo-tone fabric which oozes quality thanks to its depth of colour.
9. The superb sun canopy extends beyond the bumper bar of the seat unit and offers excellent coverage. There's even a visor and ventilation window too.
10. The 'cinema' style seating design means both children can have an uninterrupted view of their parents creating the perfect atmosphere for interaction with both of your children as you stroll.
11. When folded, the Orange boasts iCandy's trademark freestanding fold to make storing and travelling with the Orange a piece of cake.
12. The elegant leatherette-covered handlebar provides a super wide range of heights to suit all pushchair drivers.
And finally...
13. No matter what mode you use the Orange in, there's always space in the basket!