Quick Summary: I would go as far as to say - yes, the Reflex is pretty different to other strollers on the market.
---
At first glance it looks pretty similar to the likes of Maclaren and other well-known brands, and may be dismissed by those who think it's an over-priced attempt from Silver Cross to 'up their game'..... but don't judge on first impressions - look under the skin, you will discover quite a different beast!
The Reflex (RRP £250) will appeal to those who want to combine all the practicality of an umbrella folding stroller with the comfort and convenience of a pram and travel system.
In pushchair mode, the Reflex has a huge, padded seat with several recline positions and an ergonomic backrest with space between the liner and frame for the ultimate in comfort. Silver Cross have thought carefully about the design of this and I was impressed (it takes a lot to impress me nowadays). There is a distinct gap between the seat back and the structure mechanism allowing for airflow around the back of the child - we've all seen children removed from their stroller supporting a sweaty back I am sure!
There is a sturdy and strong bumper bar offering extra support and protection which doesn't even need to be removed for folding. I love the fact that if you need to open the bar, it is gate-opening....a real must in my eyes. Double safety catches ensure that when folded, this stroller is unlikely to pop open during your travels - a nice touch!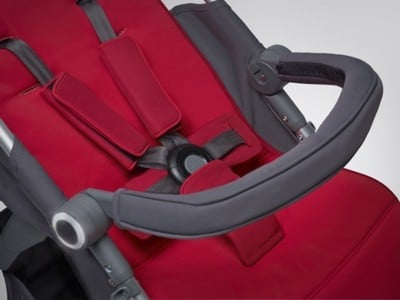 I LOVE the UPV 50+ hood on the Reflex - at a glance, it looks like any other hood but it extends to produce one of the largest stroller hoods on the market, vented at the side to increase airflow and with a covered peephole at the top so you can keep your eye on your little one. 
Unlike most strollers, Silver Cross has taken into consideration that Mum and Dad might just be of differing heights - and have added the option of adjustable handles...another addition missed from the remit of so many strollers!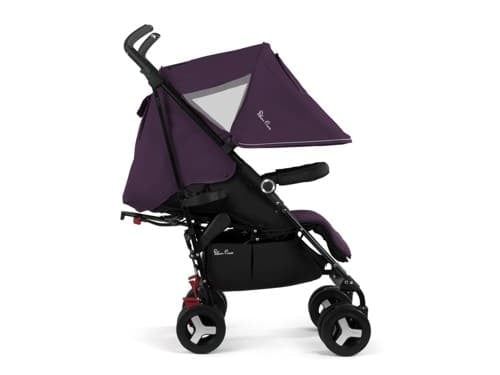 For those of you who want the versatility of a stroller which you can use from birth, Silver Cross give you the option of buying their newborn accessory pack (RRP £75) which converts the Reflex into a pram system. The accessory set contains a natural bamboo baby nest (very similar to that on the Surf), a rearward-facing hood and an apron. The Reflex truly does have a lie-flat seat and the clever configuration of this stroller means that, unlike most from-birth strollers, your newborn will be facing you. Its party trick here is that it can still be folded with these items in place - a true umbrella folding pram system!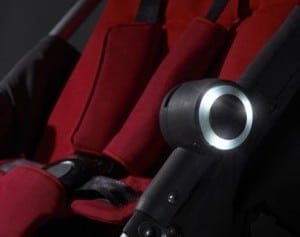 You can also add in the Simplicity car seat which sits safely inside the frame and does not look like a 'bolt-on' to make a versatile travel system for those of you who want to nip into the bank or shop without disturbing your sleeping baby.
Now I obviously can not miss out on what some might describe as a bit of a gimmick! Silver Cross has added what they describe as a safety feature - and indeed, I can not argue with this! A lot of pushchairs and strollers now have reflective materials on the fabrics, as does the Reflex but Silver Cross has taken it one stage further. They have a 3 LED safety light which is positioned at the same height as the bumper bar on either side of the stroller. It's simple to turn them on and off and we were told that batteries should last around 72 hours if left on continuously (which of course they won't be)! It might be a gimmick in some people's eyes - but anything which enhances the safety of children in a stroller has got to be beneficial.

Oh - and before I forget to mention, it's available in 7 striking colours - which is your favourite?
Well - that's a preview of the new Reflex stroller from Silver Cross - and we will in due course be running an in-depth review of course. My initial reaction to this stroller is very positive - you may think that it's 'just another stroller' but it's not. It's well made, the fabrics are gorgeous and it ticks a lot of boxes in my opinion.  If you are looking for a stroller, then this should certainly be on your shortlist! Unfortunately, you will have to wait until March 2014 to get your hands on one!