Quick Summary: Pushchair giants Bugaboo and Cybex have recently joined other brands in approving their latest carrycots for unsupervised or overnight sleep - meaning you can now get a whole lot more use out of them!
---
Can my baby sleep overnight in a carrycot?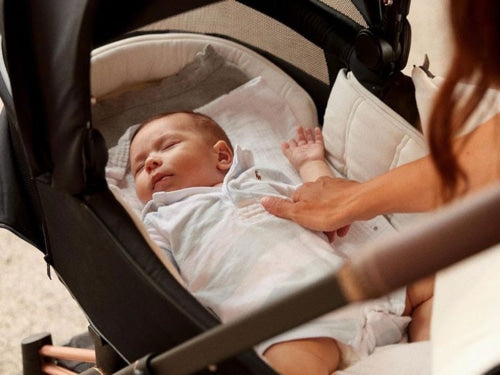 All carrycots can be used for what is classed as supervised sleep, so your baby can snooze happily in their pram while you walk along or - if you're lucky - grab a quick coffee in a cafe, but only select models meet the safety criteria for sleep when you're not keeping a protective eye on things.
There is no mandatory testing for this in the UK as there is for car seats, for example, but looking out for a carrycot that complies with European standard EN 1466 will provide peace of mind for parents. This covers vital considerations such as the internal depth of the carrycot, entanglement hazards and sufficient ventilation and airflow, and ensures that the sleeping environment within the carrycot for babies under 6 months old is as safe as that in a Moses basket, crib or cot.
Of course, that means that you can really maximise the use of your carrycot both on and off your pushchair wheels. You may still want a permanent overnight solution in your bedroom in those early months, with bedside cribs that are attached to the side of your own bed becoming more and more popular, but for daytime naps downstairs or in another room, carrycots are extremely easy to move around and familiar space for your little one where they are more likely to settle. No need for the additional outlay of a travel cot on your first family trips away either. Chances are you'll be taking your carrycot with you anyway for getting out and about so using it at night saves space in the car as well as money. 
Which brands meet the safety standards?
Last year, Cybex announced that it had tested its most up-to-date carrycot range to the EN 1466 standard so you can rest assured that your baby is safe overnight in the Priam Lux carrycot (for the Priam and ePriam), Mios Lux carrycot, Gazelle S Cot and Cot S (for the Balios S, Talos S and Eezy S collection).
Now with the launch of the Fox 5, Bugaboo has also approved its first carrycot for unsupervised sleep, with the new Bugaboo Carrycot Stand and adaptors to lift it safely off the ground to a handy back-saving height, away from curious pets and toddler siblings!
Cybex and Bugaboo join a number of other manufacturers who have already put their carrycots through the testing, including Oyster, egg and iCandy, with UPPAbaby, Silver Cross and Peg Perego also offering carrycot stands. If you are unsure whether your preferred carrycot meets the regulations, please get in touch.
Choosing a carrycot that can be used off your pushchair in place of a Moses basket or travel cot hugely increases its versatility and really helps you get the most out of a purchase that you'll only use for around 6 months. Cybex and Bugaboo both make spacious carrycots with luxurious touches that ensure comfort indoors and out, so they are a very welcome addition to the overnight sleeping options.