---
---
In recent years, we have seen the appearance of a range of pushchairs that can be used comfortably as a single, but then with the addition of adaptors converted from a single pushchair to one that can carry two children. 
Growing with your family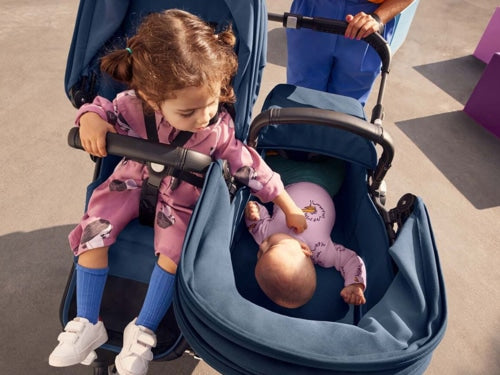 Much like people carriers, these pushchairs from brands like UPPAbaby, Bugaboo, iCandy, egg and phil&teds are a great option for parents with a growing family or those who are looking towards the future and contemplating more children.
The single to double part of the pushchair market is where innovation is perhaps at its highest with clever products such as the Bugaboo Donkey and iCandy Orange leading the way in their use of design. They possess features like extending chassis, built-in ride-on board and even 'cinema seating'.
---
How to change from one to two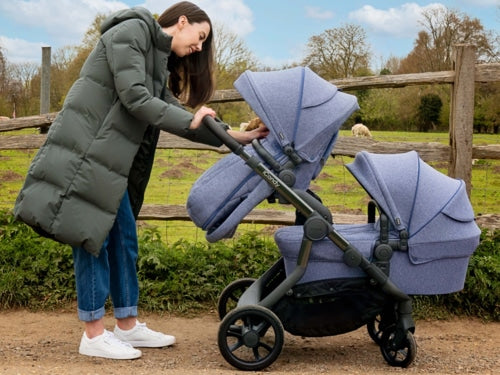 A typical single to double pushchair like the UPPAbaby Vista V2 or the egg 2 uses a set of adaptors costing around £50 to add a second location on the chassis to attach your carrycot when baby number two arrives. Your other child will be using the main seat by then, so with many models the adaptors will be your only extra outlay for the first six months. A few models like the Silver Cross Wave come with everything included to set up as a single or tandem from the word go, while other designs such as the iCandy Peach or Orange or the Joolz Geo 3 will require an additional carrycot or seat frame or hood and carry handle or bumper bar, for example. Make sure you know exactly what you'll need to 'double up' the particular pushchairs you're looking at so you can do the sums and compare like for like.
---
Age difference matters
Once your latest arrival outgrows the carrycot at around 6 months old, it will depend on the age of your older child, along with your lifestyle and the miles you cover, whether you will need a tandem or second seat to keep your pushchair as a double or if your younger child can 'inherit' the existing pushchair seat (with their older sibling perhaps making use of a ride-on board on the occasions their legs are tired and they want to hitch a lift). The wider the age gap, the less time you're likely to need a double so the more important it is that your chosen pushchair really works for you as a single too.
---
Tandem pushchairs
Pushchairs that take a second child within the footprint of a standard single can be ideal if you're expecting to spend more time with it in single - often known as mono - mode than as a double. They're more manoeuvrable and compact for your car boot or home, but they often achieve this by having one seat or carrycot partially under and very close to the other, and this can mean one child is nearer the ground than you might prefer and has a limited view. In many cases, it also seriously curtails your basket space.
This kind of neat and functional tandem designs inevitably offer fewer configuration options as there is less space on the frame to accommodate them. It typically won't be possible to have your children parent-facing, for example (though you will often get direct eye-to-eye contact by looking straight down at your lower passenger) so if that's important to you - and particularly if you're keen for siblings to be able to interact on the move - a larger tandem with multiple configurations will suit you better. 
---
Compromises with a tandem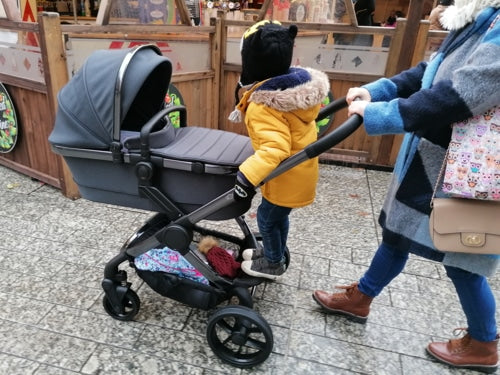 Of course, there is always a compromise and while this type of design provides huge flexibility to cater to your family's changing needs at every stage (and generally a very spacious basket too), the additional size and weight can be a problem. It affects the handling and can make a kerb pop more challenging, especially if the seat or carrycot sits above the front wheels. Most of the parts will have to be detached when folding or packing away and you cannot get away from the fact that the overall package will be bulky.
If you have three young children or you've switched back to single mode for your youngest but their older brother or sister still needs a ride sometimes, look out for pushchairs like the iCandy Peach 7 or especially Orange, which have a footboard incorporated at the back of the chassis. This gives additional longevity to the design for your increasingly independent toddler - without the extra cost and length of a separate ride-on board accessory.
---
Side-by-side doubles
The vast majority of single to double pushchairs have a tandem set-up (one seat behind the other), but Bugaboo bucked the trend with the ever-popular Donkey, designing a side-by-side single to double. The clever extending chassis allows you to widen the pushchair in less than a minute (no tools needed!) and add your additional seat or carrycot. Even in this mode, a Donkey will still fit through most shop doorways - it's not scarily wide! Reverse the process when you only have one child on board, and the smaller additional space down the side of the pushchair seat takes a lift-off luggage basket - so you'll definitely have room for all the essentials that an expanding family brings!
---
Expecting twins?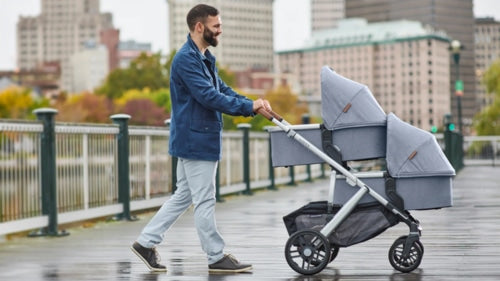 Expecting twins? Single to doubles still have you covered, but you will need to purchase a twin set-up consisting of two carrycots and two seats, which will add to the cost. There's no denying that getting ready for two babies is expensive, so do ask about dedicated twin discounts. Of course, unless you're thinking of having another little one in future, the transformative capabilities of a single to double are less of an advantage when your two passengers are the same age - though if space is a factor, you may still prefer a tandem with a single footprint over a more traditional double.
---
Conclusion
Without a doubt, if you have a second child on the way or are hoping to have two children close in age, a single to double pushchair has many benefits. It gives excellent flexibility, is convenient and, in most cases, good value for money. Ensure you have weighed up the configurations you can get against those you'd like, and if you're unsure or have more questions, do give us a call for advice. One final thing to remember is that the designs and colours from pushchair brands are continually evolving so while being able to spread the cost and hold off on buying your tandem adaptors and second carrycot or seat until later is a plus point, it's important to keep an eye on the market if you've bought a single to double in mono mode. You don't want to find that by the time you're ready, you can't get a matching tandem seat or - worse - one that fits your frame at all!