Quick Summary: There are lots of compact strollers to choose from, that can all be folded down like a clever piece of origami! Depending on what you want from your stroller, these are our top 10 very compact strollers, with one to suit every family. Don't forget, that a smaller folding stroller = smaller wheels, so these are all better in your more urban family adventures and holidays.
---
Cybex Libelle
Fold size: 20cm x 32cm x 48cm
Weight: 6 kg
Suitable: From birth with infant carrier or 6 months in seat to 22kg
The Libelle stroller boasts one of the smallest folds available in the market, allowing it to collapse down and in and resulting in a compact hand luggage-compliant package that can be stored in planes, trains, cars or even at home. Its lightweight design, weighing only 6kg, adds to its portability. The stroller comes equipped with several features such as an infinite recline, adjustable leg rest, and front wheel suspension. Additionally, it can be used with a Cybex infant car seat, making it usable from birth. It's worth noting that due to its small size when folded, the stroller has small wheels and is not suitable for rough terrain. However, it can handle park walks with ease. The latest version now features a one-pull harness, enabling you to secure your child in seconds with the perfect fit. We adore the stroller's array of beautiful, bright colours.
---
Joolz Aer+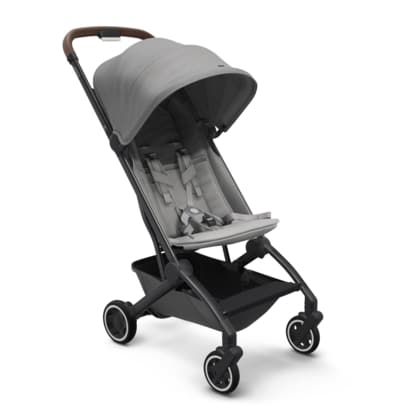 Fold size: 53.5cm x 45cm x 21.5 cm
Weight: 6 kg
Suitable: From birth with Aer Cot or infant carrier / 6 months in seat to 22kg
The Joolz Aer+ stroller could be the perfect option if you are searching for a comfortable and compact travel companion. Despite being lightweight, it is sturdy enough to carry a child from 6 months up to around 4 years old. The seat is generously sized and can recline fully flat, ensuring great comfort for your little one. The stroller features a clever and compact one-handed fold, taking just a second to perform. It is even suitable for travel, as it can fit safely in an overhead locker and comes with a travel bag. If you require a compact and full travel system for your newborn, the Aer+ Cot can be added with ease. We particularly adore the fact that the stroller can be folded with the carrycot on the chassis! Furthermore, car seat adaptors allow you to attach an infant carrier for added convenience.
---
Silver Cross Clic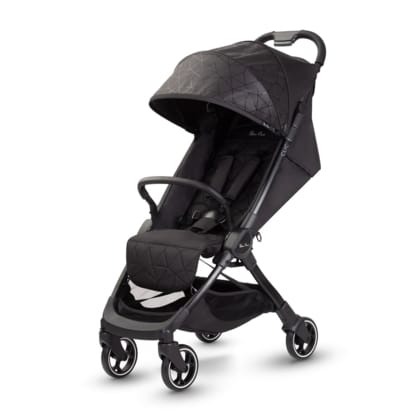 Fold size: 54cm x 46.5cm x 25cm
Weight: 5.9 kg
Suitable: From birth to 22kg
The Silver Cross Clic stroller is an ideal choice for everyday use, as it's practical, lightweight, and compact. If you frequently use public transport or wish to downgrade from your larger pushchair, this stroller is a great option. It features a lie-flat seat, allowing you to use it straight away from birth without any additional accessories. The stroller can accommodate children up to 22kg, making it a durable and long-lasting option. The one-hand fold mechanism is a game-changer for parents, enabling them to transform it quickly into a travel-friendly package. The stroller is even small enough to be taken on a plane, with a pull-out shoulder strap hidden in the seat, making it easy to transport. We love how user-friendly it is, while providing comfort to your little one, complete with a bumper bar included as standard.
---
UPPAbaby Minu V2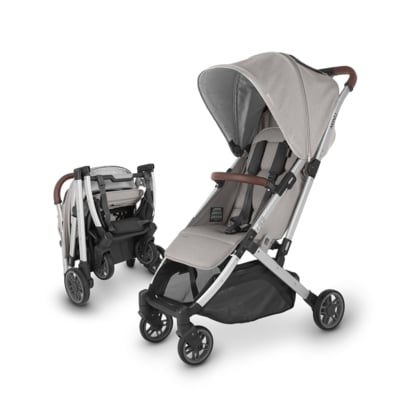 Fold size: 31.7cm x 52cm x 58.4cm
Weight: 7.7 kg
Suitable: From birth with carrycot / infant car seat or 6 months in seat to 22kg
The Minu V2 is UPPAbaby's latest addition to its stroller collection, designed specifically for those seeking a compact folding option. Despite being much smaller than the Cruz or Vista, it can accommodate the full-sized UPPAbaby carrycot and car seat, making it a versatile travel system. We love that there's no compromise if you decide to use it from birth and desire something suitable for overnight sleep! The stroller is suitable for use from 6 months to 22kg, and it can be folded down in one step with one hand and free-standing. Despite its compact size, it boasts a spacious basket that can carry up to 9kg, providing ample storage for your baby or toddler essentials. The front and rear spring-action suspension provides a smoother ride, while the seat is generously sized for larger children and comes with an extendable hood that offers great protection.
---
Joie Pact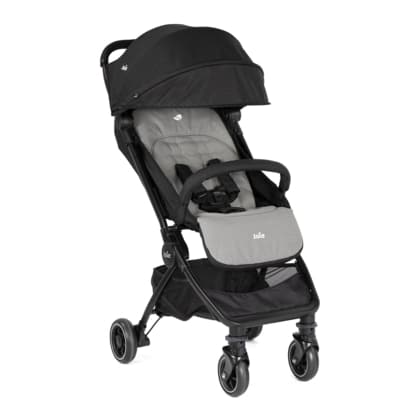 Fold size: 24cm x 52.5cm x 56.5cm
Weight: 6kg
Suitable: From birth to 15kg
The Pact is there if you need a compact and travel-friendly option. We particularly love how the seat sits high on the frame, bringing your little one closer to you and further away from the ground. This design also offers easy access to the spacious basket. While the stroller is suitable for use from birth with a flat reclining seat, it has a lower weight limit of only 15kg, which is less than most of our other stroller options in this list. Folding is a breeze with just one hand, and there's a convenient carry strap for when you need to transport it. The stroller can be paired with a Joie infant carrier for quick errands or the school drop-off, and the adaptors come included. Unlike most other compact strollers, the Pact boasts a height-adjustable handle and lockable front wheels, ensuring you get the most out of your push.
---
Bugaboo Butterfly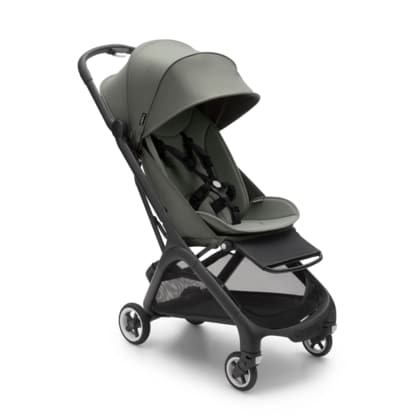 Fold size: 45cm x 23cm x 54 cm
Weight: 7.3kg
Suitable: From birth with infant car seat or 6 months seat to 22kg
The Bugaboo Butterfly isn't just stylish, it's also practical and designed to make things easy for you. You can fold it in one second, and it even stands up by itself when you're done. And, if you're planning on taking a trip with your little one, this stroller is IATA approved for cabin storage, so perfect for flying with! The Butterfly is suitable for kids from 6 months up to 22kg, but don't worry, it can also be used from birth with car seat adaptors. The lightweight aluminium frame and high-quality wheels make it easy to manoeuvre, even in tight spaces. Plus, the 4-wheel suspension system ensures that your little one has a smooth ride. There are some fantastic features, including the huge extendable canopy to keep your child shaded from the sun. We love the large basket which is a lifesaver for carrying all your essentials (up to 8kg), and the adjustable leg rest that provides support for those small legs.
---
Silver Cross Jet 3
Fold size: 55cm x 30cm x 20cm
Weight: 5.9kg
Suitable: From birth to 15kg
The Jet 3 stroller is lightweight and features a new and improved fold that is ultra-compact and easy to store in your car boot or overhead storage racks. It's even cabin-approved for all key airlines. Say goodbye to the stress of travelling with little ones, and hello to peace of mind. The Jet 3 is adaptable and can easily transform into an agile travel system - simply add your Dream car seat onto the chassis, and you're good to go. Adding to the style, it has sleek vegan leather touchpoints and chrome accents. The padded seat can lie flat to be used from birth and has a one-handed recline, perfect for naps on the go. The calf support is adjustable too, so it'll keep your little one happy as they grow. It can only handle a passenger up to 15kg, so keep that in mind. We love the Genius buckle on the harness! The magnetic fastenings click together, so there's no more messing around trying to do up tricky buckles. And when you're ready to let your little one out, just squeeze the child-proof release and voila!
---
Mountain Buggy Nano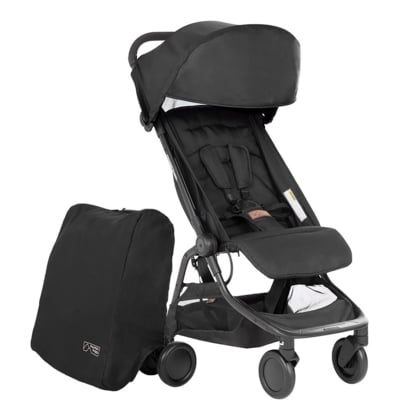 Fold size: 51cm x 30cm x 54cm
Weight: 6kg
Suitable: From birth to 20kg
The Mountain Buggy nano is great for families that are travelling with little ones or simply navigating through the city. Designed by Mountain Buggy to be incredibly manoeuvrable and simple to use, it's suitable for newborns in three different modes. In the instant lie-flat fabric sling seat, in the parent-facing, soft-shell cocoon which you can purchase as an extra, or with the included handy travel system belt to quickly click on your infant car seat. The seat can then be used up to 20kg. For holidays abroad, the nano's folded size meets the standard for most carry-on luggage on planes and comes with its own bag to keep it clean with a carry handle and shoulder strap. It's not a one-handed fold though, which may put some parents off. When reclined, we love the mesh back that gives you airflow and ventilation on hot days.
---
Bizzi Growin Buggilite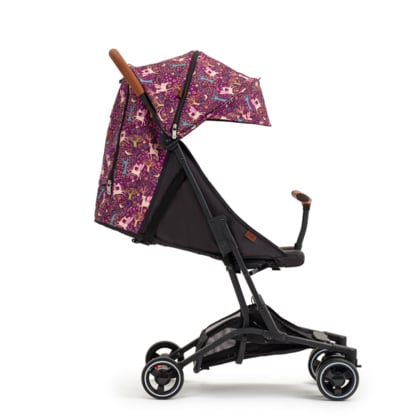 Fold size: 23cm x 36cm x 40cm
Weight: 6kg
Suitable: From 6 months to 20kg
The Bizzi Growin Buggi Lite stroller is super light and compact making it an option for parents on city trips, weekends away, and even holidays abroad. If you're a frequent traveller, you'll love that it comes with a carry strap and a handy travel transit bag. The stroller is so compact when folded down that it can fit in overhead storage racks, and you can even take it on board most flights as hand luggage. So, no need to worry about checking it in or waiting for it at baggage claim. It is another one that needs two hands to fold it though, with a few steps to get it down. We love the variety of stunning fabric patterns that it comes in, with a contemporary design that will turn heads.
---
phil&teds go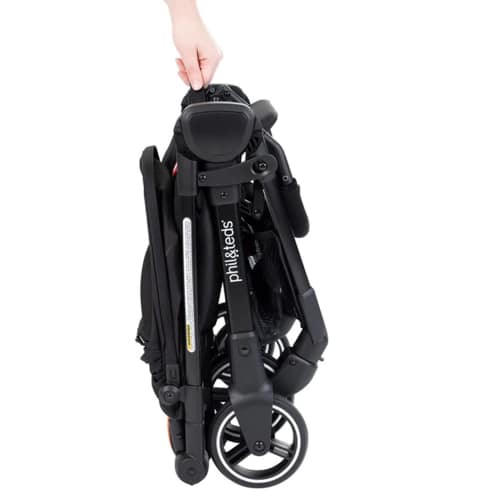 Fold size: 54cm x 44cm x 22cm
Weight: 5.5kg
Suitable: From birth to 15kg
If you need something smaller than a regular umbrella stroller, take a look at the phil&teds Go, a compact stroller that gives you functionality in a small package. Not just a single stroller, it's the world's first compact stroller that can adapt to take two kids as your family grows, all within the compact width of a single! By purchasing the double kit, you can pop it onto the back of your go, giving you two seats. Great for your daily trips in and around town, leaving it in the back of your car, hopping in and out of public transport, or even for the grandparents to have at their home for those surprise visits from the grandkids. Lots of features such as adjustable leg rest, all-wheel suspension and car seat compatibility if you add the seat belt. Use the seat from birth or add a cocoon to make it cosier, only up to 15kg. We love that the liner included can be switched out for different colours when you feel like a freshen-up!
---
Conclusion
Whether you need something more compact to get your newborn baby from A to Z, or are downgrading your full-sized travel system for your toddler, there is a stroller here for everyone. Although the folds vary in technique, they all fold down super small and most can be popped into the overhead locker of planes and trains. Perfect for holidays, weekends away or day-to-day use in an urban environment. You'll love how little space they take up at home or in your car boot.