Quick Summary: There's plenty of single running pushchairs on the market, we've tested them on the track. But if it's a double you're after, you might find your search coming to a bit of a standstill.
---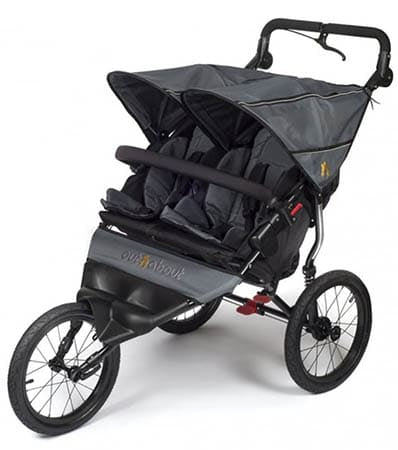 Out'n'About are a company who have recognised the demand for a specialist double-running pushchair and they recently released their fab Nipper Sport Double. It does everything the Nipper Sport does so brilliantly but has spacious seating for two little ones. It's still just as light and stable to run with too!
The Britax B.O.B Duallie is unfortunately no longer on sale in the UK but you might be able to pick yourself a second-hand one up if you have a good scout around online.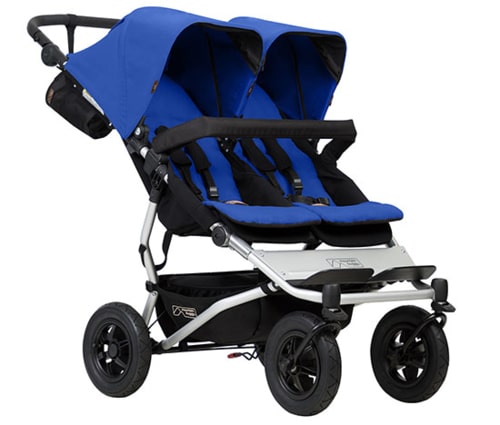 There are other double All-Terrain pushchairs on the market, which can be used for running if you lock the front wheel into place, however, they are not specifically designed for this purpose. The Mountain Buggy Duet, Out'n'About Nipper Double V4 are side-by-side examples of these and the phil&teds Sport is a 'in-line' example. These are great for the occasional jog, but the more hard-core athletes and runners out there will want something built specifically with running performance in mind.
This leads us on to the option of trailers. Often overlooked by those in hunt of a double pushchair, purely down to the label of 'bike trailer' and not 'pushchair'. In fact, many bike trailers have been specifically engineered to withstand the pace and physics of a brisk run. Many are even used for skiing too!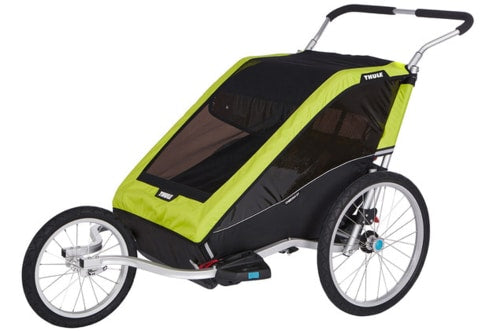 For instance, the Thule Chariot Cheetah 2 is a bike trailer which comes with pushchair attachments to convert into a specific running buggy. It's totally enclosed to shade and protect your child and seats 1 or 2 children with ease. The Cheetah 2 is also capable of carrying up to 45kg so you can run with children of approx 5 years old in tow too!
So if an occasional double running pushchair is what you're after, then models such as the Nipper Double V4, Mountain Buggy Duet and phil&teds Sport could be a great option - as they are great for everyday use when shopping and on trips out too.
But if you are considering training regularly with your pushchair and are requiring your running pushchair for runs only, then the Nipper Sport Double from Out'n'About and trailers for two, such as the Thule Cheetah 2 will be more up your alley.
Do you run with two children? What do you use?
Let us know on our Facebook Page