Quick Summary: Think of all those precious first moments with your baby - the journey home from hospital; That first proud, nerve-wracking trip out and about with your newborn; Taking your tiny baby to visit your parents or grandparents for the very first time; Setting off with more luggage than you could ever have imagined for that first family holiday.
---
Translating the terminology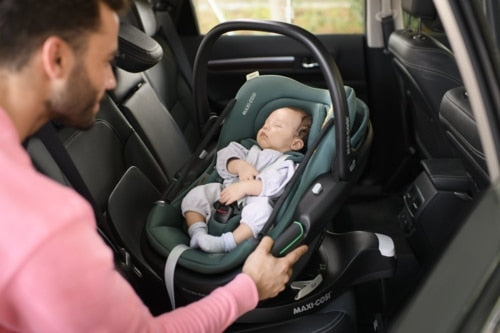 All those little day-to-day milestones that mean so much - first ride in a supermarket trolley, first coffee date with friends, going to buy that first pair of proper shoes and having that first haircut. First party and first trip to Santa's grotto. Then the first time you drop off at nursery and maybe even the first time your growing little one meets their new brother or sister.
For most parents, every important journey involves a car seat. You might even change as a driver once you have your tiny baby on board, becoming fiercer, more careful, and more protective. You want a car seat that is easy to use and will keep your little one comfortable and, above all, safe.
But where do you start? Until you've been immersed in it for a while, the terminology can be baffling. You generally have to read on into the smaller print to find references to ages, weights or heights, as car seats were typically divided initially by group - Group O+/1, etc. On top of that, you have descriptions relating to the way the seat is secured in your car - ISOFIX - and also to certain standards being met, with i-Size the only criteria you really need to know about. So here's your quick translation guide.
The latest regulations - R129
R129, also called i-Size, is the latest European-wide standard for child car seats, introduced in 2013 to run alongside the existing R44/04 standard, which all car seats sold in the UK must meet.
The older R44 regulation car seats will finally finish being sold in the UK in the near future (date TBC) and we will just be left with the latest R129. This regulation aims to create a safer and far easier-to-understand situation, where all car seats fit all cars and it is clearer exactly when your little one should move up to the next seat using height as the measurement, as well as providing increased side protection and promoting rear-facing for longer.
Car seats are divided by your child's height rather than weight, with the seats using ISOFIX for correct installation, or vehicle seat belts. On this regulation, children remain rear-facing up to at least 15 months. This is the safest position, giving greater protection to your baby's head, neck and vital organs. They are now tested to ensure that the child remains safely in place, even if the vehicle rolls, and meet criteria for improved protection in the event of side or front impact.
An example of the height limits on an i-Size car seat could be 40-85cm on an infant carrier, 40-105cm on a seat to last around 4 years from birth, and 100-150cm on a high back booster to be used from 4-12 years old.
Eventually, all cars will be i-Size ready but that is not yet the case so you will still need to check that any car seat you have your eye on is approved for your vehicle.
Car seat groups
Under the older regulations, R44/04, car seats are grouped depending upon your little one's weight rather than their height as per the i-Size regulations. Which you choose essentially depends on how long you want it to last your baby.
Group 0 - From birth up to 10kg, or around 6 months old. These lie flat and sideways in the back of the car or rear face. Not very common, with longer-lasting rear-facing seats much more popular.
Group 0+ - From birth to 13kg, or approximately 12-15 months. Always rear-facing, this is your typical baby car seat or infant carrier with a carry handle and the capability, in most cases, to be attached to a compatible pushchair chassis in place of the seat unit or carrycot.
Group 0+/1 - From birth to 18kg, or around 4 years old. These will all be rear-facing initially but some will become forward-facing seats from 9kg, while others will have the option of remaining rear-facing all the way to 18kg.
Group 2/3 - High back booster car seat, generally from 15-36kg or 4-12 years old. A forward-facing car seat secured the child with the vehicle seat belt.
Group 0+/1/2/3  - From birth to 36kg or around 12 years old. Children are no longer required to use a car seat or booster once they reach their 12th birthday or 135cm in height - whichever comes first. These are large all-stage seats that convert over time, from rear-facing to front-facing, to a high-back booster, with inserts and harnesses removed as your child grows.
ISOFIX points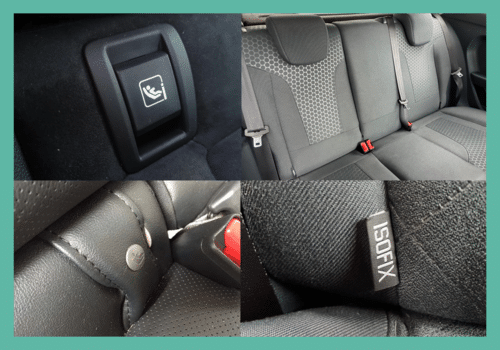 You may not even have noticed your car has ISOFIX at the time you bought it. If you didn't, take a look between the base and back of the rear seat - it should reveal two metal anchor points if it has them.
These can have material tabs, plastic circles or a plastic flap to let you know they are there. Your vehicle manual will also tell you where they are. The ISOFIX points are welded to the chassis of your car and give security when the seat is installed.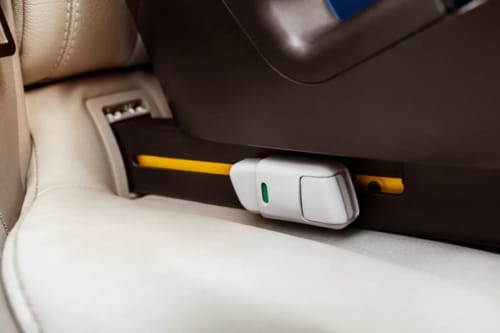 ISOFIX virtually eliminates the danger of fitting your seat incorrectly, something that is all too easy to do when using the seat belt alone.
The ISOFIX connectors on the car seat simply click into the anchor points. The car seat will also have either a support leg or top tether to brace and stabilise the seat if you have to stop suddenly.
ISOFIX seats also include colour-coded indicators on the seat or base to make it crystal clear when it has clicked safely into place.
Infant carriers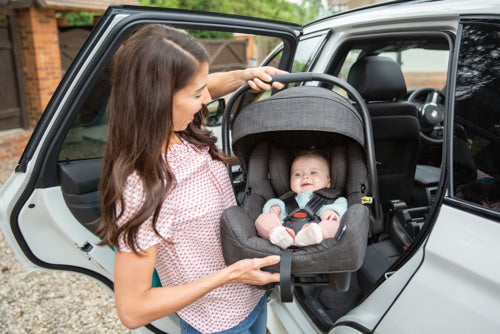 The most common car seat for newborn babies is an infant carrier because it's perfectly designed to hold a small baby. As the name suggests, this is the portable seat with a carry handle that you've probably seen in countless leaving-the-hospital and front-doorstep photos.

They're relatively lightweight (vital if you've had a Caesarian section) and flexible around your day-to-day needs with a new baby. Many little ones seem to fall asleep almost as soon as you turn the engine on, lulled by the noise and vibration - we've all heard of desperate sleep-deprived parents driving around the block in the middle of the night!
While newborn babies should only be in a standard car seat for limited periods of 20/30 minutes, being able to lift the whole seat out of the vehicle and take them inside undisturbed can be a huge advantage.
Check what position your infant carrier's handle should be in when secured in the car - it usually acts as a roll bar. Car seat brands vary, but there will be pictures on the side of your seat or in the manual.
In addition to these benefits, choosing an infant carrier over a combined Group 0+/1 or all-stage, i-Size car seat at this point generally means a smaller outlay at an expensive time - though obviously more shopping further down the line as they will outgrow it sooner.
Travel systems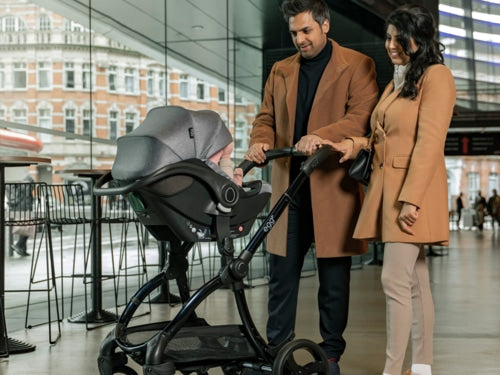 Most infant carriers can be attached to certain pushchair chassis' with the use of specific adapters, meaning you can easily nip into shops or do the school or nursery run with your baby still settled in the car seat. If you hope to use your pushchair in this way, you will need to consider the compatible options when narrowing down both your pushchair and car seat choices. Again, bear in mind that you still shouldn't leave baby in their infant carrier for too long on the pushchair either.
You can make things simple for yourself by buying a full travel system in one go, including your pushchair, carrycot and infant carrier, and usually all relevant rain covers and useful accessories too.
This takes all the debate out of your decision and gives you not just complete compatibility but a coordinating set too, as well as being significantly better value than purchasing the elements individually.
Do I need to buy a car seat base?
An infant carrier can be installed with either the adult seat belt or an ISOFIX base. Convenience-wise, a base can be easier to use on a day-to-day basis, as this stays in the car all the time, and the seat just clicks on and off, with a button to release. With a seat-belted infant carrier, you need to unfasten and fasten it again every time you want to take it out of the car.
As long as you do it correctly, following your instructional manual, it is just as safe to use the vehicle seat belt to secure your infant carrier, as it is to use the ISOFIX base. The visual and sometimes audio indicators on the ISOFIX points and the support leg will let you know if you have installed it correctly, which is great at reducing user error.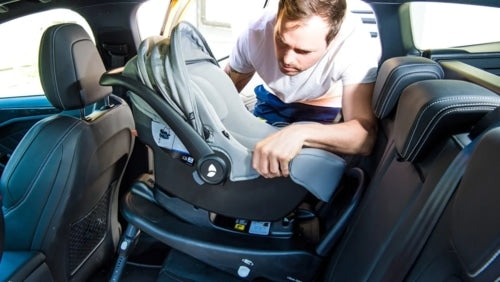 An ISOFIX base also has a support leg to prevent any rotation in a collision. This does take room up in the footwell of the car, making it a larger installation than just an infant carrier belted it.
A big factor of whether you want an ISOFIX base or not is budget. It is often an additional cost and can cost almost as much again as the car seat itself.
Group 0+/1 or i-Size baby & toddler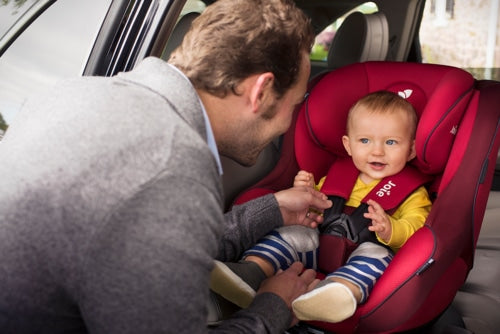 You don't have to use an infant carrier at all. A combined Group 0+/1 or i-Size Baby & Toddler seat won't offer the flexibility of being able to remove it from the car with your baby inside, but it is an investment that will last your newborn until the age of around 4.
When used from birth, the seat will typically include additional head support and an insert that you can then remove as your little one grows, so they are just as snug and protected in the early days as they would be in a designated infant seat.

Some of these multi-stage seats require your child to become forward-facing once they reach the designated weight or height, so always check your instructions. One clever innovation of recent years is a seat that rotates. This not only allows a quick, easy transfer between forward and rear-facing where applicable but also makes getting your little passenger into and out of the seat as smooth as possible.
It may be hard to believe with a tiny newborn in your arms, but trying to place a wriggling toddler into the right position in the car from a side-on angle, or lift a slumbering child out, can be back-breaking work!
Extended rear-facing (ERF)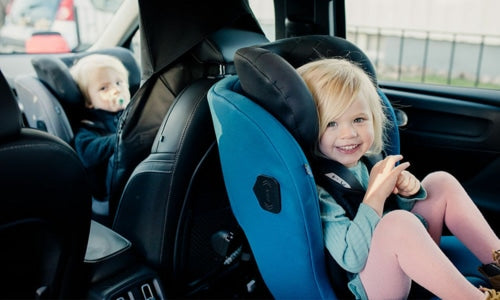 There is an ever-growing movement to encourage parents to keep their children rear-facing until they reach at least 4 years old. While there is no plan to make this law beyond the age of 15 months (as specified in i-Size regulations), it is now generally accepted that travelling rear-facing for as long as possible provides the greatest protection.
Some parents may have concerns over a toddler's growing legs being cramped, but as their kneecaps aren't fully developed at that age, they will just bend, cross or stretch out their legs as they find comfortable.
An increasing number of ERF seats are now available, some of them still incorporating a swivel function to make access easy. Some carry the child up to 18kg, your average 4-year-old, some to 25kg, your average 6/7-year-old and some newer seats even last to 36kg rear-facing!
All-stage car seats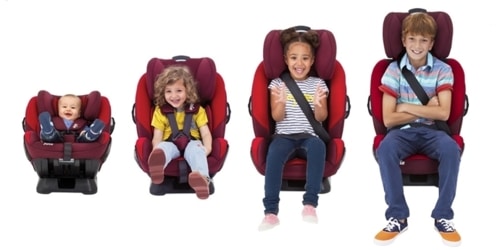 There are a relatively small number of car seats on the market that will carry your tiny baby right the way through until they no longer need even a booster.
Transforming from rear-facing to front-facing and from using an integrated harness to the adult seat belt, at the same points in time you would move on to the next stage seat.
These are an economical option and mean the next stage is always ready and waiting when your child reaches it, but do bear in mind that advances in technology, as well as trends or preferences in colours or fabrics, are likely to change and develop over the next 11 years!
Lie-flat car seats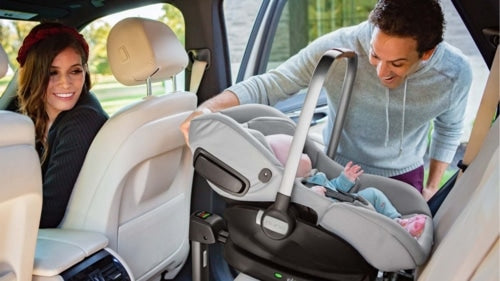 Babies under six months should lie flat as much as they possibly can. Long periods in a standard car seat, which keeps them partially upright, can put a strain on their developing spine and even restrict the free flow of air to their lungs, particularly if their head tilts forward when sleeping.
For that reason, medical experts say that babies should not spend more than 30 minutes at a time in a normal infant carrier during their first four weeks, and no longer than two hours without a break. The exception to this rule is an ergonomic lie-flat car seat.
An increasing number of brands are now releasing these. Some models can only be moved to lie-flat outside the car, but others offer this optimum position while on the road, too, meaning you can travel further without the necessity to stop. There are even some that resemble a carrycot and are completely flat at all times.
Something extra?
Sometimes it's the little things that make the difference. If you're happy that the car seats you are considering are compatible with your car and offer the protection and functionality you are looking for, look at the extras too!
At some point, your car seat is almost guaranteed to be the victim of a nappy leak or baby sick. When that happens, an easy-to-remove, machine-washable cover will be invaluable - and a spare cover even better!
If you plan to use your infant carrier on your pushchair chassis at times, a hood that gives decent coverage and a rain cover are a big plus. A fitted apron will help to keep your little one cosy in the cold and a breathable summer seat cover will keep them cool and comfortable when it's hot.
And finally...
We know that picking the right car seat for your little one can be daunting at the very least, but it is often confusing and hard to navigate, especially if you are working to a tight budget.
We are here to help and guide you through this minefield, so why not get in touch with one of our highly trained car seat experts who have helped thousands of parents find the right seat for their babies, toddlers and children.