Quick Summary: Of everything on the so-much-longer-than-you-ever-imagined shopping list that you face when expecting, your pushchair is quite possibly the most expensive purchase - and almost certainly the most important.
---
So where do you start?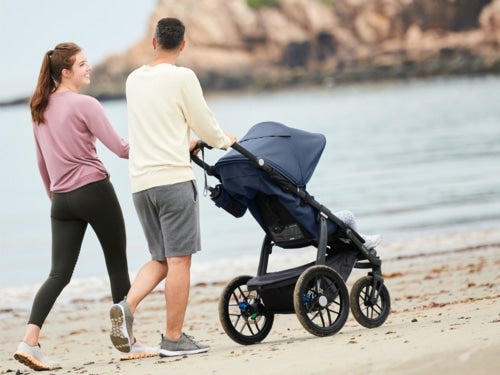 Chances are over the next few months - even years - you will spend more time with it than you do with your partner! It will be your freedom to get out of the house and back to your favourite cafes, shops and outdoor spaces, as well as to meet old friends and new ones. It will allow your little one to sleep on the go so you're not tied down by nap times (sometimes it may feel like it's the only place your baby will sleep at all). It will be there for so many precious milestone moments and it's going to be your almost constant companion, so this is one decision you want to get right!
If you are looking at the pushchair market for the first time, you may still be reeling from the sheer number of different makes and models available - not to mention the variety of price tags. The good news is that all pushchairs sold in the UK are required to undergo rigorous testing, so whatever you ultimately opt for, you'll know it's safe. And there are lots of factors you can consider, well before your baby's arrival, to help ensure you find the ideal set of wheels for your family…
In this guide, we aim to give you a good overview of the types of pushchairs and prams that are available and what we think you should consider before making that final decision. Are you ready? Well, let's go then!
---
Town or country or a bit of both?
Inevitably, your first consideration has to be where you live - the access and space you have, the routes you take on a daily basis, and the lifestyle you enjoy.
Urban or city pushchairs are all about size and manoeuvrability. If you live in a flat, hop in and out of lifts and negotiate crowded platforms, pavements and shops on a daily basis, good things really do come in small packages. These pushchairs are designed to be compact both in use and when folded. The frame and wheelbase will fit through any doorway and tuck into the corner of a cafe with ease.
Small, hard wheels won't add unwanted width or bulk, but are intended to give a comfortable ride on smooth, even surfaces - beware of cobbled streets and bumpier footpaths, especially as the suspension is also likely to be limited. On the other hand, those wheels will turn on the spot to navigate tight or busy spaces, and they'll almost certainly be paired with other city-living essentials like a really good-sized shopping basket or even one you can remove and carry as a bag.
For true outdoors types, robust all-terrain pushchairs are made to allow you to explore off the beaten track and take a mini adventurer along for the ride. If you go for country walks, use more paths than pavements, and spend time at rural events in sometimes-muddy fields, large air or puncture-proof foam-filled tyres will mean your baby doesn't feel every stone and tussock - and make it a whole lot less effort for you to push too. Often with three wheels rather than four, they typically offer your little passenger plenty of space - but require a fair amount in return.
Ideally, you will want the room to wheel an all-terrain buggy inside and leave it ready for your next outing. Frequently having to fold down a pushchair like this, which may well involve removing the seat first, will probably become tiresome quite quickly, and is still likely to leave you with a substantial size and weight to carry or store.
There are a number of all-round pushchairs which will suit most families. With medium-sized wheels and usually additional suspension, but a smaller footprint and in most cases a neater, often one-piece, fold, they won't have the off-roading capabilities of a true all-terrain stroller but if space is at a premium or you want a buggy that you won't struggle to take around a shopping centre or across parkland, they could be the most practical solution.
For most people, the all-rounder is the perfect combination, being nippy around town, but big and sturdy enough to handle trips to the park, occasional, more demanding, country walk and even a trip to the beach.
---
Planes, trains or automobiles?
Your day-to-day choice of transport is inevitably a major factor. If you rely on your car, what kind of boot capacity do you have? A pushchair that fills every last centimetre of space, or only goes in at one very specific angle, is going to make juggling shopping, a changing bag and the rest of the inevitable mum/baby baggage more of a challenge than your sleep-deprived mind is likely to appreciate!
Many buggies have wheels that you can pop off and click on in a moment, which is a handy feature and makes the folded chassis notably more compact, but will be a pain to do several times a day, particularly in winter when your tyres are wet and dirty.
If you avoid crammed commuter trains, rail travel is generally quite forgiving of pushchairs, though you may find yourself hanging out in the vestibules or beside the bikes.
Buses, on the other hand, have extremely restricted space for pushchairs and will require you to empty and fold your pushchair if the designated area is already full or a passenger in a wheelchair gets on. If you're regularly using popular routes, you are going to want a buggy you can fold quickly in one piece and with one hand, so you can hold your little one in the other. When you do get room to park, a handlebar that will rotate or push inwards to prevent it from sticking out across the aisle will also be appreciated. 
Don't forget to check out your local stations as well as the trains themselves, especially if you'll be jumping on and off the underground. Does it have lifts or escalators, ramps or stairs? Again, if you're going to have to fold and carry on a day-to-day basis, you'll want a pushchair that makes this as stress-free as possible and leaves one hand for baby. 
If you are frequently on a plane or are thinking about holidays abroad, the stroller that is approved for use as carry-on baggage is a must! This can also be hugely beneficial if you use packed commuter trains or simply need a super compact fold. Many of these strollers can be used with a carrycot and or car seat which makes them a fantastic option as a very first pushchair for people with very limited space.
---
Who's pushing?
If you and your partner are of average height, you should be well catered for whatever you choose, but if you're particularly short or tall an adjustable handlebar with a good range of settings will avoid discomfort or potential backache over time.
It's also worth considering weight, not just for lifting or carrying the folded buggy, but also for pushing it, especially if you're going to be taking on lots of hills, popping up endless kerbs or regularly negotiating very uneven ground. Bear in mind that figures on paper can be deceptive as a heavier pushchair with the right design, wheels and suspension can be surprisingly smooth and light to drive.
---
Carrycot or not?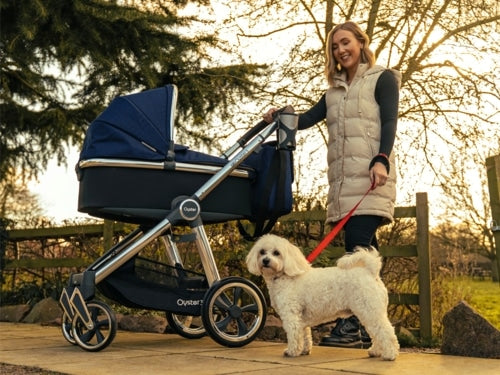 The huge dedicated prams of previous generations are rarely seen these days, other than a few heirlooms or with true vintage lovers (though they are still made if you have your heart set on one). Most manufacturers have replaced them with a carrycot (referred to by some brands as a bassinet), which fits onto the same chassis as the pushchair seat unit, meaning you can use it for the first six months or so, when a newborn baby should be lying down flat, and then switch over.
Some models actually use the same frame and in some cases fabrics for both the carrycot and seat, meaning you don't have to find storage room for the one you're not currently using.
Streamlining things still further, there are an increasing number of buggies on the market that offer a true lie-flat recline, making them suitable from birth. Accessories such as newborn cocoons and inserts have also appeared to make this otherwise quite open space more snug around your tiny baby. You would probably want to invest in some additions to give more protection and a cosier ride, especially in colder months, but doing without a separate carrycot is certainly a money, space and labour-saving option.
One thing to ask when looking at carrycots is whether they have been approved for overnight sleeping. For stays with friends and family in those early weeks, a set of wheels that effectively includes a travel cot can be invaluable - after all, nothing prepares you for the sheer volume of stuff you need when going away with a baby.
---
Travel system bundles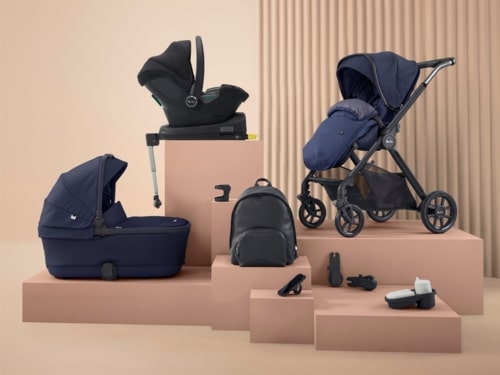 Beyond the 2-in-1 option of a carrycot and seat unit, a travel system or 3-in-1 gives the capability to attach an infant car seat to your chassis.
These days almost all pushchairs and prams are sold in travel system bundles that include the pushchair and car seat, plus any number of accessories. Many people opt to purchase their pushchair in this way as it is a great way to ensure you get not only a great deal but also the best complementary accessories as well.
Buying your pushchair as a travel system and or bundle makes it super-simple, often saving you money, and means it will all coordinate too!
However, do research the included infant carrier to be sure it is one you're happy with and that fits your car. Alternatively, choose your first car seat independently and then look at whether it is compatible with the pushchairs on your shortlist - manufacturers will generally list the brands and models they have been safety tested with, and what you will need in the way of adapters.
A car seat that goes from car to chassis in seconds is incredibly convenient, however, it's important to know that it's not recommended to keep babies in anything other than a lie-flat seat for any length of time (no more than 30 minutes in the first four weeks, and no longer than two hours after that). Car journeys are notorious for lulling little ones to sleep and if you don't want to wake them for a quick school run or errand, being able to gently lift the whole seat out of the vehicle and click it onto your wheels is perfect.
---
What's your budget?
When calculating the cost of your pushchair, beware of hidden extras. While some buggies will come with everything you could contemplate needing, from the car seat adapters and footmuffs for wintry weather to insect nets and cup holders, others will come just as they are and even a rain cover will have to be purchased separately.
If you are making a considerable outlay and hoping to recoup some of that investment once you no longer need the pushchair, do have a look at some online selling groups or sites such as eBay to identify brands that hold their value and give you a realistic idea of what to expect. Bear in mind, though, that new releases, discontinued lines and changing trends in the time you are using your pushchair make this very difficult to predict.
---
Looking ahead
Of course, you may be hoping to reuse the buggy yourself for number two. If you plan on a small age gap, a pushchair that converts from single to tandem or twin with the addition of a carrycot and then a second seat unit will prevent you from having to start all over again. These tandem elements are frequently sold as a separate package you can acquire at a later date so it spreads the cost and keeps your options open.
If you're looking at waiting a bit longer before having another, you might like the flexibility of a buggy with an integrated toddler board, or at least the ability to attach one. These are wheeled platforms, connected to the back of the pushchair, that your toddler can stand on to hitch a ride when their legs get tired or you need to keep them close or get somewhere in a hurry.
Otherwise, you are simply looking at investing in durability so you can be confident your choice will last through two full cycles of newborn to preschooler - and maybe more! Cosmetically, too, you might want to plump for neutral shades rather than full-on pink or dinosaur fabrics, and add a pop of colour or pattern with your accessories instead - but that's obviously up to you!
---
A sense of style
Now it gets fun! If you've narrowed down your search based on practical considerations, it's all about personal preference from here. Your pushchair will say as much about you as your clothes do, and you want to be happy with the way it looks as well as performs.
Plenty of people will have an opinion and if their home and lifestyle are similar to yours (and their experiences aren't from 30 years ago!), their views can be really useful. Remember, though, that they are just opinions and don't be afraid to ignore their advice - this is your pushchair!
Certain brands have a very distinctive shape that will be instantly recognised by other parents. Often this is aesthetic but in some cases it is because the buggy functions slightly differently, perhaps positioning your baby higher and closer to you, or allowing the pushchair to be wheeled right up to a restaurant table and the seat raised to double-up as a highchair on the go.
But really, it is the fabrics and chassis colours that are likely to make you stand out from the crowd (or merge into it, as you wish). There is always an 'on-trend' colour and pushchairs are available in every conceivable shade with some wonderfully descriptive names.
Most pushchair models will come in grey, black, blue (either navy or a denim-type shade), sometimes cream or sand and often bright red. Those with a wider palette to choose from will typically also include pink, a natural earth tone of green or brown, purple or burgundy and maybe zingy yellow or orange. Beyond those, there is a dazzling array of patterned materials, ranging from contemporary geometric styles to fun child-friendly characters, spectacular artwork and cool fashion-inspired designs. 
These are very much associated with specific brands known for delivering something vibrant and cheerful or a little bit out of the ordinary, but you can certainly opt for glorious technicolour whatever your budget. Just be as sure as you can be that you're still going to love it a few years - and a lot of miles and memories - down the line!
---
Conclusion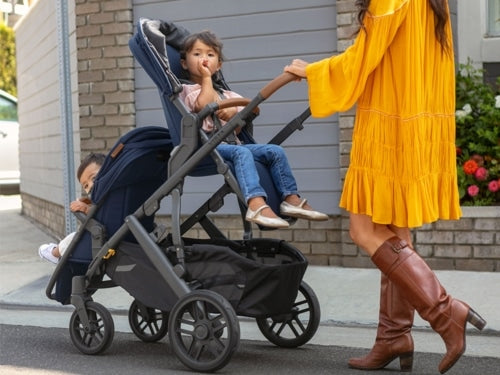 The pushchair you choose will be something you have to live with through the sun, wind, rain and frosty days. It will most likely be the bit of baby gear you buy that will rely on the more than anything else. It will almost certainly be the most expensive item of baby equipment you buy. It is therefore really important that you do as much research as you can before finally settling on your dream set of wheels - read reviews, and ask your friends and family who may have recently had children of their own.
Choosing the right pushchair for you will not only ensure you and your baby have a comfortable convenient way of travelling, it will make getting outside on those days when you need fresh air a pleasure, not a chore.
Good luck in your search and remember our team are here to help should you need any advice at all.