Quick Summary: After living with the Cruz for a whole year, I can honestly say I love it! A super pushchair that has suited our needs from birth to toddler!
Whats good?
It's Style! It's a nice looking pushchair that comes in 4 different colours. It always got compliments everywhere we went and in the whole year, I never saw another Cruz out and about!
It's HUGE basket. Not only is it big, but unlike many other pushchairs, it's easy to access.
Uppababy Customer Service. I only had to contact the company once with a fault that developed but I found their team excellent. They sent out a replacement chassis immediately.
Whats not so good?
Expensive accessories. Like I said, it's an expensive pushchair and for the price, I would expect a footmuff to be included, not to have to pay another £80. I wanted a footmuff to match the 'Tyler Blue' but was not prepared to pay that much.
Sticky Brake. After a while the brake sticks and doesn't lock properly, which could be quite dangerous. Luckily this is easily fixed with a little bit of WD40!
A little difficult to fold. Easy with two hands or two people, but difficult if you're on your own and got a small child. It is lighter than many similar pushchairs but still a bit of a struggled lifting in and out of the car.
---
First Impressions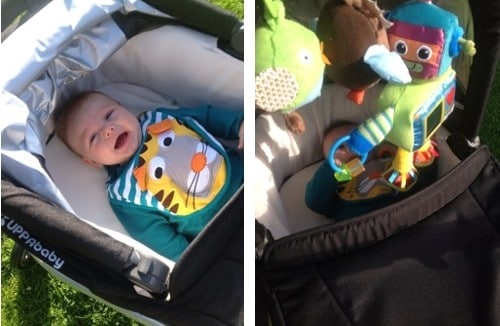 My beautiful new UPPABaby Cruz arrived yesterday!  The instructions were very clear and simple and the pushchair was up and ready to use in about 30 minutes.  The Tyler colour is a lovely pale blue colour. Both the hood and underside of the seat are in this colour while the seat itself is a more practical black.  Unit looks sturdy and steered like a dream around the tight corners of our little house!   The carrycot though is only available at the moment in black but is lush.  It has a lovely soft fleecy lining.  My 12 week old, Oscar, is going to love spending time in there, especially when the weather turns cooler.  Just look at him smiling in the photo!  
It's light and fairly easy to click onto and off the chassis with a practical foam grip as part of the hood.  I've already attached some of his favorite toys onto this for him to look at and play with!  The unit is very easy to fold and unfold; its quite heavy but folds fairly flat so I should have no trouble fitting it in the boot of my Ford Focus.  I'm even being sent some Maxi-Cosi adapters so I should be able to attach a car seat which is very useful while my son is still quite small.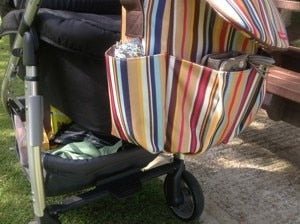 5th September 2012
We took the Cruz out for its first spin to the local shop. It handled the uneven payments well and even the steepest of kerbs were no problem for it.  My partner and I were fighting over who was going to 'drive' it. Oscar seemed happy and comfortable in the carry cot too. We'd heard about the large basket and were keen to test this out. Although roomy, the carrycot makes putting items in a little difficult.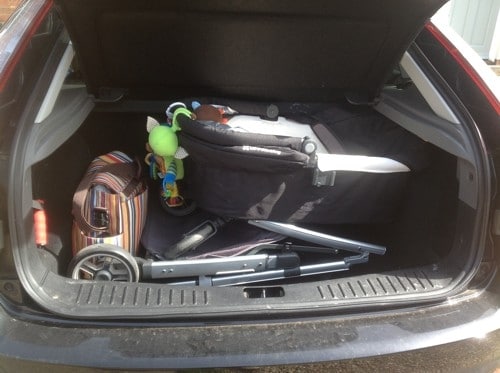 6th September 2012
Our first trip into town with the Cruz. Loaded it and the carrycot into my ford focus and it fits - just, with the hood folded down.  Room to squeeze in my change bag, but not much else! Luckily I've got the passenger seat for any shopping but mums with more children might not be so fortunate. Hopefully when we graduate onto the seat, it will take up less boot room.
12th September 2012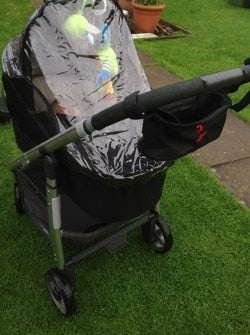 Today was the perfect opportunity to test out the Cruz's rain cover. It was a good job I got it ready before putting Oscar in as it took me ages to work it out.... (I was trying to put the seat cover onto the carrycot!) Half an hour later and some googling and Oscar was all snugly inside ready for our trip to the shops... Just my luck it had stopped raining by then!
Oscar seemed to like it and it didn't steam up. Plus it had a handy opening where the handle is to make lifting the cot off and onto the chassis easy.
At least I know how it works for next time... And I'm sure there'll be lots of next times!
13th September 2012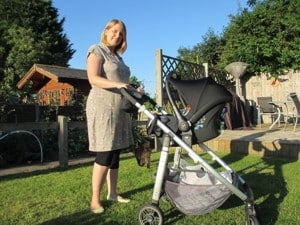 I managed to get hold of a Maxi-Cosi Cabriofix today which is one of the car seats that is compatible with the Cruz's adaptors.  As I live in a village, I'm always out and about in the car so the ability to attach a car seat makes life so much easier.  It's relatively easy to slot in, but the warnings on the adaptors say that you should remove the baby before putting on or taking off the car seat... not really sure how I'm supposed to do this when I'm out and about on my own and surely that's was the whole point of having car seat adapters!  Besides, taking the seat off seems to be a three handed operation!! 
14th September 2012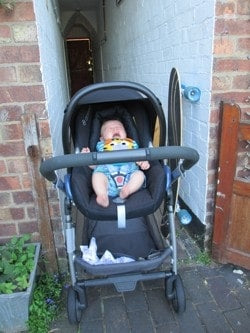 The chassis spends most of the time in my boot, but sometimes it is necessary to bring it down our shared passage or entry.  This means that a pushchair can't be too wide.
I was very nervous as I attempted to wheel it down the passage for the first time today, especially as our next door neighbours seem to think it's a storage place for skateboards and other belongings, but yey!
It's much narrower than many pushchairs on the market and the steering is so responsive that it had no trouble manoeuvring past all the junk!
15th September 2012
Lovely day so we took the Cruz for its first off road experience. It might not have the big rugged wheels of some of its contemporaries but it coped well along the rough terrain of the canal towpath.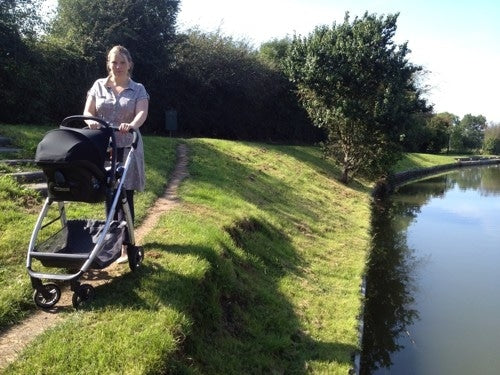 It was relatively light to lift up and down the steps and the bumpy ride soon sent Oscar to sleep in his Maxi-Cosi car seat so we were able to stop off at a nearby pub for a shandy!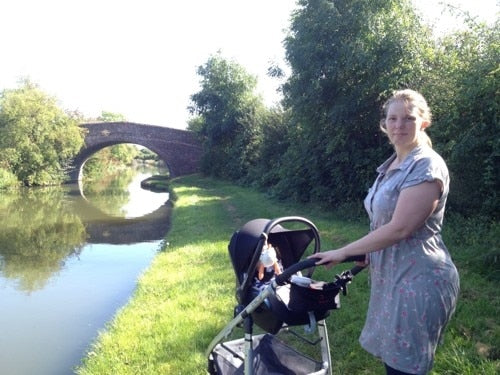 22nd September 2012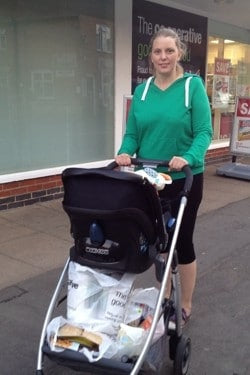 Been using the car seat quite a bit recently as it's so convenient for shorter trips.  Went to the local co-op and could not believe how much shopping squeezed in the storage basket! Had to take a photo to demonstrate this.  It's much more accessible with the car seat rather than the carry cot.  The push chair still handles well when heavily loaded too!
24th September 2012
Omg never seen so much wind and rain but Oscar and I still made it out with our wheels.  I must say the rain cover has had quite a bit of use.... Shame I can't say the same for the sun shade! It goes on quickly and easily with no fuss.  I've bought a rain cover for the car seat too so Oscar stays dry whatever the weather!
25th September 2012
My other half has got this week off so we've planned some family days out.  
Today we went to an owl and falconry centre in Rutland.
I had to admit defeat with the pushchair and get my sling out as it couldn't cope with some of the paths which were a kind of mulch bog after all this rain!  The wheels are quite small and the basket hangs quite low making it not ideal for heavy duty off road use.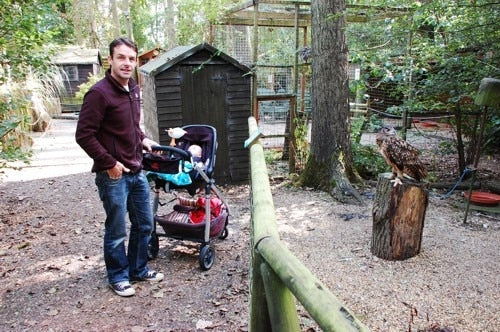 26th September 2012
Today we went to Rutland water.  As we intended to go for a longer walk, we took the carry cot.  It was quite windy on the water's edge and the hood and fleecy inside kept Oscar nice and snuggly.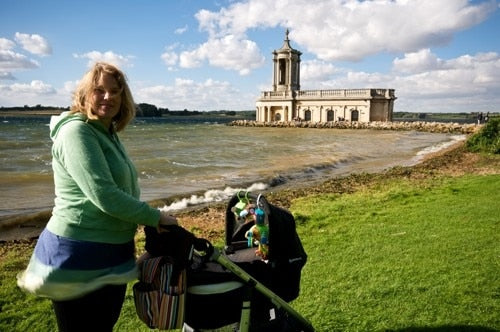 29th September 2012
We went on our first Saturday shopping trip into Leicester.  Although the Cruz coped well, we didn't! It managed the tight aisles and weaving in and out of other shoppers but Oscar screamed most of the way round, so my other half ended up carrying him most of the way round while I pushed.  Plenty of room for the shopping though!
8th October 2012
Oscar is now 17 weeks and it won't be long until he's grown out of the carry cot.  As you can see from the photo, when his legs are out-stretched he reaches from the top to the bottom.  The maximum child length for the cot is 25".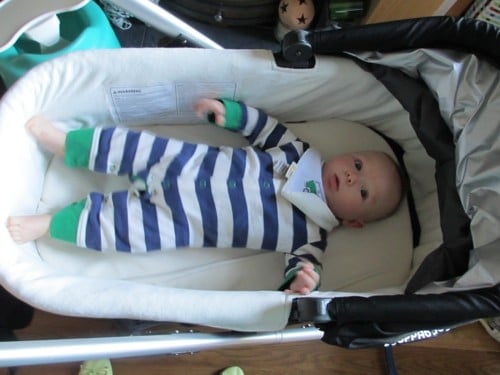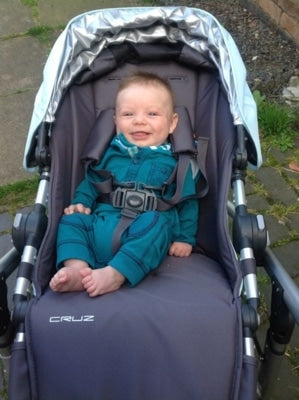 Oscar is not a long or large baby for his age so I'm not sure how this cot can accommodate most children until they are 6 months. There seems to be a little confusion online about the seat and whether it is suitable from 3 or 6 months.  I put my son in it and it doesn't fully recline and I don't feel there is adequate side protection for him to use this yet, so I'm not sure what I shall do for the next couple of months!  I do believe you can purchase a 'snug' to fit inside the seat which I may need to look into or I may just have to use the car seat.
9th October 2012
I love the carrycot and hope to get a few more weeks use out of it, but would be a bit disappointed if I had bought it because I would have only got a few months use out of it. Parents of large or long babies would get even less use.  
As I will be using the car seat more I decided to buy a 'cosy toes' for it to keep Oscar warm as winter approaches.
He loves being in this now and drifts off to sleep on most car journeys! 
16th October 2012
I have ordered a snug for the seat but am persevering with the carry cot for the time being while he still fits, (just!) as I don't think it's fair to be constantly pushing him round in the car seat.  Walked to the post office today and Oscar started crying.  Noticed that the carry cot sits quite low, (as do most carry cots), and the handles are quite long so I couldn't actually reach forward to touch him and comfort him.   This also causes problems opening and closing gates and doors because I can't reach the length of the cot!   Maybe I've just got short arms!
17th October 2012
Speaking of the handles.  These are very easy to adjust with one hand.  Not essential for me as my partner and I are similar heights, but will come in handy when grandparents use it as Grandpa is very tall!  The handle extends quite a way so the pushchair would suit tall people. I have it on the shortest setting and I'm 5ft 5inches so very short people might find the handling difficult.  The handle needs to be extended fully before folding so that the pushchair can stand up on its own which is handy when juggling with a baby and shopping!
23rd October 2012
Oscars not been well since his vaccinations on Thursday and has had a fever all weekend.  I took him to the doctors yesterday because he had developed a rash and an ambulance was called to take us to hospital.  It was all very scary.  We had to leave the pushchair at the doctors surgery - hope it's still there!  Oscars had lots of tests and is on a course of antibiotics to kill any infection and we've got to stay in for a few days so I won't be able to test the pushchair or write any updates for a few days.  Can't wait until oscar's fit and well and we can get out and about in it again.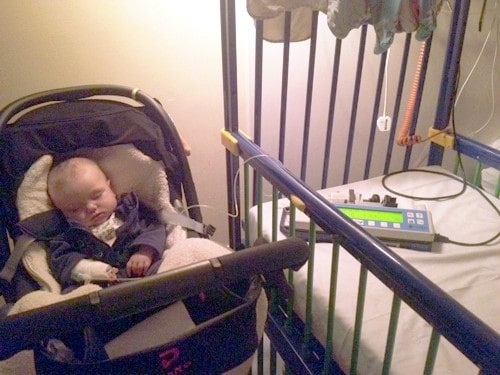 26th October 2012
Thankfully Oscar is safe and well and came out of hospital today.  We were able to collect his pushchair from the doctors the following day and it came in very useful ferrying him and our belongings around the hospital.  He even slept and had some of his treatments in his pushchair as he was more comfortable.  What a brave little boy!
27th October 2012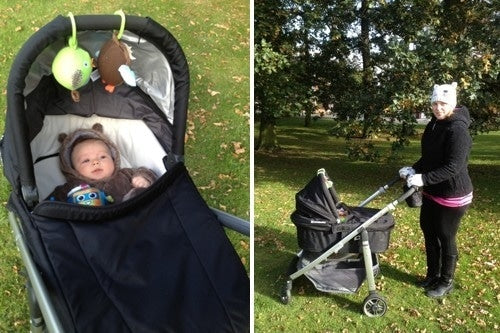 A very cold day today, like the first day of winter; but a lovely bright sunny day, ideal for blowing out the cobwebs.  We thought we'd take Oscar out for some fresh air as he's been cooped up all week.  We put him in his carry cot as it's nice and snuggly and dressed him in his furry pram suit. It was an excuse for me to wear my new hat and gloves too!  He seemed very snug and warm in the carry cot, though if it were colder, he would probably need a blanket as well.  
29th October 2012
Oscar's been sick in his carry cot! He's got reflux so I can't believe that's the first time he's done it.  The mattress cover unzips for easy cleaning but isn't machine or even hand washable.  You are only supposed to surface wipe it, which is a bit disappointing and I don't dare risk it.  It came off and dried ok though.
31st October 2012
Oscar has had a bit of a growth spurt this week and has now outgrown his carry cot. Luckily it folds down really flat so you can store it for baby number 2! Ha! I'm so not ready for that yet!
5th November 2012
Walked down to the local library to join so Oscar can borrow books to go to wriggle readers!  Plenty of room for booking in the basket.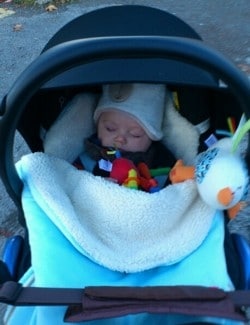 Missing the carry cot. Oscar looks very cramped in the car seat and is getting very heavy to lift in it.
He fell asleep on the way back..... I took a photo as he does not sleep very often!
8th November 2012
Took Oscar for his first ride in his Tyler Blue Cruz Seat.  With the snug insert he fits a lot better and the seat does parent face and lie flat to suit younger babies.  However the seat is quite shallow, meaning Oscar is quite exposed to the elements!  He doesn't seem to mind today, he's just enjoying looking at all the autumn leaves, feeling like a big boy in his new seat!
10th November 2012
Braved shopping in the city centre again today... Big mistake!  Parked in the shopping centre multi-storey and ended up on a floor with no lift! Luckily there were two of us and we managed to carry the pushchair up (and down!) a steep flight of stairs.  It wasn't too heavy and easy enough for one to go in front and one behind! Shame that the shops were so crowded and over-stocked for Christmas, proving difficult for even the Cruz manoeuvre around.
14th November 2012
 I'm using my pushchair more and more now.  Partly because Oscar's getting too big and heavy to carry around in his car seat, (nearly 16lbs at his last 'weigh-in'!), and partly because I can't really afford to be using the car too much on my maternity pay!  If we can walk there, we walk!  Though I've decided that I need to buy a bike lock, or similar, as many places don't allow you to take your pushchair inside and I worry about someone stealing the Cruz! (As it's such a stunning pushchair!).  Most places I go have a buggy stop or shelter for people to leave their pushchairs.  
15th November 2012
We're still loving our pushchair.  I feel that much more thought has gone into the seat, than the carrycot and it certainly gets more admiring looks when we're out and about because of its striking appearance!  The only problem that I've found so far is that although it handles well, the weight is balanced differently when parent facing and it is not very easy to steer one handed.  But as I don't have another LO's hand to hold and have plenty of room in the basket for my shopping.... I don't really mind!
19th November 2012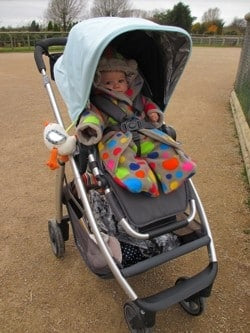 We went for a day out to Twycross Zoo today.  We decided to try Oscar in the parent-facing position so he could see all the animals.  Unfortunately he soon started crying because he couldn't see us and was a bit too exposed to the weather, (it's been really cold today!) Maybe when he's a little older.
I've bought a babysnuggle for Oscar to keep him warm. The Cruz does not come with a footmuff and currently you cannot buy a matching footmuff from UPPAbaby, which is a shame as I'd love one in the Tyler blue colour. I will probably need to get a buggysnuggle or something because pramsuits and blankets are a bit of a faff and it's going to get a lot colder!
26th November 2012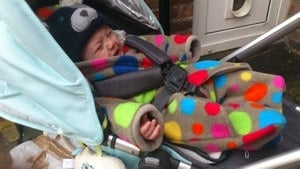 Walked down to our local library and post office.  Another cold day!  I know I've mentioned it before but the seat is very shallow. When strapping Oscar into the pushchair I have to hold him down with one hand as he arches his back and could quite easily come out.  He hates being strapped into things as you can see from the photo!  Once strapped in, he's nice and secure and happy.  
The straps are easy to adjust and the shoulder straps are well padded for comfort.  However, I still feel he is extremely exposed which might be fine for a toddler or older baby but not so good for a younger baby.  (Oscar is now 24 weeks).
27th Noember 2012
Another cold day!   This time we went to visit friends in the village.  I've looked into UPPAbaby footmuffs and noticed that they do a new Ganoosh.  They look gorgeous but only come in 3 colours: black, grey and pink.  I suppose the grey would go most with my pushchair but for £80, (which is what they cost), I would want one that matched or I might as well buy a cheaper non co-ordinating one from elsewhere.  I feel like I've already spent a small fortune on accessories for my Cruz pushchair because everything costs extra so I can't really justify another £80!  
3rd December 2012
As the nights draw in, I find that I'm increasingly using the pushchair in the dark or in dull weather.  Unlike many pushchairs, there's no reflective strips to help motorists see you.  Though I'm now glad that I chose Tyler blue as it's such a light colour, much more visible than the black.  The frame of the chassis is also silver which makes it easier to see in low level light.  
4th December 2012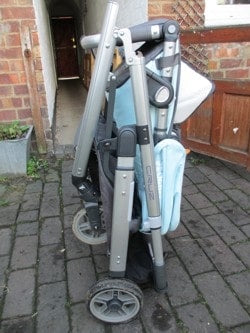 Really pleased with how small and compact the pushchair folds up.  After months of having no boot space because I had to carry the chassis and the carrycot, I now have some space for all that Christmas shopping and other baby paraphernalia.  It folds with the seat attached, when in 'world-facing' upright position.  
Although Oscar does not have the seat this way at the moment, it is so easy to flip the seat round before folding. The foot rest folds back to make it even more compact.  It also stands if the handle is fully extended. It folds smoothly and easily, though is undoubtedly not a one handed operation! Even with the seat attached, the unit is light enough for me to lift in and out of the boot with ease! (And I'm a bit of a weakling!)  
9th December 2012
Took Oscar to see Father Christmas at the local garden centre today.  It was such a magical experience! I was worried that Oscar would cry but he just sat on Santa's knee, beaming. We took the pushchair with the car seat as it's more snug with the cosy toes on. I was glad we did as there wasn't much room to move in Santa's workshop and we had to wheel it round all the elves and lots of other people queuing.
We bought a Christmas tree too and Ben was able to wheel the pushchair AND carry the tree at the same time... who says that men can't multi-task too!
13th December 2012
Oh my goodness how cold is it today? Finally, I've purchased a foot muff! Just in time, I think for this wintry weather! There's so much choice out there, but I've gone for a black Wallaboo. It looked warm and snuggly and I thought it would 'go' with everything rather than trying to match the Tyler blue. I made the mistake of waiting until I needed it to fit it, and ended up trying to suss it in a busy car park! It didn't take long to attach but not impressed that the universal fit does not quite fit the Cruz. I think the seat seems quite short and the crotch strap is nowhere near where the hole is, so I've had to pull it right up, which is fine for now as Oscar is so small, but it probably won't fit him next year. It's so snuggly though and kept him warm and happy on our shopping trip!
15th December 2012
Now that Oscar is getting a bit heavy to be lifting the car seat on and off the chassis and we have a lovely foot muff, I'm using the Cruz pushchair much more. It folds well with the foot muff attached; I just have to re-thread the crotch strap through once it's unfolded, which isn't too much of a hassle. I had to take the insert out as you can't really use it with the foot muff and Oscar doesn't really need it now. I'm hoping that I will get a decent price on Ebay for this as I've had so little use out of it but unfortunately it was a necessity for about a month.  Just found a nice little touch - the shoulder strap pads have velcro on them to keep them in place and prevent them sliding down.  
16th December 2012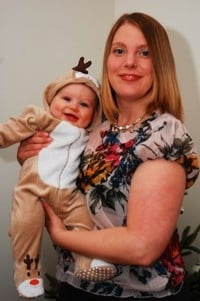 A busy day today. Swimming group AND a baby Christmas party! We needed Oscar to sleep in transit, in between so we made good use of the car seat to transfer him to and from the car to the pushchair. He's getting a little heavy to do this, but it's still manageable, especially with two of us. It was handy having the pushchair at the party as it was somewhere to store all our stuff and somewhere for Oscar to go when he got tired and grumpy!
19th December 2012
Today I took Oscar to the SureStart 'Stay and Play' session.  It was really busy as Santa was visiting so the buggy stop was full. I was really glad I had brought my lock with me as my pushchair was the nicest one there and I'm paranoid about it being stolen!
21st December 2012
 A last minute Christmas shopping dash to our local retail park. It was chucking it down with rain and I made the mistake of putting Oscar in the pushchair BEFORE trying to work out the rain cover.  I've never used the one for this pushchair before but thought it would be straightforward. WRONG!  I think I had it on upside down and ended up kind of balancing it on just to keep Oscar dry. I was going to take a photo but didn't want to hang about as we were both getting a bit wet!! I must try and work it out one day when I don't have Oscar to worry about!  
28th December 2012
We've had a very busy Christmas so far. We were hoping to get out for a couple of walks but it's been so wet and miserable, the pushchair has been locked away in the shed!  Today we travelled up north to visit my family for a couple of days. We would have loved to take the Cruz with us for a walk along the prom but it simply will not fit in the car along with the presents, the travel cot and all the other things you need to take with you when you have a small baby! When folded, it is quite a bit larger than a simple buggy and an awkward shape.
30th December 2012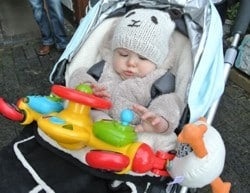 As it was Oscar's first Christmas, he got inundated with presents.  I have no idea where they're all going to go! He got several buggy books and toys that I'm looking forward to clipping onto the Cruz for him and an ELC buggy drive. It is fantastic! It just clips onto the frame and has lights and sound to keep your baby amused. Oscar is only 6 and a half months but he's already managed to work most of the buttons. We took it out for a spin to our local shop for some supplies. It's universal fit with adjustable arms doesn't fit perfectly to attach it securely at the right height for Oscar to use. It has rubber grips so does not damage the pushchair in any way. I'm sure we'll get quite a bit of use out of this on our travels. 
7th January 2013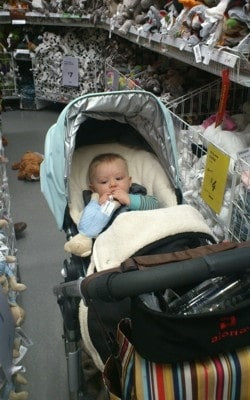 Feeling brave, so I went on my first solo trip to IKEA today. I didn't need anything too big so thought I would manage with the pushchair and a big bag. I went for a coffee and a bite to eat at the restaurant first... having never been before I did not realise how difficult this would be with a pushchair - trying to carry a tray of food while pushing!
Thankfully the staff were very helpful! I was also shocked at how narrow and over stocked some of the areas were, especially the baby/kids area! The floor was littered with soft toys which made manoeuvring the pushchair, near impossible! I have to say, I was not impressed with the store's so called 'family ethos'! I don't think I will be visiting on my own, next time! Though Oscar still had a big smile on his face at the end of our shopping experience!
9th January 2013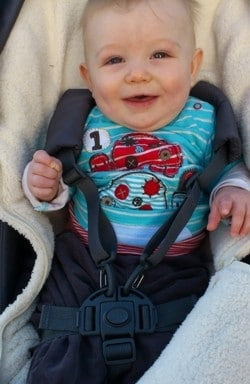 The weather has finally turned cooler after the long mild spell so I am so glad I bought a foot muff.  Though I'm disappointed that it does not fit well, but refuse to spend £80 for one that doesn't even match! Because the Cruz is relatively new in this country, it is difficult to find information or reviews about what accessories are compatible. Put it this way, In the 4 months that I have had this pushchair, I have not seen even one other Cruz! I like this but it does have its drawbacks sometimes! This photo shows how I have had to fully extend the waist and crotch straps so that they will fit through the holes of the foot muff. It fits Oscar now, though looks a bit awkward, but will not fit him when he is bigger.  I can see that I will have to get another one for next winter.
11th January 2013
Ive been on a few longer trips with the Cruz this week, in an attempt to 'get fit' and save money on petrol! I've got a bad back at the minute but find the Cruz quite helpful as it offers some support and the handle can be adjusted so it is the right height. With my bad back, I do find it difficult lifting the pushchair in and out of the boot. Even without a bad back, I find that its impossible to do this while holding Oscar. It is also really important to engage the break before folding the pushchair as it goes flying when opening it otherwise!! I've also found that my pushchair sticks a little on one wheel after the break is released. It only lasts a second, but it is quite annoying. I might google it to see if it's a common problem or see if a little oil will solve it. 
14th January 2013
Snow on the ground today and I felt like I should test drive the Cruz in it but it was so cold and snowing heavily and I still don't know how to work the rain cover. I got Oscar dressed up in his snow suit but then he started screaming as he's teething at the moment, so I must confess that I took the car to do my errands! As I have to swap the seat around and faff with the straps each time I use it, it's not that convenient to set up when you have a grumpy baby! 
19th January 2013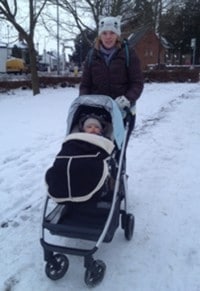 We got so much snow on Friday but it had melted sufficiently to go for a walk to the shops today and take Oscar out for his 'first snow'! It was a mixture of snow, ice and slush but this was no problem for the Cruz which handled like a dream. With more snow forecast over the next few days, I'm sure we'll be getting out in it lots!
21st January 2013
Oh my god, more snow fell overnight but had to make it out to the shops. The Cruz struggled a little in thick snow as you would expect but still handled well. The basket isn't too low so my shopping didn't get wet.
22nd January 2013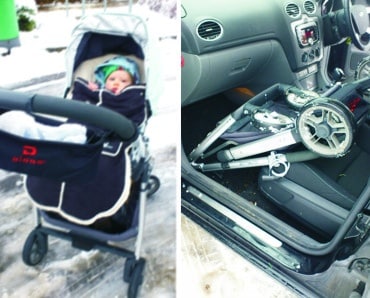 Snow is still here but I ventured out again. But argh! My car boot froze shut while we were out. Luckily the Cruz folds small enough for the seat to go on the back seat and the chassis in the front.
23rd January 2013
Business as usual despite the snow! We went to our usual Wednesday afternoon play session and I would normally park the car nearby and carry Oscar but it's just so icy and slippery that I daren't, even just a short journey. So I got out the Cruz, just to walk the 50 metres. Good job it's so convenient to get in and out of the car! I got to make use of my lock too at the buggy stop!
24th January 2013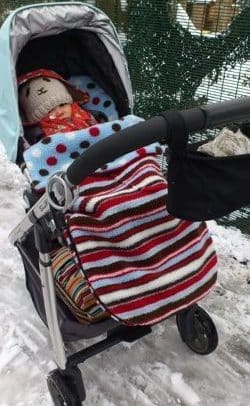 I managed to sell the snug insert on ebay for not too much less than what I paid for it. Which softens the blow a little as I only used it for one or two months. I've also decided to sell my Wallaboo footmuff - it just doesn't really fit the Cruz. I've bought a Buggysnuggle in "Mad Hatter Spots and stripes". I thought the pale blue would match the Tyler blue but unfortunately it's not quite right - that's the problem with buying things online! It's not as warm and snuggly as the Wallaboo but is a much better fit and I think it looks great!
25th January 2013
The snow is finally starting to melt into a horrible black slush. The Cruz manages well but I'm beginning to regret choosing such a pale colour for a pushchair. It's spraying all over the hood and underside of the seat, (which is also Tyler blue). I need some mudguards! To be fair, not much sprays up but my pushchair will need a good clean when all this bad weather's finished. I tried to remove a bit of the mud with a damp sponge and it did come straight off. 
1st February 2013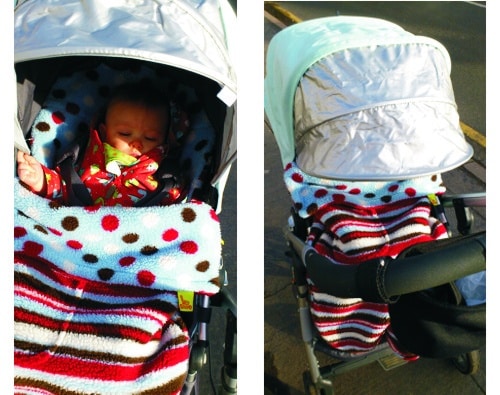 After all the snow and cold weather last week, who'd have thought I'd be using the Cruz's sun shade a week later?! It's the first time I've been able to use it, (miserable British weather!), and I was very impressed. After messing around with a parasol, with our previous pushchair; having to adjust it every time we went round a corner, this was so simple to pull out and use. I could do it while moving and as it comes down really low, it's ideal for the low winter sun. I was a bit worried that Oscar wouldn't like not being able to see me, but he liked touching and playing with the silver shade. I hope to get lots of use out of it in the coming months, (fingers crossed!)
6th February 2013
We went to a new local indoor soft play area that has a baby room for my niece's 1st birthday.  As I needed to take the change bag and birthday presents with me, I decided to take the pushchair, (and its useful basket), with me for the short distance from the car. As it was just a short distance, I didn't bother swapping the seat round. I was so glad that I brought it, as it was somewhere safe to keep our belongings; (I locked it up by the reception), and it was handy having a comfy seat for Oscar to sit in while I fed him.  It's the first time I've fed Oscar in the seat and it wasn't too messy!
7th February 2013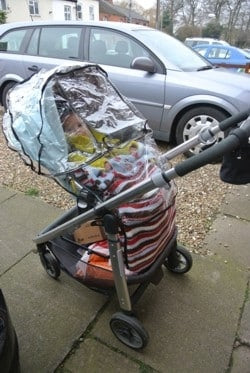 After the mild weather we've had this week, we got caught out today. It was so cold on our way to the shops. Oscar was nice and warm in his buggysnuggle fleece but my hands were freezing. I think I need some of those pushchair mitts! Luckily I was able to push with one hand and put the other hand in my pocket and keep swapping my hands!! It started spitting so I whipped out the rain cover and managed to put it on properly, this time, I think! It was really simple and I don't know why I struggled so much last time. 
8th February 2013
Oscar got some lovely buggy books and toys for Christmas and I've been meaning to attach them to the Cruz for some time for him to play with and keep him occupied while we're on the move.  However, there doesn't really seem to be anywhere to attach them!  The Cruz does not, come with a bumper bar.  It is another additional extra and at £22.99 I can't really justify it, just to hang some toys on! I will have to experiment with attaching them to other places!
14th February 2013
Went out to get some supplies to cook a romantic Valentines dinner. It was sunny one minute and I needed the sun shade and then raining the next and I needed the rain cover. I wish the weather would make its mind up! Luckily it's so easy to make the change, with the Cruz and plenty of room in the basket to take the rain cover with us, wherever we go - just in case!
15th February 2013
Oscar and I went out for lunch for a friend's birthday. The bistro wasn't exactly child friendly and had no suitable baby seats. Luckily Oscar was more than happy to sit in his pushchair and have his lunch and as it's quite compact, we were able to tuck it out the way. There were also lots of steps inside the restaurant but with two of us, the Cruz was light and easy to carry up and down. We then did a spot of shopping. Praise again for the Cruz's big basket and nippy maneuverability round all the tight aisles!
18th February 2013
Another lovely sunny day today, so I thought that I had better give the pushchair a bit of a clean as it was still a little dirty since we had all that snow and wet weather. The blue seat came up nice and clean with a damp cloth, as did the rest of the body work but I've noticed quite a few scuffs on the plastic on the front of the chassis. I'm not sure how these have got there as I'm so careful with the pushchair when we're out and about. All I can think is that they're from being squeezed in the boot  and it scraping on other things. It is still quite large when folded and does not leave much room for other things in the boot.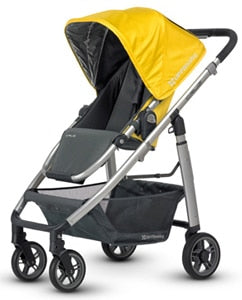 28th February 2013
A lovely sunny day but still a bit of a chill to the air so I'm glad I've still got the buggysnuggle on my Cruz, but that I have the option to pull out the sunshade,on the go, if needed. A friend commented on how high Oscar's head is in the pushchair. I hadn't noticed myself. He's only 8 and a half months but doesn't have much room left above his head; if you look at the photo. The canopy does go up higher, but I would have expected the back to support his head for a while longer and he is not big for his age!  
3rd March 2013
We visited a local farm park with some family today and put the Cruz through its paces.  It managed well on the different surfaces and the higher than average seat was a bonus as it allowed oscar to see into the different pens and cages better. In this photo, he's looking at some chicks that have just hatched!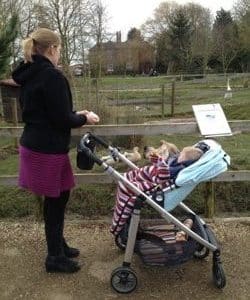 Also, because of its height, it is easier to use as a seat for feeding when out and about, and much more comfy for Oscar than those wooden high chairs.  
4th March 2013
Well Spring has finally arrived. A gloriously sunny day today so we went for a stroll along the canal. Despite being very bumpy and uneven, the Cruz managed well and I wasn't at all worried about losing control or it toppling into the canal!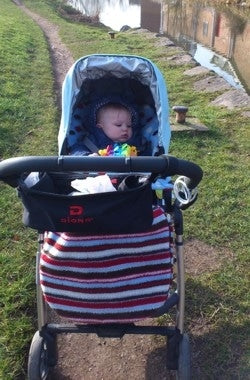 Just a little thing that I've noticed: when taking the pushchair up or down steps on your own, it's vey easy to knock the brake on as that is where you automatically put your foot. It's only a small thing and I'm not sure how the brake could be altered and it's so easy to use and convenient where it is for ordinary use.
5th March 2013
Making the most of the nice weather and going for lots of walks before I start back at work in a few weeks, (Boo!) Oscar will be 9 months old in about a week and he now looks like he 'fits' the pushchair. It looks so snug and comfortable. I can't believe how small he used to look in it! I am a little concerned at how he will look in it and whether it will still be comfortable in another 9 months time as this pushchair is sold as suitable up to toddler age. Also, until now, I have not needed to adjust the footrest as Oscar's legs didn't really reach, so I kept it tucked in so it fits in the boot of my car. Now that his legs are growing, I'm going to have to start flipping it down. This is not as easy as it sounds as you must compress a button either side while flipping it out or in. The buttons are quite awkward to get to and require quite a bit of pressure. It can't be left out as it won't fit in our boot when folded.  
11th March 2013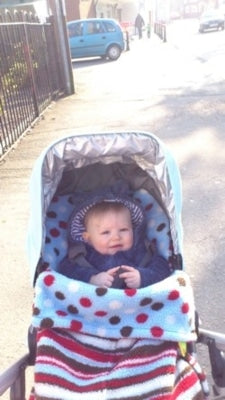 As I'm going back to work soon, Oscar's booked into the nursery for a few sessions.  As it's only down the road, I took him down in the pushchair.  It was an odd day; sunny one minute and snowing the next, so I was glad again of the Cruz's easy to pull down sunshade and now easy to put on rain cover!  When Oscar starts properly at nursery, I shall be dropping him off and collecting him in the car, so the pushchair will now need to be stored at home somewhere so that Ben is able to collect him sometimes as he doesn't have a car seat in his car.... very complicated.  As we live in a small terraced house, not sure where the pushchair is going to go yet as it is still fairly large when folded and will take up quite a bit of room!  
13 March 2013
We went swimming with some friends to a toddler session.  Some of my friends brought their push chairs into the changing room which was a safe, dry place to put their babies once they were dry.  I didn't bring mine as I was worried about leaving it in the changing rooms while we were swimming.  It would have been handy as Oscar just screamed and screamed when I put him down in the 'pen' while I was getting changed and got all wet again... arrrgh!!  There is something to be said for having a cheap pushchair sometimes.
14th March 2013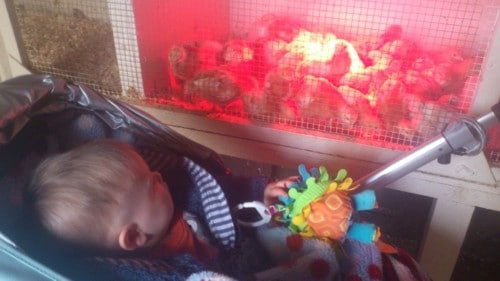 We went to the farm park again!  We had such a lovely time last time, it's becoming a favourite place to visit.  It was a cold day, but Oscar was warm in his Buggysnuggle and the Cruz has plenty of room in the basket for all the things I needed to take for a day out.  I might try Oscar in the world facing position, next time we go so that he can see all the animals better.  It's so easy to flip the chair round. 
15th March 2013
I must be mental as I went on another solo IKEA expedition today!  Armed with the Cruz and my trusty bag, we whizzed around the store in record time, weaving in and out of dawdling shoppers.  It was easy to carry the bag and push the pushchair at the same time. We stopped off in the restaurant on the way out and it was easier to feed Oscar in his pushchair again, rather than clog up more space in the narrow aisles with a pushchair AND a highchair!  I find I'm using the pushchair quite a bit to feed Oscar in, and noticed that the foam shoulder strap pads were looking a bit grubby but they just come off really easily and scrubbed up like new!
29th March 2013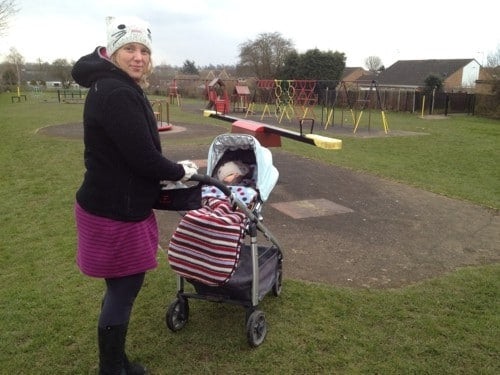 Good Friday so Ben was off work today.  We were going to go for a day out somewhere, but I felt it was just too cold for Oscar to be out all day in a pushchair, even with a coat and buggysnuggle. We still have snow on the ground in places. Instead we went to our local park.  It's the first time that I've taken Oscar but will definitely be going again.  He loved the swing and the slide and it's so quick to strap and un-strap him in and out of the pushchair.
30th March 2013
We've decided to change our car.  Insufficient boot space to put the pushchair and other baby stuff is one of the main reasons for this.  The Focus is a great family car, but we could do with something a bit bigger. We went to a few garages and showrooms today to look at cars and are thinking of sizing up to an estate car, which will give us bags of room in the boot.  I'll keep you posted!
31st March 2013
Oscar's first Easter.  We visited his grandparents and put the pushchair in the boot to take with us. Like I said, it is such a squeeze and you've got to flip the foot rest back so it will fit in sideways. I've taken a photo so you can see how awkward the buttons are to get to, to do this; (there is one, each side, that must be compressed, as you move the foot rest). 
4th April 2013
Oscar was in nursery for a full day today. Luckily it's only about 10 minutes walk from our house, so we both walked down at the end of the day, with the Cruz, to collect him. I felt like a crazy old lady with an empty pushchair! It was really windy and I was surprised by the pull of the wind with the hood up. Luckily the handle is covered in a soft grip foam so it is easy to keep hold of.
6th April 2013
We had a nice walk down to the local shops for provisions, today. I don't know how we managed carrying everything back before we had a pushchair. It's so easy to load up the basket. Even when it's loaded with heavy items, the Cruz still handles well, and sturdily takes Kerbs, unlike other pushchairs we have used.
10th April 2013
Last day of 'freedom' before I go back to work tomorrow so I took Oscar for a nice long walk in the pushchair in the sunshine and then to the park. We're becoming regulars there! The pushchair now lives in the shed. I just hope that it doesn't get chewed by mice! It's a bit awkward to get out and can't be done while holding a baby! I'm looking forward to when Oscar can stand on his own while I unfold the pushchair!
12th April 2013
Well I'm still alive after my two days at work! Though I do feel very tired after all that running around before and after school.  I've not had chance to use the pushchair for the last couple of days and don't think it will get much use on school days.
13th April 2013
Oscar's started swimming lessons at a new venue and it is such a trek from the car park, I think that we will need to be taking the pushchair in future to carry Oscar and all the swimming stuff. We have to set off at 8.15 am so I will have to get in the habit of loading the pushchair back into the boot of the car on a Friday evening.  It's like a military operation in the morning to get out of the door at that time!
15th April 2013
I'm trying to make the most of my days off with Oscar and take him out to places now that the weather is improving.  I've been taking him to the park quite a bit and he LOVES the swings! Though, he had his first proper strop when I put him in the pushchair to go home because he wanted to go back on the swings! He's never done that before and usually loves going in his pushchair. Toddler tantrum at 10 months!!! 
16th April 2013
Like I said, Oscar normally loves going for a ride in his pushchair, but just lately resists being put in it. He arches his back and twists, making it near impossible to strap him in. As the seat of the Cruz is quite shallow, he just slides out!  I don't think it's anything to do with the pushchair as he's also doing it in his car seat. I think, (hope!), it's just a phase! After a long trip out, I tilted the seat to encourage Oscar to go to sleep. I very rarely do this as he hardly ever sleeps 'on the go', (as he's far too nosey!), but it is very handy to have the option.
19th April 2013
Oscar was unwell today so had the day off nursery with daddy.  Daddy took him to the doctors in his pushchair and we think he has croup.  Fresh cool air is one of the things recommended to help so daddy took him for a nice long walk in the Cruz.
20th April 2013
Oscars croup got worse overnight and he woke up with breathing difficulties. We ended up in another ambulance on our way to A and E and spending the day in hospital. We obviously didn't have time to bring the pushchair with us, but really could have done with it.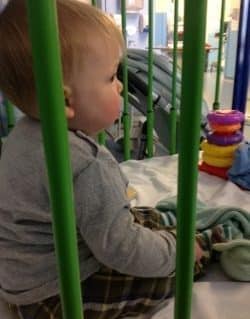 22nd April 2013
Oscar took a turn for the worse this morning and we ended up back in hospital. This time, I took the Cruz.  It was so helpful carrying everything from the car park up to the ward and it was good for Oscar to have somewhere familiar to sit. We also used it to feed Oscar in as there appeared to be no high chairs.
23rd April 2013
The Cruz was invaluable at the hospital yesterday, but while folding it to load in the boot, the 'keep' or closer snapped off.  Ben had commented previously that the pushchair as a whole feels very well made and sturdy, with the exception of that part which seemed very flimsy and delicate for a part that is going to get a lot of use.
The pushchair now no longer stays folded and is an absolute nightmare to lift or carry.  It also sticks out and is quite sharp. The way that it has been made, looks like it cant just be replaced with a new part as its an integral part of the frame. Not had a google yet to see if this is a common problem with the cruz. This is the first real problem that we've had with the pushchair which isn't bad for about 9 months!  I think I will contact Uppababy customer service and see what their after sales customer care is like and report back!
25th April 2013
I have to say that I'm extremely impressed with UPPAbaby customer services. I contacted them via email about the part that's broken off the pushchair. They responded to me within 24 hours to tell me that they would send a replacement chassis and collect the old one. Delivery is on Monday, so can't grumble about that.
26th April 2013
Oscar's not been well again, so we've not really been out in the Cruz much except for a trip to the doctors. I managed to catch and rip my cardigan on the bit of plastic that's sticking out, so I'm very glad that it's being collected and replaced on Monday as I am very worried about Oscar getting scratched or cut, especially as his arms are much more mobile in the pushchair now!
29th April 2013
As promised, my replacement chassis was delivered today. It felt a little light in the box, so I ripped it open to check it was the right one and realised that they'd sent it with no wheels! After a moment of panic, I managed to race after the delivery driver and between us we managed to get the wheels off my old chassis. It seems so long since we put them on, I couldn't remember how to do it or find the instructions. As it's a new pushchair, I couldn't find any information online, either. Once done, we waved the very kind delivery driver off, only to realise that I'd left the basket on too! Oh no!! After a quick email to UPPAbaby, the very kind lady there has said that the will return it to me 'quickly', (I said that I REALLY needed it!) All in all, I cannot fault how UPPAbaby have dealt with this and  I have been very impressed!
30th April 2013
Oh lord how I miss the basket!  Had to go to the local shops this morning and wouldn't you know, it would be for all the big, bulky, heavy stuff that would normally fit in the basket, no problem, (cat litter, cereal, rabbit food, milk, nappies etc).  I had to carry it in my hand.  Luckily to Cruz is easy to push while carrying shopping but it does make it liable to tip backwards, if you're not careful, especially with a changing bag hanging on it as well.  I will be so glad when I get my basket back, though I do think it looks quite stylish without it!
1st May 2013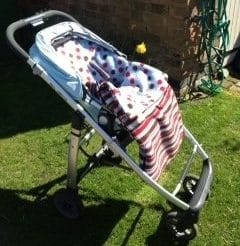 A photo to show my new chassis and how gorgeous but impractical it looks without its basket. Looks like a shiny new pushchair in the sunshine!
Wow! I continue to be impressed with UPPAbaby's customer service. My basket arrived today. In fact it is a brand new basket. I know this as my basket had a little nibble mark where one of my rabbits chewed at it while it was parked up in the garden.
4th May 2013
So glad I have my basket back for trips to our local shop where we always end up getting more than we went out for.  Also glad that the CRUZ is so narrow as we have to take it down our passage to store it in the shed now.
6th May 2013
Now I've had my new chassis for a few days, I realise that the brake on my old chassis was a bit sticky.  It took several goes to engage and sometimes would not lock both wheels. I'm not sure if this is a common problem or if it is something that a bit of oil would have sorted but you just have to lightly press the brake with your foot on my new chassis. Hopefully this one will not deteriorate over time.
7th May 2013
Due to the nice weather, we've taken the bold step of removing our foot muff.  The pushchair looks so much nicer, in my opinion, without it and it's so much easier to use as it never really fit that well.
9th May 2013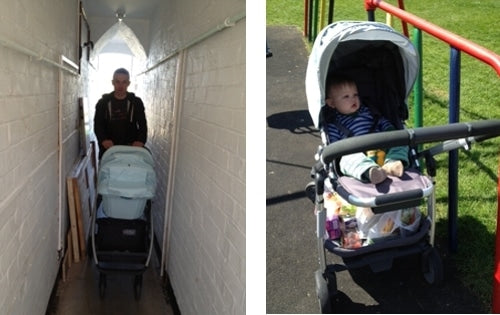 First photo to show how the CRUZ fits through our narrow passage. Second photo to show the new basket, (full of shopping), and that we now have no foot muff!
11th May 2013
Why did we remove the foot muff? We should have known that the sunshine would be short lived and the wintry weather would be back.  We've had to resort to blankets again to keep Oscar warm in his pushchair!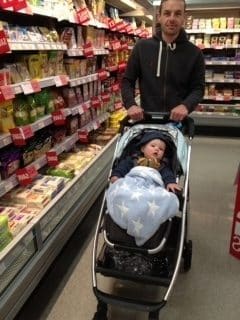 12th May 2013
The weather has taken a turn for worse which is typical when I've just put my buggy snuggle away. Back to using blankets again! Though a chance to use a lovely pale blue one that we were given as a gift for Christmas. 
18th May 2013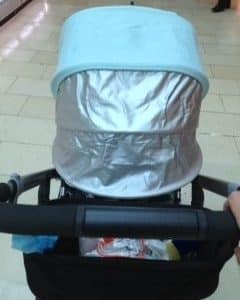 We went for a rare trip into town to do a spot of retail therapy. Although it was very busy and noisy, I was able to tilt the seat and pull down the sunshade allowing Oscar to have some peace to sleep. He managed an hour or two like this so cant fault the comfort of the cruz.
19th May 2013
A rare sunny day.  Time to put on a sun hat and flip down the sun shade. This photo shows how well Oscar fits in his pushchair now he is nearly 1 year old!
20th May 2013
Now oscar's legs are getting longer, we need to flip out the foot rest before use.  Like I said, this is a little awkward to do as the buttons are difficult to get to. There are two settings, in line with the rest of the seat or up.  Maybe I'm being a bit fussy but I'd like a setting in between as Oscar doesn't look comfortable in either at the moment. (Excuse the bad jogging bottoms/sick/shoes combo - oscar's usually so well turned out!)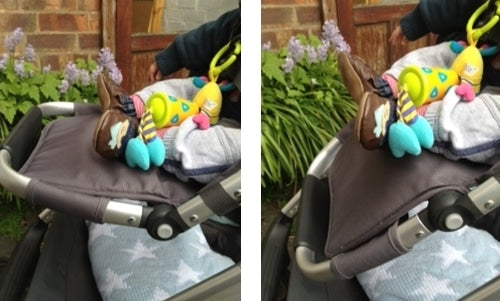 27th May 2013
As it was a bank holiday Monday and the weather was nice, we took Oscar out for a walk in the Cruz. It handled the off reading well as Ben ran up and down the empty moats, much to oscar's enjoyment!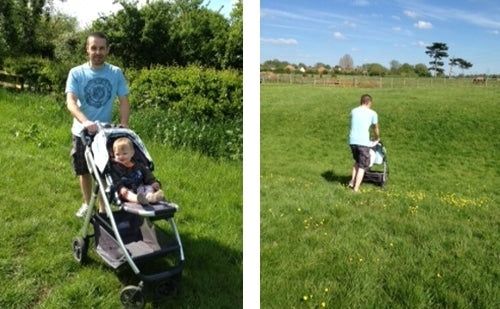 29th May 2013
Usual weather has resumed so we've gone into town to do a spot of shopping. I now usually only have Oscar facing me for longer trips out and I must say that I do notice a difference in the handling. It seems to steer my h better in 'world facing' mode, in my opinion.  Sun shade came in handy again to induce Oscar to sleep while I sat and had a coffee and checked my emails!
1st June 2013
A busy day today - BBQ party in the afternoon and a classical music in the park event in the evening.  We decided to take the Cruz with us in the evening.  It was handy to have to carry the stuff down, feed Oscar in and somewhere warm and cosy for him to sleep later on.
2nd June 2013
Another busy day today. We went to Wicksteed Park to meet up with relatives. We had a glorious day in the sunshine and Oscar loved facing outwards so that he could look at everything that was going on. The flap on the hood was useful so that I could keep checking that Oscar's hat was still on as he has a habit of taking it off and chucking it out the pushchair!!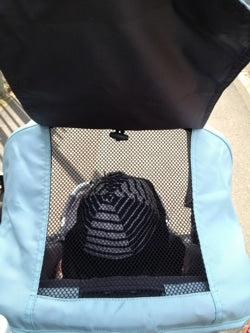 I took a photo of the Cruz next to my sister's pushchair, the Graco Evo, with my 16 month niece in, to give you a comparison. This is the pushchair I would have gone for, if I didn't have the Cruz. You can see that the seat of the Cruz is higher and although the seat of the Evo does face forward and backwards, it cannot be tilted in as many positions and does not have a built in sunshade. Also although it has a large basket, it is not accessible from the rear. However it did come with a bumper bar and foot muff included in the price! I do like the black frame of the Evo and the vibrant yellow/green colour, but still probably prefer the overall look of the Cruz. It's good to compare pushchairs!
One thing I will say about the Cruz is that I have never, in all my travels, seen another Cruz on the road! You see lots of other pushchairs and brands, some more than others, but I have never seen another Cruz, never mind one the same colour! It does make it stand out and make me not feel like 'one of the crowd'. It always gets compliments, everywhere I go! 
3rd June 2013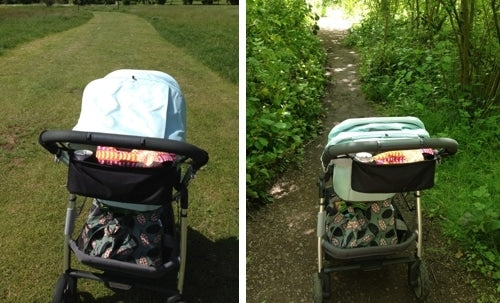 It's days like this that make me glad that I only work part time! The sun was shining so we went on a trip out to some local woods and meadows for a picnic and a play. Again, the Cruz was put through its paces over lots of different surfaces and didn't struggle at all! I also managed to change the seat direction while Oscar was inside. Not recommended in the manufacturers instructions, for obvious reasons but sometimes a necessity when you are on your own and you have a baby that is not able to stand on their own and there is nowhere safe for them to sit down! It was relatively easy to do even with a heavy nearly 1 year old baby!
8th June 2013
We ended up buying a campervan today!! We've been looking to change our car and have always fancied getting a campervan. As we'll be holidaying in this country for the foreseeable we thought this would be a 'cheap' and cool way of doing it. We'd planned to visit my family up north this weekend and were worrying about how we'd fit the pushchair AND the travel cot AND all of Oscar's other stuff, but we obviously don't need to worry about that any more...  I don't think we ever need to worry about 'boot space' ever again!! It will also be my 'drive' to work. We've just had to use some bungee cord to strap the pushchair down so it doesn't get tossed about in the cavernous space in the back!  
11th June 2013
Oscar's first birthday today! We had to nip out to do a few jobs in the morning. Now Oscar's a big boy, I'm putting him more and more in the forward facing position. It's so much easier. Lots of room in the basket for all the stuff for Oscar's party!
17th June 2013
Oscar still isn't standing on his own or walking so if I want to take him out in the pushchair, I normally have to either get it out of the car and all set up in advance, by the back door while he's asleep or I have to leave him somewhere safe for a couple of minutes while I do this. This normally results in lots of screaming. So I tried taking Oscar with me to see if it was possible to get the pushchair out of the car and unfold it, on my own with a heavy, wriggly 1 year old. I was glad that no one was filming this as it wasn't a pretty sight!  It is near impossible to do without an injury or car damage! You quite simply need two hands to work the mechanism and fold it out!  
20th June 2013
This photo shows the pushchair securely fitted into the back of our new campervan.  It's much easier to lift it in and out and there's still room for lots of other stuff. I did think that we'd have to buy a cheap stroller for holidays and days out but it folds nice and flat and provides so much more comfort than those flimsy strollers.  
21st June 2013
I love driving the campervan but understandably hate parking it! I find that I'm choosing to park further away where I know I can find a big enough space and the van will be safe which means more walking and using the Cruz for me! I've taken to picking Oscar up from nursery on foot as I can't face the car park there! It's nice to still be getting so much use out of the pushchair.
22nd June 2013
We went to a huge camping superstore today to stock up on supplies for our first camping trip next weekend. It was easy to manoevre the Cruz in and around all the tent and awning displays and carry a basket while pushing. It was also easy to clip and unclip Oscar so he could get out and have an explore so he didn't get too bored stuck in the pushchair.  
29th June 2013
We took the campervan, the Cruz, (and Oscar of course!), on their first camping trip today.  Just a local overnighter to 'Conkers' in NW Leics to test everything out. Everything fitted in the van with room to spare and the Cruz came in handy for putting Oscar in to keep him out of the way while we put up the awning!
We also used it to feed Oscar in for some meals and also for him to nap in during the day. We just tilted the seat, pulled down the sun cover and took him for a 20 minute walk around the campsite.  It handled the rough, stony gravel paths around the campsites well but have noticed the brake starting to stick again. Must look into this online to see if it's a common easily fixable problem.
In the evening, we even used the footrest of the pushchair as a table to play cards on as we had no table in our awning, so it came in very useful and was well worth the space it took up in the back!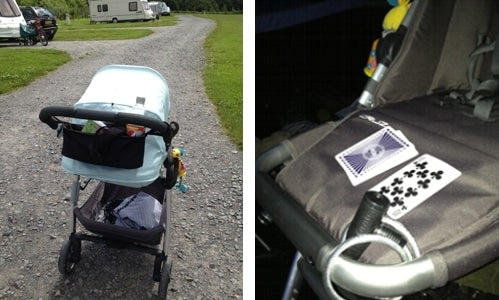 The only downside was that due to the nice weather, there were quite a few insects near our tent and I thought, "Great a chance to use the insect net that comes with the Cruz, that I haven't used once!" So I got it out but couldn't for the life of me work out how to attach it to the pushchair! I didn't have the instructions with me so need to look into this online before we go camping again!
30th June 2013
After a surprisingly restful night, we packed up and spent the day at 'Conkers' - an interactive woodland experience. This was the perfect opportunity to test out the Cruz on lots of different surfaces. Again, it did not disappoint!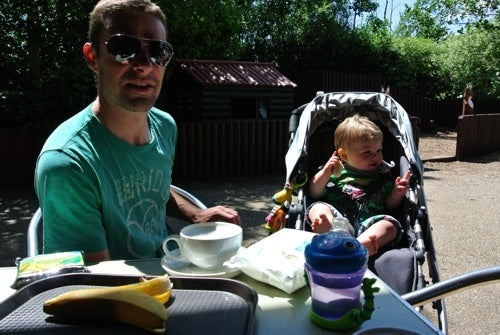 The large basket came in really useful again to carry all our things for the day and we were able to take the Cruz around all the indoor and outdoor exhibits with relative ease because of its narrow width and its manoeuvrability. It offered Oscar a great deal of comfort and he was quite happy in the 'world-facing' position for the duration of the day. Plus as it was a rare hot, sunny day, the sunshade was invaluable and I felt very sorry for other parents that I saw who were struggling with parasols!
10th July 2013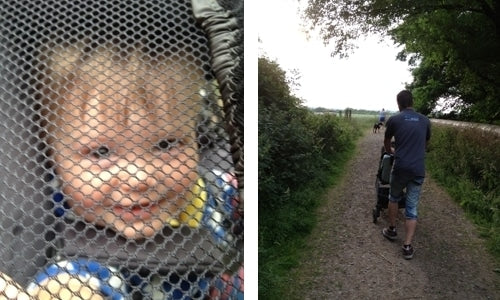 The weather has been absolutely gorgeous so we decided to go for an evening stroll. We went 'off road' through some lovely meadows and thought that we'd better get out the insect net. After a few more fumbled attempts we came to the conclusion that we had got the wrong net and were trying to attach the net for the carry cot to the pushchair!! I used the toggle to tie the hood flap back, a) to keep Oscar cool and b) so that I could check that he still had his hat on. It worked well as I noticed almost immediately when he threw his hat on the floor!
15th July 2013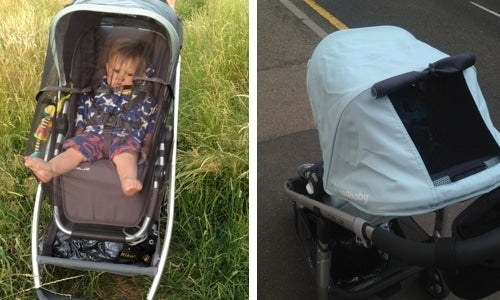 Evening Walk - Take Two!  This time we made sure that we had the right insect net and it worked like a dream.  It's so easy to attach - no velcro or ties, it's just elasticated over the hood and over the foot rest.  Oscar didn't seem to mind it and didn't work out how to pull it off.  He's also just noticed the mesh window and loves nothing more than looking back at us to check that we're still there!
16th July 2013
School broke up last Friday, so I've been enjoying all this sunshine since then. I'm really pleased with how the Cruz copes with the heat. It is definitely more suited to warmer weather! The fabric of the seat is cooling and absorbent and the hood flap means you get a bit of a blow through. We went strawberry and raspberry picking today and the Cruz did not disappoint. I was able to push over the uneven terrain with one hand while plucking fruits with the other.
21st July 2013
We went away in the campervan this weekend; staying with friends on the Saturday night and then on to the north lincolnshire coast on the Sunday. We managed to get a very long windbreak in the basket, with plenty of space left over for the bucket and spade and all the other beach and baby paraphernalia. 
We were able to test drive the Cruz on the beach and it didn't fare to badly. Believe me, we had to walk about a mile out to the sea and pulled the pushchair ALL the way so it has had a thorough test drive. We found pulling it, on the back wheels to work best and it coped OK on wet and dry sand.
28th July 2013
We walked over to our local garden centre which has a free bouncy castle and sandpit during the summer holidays. Now Oscar is walking he can get so much more out of these kind of places; though he's less happy about being stuck in his pushchair when it's stationary; he keeps struggling to get out! I'm hoping it's a phase! After reading the blog by another Cruz reviewer, it reminded me about the wheel locking feature for use on difficult and uneven ground. As we had to push the Cruz over a field, we tested it out. It was a bit difficult to lock them into place as the wheels need to be in the right position first, but once locked, it was easier to push.
1st August 2013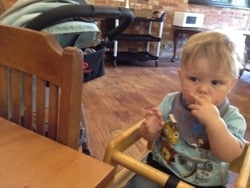 Oscar hasn't been well, so we've not been out much recently. He was feeling better today and the nice weather had returned so we decided to go to the farm. The sunshade came in really handy today as it was so sunny and Oscar refuses to keep a hat on for very long! Again the Cruz was just the right height for Oscar to see all the animals without having to be taken out and carried. We went for lunch and it was easy to tuck the Cruz out of the way, though I was glad I decided to feed Oscar in a high hair rather than his pushchair as he made a right mess!
10th August 2013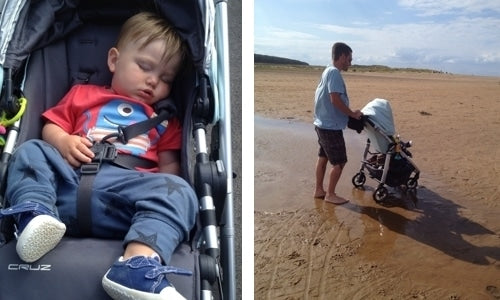 We went on holiday with family to the north Norfolk Coast. As we went in the van, we were able to take the Cruz with us, otherwise I don't think we would have been able to fit it in with all the other stuff! I am so glad we took it as it came in so handy, I don't think that we could have managed without it.  The extra large basket was really handy for carrying everybody's things on days out and the sunshade was so useful because the weather was actually glorious... we didn't need to get the rain cover out once!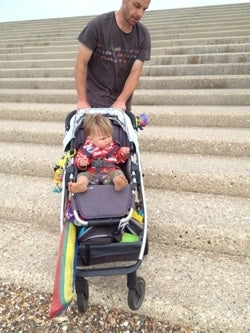 I was a little worried how it would handle the beaches, but we took it on pebbly beaches, dry sandy beaches, wet sandy beaches, muddy beaches, shingle beaches and it managed really well. On dry sand, we had to adopt the tipping it back and pulling technique, which Oscar loved! We made lots of use of the wheel locking feature on the beaches and it did seem to make pushing it a lot easier. On one day, we walked the long (1 mile!) path from Wells-next-the-Sea harbour to the beach and back. We were able to tilt the seat back, pull down the sunshade and Oscar soon fell asleep. It's good that we're still able to do this as I don't think a stroller would be as comfortable.
11th August 2013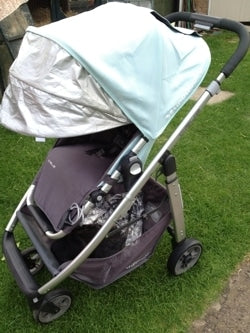 After all those beaches, you can imagine how filthy the pushchair was! I wanted to wash the sand and salty water off as soon as possible so it didn't corrode the workings. I gave it a thorough clean, using the hose pipe and car shampoo on the chassis and fabric spray on the fabric. Afterwards, it looked like a shiny new pushchair! I sprayed the hood with some of that weatherproof protector, intended for shoes and bags so it will be interesting to see if this works when it next rains. While I did this, I thought I'd adjust the shoulder straps as I'd noticed that Oscar had managed to wriggle his arms out on a couple of occasions. This was not as easy as I expected! I remembered that it comes on the middle setting and I left it like this when we first used it although it was a little high as I couldn't work out how to change it! I figured it would probably only be a couple of months before it needed adjusting again. After about half an hour of fiddling with it, I gave in and pleaded my other half to have ago. As he is a little more practical than me he was able to do it but still described it as a 'faff' as it had to be un-threaded and threaded again! Now it looks a little too high on Oscar but we are not changing it again!!
16th August 2013
Upon our return, I have noticed that the brake is sticking again. It's quite awkward to lock and usually takes a few goes and when it's released one of the wheels often sticks and needs pulling backwards before it will go forwards. This is what happened just before our chassis changed so I know that it's not just a one-off. Perhaps a bit of oil might fix it... I might have a google and see what I can find out!
19th August 2013
I had to take Oscar to the doctors rather urgently with suspected chicken pox. Now he's walking, I can take him with me when I go to get the pushchair out the back of the van. However, he won't stand in one spot while I get it out and as we live on quite a busy main road, this is a bit of a problem. I can't hold onto him and get it out and there is no way that I can carry him and do it as he's about 11kg now! I thought that everything would get easier now he's walking, but it's just created lots of new problems! Maybe I need to get some of those reins or something?
21st August 2013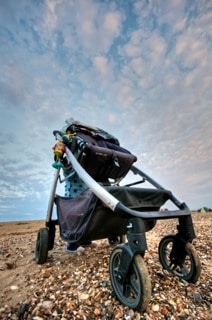 We went away for another short break in the campervan. This time to Tenby.  The first day we went to Lydgate beach which is very pebbly, but the Cruz took it in its stride.  Ben's getting quite good at towing the pushchair across beaches and Oscar enjoys the ride!  Plus, the pushchair is light enough for both of us to carry if the terrain gets too bad.  The next day we went to Tenby town.  The weather was very changeable, (typical Wales!), so it was handy having the rain cover and the sunshade, though I still don't find the rain cover easy to put on when you're in a rush!
The next day we went to the beach at Barafundle. It's billed as Britain's best beach and reviews do not recommend taking a pushchair as it's a bit of a hike up and down lots of steps.  I took Oscar in a sling instead and we carried all of our stuff.  When we got there, there were a few strollers on the beach and we felt that we probably could have managed the pushchair up and down the steps as easy as carrying Oscar and all the other stuff. Again, we were so glad that we had brought the pushchair and although Oscar is walking quite well now, we couldn't have managed without it.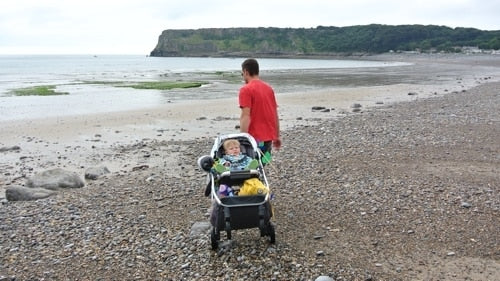 I'm also glad that we've not opted for a smaller stroller as I like the versatility that the Cruz has - I can have the seat facing me, I can tilt it if I want him to rest or sleep; not to mention its huge basket! All things you don't get with a stroller.
31st August 2013
Back to reality with a bump!  I've been back at work for about a week and feel like I haven't stopped once.  I'm working full time at the moment so we don't have chance to use the pushchair.  Oscar's been at his grandparents quite a bit of the time and they have their own stroller to use as it's not convenient dropping the Cruz off everything he's there as he's there so often.  Today was the first day we've used it since getting back from Tenby.  The brakes are sticking so bad that it takes about 3 or 4 attempts to engage it and it sticks when they are released.  I've searched on line but can't find any info which probably means it's not a common fault..  or could just be because the pushchair is so new. 
1st September 2013
Ben gave the wheels and brakes  a bit of a spray with WD40 - and they work like new! Why didn't we do this ages ago?  It was probably all the sand and salt water from all the beaches it's been to!! 
7th September 2013
Another busy week at work and very little Cruz action. Now that Oscar is walking, we've got him some reins and I'm more likely to use these to take him to the local shops or to pick him up from nursery, just to give him the practice, rather than using the pushchair. 
8th September 2013
We adjusted the harness straps to the highest setting a while ago, (which was quite difficult to do).  As you can see from some of the photos, they're now too high and don't look very comfortable.  It was such a faff to do, though, that we're putting off adjusting them again! He needs a kind of 'in between' setting at the moment!
19th September 2013
I used the pushchair today for the first time in about a week to take Oscar to the shops.  We went to Ikea today but found it was easier putting him in a trolley rather than talking a pushchair and a trolley around the store.  The brakes are still working well.  Still making use of the sunshade.  If we had, had a parasol we would have probably taken it off by now but the beauty of the sunshade is that it's always there.  I did see people out today with their buggysnuggles but am putting off getting ours out, until the temperature drops a bit further.  I have ordered a custom made lining for the Cruz in a fabric of my choice, (Kaufmann whales), which was still cheaper than an Uppababy one.  As it's quite a rare/new pushchair the dimensions were quite unique.  I hope it fits ok once it arrives.
Final Summary
Here is my Final Summary:
After living with the Cruz for a whole year, I can honestly say I love it! The carry cot was ideal when Oscar was tiny; so soft and snuggly. The Mazi Cosi adapters allowed me to use my car seat which we pretty much did most of the time until Oscar was about 6 months and too heavy to carry like that! It was a good job we had the car seat though as he outgrew the carrycot at about 4 - 5 months and I didn't feel that the pushchair seat offered suitable support and protection until he was about 6 months. I had to purchase a 'snug seat' for this 'transition period' - which worked well but was another expense. One disadvantage of the Cruz is that it doesn't really come with anything other than the rain cover and insect net, so I ended up buying a lot of accessories myself. The Uppababy branded foot muffs are stupidly expensive but luckily the Cruz is a pretty standard size and I found most universal ones fit ok. We really have taken the Cruz everywhere and can honestly say that it drives like a dream. It's quite narrow and light and easy to steer - even one handed! Although it does fold up quite compact, there's no denying, it's not a stroller and will take up more room in your boot! However a stroller could not match the comfort of the Cruz seat, I don't think, and you wouldn't have the flexibility of being world/parent facing or tilting the seat for a little nap! Although the Cruz does fold easily - it isn't a one handed operation and very difficult to do with a baby, if you're on your own, though this is the case with most pushchairs. A super pushchair that has suited our needs from birth to toddler!
3 PROS:
1. It's Style! It's a nice looking pushchair that comes in 4 different colours. It always got compliments everywhere we went and in the whole year, I never saw another Cruz out and about!
2. It's HUGE basket. Not only is it big, but unlike many other pushchairs, it's easy to access.
3. Uppababy Customer Service. I only had to contact the company once with a fault that developed but I found their team excellent. They sent out a replacement chassis immediately.
3 CONS:
1. Expensive accessories. Like I said, it's an expensive pushchair and for the price, I would expect a footmuff to be included, not to have to pay another £80. I wanted a footmuff to match the 'Tyler Blue' but was not prepared to pay that much.
2. Sticky Brake. After a while the brake sticks and doesn't lock properly, which could be quite dangerous. Luckily this is easily fixed with a little bit of WD40!
3. A little difficult to fold. Easy with two hands or two people, but difficult if you're on your own and got a small child. It is lighter than many similar pushchairs but still a bit of a struggled lifting in and out of the car.
Overall, I would give the Cruz a rating of 4.5 out of 5.
Thank you for the opportunity to test the Cruz.