Quick Summary: I have really enjoyed 'living with' the Out'n'About Nipper Double and the "pros" are endless! Watching my children's bond grow because they are next to each other whilst in the buggy has been heart melting. My little boy has thoroughly loved having his sister so close that he has been able to chat to her and show her lots of interesting things on a daily basis. Similarly it has frustrated him having her so close that she has been able to pinch things out of his hands ie his crisps.
Whats good?
Enables siblings to bond side by side
Simple fold
Light & easy to manouevre
Fits through doors
Whats not so good?
Pull cord to recline
3 wheels can be tricky up & down curbs as a double
---
First Impressions
The doorbell rang and there stood a delivery man - not just any delivery man but a UPS driver delivering my OutnAbout Nipper Double!To say I was elated is a considerable understatement - I actually jumped with joy and gave out a little scream haha.
My little boy Lewy was now copying my actions and jumping for joy shouting "new buggy, new buggy". Unfortunately I had to inform him that we had to wait until daddy came home to open the box - this induced an almighty tantrum and a massive effort by him to try and open the box himself. I must admit that I too felt like throwing a tantrum because I wanted the box open now and to see our new buggy ...
Daddy's home!
I could not contain my excitement and immediately gave my instructions that we were opening 'the box'.
The first thing that struck me was the vibrant purple colour (purple punch). It's beautiful, striking and I can just imagine the sun bouncing off the hoods whilst walking in the summer sun.
Getting it out of the box was easy as the chassis was light and not cumbersome at all. The 3 wheels, handrail & rain cover were all individually wrapped in the same box - only 7 pieces to assemble.
Assembly was very straight forward following easy to follow diagram instructions and literally took 5 minutes.
My excitement was rewarded ten fold as the assembled OutnAbout Double Nipper was everything I wanted it to be and more.
Now too add the children and go OutnAbout!
May 17th 2016
Our first outing in the out'n'about Nipper Double!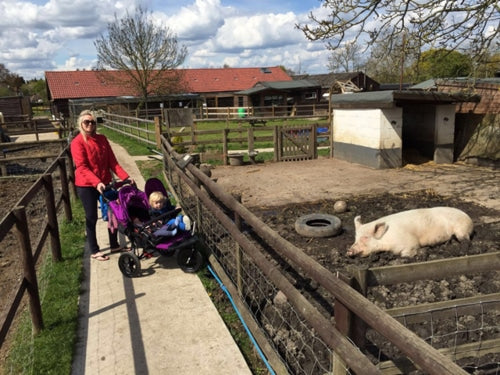 I was really excited about actually using it in the outside world.
It was a beautiful sunny day so we decided on a local animal sanctuary. The buggy fitted in the boot with little effort (we have an estate car) and left room for our other necessities.
We had to park in a field so the terrain was 'bumpy' from the off! I was completely surprised and overjoyed at how easy the Nipper was to manoeuvre and the suspension was so that my children did not feel the bumps and pot holes.
But what I was so taken aback by was how my children interacted with each other. My 2 yr old held his 6 month old sisters hand and was talking to her the whole way around the farm. This just melted my heart.
The Nipper Double allowed this pure sweet interaction happen.
May 28th 2016
Well the Out'n'About Nipper Double was proving a bit of a struggle this week. Pushing it seemed harder than it had at first and turning took a lot more effort than previously mentioned.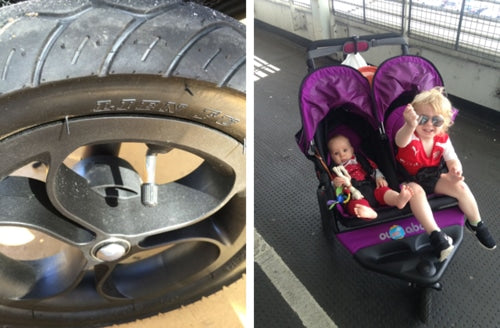 I spoke to my other half and told him of my struggles with it.
Please don't laugh - but the tyres were flat! As he so kindly and sarcastically pointed out.
We pumped the tyres up at the local garage as the handbook states that the tyres should be at 24PSI - ours were 4!
Well to say that the manoeuvring of the Nipper improved would be a huge understatement. I must remember to keep an eye on the tyres as the performance does rely a lot on the tyre pressure.
So I'm happy again and loving living with the out n about Nipper Double and so are my kiddies.
June 3rd 2016
Following last weeks mishap with the tyre pressures being at 4, this week I was more confident at using the out'n'about Nipper Double for my buggy fit club.
It involves using the buggy as a support but also running with it on grass.
The Nipper Double not only performed fantastically as a support but was easier to use when doing lunges, pushing it forwards and pulling it back.
The run has usually been a struggle for me using my old inline buggy BUT I was on fire today. I ran faster and for further and the kiddies laughed instead of cried because of the bumpiness that they are used to experiencing. The Nipper glided through the grass making it a much more enjoyable morning for us all.
The Nipper was also a hit with the other children in the group - they all wanted to sit in and 'have a go'.
June 12th 2016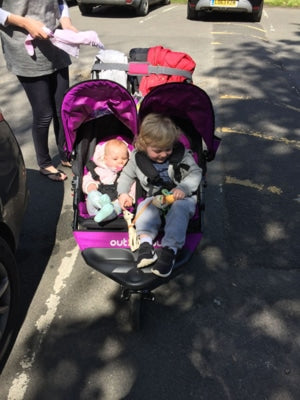 As you can see from the picture my children are very much different in sizes. Although there is only 18 months between them my little boy is very big for his age. He fits in his side of the Nipper with ease and has room to move about even when sleeping.
However the slight problem with this is going up and down curbs. Because the Nipper only has 3 wheels, making it slightly unstable when only the front singular wheel is in contact with the ground - this has proven quite a task and a lot of brut strength in order to not cause the Nipper to tip over and keep it steady. I do not see this as a negative in using it but I do think that it should be a 'caution' when using for children of such differing weights.
In order to overcome this hurdle and be safer I just use the drop curbs where available.
June 26th 2016
The Out'n'About Nipper Double has been on vacation. I was in 2 minds whether to take it with us when we went on holiday recently to Benidorm. However I am so glad that I decided to opt for taking the Nipper rather than 2 single strollers. Whilst in the airport the children were able to experience the new sights together - side by side and my eldest loved giving running commentary to my youngest about all the different things they were seeing for the first time.
Also this continued to be the case once we were on holiday. The bond between them is so strong that being next to each other on our first family holiday proved invaluable.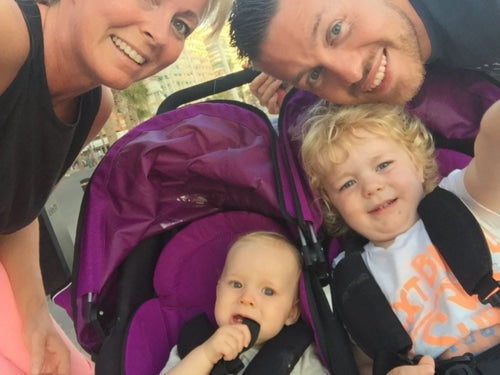 Also when I managed to get them to nap at the same time, finding shade was easier than if I'd had take separate buggies. The large hood proved to be one of the essential pros in shielding them from the sun not only when sleeping but when out n about in the day. The large shadow it cast covered my little girls legs easily making it a more cooler time for her. I was able to use the Nipper right up until we boarded the plane and then the easy 3 mechanism fold made for quick disembarkment for it to be taken into the hold.
The children really benefitted from me taking the Nipper and the aeroplane was no hassle either.
July 5th 2016
The Out'n'About Nipper Double does not have a basket on the bottom of the buggy. This was one of my major disappointments on discovering this fact. This mean't that I would have to potentially carry any bags hanging off the handlebars which makes the buggy unstable and likely to tip.
You can purchase a basket for £24.95 which is not an expensive extra, however I do think the Nipper should have come with this as standard.

THEN!! When on holiday while relaxing on the sunbed I saw a pouch like something on the back of each seat. I immediately investigated this and to my joy and excitement it was a pocket, and not just any type of pocket but a huge deep pocket x 2!!
To say I was elated is an understatement. This find changed my disappointment of not having a shopping basket to thinking - "shopping basket, who's needs a shopping basket", when I now have 2 very large, deep, perfectly positioned, draw stringed pockets to hold enough 'stuff' for each child.
WELL DONE OUT'N'ABOUT - GENIUS
July 12th 2016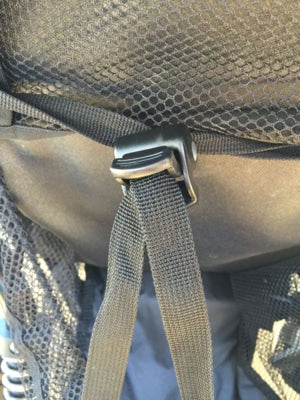 If there is a small something I would change on the Out'n'About Nipper Double its the pull cord that allows the seats to either sit up or recline. The slight problem I have with it is when I need to sit my children up from a reclined position to an upright position. The cord becomes twisted and the fact that the child continues to rest on the seat makes for a difficult manoeuvre. I find myself having to kneel on the ground and rest the back of the seat on my head whilst I adjust the strap in order to sit the seat upright.
I do only need to do this for my little girl as she is 10 months however my 2 year old little boy will sit forward for me on direction allowing the seat back to be adjusted accordingly.
This small inconvenience has not altered my overall opinion of the Nipper Double however, and I would still recommend this buggy to ALL family and friends.
July 26th 2016

On a recent holiday and during our recent heatwave there is one feature of the Out'n'About Nipper Double that has really been beneficial. It's the ventilation flap that is situated at the back of the seat. It is zipped closed and when opened can be rolled up and fastened with Velcro to keep it secured.
This feature can only be used to its full potential when the seat is fully reclined. The meshed window allows air to circulate freely therefore maintaining a cool environment for the children to nap, especially as the good-sized hood comes down nice and low, aiding protection from the sun in this instance.
Final Summary
I have really enjoyed 'living with' the Out'n'About Nipper Double and the "pros" are endless!
Watching my children's bond grow because they are next to each other whilst in the buggy has been heart melting. My little boy has thoroughly loved having his sister so close that he has been able to chat to her and show her lots of interesting things on a daily basis. Similarly it has frustrated him having her so close that she has been able to pinch things out of his hands ie his crisps.
The Nipper Double has been a pleasure to use - it's completely simple folding mechanism makes for a quick load of the car and its flatness once folded has not hindered our boot space at all.
The lay flat spacious seat has been a god send especially when we were on holiday and it was nap time. The very large hood also aids this time by blocking out almost if not all of the day's light.
I have found the Nipper Double incredibly light and extremely easy to manoeuvre, even when both children are in it and I'm running on grass during my weekly buggy fitness club.
It fits through practically all doors - however clothes shops can be a bit of a struggle as manequins and clothes rails are not 'double buggy friendly', with regards to the space created between them. However this has meant I've spent less time in them hence less money wasted.
The only 2 "cons" I've already mentioned in my weekly reviews. Firstly, the pull cord that is the way the seats positions are adjusted. It gets tangled quite easily and with a child leaning on the seat back it's very difficult to move from a laying position to a sitting upright position.
The second is with my children being very different in weight, going up and down curbs can be quite a hard task due to there only being three wheels and the uneven distribution of weight. However as explained previously I overcame this buy using the drop down curbs in every event.
I'm so privileged to have been given the opportunity to be a tester and hope that my review goes some way in helping you to decide on what buggy to purchase.
I would give this amazing buggy a 10/10 rating and would definitely recommend it to friends and family.