Quick Summary: Over the past three months we've had such a great experience testing and reviewing the Out'n'About Nipper Double V4. This really is an excellent pram that has seen us through various days out as well as being perfect for our day to day activities. My biggest concerns were that it would be too wide for shops, paths and doorways and that it would be heavy to push, but my fears have been completely quashed and I wouldn't be without this pram.
Whats good?
Multi recline positions on seats
Excellent rear suspension for a smoother ride
Slim, so fits through standard doorways
Whats not so good?
Sunhoods a little noisy so may wake light sleepers
Could be a tight squeeze in car boot depending on car make
No pump included for tyres
---
Introduction
I'm Nancy, I'm 26 and currently on maternity leave, I've been with my partner Jack for 10 years. We are super proud parents to Rueben 21 months and little Alfie 2 months. We live in a small town in the Cotswolds and love to go on walks in the many beautiful places surrounding us, mostly in search of cows, dogs and horses which Rueben adores! We spend our weekends visiting the local farmers market in the town, often returning with freshly baked bread and any other goodies that take our fancy. We're really excited to test for Pushchair Expert and to keep you all updated with our thoughts and findings. 
First Impressions
Delivery of the Out'n'About Nipper double has finally arrived and we are really excited, especially as I spot a 'Raven Black' label which was our first colour choice. Initial thoughts, wow that's a very big box, I'm hoping this doesn't reflect in the weight or overall size of the pushchair, but looks can be deceiving so I will reserve judgement. We have three boxes delivered, the pushchair, carrycot and carrycot adaptor, note the carrycot and adaptor are optional extras.
Once out of the box I'm impressed at how light the frame is, I was expecting it to have a considerable weight but it doesn't feel too heavy at all. I'm also impressed that there aren't hundreds of components to put together, I just need to attach three wheels, insert and thread two seat liners and then clip on the bumper bar, how hard can it be? Included is a manual with step by step colour photos as well as written instructions, all areas are covered in this manual from assembly, how to use the break, to how to fold it down.
Thankfully assembly was really straightforward and only took me 20 minutes, the fiddliest part being threading the seat liners. The carrycot arrives flat and again is really straightforward to assemble, it includes the liner, hood, mattress and apron. It is quite narrow, my youngest was born 9lb 12oz and is now three months old so it will be interesting to see how he fits in it. My first impressions are positive, I'm impressed with ease of assembly and it looks appealing, can't wait to get out and start testing!
May the 5th 2016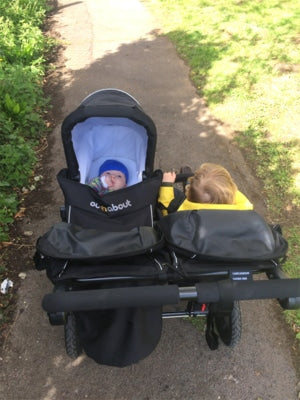 First walk with the nipper double complete and we are so far very impressed! We took a short walk around our village to give it a whirl and it felt so easy to manoeuvre, we mainly walked on pavements as well as a little stretch of grass and it handled both terrains easily. So far we've had no trouble with doorways or pavement widths, which is a big concern when buying a double pram. My biggest love so far is the wrist safety strap, it gave me peace of mind knowing if I accidentally let go the pushchair wasn't going anywhere with my precious cargo. Looking forward to testing it on some bumpier terrain next.
May the 12th 2016
We've been avoiding the outdoors as the raincover included doesn't fit with the carrycot, thankfully the sunshine has returned and we've been enjoying the pushchair again!
Where we live we're surrounded by lots of off road walks with bumpy dirt tracks, so today we got to really feel the benefit of the independent rear suspension. The pushchair handled the uneven and muddy terrain really well, Rueben seemed more than happy sat in his seat and Alfie wasn't jiggling around in his carrycot at all!
I didn't feel like I had to avoid any bumps or potholes on our walk as the suspension and tyres softened the impact.
This was all with one of the rear tyres looking a little low on air too, no pump is included but can be purchased as an extra.
I think it should come with the pushchair as an essential not as an optional extra, past experiences with air filled tyres I've always found you need to pump them up regularly and I would hate to be out and struggling with low tyres.
May the 18th 2016
So I thought I'd give an update with my thoughts on the carrycot. My first impressions were that it looked very narrow and would my now 3 month old who was born 9lb 12oz fit in there ok. The good news is he fits just fine, it is snug but he's not squashed in there and has room to move his arms about freely, he's secured in by a thick band that velcros across his middle. It has a large hood to protect him from the outside elements, which can be moved up and down with ease. The mattress included has a washable cover but you do need to put a sheet over it as its plasticky, it's also a good thickness for little mans comfort.
The great part about the carrycot is how easy it is to attach and remove it, the carrycot adapter simply clips in with a bumper bar for one side and then the carrycot just slots on top of the fittings and clicks into place. The carrycot sits on top of the existing seat frame, so no fiddly removing of parts to accommodate it. You can use the pram from birth without the need for a carrycot as the seats recline to a lie flat position, but I guess it's personal preference as to wether you would choose to buy it as an extra. Personally I would as I like the fact Alfie's parent facing and just that little higher up for me to keep an eye on.
May the 25th 2016
Once I'd set the pram up I noticed that there wasn't a basket included, this was initially a big concern for me; I regularly walk to the local shop to collect bits and pieces and heavily rely on this feature in a pram. On closer inspection there are alternatives included and the basket can be purchased as an extra. Firstly there are two large drawstring shopping pouches on the back of each seat unit, these will easily hold a good basket full of shopping, more if you can pack it in smartly! Although when the carry cot is in use only one is easily accessible.
There are also two pockets on the outsides of the sun canopies, that can hold things such as a phone, purse, keys and wet wipes. These are especially handy for items that are regularly needed as they are easily accessible and zip closed. I would love to see a key clasp and a little pouch within the larger pocket to store my phone, the pockets are really deep so smaller things can get a little lost in there. We managed to easily fit our shopping in the one pouch and could have easily added more if needed.
June the 9th 2016
A big concern when buying a double pram is that you won't fit through doors, on pavements and will generally struggle to get around shops.
The Nipper double v4 measures a slim 72cm wide and fits through all standard doorways, I'm yet to find a door we can't fit through.
We really tested the width this week when we took a wander on bin day, as you can imagine bin day can make walking with a pram a nightmare anyway, but with a double I was more concerned.
Fear not, we only had to hop on and off the pavement on a couple of occasions where the pavements were narrower anyway.
Some pavements were a bit of a squeeze but the Nipper double fitted along without too much disruption to our walk.
June the 17th 2016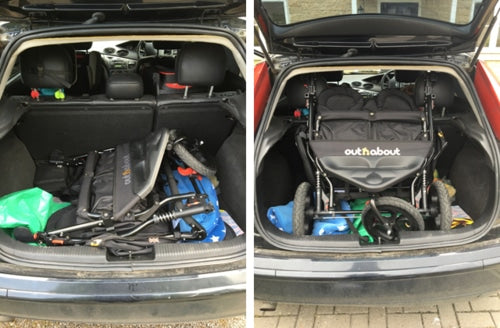 This week we've needed to use the pram away from home, so the day arrived of trying to fit it in the car boot.
I've been thinking about this for some time as our Ford Focus boot isn't very big but haven't needed to take it anywhere to see if it fits. It was a bit touch and go at first, but after a lot of turning and adjusting we found the best way to fit it in was to remove the back wheels and it lies flat with barely a millimetre to spare!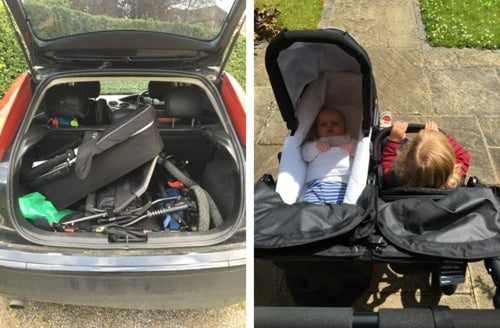 The brilliant thing about the Nipper Double is how easy this is to do, the wheels pop on and off with ease by releasing a catch on each side.
I can fit it in with the wheels on but it has to stand upright with the parcel shelf removed therefore slightly obstructing the rear view which isn't ideal.
Of course the carrycot does take up extra space but as its only used for the first few months this isn't a huge problem for us.
I can manage to fit some shopping bags in the boot as well but would struggle to get an awful lot in there.
June the 24th 2016
This week we've mainly been dodging showers and trying to sneak a walk in between the rain. One of my most regular walks is down into the village to pick up some essentials, play in the park and generally to get some fresh air.
When I say down into the village it really is one big down hill walk, this means a great big hill to climb back up! I did worry that pushing a double pram up it would be really hard work, I'm not going to lie it isn't the easiest hill to climb but that's more to do with my fitness than the pram itself!
For a double pram it really glides easily up the hill, the lightweight aluminium frame is perfect to not make this a cumbersome pram, essential with two growing boys who are only getting heavier.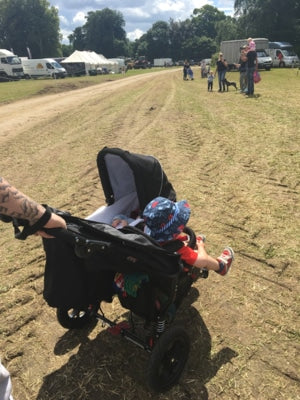 July the 3rd 2016
This weekend we went to The Cotswold Show in Cirencester, it's a great day filled with animals, food and demonstrations and it's all on very bumpy terrain! The pram handled really well being pushed across lots of uneven ground and even though it was really busy we didn't struggle nipping in and out between the crowds and tents. Alfie's nearly five months old now so I'm thinking about trying him in the main seat of the pram, he's getting much more intrigued by his surroundings and probably getting bored of only having a sky view!
July the 8th 2016
This week we took the plunge and tried Alfie in the main seat of the pram, I felt he was probably getting a bit bored of his view now that he's more alert and interested in his surroundings. The straps were a bit fiddly to adjust but once done little Alfie was safely secured in his new seat. I had him slightly elevated so he could see his surroundings, but not too upright as he's not able to sit unaided yet and didn't want him feeling uncomfortable.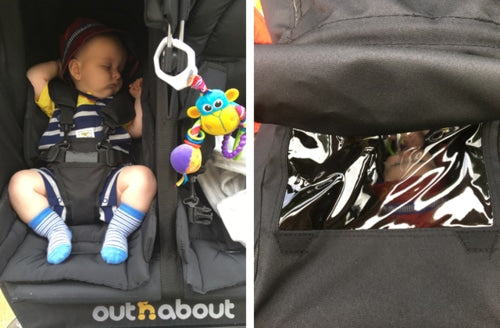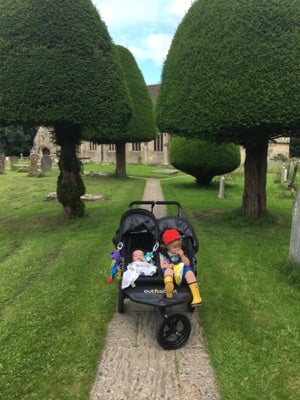 I love the peep hole feature on the sun hoods as it allowed me to keep an eye on Alfie without having to pull the hood back every time, it also conveniently stays open secured by Velcro. He seemed more than content on our walks this week and Rueben was happy that he could also keep an eye on him, with the odd poke and prod for good measure!
July the 13th 2016
This week we took a wonder down to the neighbouring village; lots of narrow pavements and bin day did mean we were coming off into the road on a few occasions, however we probably would have been doing the same with a single pram. This was also the first time we've got to use the raincover, it's foolproof and luckily I got it on in seconds because the downpour came out of nowhere!
It has velcro down the sides at the rear of the pram and then a popper on elastic to attach it by the front wheel, it also folds compactly so fits easily in the the drawstring pouch of the pram. I do wish that there was a little window in the raincover at the front, Rueben dropped his water bottle onto the footrest and to retrieve it I had to awkwardly reach my arm through the bottom of the raincover. Apart from this I couldn't fault it, the boys were dry and the pram was dry, however I was sodden because I didn't pack my raincoat!
July the 21st 2016
We've been enjoying this heatwave and venturing out into the sunshine lots this week, the Nipper Double has come everywhere with us. The ability to individually move the sun hoods is a great feature because it means I can keep my youngest Alfie more protected, while Rueben prefers not to have his over him.
My only criticism of the sun hoods is that they are quite noisy when you move them back and forth, if you have a light sleeper who's just nodded off in the pram I would be worried this would stir them! A really useful feature in this hotter weather is that you can unzip part of the fabric at the back of the seat, which uncovers a meshed area that allows better ventilation and air to pass through, perfect for helping keep them both cool.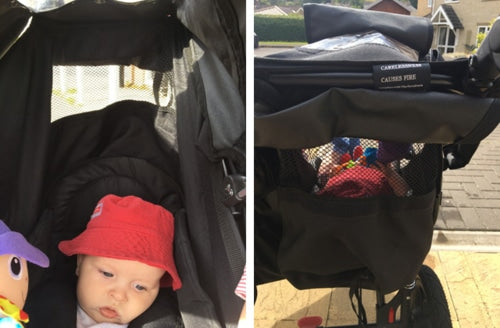 Our verdict...
Over the past three months we've had such a great experience testing and reviewing the Out'n'About Nipper Double V4. This really is an excellent pram that has seen us through various days out as well as being perfect for our day to day activities. My biggest concerns were that it would be too wide for shops, paths and doorways and that it would be heavy to push, but my fears have been completely quashed and I wouldn't be without this pram. Both of my boys have always been extremely comfortable, shaded when needed and quickly sheltered when it's rained. The features I particularly rate are the individually operating sunhoods, although a little on the noisy side they offer the flexibility to suit each child's separate needs. I also love the wrist strap for peace of mind and the rear suspension works wonders across bumpy terrain.