Quick Summary: The Urban Jungle is such a great vehicle to transport your little ones - I absolutely love this pushchair and would thoroughly recommend it to anyone looking for a Pushchair. It has never let us down and we have been able to literally go anywhere, through 'all terrain', pavements, kerbs, potholes, gravel, grass, fields, sand, mud and snow be assured we have tested them all.
Whats good?
Generous seat
Folds easily
Plenty of storage
Great manoeuvrability
Whats not so good?
Air filled tyres can puncture
---
My Mountain Buggy Urban Jungle was delivered to my door in a smaller than expected brown box with carry handle the first week of December just in time for Christmas.
We had been eagerly awaiting its arrival since notification from the team at Pushchair Expert that we had been selected, and as an added bonus I was also able to choose the colour subject to availability - my first choice was Chilli and to my delight this was the colour that arrived - it looks even better in real life!
It was really simple to put together, I'm no expert at these things but even I managed,  the wheels being designed for easy removal clicked into place with a reassuring click on the rear of the buggy and the front wheel attached with two nuts. The basket fastened with a few press studs and in a matter of minutes it was fully assembled and ready for action. The build quality of the product was exceptional and, I quote my husband, 'uncomplicated'.
I soon strapped Emily in for a quick test drive around our living room and hallway, she looked so cute and gave me one of her cheesy grins. Given the close confines of the house the buggy managed remarkably well. The first thing I noticed due to it having the single front wheel was how tight the turning circle was, the only thing to watch out for was the width of the back wheels, but we navigated the house doors remarkably well. My husband soon took over and was equally impressed, I'm really looking forward to taking it outside for a spin.
The next morning whilst Emily was safely playing on her own I couldn't resist playing with the pushchair and thought I'd try it in the boot of the car. This was the one thing that concerned me due to the size of the wheels, I thought it might be a bit of a tight fit, so I took the rear wheels off to be on the safe side and to my delight it fitted in the car perfectly. We have a BMW 320 but because its rear wheel drive google maps
it hasn't got the largest boot space. In fact it took up less space than our other pushchair.
The other thing we discovered about the Urban Jungle was, when folded, it is self standing and will stand neatly up a wall. I initially stored ours behind the utility door and this was another bonus as you would expect a larger pushchair to take up more room but this isn't the case.
December 14th 2014
Out as a family today, so obviously as we have a new toy, i.e the Mountain Buggy my husband was in the driving seat, trouble is he's walking about a hundred miles an hour and I can't keep up! I'll have to put on flat shoes maybe. As you can see we found the ducks -  they seemed to like the buggy too, I'm sure they were not looking for food!
My husband loaded the buggy in the car with the wheels on and, much to my amazement, it went in! I've been taking the wheels off thinking that it wouldnt fit, but he put the pushchair in on its wheels whereas I had been putting it in the boot upside down.
December 16th 2014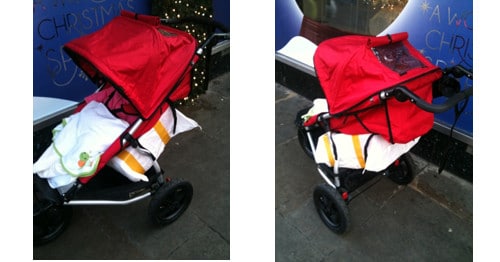 Just look how gorgeous the colour is and goes well with Emily's coat too! We had some important business to do as I managed to sell Emily's baby nest on Ebay making room and money before Christmas, we sucessfully managed to load quite a large parcel into the luggage compartment of the Mountain Buggy and continue on our way to the post office.
Even though the basket space is restricted due to it being an all terrain buggy and three wheels  I am sure we will not have any problems with enough storage.We had no problems with restricted space in the post office and managed to negotiate through the shop with no problems. I feel as if I want to walk really quick with this pushchair, it drives like a dream and I love the suspension and the fact it negotiated the kerbs easily.
December 24th 2014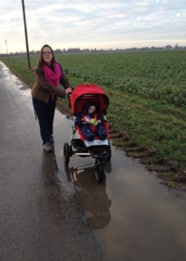 We're last minute shopping, we've been renovating the kitchen at home so everything has been left a bit last minute.
Emily's really enjoying her new pushchair and I couldnt resist taking this photo of her whilst we were at our local shopping outlet!
Once Christmas is over I intend to really start putting the Mountain Buggy through its paces - will no doubt need the extra exercise too after the seasonal excesses and indulgences!
January 1st 2015
Happy New Year! It's the 1st of January today and we went to visit my sister -  unfortunately my husband has had the flu since the day after Boxing Day so we went on our own. We had a lovely lunch and my sister her youngest  son, Emily and I ventured out for a walk around her village. She lives out in the sticks as you can see from my photo's. It was the first time she had seen our new buggy and she was suitably impressed.  I didn't photograph the really muddy part of the walk as I was hanging onto the buggy and I honestly didnt think about it, actually having too much fun in the mud! The track we took started off ok and then we noticed how churned up it had started to become by tractor wheels and after the heavy overnight rain conditions were not good, however we carried on and the Urban Jungle did not let us down. At one point the mud was half way up the wheels!
After we had battled through the mud bath I thought I had better get the Urban Jungle cleaned up a bit and steered through a few puddles which kind of worked. We could not believe that because the wheels are so high the chassis and the basket remained almost free of mud, the only place that it collected was the front axle.  Back at the house my brother in law (more used to cleaning his sons football boots these days) cleaned the wheels with a couple of cloths and some kitchen roll, what a result!  Within minutes the buggy was looking as good as new.
January 3rd 2015
We went to Peterborough today - its my mother in law's birthday on Monday and as yet still no present and no idea what to buy. Shopping in Peterborough was however a bit of a mistake, it was so busy with everyone enjoying the January sales and as we both get a little impatient when these places are so busy it wasn't an enjoyable shopping experience at all. The one silver lining however was my husband was kept happy driving the mountain buggy which whizzed around the shopping centre with ease and successfully negotiated the lifts and department store restaurant. Given the crowds we did not get in the way too much either!
January 8th 2015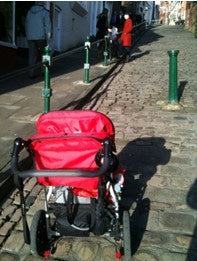 We took the car for a service today and left it at the garage on the outskirts of the city centre, only intending to walk across the road to the out of town shops, once we got walking the pushchair led us all the way to the city centre it is so easy to push, we again used the lift at the new H&M store.
When I applied to test I promised to test the pushchair in all terrain's and I always keep a promise - as we were in Lincoln it was our first opportunity to try the nearest thing to a mountain the county has, the notorious Steep Hill!
The Urban Jungle's suspension tackled the cobbles with ease giving Emily a smooth ride and I confidently applied the brake on the way up to take a photo, I would not have dared to have done this and stepped away with my other pushchair. The brakes on the mountain buggy are so solid and definite that when applied I did it with complete confidence that the mountain buggy was not going anywhere - I did however get a few strange looks from onlookers.
January 10th 2015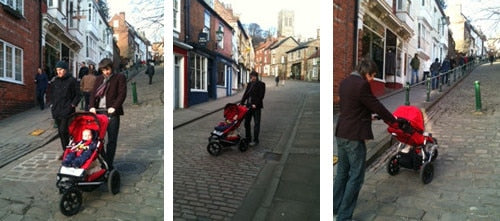 We went to Lincoln again today, we both like Lincoln and with doing the work on the house we had not been for ages. So after our visit this week, I challenged my husband to climb Steep Hill, I looked up the gradient on Wikipedia and it's a one in seven 14% gradient and is 420m (1380ft) length so I think its a good challenge. The large pneumatic tyres and the suspension glided over the cobbles with ease, and the reassurance of the hand strap on the down hill decent meant that the buggy was not going to get away from my husband, my husband commented on the brake too, he was more than happy to apply it on the Urban Jungle and step away but would not have done on our other pushchair.
I've been looking out for other all terrain pushchairs now and as we stood at the pedestrian crossing today we saw another all terrain pushchair with bags hanging from the handle. I pointed out to my husband that it didnt have the luggage basket underneath, this is such a good feature of the Urban Jungle - I have started putting things in the separate pockets in the basket and today managed to fit Emily's blanket in the zip pocket at the back. We didnt need the blanket on as Emily was in her snow suit, her changing bag fits neatly in the side pocket also.
We walked the side of the river from the shopping centre without thinking about the steps and carried the pushchair between us up the 8 steps back onto the main shopping area - I held the bar at the front of the single axle and my husband used the handle which saved us going back to the ramp on the other side of the bridge and was easy to do. The Urban Jungles actual weight is 11kg 24lb as per specs on the Mountain Buggy website so was remarkably light even with Emily onboard.  Also I did not realise  that the buggy will last your baby till the age of 6 years and its weight limit is 25kg / 45lb - that's the size of a large sack of potatoes if you buy them direct from the Farm so thats quite a lot of weight. 
January 19th 2015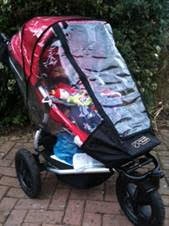 Our rain cover or "Mountain Buggy Storm Cover" arrived in the post today, so as it was very cold today although no storms were forecast, I thought we would fit it on the buggy and try it out, the rain cover is priced at between £27.00 to £32.00 on the internet and plenty of online shops have them available.
We were really pleased with the quality and it was very easy to fit, as you can see it is a really large cover that covers the entire pushchair and comes down low at the back, I especially liked the black detail over the foot plate with the Mountain Buggy logo, the front of the cover zips open so hopefully we will have no problem getting Emily in and out of the buggy. It also comes in a black carry bag which fits easily in the basket or can be attached with velcro to the chassis or handle.
January 21st 2015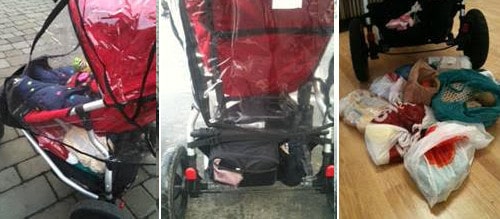 Took the Mountain Buggy into town to the market today to get our fruit and vegetables for the week, to be honest the storm cover was already on from the other day so I put Emily's snow suit on and popped my coat on and we were on our way, we needed quite a few things today but managed to pack them all underneath in the basket with no problems as you can see. I found what I think is actually a bottle holder pocket, but I it's also perfect for my umbrella so bring on the storm we are ready! I took a quick photo when we got home to show you how many bags we got underneath, I was more than happy with the capacity of the basket. 
January 24th 2015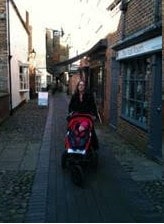 We went into the Lincolnshire Wolds today to Louth with my Mum and Dad, the buggy did it's stuff around the little streets and rather narrow foot paths in town and negotiated the small shops with ease. For once the buggy does not look like it has been abandoned as my Mum took my photo.
January 26th 2015
Popped into town again today and bought rather more than I anticipated, the large tiger bread loaf took up a lot of room in the basket and I didn't want to squash it so I used the emergency shopping bag we had stowed underneath in case of such an emergency may arise, I expected to put it on my shoulder but, what a bonus its long strap fitted over the handle and to be honest I did not know it was there on the way back. It did not affect the balance of the buggy at all and I am really pleased as now can carry more shopping if and when required. Of course this would also be perfect for hanging the day trip changing bag, we try to travel light were possible and I carry a small travel changer usually.
February 3rd 2015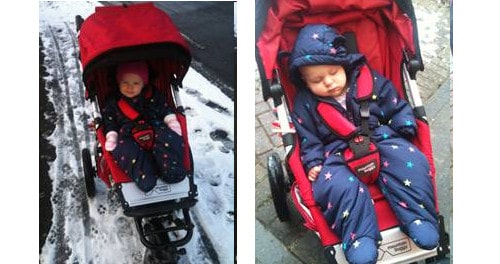 Its been snowing! Couldn't wait to take Emily out in the snow today ... and all the excitement clearly tired Emily out as she was sound asleep by the time we arrived home. She's so comfy in the urban jungle, even when I do a bit of bad driving up and down the kerbs the suspension is so forgiving she doesn't stir.
February 7th 2015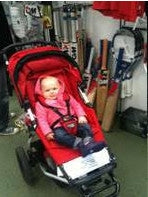 We popped into town today with Daddy, as you can see we are still testing the Mountain Buggy's urban abilities and why not it does so well! I must admit the urban jungle is really proving to be such a versatile pushchair both around the shops and walking out and about. We have some absolutely awful foot paths and pot holes in the roads locally and being able to bump over the massive crater's in the paths and roads with the Mountain Buggy's large pneumatic tyres is really great. It's also great not having to look for drop curbs all the time as the Mountain Buggy tackles curbs with no effort.
I really wondered how we would get on world facing but at 11 months Emily is loving being able to look around and with the hood open I can see her really well. 
February 17th 2015
Its school half term this week and we went to Skegness with my sister and nephews - it was a glorious sunny day with lovely blue skies! My youngest nephew who is 9 was desperate to push the buggy - being a little concerned by this but not wanting to disappoint him I  let him push, but kept a firm hold of the handle strap.
Today we didn't venture onto the sand although I desperately wanted to put the buggy through its paces! I didn't think it was a good idea with the nephews in there best shoes etc so will leave it for next time.
March 10th 2015
We went on a lovely walk today, the sun was shining so we left the full dishwasher, popped our lightweight coats on and off we went! We started walking and the buggy took us in the direction of  our secret play area, or at least that's what I call it. I found it a couple of months ago, its been put in by developers of a fairly new housing development and to date we have always had it all to ourselves. Emily loves it!
March 16th 2015
When I put the buggy in the boot of the car today I thought I would mention how easy it is to load in and out of the boot and, surprisingly for a buggy of its size, how little space it actually takes up.
When you have been used to a carry cot and chassis it is a refreshing change to have something that you don't have to take to pieces each time you need to load the car, however you can take the wheels off if you need more space. The only time we actually take the wheels off is when we've been to the supermarket or are on a day out and need to carry extras. Usually the buggy fits into the boot ok with wheels and all, it could also go upside down with the wheels on the top which gives you slightly more room - we only have a BMW 320 so although it's an estate it is one of the smaller ones. 
March 20th 2015

Last day of my maternity leave today and I had to MOT my husbands car as well as fit in a lunch date with my best friend for my birthday, so we used her car and I was a little apprehensive about fitting the Urban Jungle in the boot of her Audi A3. Happily it fitted in perfectly - with room to spare for shopping as well!
March 29th 2015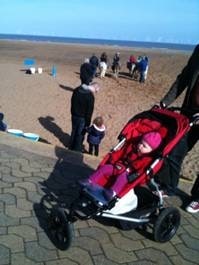 We're back in sunny Skegness today, it was such a lovely day we headed off to the coast with everyone else and enjoyed the fresh sea air. The Mountain Buggy negotiated all of the rugged terrain to get down to the beach and we didn't need to stay on the foot path. We did not venture onto the beach today but we already know that this would not be a problem. Now that Emily is starting to get a little bit heavier, the more sturdy construction of the Urban Jungle and the large wheels mean that its not hard work to push her. My Mum took her to the shops the other day and said that she felt that she walked quicker pushing this buggy!
April 3rd 2015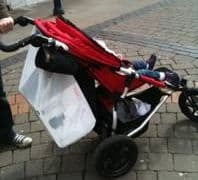 We went into town today to buy a new kettle and ended up buying one of those hot water dispensers (which is very good by the way), however as you can see we didn't want to carry it so hooked it over the handles. The buggy did not tip or feel unbalanced with the extra weight on the handle. 
April 4th 2015
We had a trip out to a nearby town today and treated ourselves to lunch at Pizza Express, probably one of the most child friendly places you can eat. As you can see Emily loved it and there was plenty of room to park the buggy without folding it, although I would say it is very easy to fold and free stands so if you need to tuck it away in a corner of a coffee shop etc you can.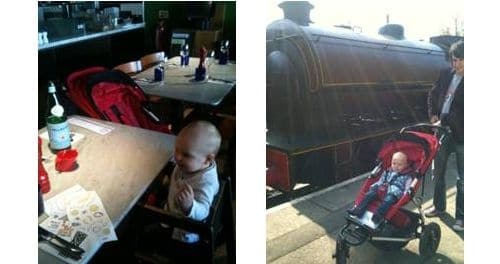 April 24th 2015
We took Emily to see the Steam Trains today.
April 24th 2015
Just thought I'd take some photos of the Mountain Buggy off road in the park. We found a maze made from coloured stakes in the children's play area and  I convinced my husband that we should steer the buggy around it to demonstrate it's turning circle etc - of course we made it through without a problem. 
May 4th 2015
Bank Holiday Monday, we visited the local town and went to the travelling fair, it takes over the town every year and we usually have a look round, Emily didnt seem very interested this year it was all very noisy and busy. It helped this year to have the Mountain Buggy to negotiate all of the ramps etc. that are built over the cables to power the rides We took a short cut back across the park and as you can see had popped to the shops and stowed  our shopping under the buggy.  
May 7th 2015
The day of the general election is finally here, we all walked to our local church hall after work to place our vote. After almost mistaking the queue for weight watchers for the queue to collect our ballot papers, we put our crosses in the box and went on our way. It's often quite difficult to get buggys in and out of church halls  because of the steps, so the Mountain Buggy was a great help as its big tyres mounted the steps without a problem. 
May 8th 2015
Although we go on the bus regularly this is the first picture I've put online. We were on the bus early today and had time to take a quick photo whilst the driver was taking his break off the bus. As you can see although admittedly the Mountain Buggy doesn't fit as well on the bus as smaller pushchairs because of its wide back wheels, it still fits in the wheel chair/pushchair area with room for me to pull down the seat behind and sit down. The brakes are exceptional and I have total confidence that the buggy will not move when the brakes are on, even when the bus is picking up speed.
May 15th 2015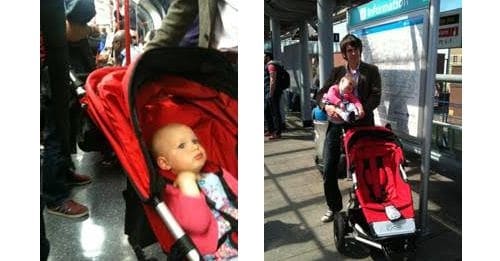 We're all on holiday now for a few days so started the week off with a trip to Stamford. Emily was watching the ducks and using the buggy to stand - she has been standing aided for a while now but is beginning to let go and go solo, today though she was happy to use the buggy to steady her wobbles. 
May 16th 2015
The ultimate adventure for the Urban Jungle today, we're on a day trip to London! We were a bit worried about taking the Mountain Buggy - would we be able to manage on the train and underground? - but you've guessed it, no problems.
We took the train from Peterborough to Kings Cross and then took the underground to Leicester Square. There are plenty of lifts at Kings Cross so no problems there, however we couldn't find the lift at Leicester Square so my husband carried the pushchair up the escalator and I carried Emily and the ruck sack from under the buggy. Obviously it's not a travel pushchair, so it is bulky to carry but it didnt cause us many problems and the benefits of Emily being able to ride in a comfy buggy the rest of the trip compensated for this. We did see a lot of other parents with similar all terrain pushchairs doing the same thing, so it proves that just because you're in the big city you dont have to have an urban pushchair at all. We walked down the mall towards Buckingham Palace and then through to Royal Parks, along to Westminster and along the Embankment to find a spot of lunch. We stumbled along one of our favourites - Borough Market en route, which was insanely busy as it was about  11.00 on a Saturday probably at it's busiest by then.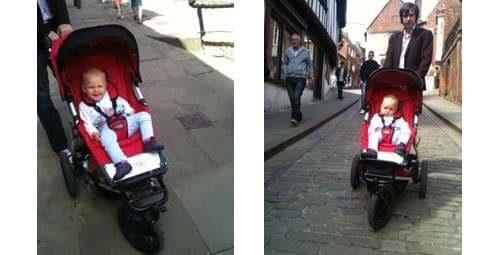 After lunch at a little Pie and Mash shop we found, we caught the DLR from Tower Gateway to Stratford to visit the much talked about Queen Elizabeth Park. Emily loved the DLR and we would strongly recommend this for travel with a pushchair and small children as it is really quiet on a weekend and there is plenty of space. It is also nice not to be underground and you get great views of London and Canary Wharf. The park was packed, it was such a lovely day that entire families had congregated to the park to the play areas and were chilling out in the sunshine. We were entertained by people abseiling down the orbit.
After a quick look around Westfield shopping centre and a bite to eat again as now nearing tea time we caught the tube back from Stratford, changing at Liverpool Street to Kings Cross. We had misjudged the train times a bit and had an hours wait before our train so went to investigate the regeneration of the Kings Cross area. There were lots of new buildings, water fountains and a really lovely area to hang out - a perfect end to a trouble free day and a true test of the Urban Jungle's, urban abilities.   
May 23rd 2015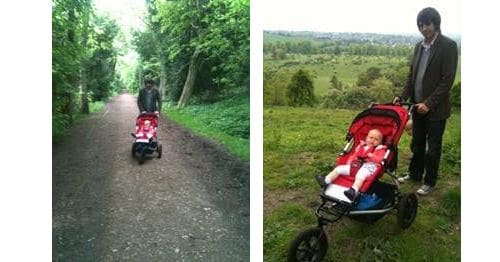 Visit to my husband's brothers family - they  live on the edge of Tring Forest so we went for a long walk in the woods. In places we encountered some quite steep inclines, they have a three year old and also have a Mountain Buggy - although it's the smaller wheeled version so we were able to compare notes. It was all good! 
May 30th 2015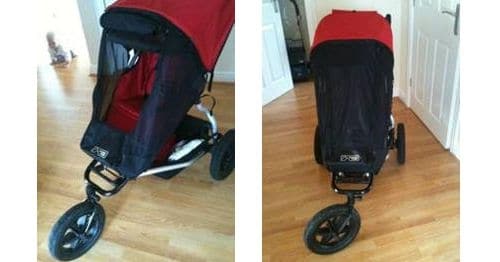 As the weather is getting a bit better I thought I'd have a go at fitting the sun cover while I was at home and nobody was watching me. It looks really smart for a sun cover and it zips on really easily - the front also has a zip and it looks like I should be able to gain access to Emily easily as it has quite a large opening, ready for the sun now...
June 6th 2015
Emily is really starting to grow into the Mountain Buggy now as you can see. She is now 14.5 months and its still got loads of room for growth, plenty of room for her long legs. We also find it really easy to put her in and strap her in.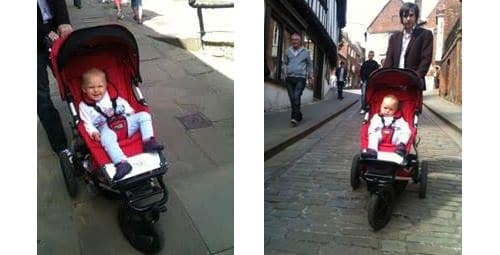 June 13th 2015
Just to prove that I do occasionally push the buggy, here we are pictured at the seaside, although still not easy to push through sand, but what is! the Mountain Buggy is probably as good as its going to get pushchair wise and we made it through the sand fairly effortlessly.
June 24th 2015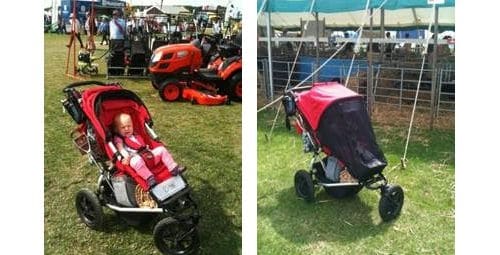 Today was a very big event for us and the Mountain Buggy as we went to the County Agricultural Show, your just not properly dressed with your baby if you havent got an all terrain buggy at these events. However, we spotted all kinds of different buggies but only one other Urban Jungle in black - I've not yet seen another one in Chilli. It was really warm in the afternoon so we definitely needed the sun cover and obviously it goes without saying the Mountain Buggy managed all of the different surfaces on the show ground very well. We managed to stow my Mum's picnic bag, the picnic rug and - at one point - my Dad's shooting stick.
July 18th 2015
We're back in London again today, we went on the train, underground and also Boris's Cable Car across to the O2. We folded the Mountain Buggy and stood it at the side and there was plenty of room for us all and even though the cable cars continue moving it was still easy for my husband to lift it on and off unaided.
July 21st 2015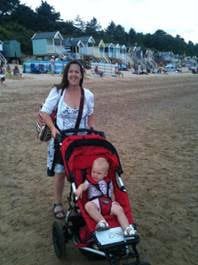 We're on holiday this week and having days out, so went to Norfolk to Wells for a bit of a beach day. I love the beach huts at  Wells and the buggy on the beach was outstanding as ever....
Conclusion
We've really enjoyed both taking part in the Living With review and being part of the Pushchair Expert Team, I would like to thank them for all the time and support they have given us.
The Urban Jungle is such a great vehicle to transport your little ones - I absolutely love this pushchair and would thoroughly recommend it to anyone looking for a Pushchair. It has never let us down and we have been able to literally go anywhere, through 'all terrain', pavements, kerbs, potholes, gravel, grass, fields, sand, mud and snow be assured we have tested them all.
We have also used this pushchair in multiple car boots and it has fitted in them all without problem, BMW320, Audi A3, VW Golf, Ford Fiesta and Land Cruiser. It isn't any larger folded than most convential pushchairs and because it is so easy to take the wheels off it goes smaller than most.
We have taken the Mountain Buggy with us on multiple different types of public Ttransport; bus, train, London underground, cable car at Greenwich, and the Land Train at Hunstanton. It has a very quick and easy fold - we have found it folds with little effort, and in an instant we can fold it up. However, on all the buses I've used, I've never had to do this and we fit in the section of the bus reserved for the Pushchair and Wheelchairs with no problem.
The Urban Jungle positives are it's ability to go anywhere - it works well on public transport, folds up easily for storage and fits into the car. It has plenty of storage pockets and a generous basket. Emily is now 18 months old and the dimensions of the seat have come into their own; I can see that this pushchair would last her for a lot longer than other pushchairs at this age. My less positive points are the air filled tyres - it is possible to have a puncture and we have had one, although went flat in the house and was caused by a thorn. You can buy tyre slime which will stop this but I havent done -  the cost of puncture repair at my local tyre centre is £5.00, and it took them literally minutes to repair. One other negative is that I do not get to push the Urban Jungle - my husband always takes charge - they both disappear miles ahead of me!
It is so easy to push, all of my family and friends have commented on it maneuverability.
Wear and tear...
On the whole it has worn really well,  I have looked after it and regularly cleaned it - the wheels have been off and in the utility sink (or under the outside tap if really muddy) to clean several times and still look great.  There are signs of wear on the front where we have caught it on racks in shops etc. and the press stud on one of the side straps has pulled off but this doesn't affect the safety of the pushchair.
I think the little bar under the front axle must catch on something when folded as the paint has come off. I was a little bit disappointed about this - given the rest of the build quality of the pushchair this little bar seems to be made of a lesser quality metal for some reason, it cannot be seen on a day to day basis though, only noticed when cleaning and when you bend down to look under the pushchair.