Quick Summary: We had been lucky enough to have a sneak peak at this back in September 2012 when they took it to the Trade Show in Cologne, Germany and so had been waiting in anticipation for it to reach the UK consumers.
---
The BMW Buggy is the latest on Maclaren's Objects of Design list for which they have worked with other high-end brands such as Burberry, Philippe Starck, Lacoste, Lulu Guiness and Juicy Couture. However, on a personal note, I have to say that this is my favourite (so far!).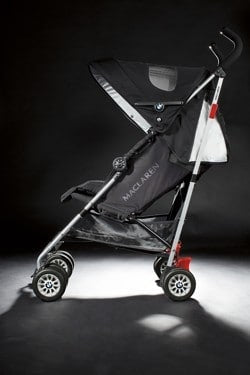 Anyone who has driven one of BMWs top of the range cars will know that they ooze quality and luxury – and this is what Maclaren have put into their BMW Buggy – the usual Maclaren quality we have all grown to expect but with a few added extras!
So – what's all the fuss about I hear you ask? Is it just another of their buggies with a logo on? The answer to that is no – Maclaren have taken some of the best features from their other buggies and put them together and added a few extra bits to produce the BMW Buggy.
The technical bits...
Weight - 5.7kg in its barest form (without hood, shopping basket or rain cover), it's lightweight!
Colours – black, silver and blue
Suitability - from 6 months until your toddler reaches 15kg.
Shopping Basket - bigger than the majority of stroller baskets and they have ingeniously added reflective material on the underside which has 2 benefits – on warmer days it reflects the heat of the pavement and on wetter days (more akin to the UK), it makes the underside more waterproof.
Suspension - 4-wheel suspension unlike many strollers on the market giving your little one a smoother ride.
Seat - One of my pet hates about many strollers is how the seats are not padded – Maclaren have overcome this bug-bear of mine with a removable liner. It is relatively thick and of high quality.
Hood – this has 'kidney shaped' (like the BMW windows) peepholes and also a ventilation panel which can be unzipped during the summer months. The hood 'click's ' back into place so you know that when you fold your buggy it won't 'flap' around and get dirty! Another element of the hood worth mentioning is that it is UPV 50+ and is water resistant.
Handle – ergonomically designed to allow for comfortable steering.
Carry Strap – this is padded, unlike many others.
Harness – 5 point
Wheels – 12.7cm and based on the genuine BMW wheels
Reflectors – these are prominent on the rear of the buggy
The BMW bits – these are subtle rather than 'in your face' which I quite like!
BMW-inspired peep-view windows in the hood – if you know anything about BMW, you will recognise that this resembles the rear windows in the hatchbacks.
BMW-inspired wheels – based on the genuine article!
BMW Logo – on various places on the pushchair including the wheels, harness and hood.
BMW Accessories – which will fit most buggies and strollers.
BMW Universal Insulated Pannier – I LOVE this!
BMW Nappy Bag – a real 'man bag' – Mr PT LOVES this!
BMW Umbrella and storage case
BMW Universal Expandable Footmuff (zip-open panel at the bottom for older toddlers)
BMW Cup Holder
Park Blanket – (travel rug)
Universal Organiser
Light-weight storage Bag
So – in a nutshell, that just about sums up the BMW Buggy from Maclaren. Having seen it a couple of times, we are initially impressed. We are looking forward to having one in for full review soon so watch this space.